Part 1:
GETTING THERE
July 28, 2001 will be a day long remembered by me, for it represented the beginning of one of the longest cruises I have yet to undertake with my Micro ''LESTAT''. The purpose of this cruise was to attend the 1st annual Lake Champlain Bolger Messabout.
The idea for this mess-about was first broached many months ago while in the dead of a North American winter. Actually a Canadian winter, to be more precise, with lots of snow, ice and bitter cold temperatures .In fact, just the right sort of conditions to inspire heady thoughts of warm summer time breezes, sun filled skies, distant shores and kindred spirits. Somehow, the cold did not prevent this idea from percolating its way up through my consciousness and out onto the pages of the Bolger internet discussion group where it was warmly received.
I must, however, confess that the idea for this mess-about was not entirely my own but rather the result of spending far too many nights at work reading about the many other mess-abouts that were always taking place half way across a continent where it always seamed warm, sunny and the people had lots of fun. I had yet to ever read about a mess-about happening anywhere near where I lived and upon realizing that a number of Bolger fans lived in the Northeast thought that perhaps Lake Champlain might serve as a decently central location for many of us.
And so, as the days turned into weeks and the sun went down later and later each day, locations where discussed, dates fixed and troups rallied.
Thus it was that I came to find myself awakened by the early morning happy tweedle of the robin , the busy chirping of sparrows and the half blinding rays of a prying sunbeam through my un-curtained port deadlight this, last Saturday of July, morning. The previous days frantic attempts at filling up the boats larder followed by the judicious stowing of this impressive collection of supplies designed to keep me well fed and happy had all but taken it out of me. This was one morning where I sorely wished to sneak in just a few more hours of precious sleep! With the prospect of a 177 mile cruise from Montreal down to Kingsland Bay on Lake Champlain ahead of me, it was best I not delay any further.
Some quick minds out there reading this may have it occur to them that the mess-about was still 7 days away and that they could probably WALK that same distance in less time. They would not be wrong! I simply chose to allow myself a couple of days worth of ''down time '' in case of foul weather delays. Also, as I had 11 locks to go through, I had to allow for some delays there too.
JULY 28;
06 :00 hrs is my favourite wake up time while at home and more so on the boat. I wholly enjoy taking full advantage of long daylight hours. It makes me feel that I can accomplish anything! This is good for me, since my days accomplishments involve getting through two St. Lawrence Seaway locks. Going through locks is normally easy and I have never had any problems, per say. However, one troubling nasty little detail which should not be over looked is the booklet on Seaway Regulations. In particular, the paragraph which explicitly states that no vessel less then 6 metres (20 feet) in length shall transit the locks. With the Micro coming in at less then 16 feet, they are clearly referring to moi! Time to put on the thinking cap! Two strategies are envisioned; a) Hope that there are a few big sailboats waiting to lock through and then sucker up to one of the owners requesting that I be allowed to raft up to him as we both lock through. The bigger boat will help conceal the Micro and shade her from the busy eyes of the lockmaster. Or, b) Let loose with some really far out and desperate story about absolutely having to get through since my destination is downstream and I am are eagerly awaited as the boat is to be used as a funeral pyre for my recently departed and much loved wife/mother/father/hamster etc…
With all my fingers and toes crossed for good luck, I round the last bend before the approach to the locks, and a scene enough to make anyone laugh out loud in victory becomes apparent. That's right, lots of big sailboats waiting to lock through! As soon as I am secured to the pleasure craft quay, a small crowd gathers. Fortunately for me, the Micros funky little appearance does not go unnoticed. Before I can even practice my little pitch, a big fellow off a 40something yawl invites me to tie up beside his boat when the time to lock through arrives. He wants to talk boats! Within a couple of hours, and thanks to the big yawl, LESTAT and I are lowered 50 feet through the two Seaway Locks and headed down the St. Lawrence.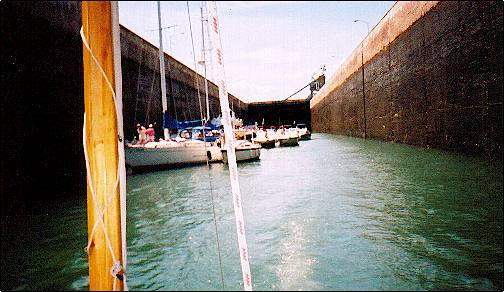 Cote ST. Catherine locks…..35 foot drop!
Assisted by a least a 2 knot current, we almost fly by the Port of Montreal and reach our first nights destination, Verchères ,right around the supper hour. In less then 10 minutes, the galley stove is set up in the cockpit, pasta is cooking and I am sipping some earthy French red wine while slicing up some old cheddar along with a cucumber and garlic. Without going into the fussy details of my onboard eating habits, suffice it to say that this little supper time scene gets repeated each evening of the cruise. Once the grub is down the hatch, the galley stowed away and one last glass of wine enjoyed, it is time for a quick little shower then to bed.
JULY 29;
Despite the towering walls which surround the basin in Verchères thereby keeping one shaded from the sunrise, I arise at 05 :30 hrs. Rustling up a hearty bowl of oatmeal , chomping down on some fruit and finally fixing up a good cup of fresh coffee pretty much describes how my mornings begin. This is followed by a quick little walk around the village then onto the boat.
Without an ounce of wind, LESTAT and I are obliged to motor our way over the mirror surface of the St. Lawrence river as little wisps of river fog swirl around us. In short time the rising sun finally burns this fog off and we are left to slowly bake under a white hot sun. The morning passes slowly as we motor past an inbound ship or two, while the occasional appearance of a farm house or steeple along the shoreline serves to distract the eye. Thinking that this is the life for me, I rig up a simple device composed of bungee chords to hold the tiller thereby freeing up my hands for more leisurely activities.
Assuming a more comfortable posture in the cockpit, I allow my attention to wander. Casually giving a glance backward toward the diminishing skyline of metropolitan Montreal, I think of all those hungry souls hustling into work and realize how fortunate I am to be out here luxuriating on the river. It is precisely then that something catches my eye. Low on the horizon, a strobe light not previously seen is flashing. Thinking this a bit odd, I conclude that it must be from some object on the far shore. However, in less than a minute, this light has grown much closer and appears attached on top of a boat. With my attention now fully engaged, I untie my ''auto-helm'' and check her out through the binoculars. I am nearly paralyzed by what I see. This boat is flying! Not only in the speedy sense of the word but literally airborne. In less than a minute, this airborne vessel is abeam and she is a hydro-foil. With nothing more than the swooshing low rush of her turbine driven prop in the water and her foils cutting through the water, this alien ship is soon well ahead of me leaving me in its frothy wake. It is then that I recall reading an article over a year ago about these Russian hydro-foils being up-graded in the Port of Montreal for possible passenger service. Well now, I have one more thing to look out for while on the St. Lawrence……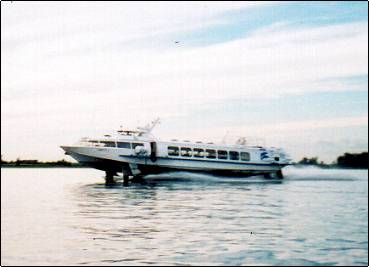 The BEAST from Russia…..at speed!
In the middle of daydreaming about how it must feel to ride in one of these hydro-foils, the
town of Sorel appears on our starboard beam and amidst the hulking heavy industry buildings and ship hulls in various states of demolition, is the entrance of the Richelieu River.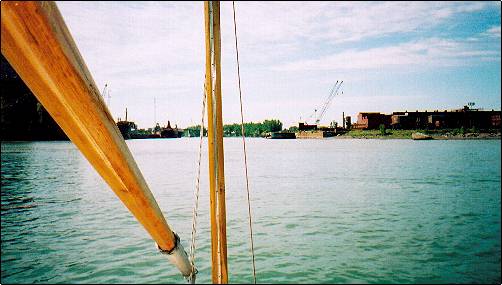 Believe it or not, there is a river entrance here….somewhere!
This river will be our highway down to Lake Champlain. Within 30 minutes of entering the river, we have all but left the ancient shipyards behind and the light breeze generated by our stately 4 knot progress now carries with it the distinct aroma of live-stock, lots of well fed live-stock! All along the tree lined shore, little country cottages poke their facades out proudly, almost as if to say, ''Hey Buddy, look at me, ain't I cute ? ''And they certainly are very original, not being constrained by ridiculous big city building codes! The trees occasionally disappear all together to reveal rolling fields of honey topped rows of corn bordered by other fields of rough looking pasture populated by cows, none of them moving too fast, under the boiling sun as they munch their way along.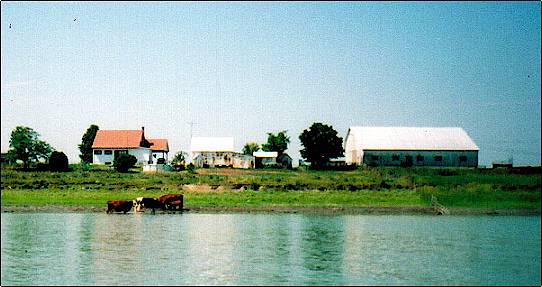 This is how cows stay cool and why the water has an odd colour and smell!
These rural country scenes occupy my eyes and my ears are tickled by the incessant buzz of the diminutive 5hp outboard while my nose grows more accustomed to the robust odours of the barnyard. By early afternoon, LESTAT and I reach our first of 9 locks along the Richelieu River located at St. Ours. This reminder of an earlier industrial era comes as something of a relief and a shock. By that I mean simply, a relief to have a tangible reference point to mark my progress south and something of a shock since it effectively removes me from my country dreaming state.
This lock is one which, although originally built to handle anticipated commercial traffic (which ended up being re-routed through the St. Lawrence Seaway), is now ideally suited to small craft use. The best idea being to have a floating quay within the lock chamber. Instead of having to catch a couple of lines tossed down to you, one has but to secure the boat to the quay, much the same way as one would normally do in any marina situation. Once secured, both the quay and boat rise or drop 6 feet together in one smooth operation.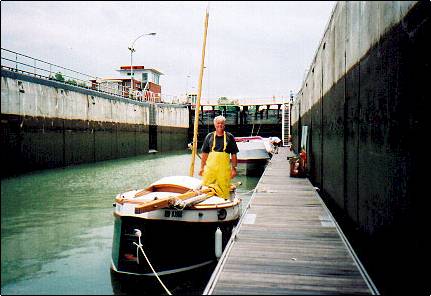 So I saw a cloud, so I thought about rain, so I was wrong, so I was in St. Ours
Once through this lock, I am soon returned to the quite views which previously accompanied me along the Richelieu River. The only notable difference, however, is that now the river side homes have become considerably larger and more discrete. Only occasionally do we get to glimpse through the thickly tree lined shore massive 3 and 4 story homes who are clearly saying,'' Keep movin' buddy, we ain't got time for you!'' So, move along I do, slowly clicking off the miles until we arrive at the foot of the Chambly Canal and call it a day. The timing couldn't be better for I arrive just in time to check in at the marina located at the locks and prepare supper before night fall. The chance to utilize the civilized shower facilities is most welcomed!
JULY 30;
Today, at 08 :30 hrs, LESTAT gets her mainmast un-stepped and we begin our journey through the Chambly Canal. This marks our departure from the river as we now climb 21 metres(70 feet) , through 9 locks to arrive at the level of Lake Champlain which is still another 32 miles south of us.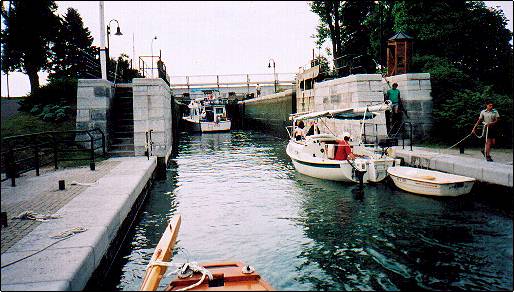 Now this is more like it! Small stuff at the Chambly locks.
Unlike the previous locks, these are all hand operated and considerably smaller with each
chamber having enough space for perhaps no more then 4 or 5 thirty footers. Locking through alone on LESTAT is easy and the lock personnel friendly and helpful. As we motor along from lock to lock, it occurs to me how perfectly scaled this little system is for LESTAT. No longer do we feel like kids in a big mans world. The big guys couldn't follow us here! The ancient tow paths which border the canal have now been converted to bicycle paths and this allows for some rather neat exchanges between boaters and cyclists as one can easily chat with them just a few feet beside you. I greatly appreciate this aspect as it certainly helps relieve some of the social isolation one experiences from cruising solo.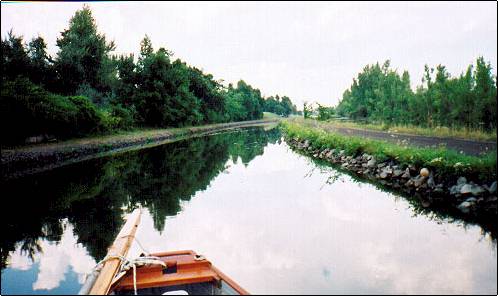 The Chambly Canal with tow paths and serenity!
Within 3 hours we finally exit the last lock at the town of St. Jean sur la Richelieu and return to the river. Once again the shores become populated with odd little buildings with most of them nothing more then quaint summer camps. Here too, the river narrows considerably and we encounter the first of two cable ferries. These ingenious ferries serve to connect the two shores where no bridges exist. Boaters, however, must exercise caution when crossing their paths as they are propelled between shores by means of a cable which hovers just bellow the waters surface when the ferry is moving. The recommended approach is to pass well behind the ferry's path where the cable is slackest. Despite following this recommendation, it nevertheless feels somewhat nerve wracking as you slowly float over the unseen cable not quite sure exactly where t is bellow your keel..
It is now early evening and the border less then 15 miles away. Not wishing to find myself on unfamiliar waters after dark, I decide to call it a day and spend the night at Gagnon Marina situated right across from Fort Lennox. This marina has a serious service yard and the property is sprinkled with some rather large boats either in storage or awaiting some much needed repair. Our proximity to Lake Champlain is apparent ,judging by the size of the boats kept here. It is also here where I decide to step my mast again. This is quickly followed by a delicious meal, some cheeses and a few nice glasses of wine. Afterwards, I scout out the facilities and proceed with a small load of laundry, a shower and idle chatting with fellow travelers also stopped for the night.
JULY 31;
Another warm and muggy day begins without a trace of wind. The relative coolness of my 06 :00 am departure only serving to enhance my appreciation of the warm oatmeal and coffee. As we wend our way out of the small channel from the marina and rejoin the main river channel, we are greeted by the stately vision of great blue herons up to their knees in water. The very stillness of the water giving the illusion that these great fliers are standing on the water. Spotting one of these birds several yards in front of me gives me a start and I just about knock over my cup of coffee as I swing the tiller hard over, quickly refocusing on keeping within the channel! Now fully awake, we ease our way down to the border while keeping a keen eye on the chart! In short time we cut by closely the buoy in the middle of the river indicating the border. LESTAT and I are now in foreign waters! I half expected to feel some sort of bump in the water to indicate a change in country or a blast of marching bugles… at least a change in the air would have been nice but no such thing happens.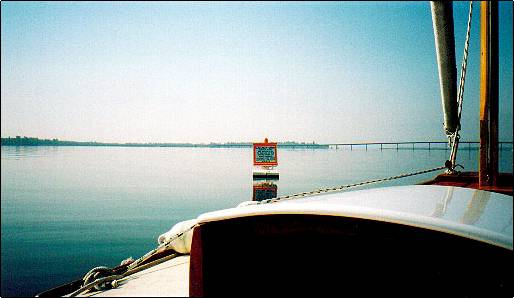 So this is the border into the most powerful country in the world? Where are the guards!
Instead, we carry on a short way and present ourselves to customs at Lighthouse Marina, in Rousse's Point New York. After what seems like forever, a custom official finally shows up. Lestat and I are ready for him! All my precious documents are gathered in one packet, the boat ship shape and all safety gear prominently displayed. Without batting an eye, the official hands me a tiny form to fill out and requests $10 .00 from me. Eager to begin the big inspection, I quickly hand back the filled out form. The agent gives the form a quick look and wishes me a good trip. Looking up at him, I ask ''Doncha wanna even check the boat out ?'' He gives the boat a glance and smiles back at me, ''Nah ''says he,'' we only do that to big boats that look suspicious.'' Jesus H. Christ! If I had known that then I would have loaded up the hold with a lot more than grub-n-grog and made a real party of the whole trip! Clearly, the Micro inspires only confidence and good will from folks. There is, however , an outside chance that it may be more a question of pity and/or disbelief that anyone would be so daft as to undertake a cruise in such a diminutive vessel. Oh well, balls to the latter and thanks to the former!
Grabbing a cold drink from a vending machine, I return to LESTAT, start up the engine and ease my way out of the marina and point our noses south under a clear blue windless sky. At this point, we have abandoned the river and are now moving out into progressively larger stretches of clear, calm, water. With the shore lines growing further apart, it appears that we have slowed down. Once past Cumberland Head , near Plattsburgh, the lake really opens up and we almost stand still on the mirrored lake. To my right and left I see the rising green vistas offered by the Green Mountains of Vermont and the Adirondacks of New York. Behind me, the receding horizon of my homeland while ahead only a hazy flat line. If I didn't know better, it looked as if we were about to sail off the edge of something! This is one very big lake and the vastness confuses my acquired sense of distance. Back home, where I sail, one is never more than about 20 minutes from shore at the speed I usually travel .Here, distances are measured out in hours and these take forever to pass. Another feature I notice is the absence of a buoyed channel. The lake is so deep that only the odd rock or shoal gets a buoy thus I take care with a very crude form of dead reckoning so as to not become disoriented out in this relative newfound vastness. One other difference that is brought home from studying the charts has to do with the depth of this lake. Amazing! Again, back home the average is about 8 or 10 feet. Out here, I am nonchalantly motoring along 190 feet above the bottom and it will get deeper still as I move further south. With only 150 feet of anchor line on the main anchor and another 200 feet on a back up anchor my thought of just anchoring in the middle of the lake should trouble arise is now seen as ridiculous! I am grateful that the weather is so benign and that there are no showers or fog banks to get lost in.
All this thinking about my new boating environment soon finds me with a slightly raised sense of alertness. I listen carefully to the droning of the engine, attempting to decipher any little sound that may signal imminent engine failure. Without any breeze to speak of, this would not be nice to have happen. Unconsciously, I have begun to steer toward the nearest land and I have been at the binoculars constantly. In my head I can already see the headlines reading'' SMALL BOAT SINKS AT COLCHESTER SHOAL, CANADIAN SAILOR PRESUMED DROWNED''. As I scan the horizon for the umpteenth time, I spot something moving on the southern horizon. It first looks like an island. Steadying my hands and focusing properly, the island becomes a ferry. Looking down at the chart, it becomes clear that this must be the ferry from Port Kent to Burlington. I am not lost!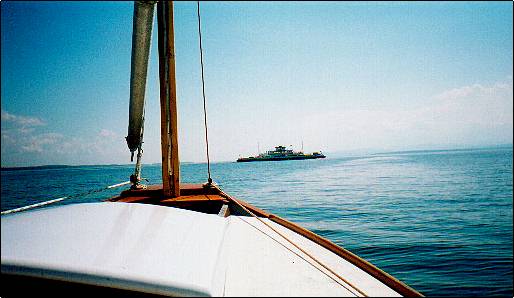 The speck, that became an island, which turned into a ferry on its way to Burlington…..
As I say this, a small inflatable carrying a couple of kids appears almost out of nowhere and goes skimming past with everyone on board laughing and waving. As I wave back to them, I am aware of how tense I have allowed myself to become. Good grief, I am supposed to be on holidays, not out to get myself killed! Thanks to these care-free kids and their inflatable, I relax enough to haul out my harmonica and proceed to invent tunes. With the accompanying drone from Mr. Mercury, we sound almost as good/bad as an out of tune bagpipe. Relaxing some more, the next several hours go by without incident until I round Appletree Point and the town of Burlington comes into view a little after the supper hour. Unfortunately, we will never know whether it was the ungodly racket created by this musical duet or just poor planning on my part that found all three marinas visitors slips booked up for the night thus forcing us to anchor out in the harbour for the night.. I like to think it was just poor planning……….
AUGUST 1;
After a rough sleep in the harbour caused mainly by some rather large sailing yachts coming in after midnight and almost anchoring over me, I raise anchor at 06 :00 hrs and proceed out of the harbour making for the tip of Shelburn Bay. Once again, all is calm and the forecast is for yet more sun, heat and little wind. Breakfast is the usual and I am beginning to look forward to arriving at my final destination. Upon consulting with the chart, Point Bay Marina looks like a promising spot to spend the weekend as it lies only a couple of miles north of Kingsland Bay. Also, thanks to some really nice weather, I have had no lay-over days and am now a couple of days ahead of schedule. By noon time, I have finally arrived at the marina and reserve a slip for the next 5 nights. I also give my Pesky Crew a call and she agrees to come down the following day. When she does arrive the following day , I am quickly brought back down to earth when she tells me that it only took her 2 ½ hours to drive down! So much for the grand adventurer cruising distant waters and all that stuff!
Pesky and I take advantage of this spare time by driving around being tourists. We also spend a few nights in air-conditioned hotel rooms since it was rather stuffy in the cabin with over night lows near 82 degrees F., without even the hint of a cooling breeze to comfort oneself.
Part 2:
The 1st ANNUAL LAKE CHAMPLAIN BOLGER MESSABOUT
AUGUST 4;
Saturday morning arrives quickly with lots of sun and only the lightest of winds. Pesky and I get something of a late start and motor over to Kingsland Bay around 11 :00 hrs. As we turn to enter the bay, we are first greeted by Paul Lefebvre and Milene in their nifty folding Nautiraid kayak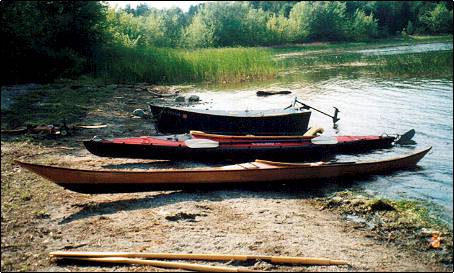 Paul Lefebvre's kayaks along with David Jost's Pointy Skiff…….. sunbathing!
Paul has plans to build a Micro and he seems happy to see a finished Micro. Continuing our way deeper into the bay, we can spot a small collection of craft on the distant beach. It is only as we get in real close that their identity becomes clear.
Bringing Lestat in as close as we can without grounding out in the shallow water, the anchor is let go and we simply jump off the boat into knee deep water and soft sand. In fact, the water is so shallow that Paul offers to actually walk the anchor out aways.
Walking up to the beach we are greeted by David Cassidy (who brilliantly suggested Kingsland Bay, thanks David!) and quickly spot his Elegant Punt on the beach. She appears every bit the work horse she is as David uses her as his dinghy for the Catalina 22. Despite having read so much about this little punt and seen untold pictures of this Bolger design, it is a treat to see one in the flesh. Watching Paul and Milene latter take her out for a test drive in the cove, convincingly demonstrated her abilities.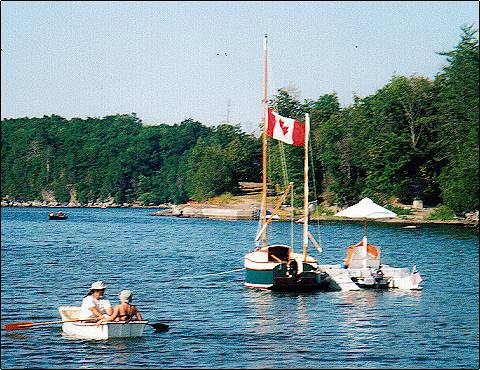 Paul and Milene out in David Cassidy's Elegant Punt while
Lestat flirts with St. Jan the Martyr!
Next was Lincoln Ross accompanied by his wife Janet Young and they brought not one but two Bolger boats. I was particularly impressed with Lincolns brilliant renovation of his Nymph whereby he eliminated the inside framework leaving a very clean and open interior. Although he had beefed up the outside gunwale substantially, he nevertheless had a keen enough eye to point out the very slight tumblehome of the upper panel. If I were to build a Nymph, I would be very much inclined to attempt a similar rendition with the proviso that all errors, problems etc would be mine alone and not Bolgers doing, since Lincolns version does differ from the plans.
Now, not to diminish any favourable light that may fall on the Nymph , getting the chance to see Lincolns Brick was an eye opener in more ways than one! Some folks may have seen the plans for the Brick or even pictures of one without ever actually seeing one in the flesh , while others may have only read reports of this oddly named boat. Well folks, this was my first chance to see a Brick in the flesh and WOW! IS SHE EVER BIG! To my slightly addled brain, there just simply aren't enough words or pictures to allow for a true sense of how much volume this boat possesses. It brings to mind a picture I once saw of two Bricks joined together by a joint device aptly called Grout which conjured up images of brick walls. I now see only fortress walls!
In short time, we were then joined by David Jost in his ancient but much used (and I suspect much loved!) Pointy Skiff. Accompanying him, a couple of intrepid fishermen (his children) who appeared to enjoy trolling along under electric power. David is entering the final stretch of building his Micro FIREFLY and appeared happy at the chance to look over a completed Micro.
A little latter on in the afternoon, both Paul and David accompanied me in LESTAT for a test ride of sorts out in the bay. Regrettably, we had some rather light winds and thus not the most exciting sail. Something around 15 knots would have been really sweet as this would have effectively demonstrated to my fellow Micrologists the pure grace, power and speed of which the Micro is imminently capable of attaining under those conditions. (trust me guys, its all true!). Added to this feeling, is one of security. You sense this through the seat of your pants as she just boils along without threatening to roll over on you!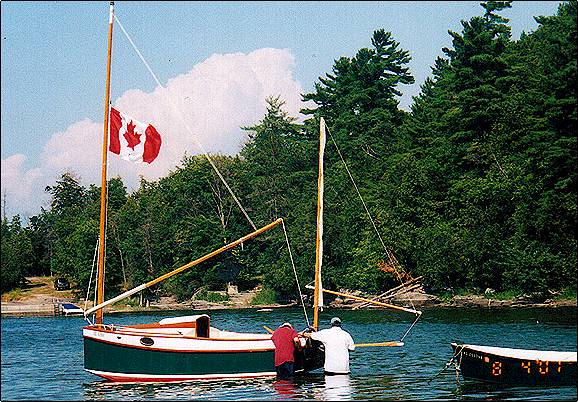 Lincoln and David Cassidy checking out Lestat's bum while the Pointy skiff looks on
A special treat for the attendees was the arrival of Jim Pope with his Bolger designed and David Montgomery built power catamaran which Jim baptized ''St. Jan the Martyr''……something of a delicate courtesy to his wife. Although not a design familiar to any of us, it carried many Bolger type characteristics such as box sectioned hulls, plumb stems, and beaver-tail transoms à la Sneakeasy. Jim thoughtfully added a nifty fold-away two person helm seat along with a tasteful parasol and two solar panels to keep the electrics topped up. After going out for a spin with Jim, I was impressed by the boats smooth effortless ride, great speed relative to horse power and best of all, the cooling breeze under the shade of the parasol. Nothing short of pure luxury! While we buzzed along in the bay and out onto the lake, Jim also impressed me with the electronic gadgetry he has mastered! GPS, plotting things off his computer and printing it all up in neat folders. O.K, this stuff may be kiddies play to the literate, but I felt like someone being given a tour of the space shuttle ….totally lost. Sorry Jim, I'm still studying for the Luddite finals and maybe I'll fail this time! One device on Jim's boat that did not leave me all thumbs was his helm! A very nice little ships wheel mounted sideways. It was simply an intuitive experience to steer the boat .Even my Pesky crew figured it out! Thanks for the experience Jim!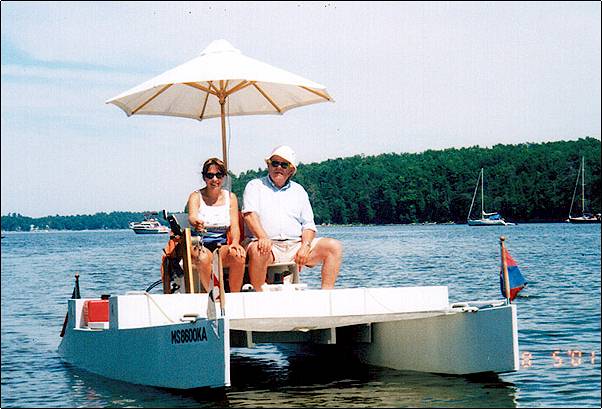 St. Jan the Martyr making Pesky and Jim Pope rather happy, if I do say so myself.
One boat that I sadly missed was the DIABLO built by Bruce Hector. While Pesky had a good look at her on the trailer, I was playing in the water. Unfortunately, motor heartbreaks prevented Bruce from bringing his DIABLO around from the launch ramp and I only chatted briefly with Bruce showing me his colour drawing of his aircraft carrier which was being discussed on the Bolger group. And to think that he drove all the way from Kingston Ontario……….
The bravest crew to show up had to be David Galvin and two of his children. David brought down his bright finished Pirogue which served well to highlight his fine workmanship. His deck scarphs were a treat, so neat! After we all had a good look at his Pirogue, David proceeded to rig her up for a sailing demonstration and this is where the bravery came in. David cast off with 3 (three!) people on board! At first sight, it appeared to be touch and go but in short order, things settled down and David had her sailing out in the bay. Beautiful work David!
David Galvin with crew showing us how it's done!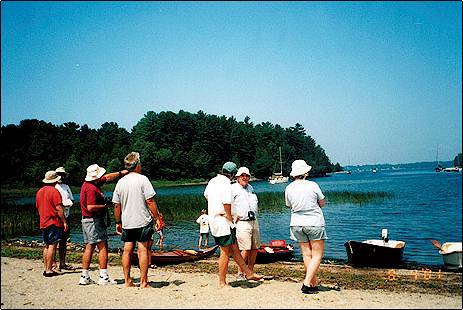 Nice to see your back folks! (L to R) Lincoln Ross, Paul Lefebvre, David Jost, me,
David Cassidy, Jim Pope (who knows there is a camera pointed his way) and
Janet Young. David Jost is just pointing out to me a cloud he swears he saw,
quick over there! Did ya see it?!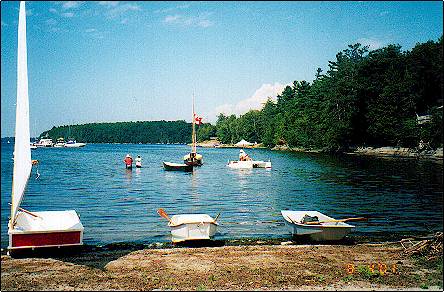 O happy days! Brick, Elegant Punt and Nymph taking a bow for the camera
while the boys play out in the water!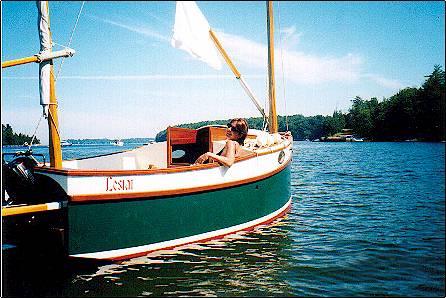 Pesky enjoying herself after such a long drive down…..haha!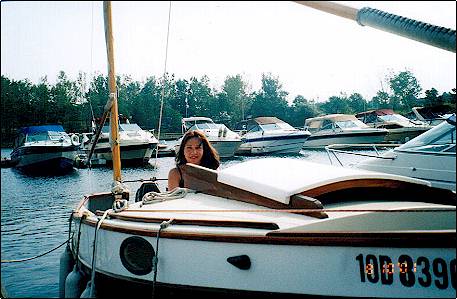 Pesky up to no good in Point Bay Marina on board Lestat.
At this point, the shadows were growing long, kids were getting hungry and perhaps some of us older kids were feeling a wee bit tired and a day of it was called.
AUGUST 5
The second day of the mess-about unfolded pretty much like the first with the exception of David Jost and David Cassidy being absent due to previous engagements/timetables and the mysterious disappearance of David Galvin and crew. Were only people called David being kidnapped for some evil purpose or what ? ( I latter learned that David Galvin had an unfortunate mishap while rustling up sustenance for himself and crew. Something to do with ground beef and hot oil…. hope all is better now David!)
At any rate, new faces did show up on Sunday including Joel Page with a really sleek kayak. In fact, I pretty much paid her no mind thinking her nothing more than some high tech production effort until I was told she was made out of wood and built by Joel. Holy smokes! He did a superlative job of her even if it wasn't a Bolger design. Should Joel ever build a Bolger, she will surely be a gold-plater! I did get a chance to try out his fine kayak but stayed very close to shore and in arm deep water! A kayaker I ain't especially since my relative centre of gravity is situated somewhere north of my navel. Beer drinkers would have a tough time with these sleek rowing machines! Joel, on the other hand, will always be able to find gainful employment as a gondolier, anywhere, any boat, as he enthusiastically demonstrated his award winning technique on Lincoln's amazing Brick.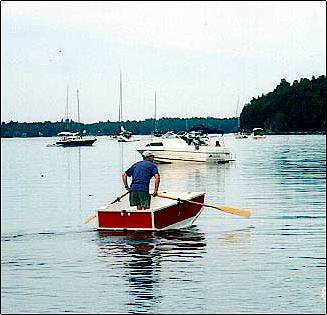 Joel Page taking Lincolns BRICK for a spin à la gondilier
And just when we thought it could not get any better than this, along comes Don Craig with his 99.9999% completed Teal. Don was still working out the details for the sailing rig but had set her up for rowing in the meantime. Without thinking too hard about things and taking the comfort of his lower back into consideration, Don used a cheap and readily available plastic chair mounted on a swivel for his rowing seat. I must confess that this set up at first appeared odd to my eyes but after trying her out for myself, I am a believer! The plastic chair offered comfortable support for the lower back and had just enough flex in her to make the whole rowing experience truly restful. It also prevents one from falling over backward in the event of an over-eager pull on the oars just as a power boat wave passes to expose the oar blades in mid-stroke! Dons craftsmanship was also evident in the neat execution of this deceptively simple design. Bravo!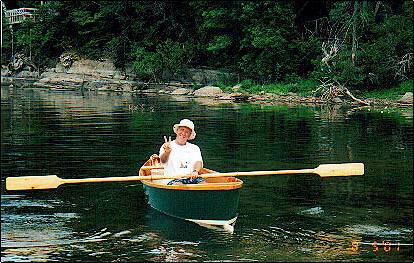 Himself trying out Don Craig's delicious Teal with homemade oars. I want one like it!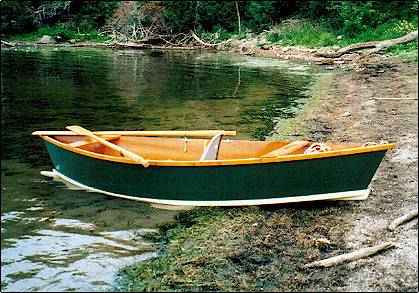 Close up of Don Craig's TEAL. A beautiful tender for a MICRO perhaps?
It was also something of a pleasure to see the number of methods used by the attendees to fabricate their respective oars. All of them were well built and it was interesting to hear each person explain the thinking behind his choice of methods. Clearly, this is an area which allows for much lateral thinking and many rewards!
As quietly as the mess-about had started, so too did it end with boats being hauled out and
raised onto roof racks, placed in pickup beds or even broken down like Paul's folding kayak. Warm hand shakes were shared and well wishes for safe returns home joined in with expressed hope for another mess-about, next year, on Lake Champlain.
Wading out to LESTAT, Pesky and I tossed our cooler and gear into the cockpit. For the last time, I slowly brought the anchor back home, started up the motor and eased LESTAT out of Kingsland Bay. Looking back only once at the now deserted beach, which had been the site of so many happy exchanges, new friendships and new experiences brought with it a certain sadness. Time had cheated us again with its too speedy passage. With ever lengthening shadows descending over the lake, as if to underline the end of this happy chapter in my life, I leaned back to ease up on the throttle. I was in no rush to end it yet!
Part 3:
GOING HOME
AUGUST 6
Monday morning began like the past few days with one exception...... wind! Right out of the South Southwest in the 10 to 15 mile per hour range (that's how the forecaster reported it!). With Lake Champlain oriented on a North/South axis and home for me being North, this sailor could not have asked for better weather.
The Pesky Crew and I decide to enjoy a leisurely breakfast before giving the boat a good straightening out and topping off with some essential liquids!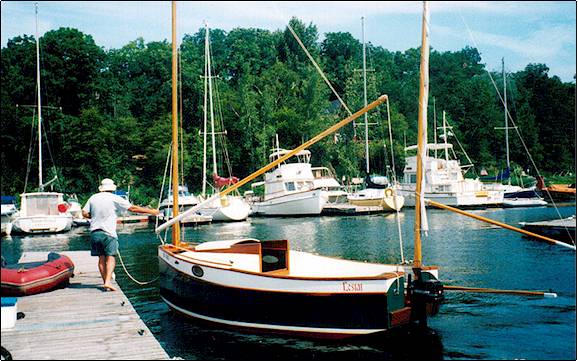 Leaving the marina for the long ride home.Lestat was being stubborn and
had to be pulled by the nose.Naughty girl!
Finally the time had come to bid adieux to the good folks at Point Bay Marina who had been excellent hosts and to say goodbye to my Pesky Crew who must now drive back to Montreal. As I motor out and away from the marina, I stare back at the receding sight of both the wonderful landscape and Pesky waving from the end of the service quay. Making a broad turn past the point, I can now feel the fullness of the wind and proceed with the hoisting of my sails. Sitting down in the cockpit, I adjust the mainsheet and feel LESTAT become alive under me. Behind me, I can barely make out the marina anymore and Kingsland Bay is deserted. I must confess that a tear or two may have fallen from my eyes but it must have been the wind....
This godsend of a wind has also brought with it some light cloud cover which is something of a blessing .At least today, I will not be doing a slow fry in the cockpit! LESTAT and I are now like two hunting dogs, with our noses eagerly pointing North. The wind keeps dancing around from due South then over to South South West which keeps me busy tending the mizzen as we go from sailing wing-n-wing to a broad reach. With this wind, I am anxious to see just how far we can travel non-stop. My rough calculations estimate that, barring any misfortunes, we just may be able to make it to the border before nightfall!
By noon time, this target becomes lost. The winds have all but died away and we are pushed along at a little over 1 knot. Remembering that this is a vacation and not a race, I haul out my galley and prepare a delicious lunch. While preparing this singular feast, a police boat from New York state comes motoring along. Their presence has something of a tempering effect on my planned feast as I very discretely stow my wine bottle back in the hold. Now is not the time to become entangled in another country's legal system.
Fortunately, the law does not linger and they are soon miles away. Uncorking the bottle, finally, appears to please the gods for a little gust of wind now sends a paper napkin over board. Looking astern, I perceive catspaws all over the place. Thinking that this is no time to get lazy, I hastily clean up the dining table and stow the galley bellow. Allowing myself a generous refill of wine, the little gusts begin to blend together as one. LESTAT and I are boiling along once again!
As we sail through the part of the lake between Burlington and Plattsburgh, I notice the horizon filled with sails. As if on cue, everyone with a sailboat appears to be out on the lake taking advantage of this fresh breeze which has firmly established itself. Despite the number of boats, LESTAT and I are pretty much alone on our little patch of water for the great distances keep us all well separated.
In due time, we have slipped past Valcour Island, the site of a few famous and infamous naval battles. Cumberland Head beckons from the North and we sail on. Looking over my shoulder towards the South, the horizon has become nothing more than a hazy straight line. No longer can I even make out, with binoculars, the point of land which represented the opening into Point Bay. It has vanished into the haze as if it were never there. I have only my memories to keep me company.
Despite this days worth of grand sailing, LESTAT and I are unable to make the border before night fall. Exercising a modicum of prudence, despite the multiple generous toasts offered up to Aeolius in gratitude, we glide into Mooney Bay for the night, a scant 15 miles from the border.
AUGUST 7-10
The ensuing days are pretty much like the cruise down except in reverse. Crossing the border into Canada and reporting to customs is even easier than entering the United States. Before I can even prepare my fenders to tie up to the pier, the customs official comes out to the end of the pier, hollers out the famous question: ''Anything to declare?'' To which I am damned tempted to reply with: '' Yes! I'm having the time of my life and enjoying every minute of it!'' which instead comes out simply as, ''No.'' The result of this reply is a broad wave of the arm and a '' have a good day!'' from the official. Once again, my golden opportunity to become an international entrepreneur has past me by. Darn it!
And thus we carry on ever Northward. Sights, which were once new and strange are now familiar landmarks .Our progress North along the Richelieu river is slightly quicker now due to a favourable current . With each passing mile, I savour the moments for I know it will be some time before I pass this way again.
Although any time spent on a boat is time well spent and I was certainly over-dosing on LESTAT, the cruise had lost some of its mystery and adventure. Perhaps I had already grown blasé or maybe it was knowing that I was going home and no new surprises awaited. Whatever it was, I grew impatient to be home. Also, I loathed the prospect of re-entering the St. Lawrence river at the town of Sorel and cruising uphill against a 2 knot current!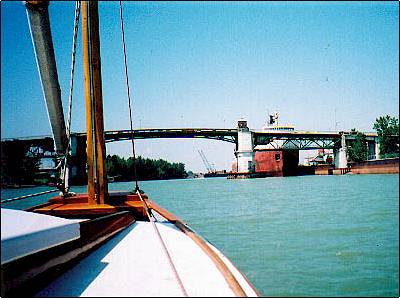 Laker in Sorel soon to be broken up by the wreckers.
The St. Lawrence river is just beyond this ill fated ship
It was with these mixed feelings that I finally did enter the St. Lawrence river after two days on the Richelieu and turn left. The effect of the current was felt immediately for the previously passing shoreline now seemed to stand still. With only the slightest of breezes blowing over our noses, I cranked up the throttle a notch or two and poured myself a big helping of nerve juice.
Although I prefer to savour the flavour of a good wine and hate cheating myself with big gulps, this present drink was strictly for medicinal reasons. Something stronger than spring water would be needed to slightly numb the senses from the ensuing drudgery, racket and vibration that would now become my constant companions. Because of the strong river current, it takes me a full two days to reach the entrance and first locks of the St. Lawrence Seaway.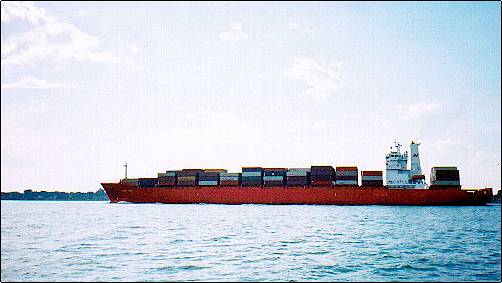 You NEVER want to get in these guys way….EVER!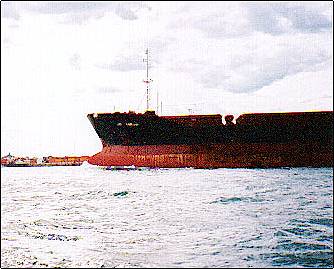 This big guy came charging by while I was busy watching
the approaching Montréal skyline.
Spending my last night on board LESTAT at a marina directly across the river from Montreal is too much for me. I call up my Pesky crew and she arrives within 15 minutes to carry me off to her kitchen of Italian delights!
Returning the following day to begin our transit of the Seaway locks, we motor up steam the last mile and a half to the pleasure craft dock and report in. Here we are told there will be a 3 hour delay due to the number of ships going through. As it is only 10 :00 hrs, the weather warm and the cooler now refreshed with some good home cooking, Pesky and I relax and socialise with the other pleasure boaters also waiting to go through. On time, a voice comes over the intercom system advising us to get ready.
This time, however, there are no big sail boats to hide LESTAT behind and when a fellow who looks like the foreman hollers down into the lock chamber inquiring about our length, Pesky comes to the rescue! Ah yes....women. How they can hypnotise us mere mortal men into doing just about anything. Standing up forward near the mainmast, stretching out her god given features, she looks up and replies in her best French accent, ''Pardon monsieur''. That seems to have the desired effect for in quick time lines are tossed down, the gates closed and the water level brought up. Once we are level with the lockmaster, he takes a keen interest in LESTAT and proceeds to politely tell us that it matters little to him whether we are the legal length or not but that he is far more concerned about our safety! Sure you are Buddy, and my boomkin's made out of solid gold. Really!
At any rate, we are finally released from the lock chamber with the concerned lockmaster so kindly walking along the walls until we finally clear the chamber. I was touched by such attention to my safety. Pesky, paying no mind to the attention, simply continued working hard on her suntan. Important stuff indeed!
Thus we proceeded along the Seaway until the next locks and our last one before home. Normally, once a boat or group of boats has locked through the first lock, there is no delay at the second lock. Today, however, things go oddly different. The few boats that came through the first lock with us are now made to wait a little over 4 hours! This is very frustrating for the others as they apparently had plans to be somewhere further up river by the end of the day and could ill afford to waste so much time. Pesky pulls out a feast from the cooler and we both enjoy a delicious meal, wine and all!
Finally, at 19 :15 hrs, we are instructed to enter the lock. Things proceed as before and in short order we finally exit the lock chamber staring right into the glorious golden light of a summer sunset. Darkness comes quickly along the Seaway canal as we slowly motor past the Indian reservation before coming out onto Lake St. Louis. Fortunately, these are my home waters and I know them almost as well as the back of my hand. Following the winding channel that eventually leads us into my home port of Lachine, I begin to feel the onset of fatigue and Pesky is only too happy when we finally arrive at our quay to tie up one last time, at 23 :05 hrs. Strange how the last day of my cruise, which involved the shortest distance , should end up consuming the greatest number of hours in one go. Perhaps LESTAT sensed that the end was near and somehow wanted me to play with her as long as possible. I'll never know for certain, but the thought is a pleasant one and dreams beckon still.............................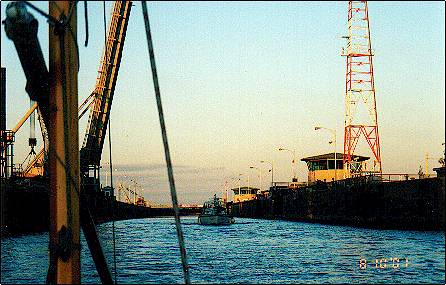 My last peek at the St.Lawrence Seaway lock at Cote St. Catherine.
Sunset is 20 minutes away and it has been a very long day! What a trip!