Cheating Winter
by Mindy and Dave Bulduc mbolduc@triad.rr.com
https://home.triad.rr.com/lcruise/index.htm
Chipping the ice off the makeshift plastic shelter, we freed LITTLE CRUISER and her groaning trailer from the clutches of winter. It was January, and already there had been several major winter storms in the east. Like snow birds, it was time for Mindy and I to head South.
Our fifteen foot sailboat was crammed full, almost to the point of bursting, with what we hoped would be enough supplies for three month's worth of cruising in the Bahamas. The million and one small details with the house and the boat had finally been completed, and we were both exhausted by our efforts. In anticipation of the fine weather to come, we wore shorts despite the biting cold outside. It was fourteen long hours before we could leave the comfort of our car.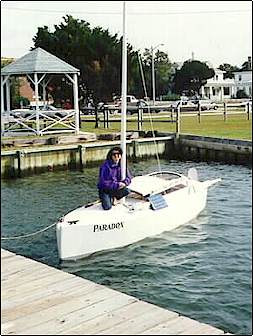 Last winter we had sailed LITTLE CRUISER for a month on the west coast of Florida followed by another month's worth of cruising in the Bahamas. This year we were looking forward to sailing with the designer and builder of our boat, Matt Layden. Already he was waiting for us in Key Largo, Florida. While Matt had taken roughly six weeks to sail from Connecticut to Key Largo via the Intracoastal Waterway, we were able to trailer our boat in a single day. Sixty five knots to windward; now that's fast!
We launched LITTLE CRUISER at a local boat ramp in Key Largo, and then we spent the rest of the day rigging the boat and admiring Matt's fifth home-built sailboat, PARADOX. Measuring only thirteen feet, ten inches long and four feet wide, this sharpie was different from ours in that she had no centerboard. Designed for solo sailing, PARADOX'S ease in handling was immediately apparent.
There were only three running lines on the whole boat: One to raise sail, one to reef and one to sheet. What could be easier? Mindy and I were a bit envious since LITTLE CRUISER had twice the number of lines. Like our boat, PARADOX was designed for shallow water cruising as well as for short offshore passages.
The next evening, favorable south winds were predicted, and both boats left Florida, bound across the notorious Gulf Stream for Bimini. Out in the ocean, the seas were sloppy and running five to seven feet. Matt led the way. We followed. From a hundred yards behind, Mindy and I watched PARADOX, brightly lit under her masthead light, bob up and down like flotsam in the confused seas. PARADOX looked more like a child's toy than a real boat, and it made us realize how small we really were.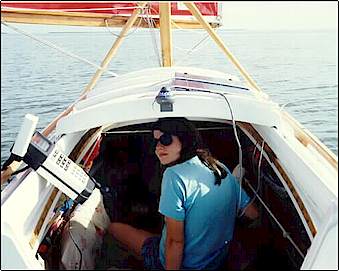 At daybreak, we found ourselves becalmed twenty-five miles out and only half-way across the Gulf Stream. Our progress had been hindered by easterly head winds instead of the predicted beam winds. Exhausted and a bit seasick, Mindy and I decided to motor the rest of the way; but Matt, always the sailing purist, refused our tow. He preferred to sail or to scull. With mixed feelings, we left him behind, making Bimini that afternoon after twenty hours. Matt turned up a day later.
Relieved by his safe arrival, we sat on the dock and took in our tropical surroundings. Coconut trees rocked gently in the cool morning breeze. Pelicans and seagulls sat on pilings preening themselves, while below, tropical fish swam lazily around our boats in the crystal clear water. On the roadside, Bahamian women prepared their stands with souvenirs, while the others braided the tourists' hair to the beat of island music. We relaxed. We soaked in the warmth of the sun. We knew we had cheated winter once more.
By the time Matt had returned from customs, we were entertaining a small number of local and visiting sailors. They were quite interested in our little boats, and Mindy was giving them guided tours, though only one person at a time. A few people thought we were trying to prove something or set some sort of record, but in reality we were traveling light to fit our budget and our needs. We wanted to sail now while our health was good and our interest in sailing was keen. Most understood our reasons.
Later, Matt guided us up a narrow mangrove creek on the north side of the island to reach a small secluded lake. Protected from the wind by a stand of Casuarina trees and isolated form the town's noisy generators, this anchorage was an ideal site to rest and to await good weather for our trip across the Bahama Bank.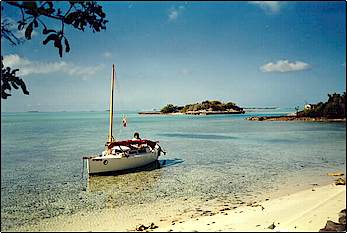 With the arrival of fair winds a few days later, we left for the Berry Islands some seventy-five miles away. That night a full moon lit our way across the shallow banks as we left a luminescent trail of bubbles in our wake. Everything was deathly quiet as the boats ghosted along in the light airs until a lone dolphin broke the silence, surfacing next to LITTLE CRUISER and blowing loudly. Then, as suddenly as it had appeared, the dolphin was gone.
The night passed slowly. Mindy and I entertained ourselves with the shortwave radio, and every hour was marked with a call to our friend to compare notes on our progress. By dawn we had reached the shoal waters off the Berry Islands, and in a few more hours we found ourselves a snug anchorage up a mangrove creek on Chub Cay.
The next day the weather was nice, and we left, riding a twenty knot breeze in six foot seas across the New Providence Channel to Nassau. We had an unusually swift passage, and we kept pace with two larger sailboats. After finding a suitable anchorage amongst the local fishing boats in Potter's Cay, we settled in for the night.
In the morning all three of us went ashore in PARADOX, which now served as our dinghy. On reaching the town landing, a "dock master" insisted that we pay him a dollar to watch our boat, and we did. Then we went off in search of fresh fruits and vegetables at the local market. When we returned, we were surprised to find yet another person watching PARADOX, and he too wanted to be paid. To avoid be cheated, we jumped aboard PARADOX.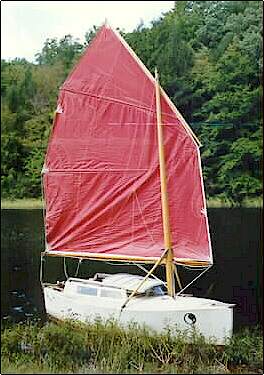 As Matt began sculling us away, this would-be con man put his foot down on our boat to stop us. Matt continued to scull, and soon the fellow found himself in the awkward position of having one foot on land and the other on the boat with an ever widening gap in between the two. Just before he fell into the water, we pulled him aboard. Then to our amazement, he resumed his demands for money as he precariously balanced himself on the fore deck.
In an attempt to regain control, we began rocking PARADOX from side to side, which forced our unwanted guest to sit down and behave himself. It wasn't long before we had him back on shore. we later called our antics the "Bahamian Deck Roll," in the hopes that should we ever be boarded in the future, the intruder could be dislodged easily by simply rocking the boat.
Having had enough of Nassau, we headed off for Rose Island, dodging double decked catamarans packed elbow-to-elbow with tourists. At Rose Island, we anchored in a foot of water, and then waited for the tide to fall so that we would be happily aground on our flat bottomed boats. We rested peacefully that night as the other boats in Bottom Harbor rocked steadily in the northerly blow, telltale signs of the bad weather back home.
Our next destination was the Exumas, a chain of beautiful islands stretching southward some ninety miles. We first visited Allan's Cay to see the endangered Bahamian Iguanas, and a day later we had fun sailing around a half submerged DC-3 airplane near Norman's Cay. The snow white beaches on Shroud Cay enticed us to linger a few days longer in the northern Exumas before heading farther south to Hawksbill Cay to explore the ruins of a Loyalist Plantation.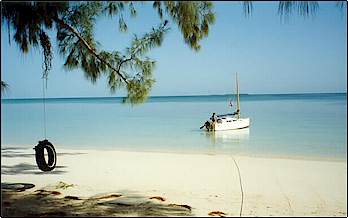 Over the next few weeks, Mindy and I came to appreciate the unique geography of the Exumas. Because the islands were only a few miles apart, easy anchorages were always at hand, and our nine inch draft allowed us to negotiate the shallow waters between the islands and to bump over the ever present sand bars. When the weather became foul, we stayed in the lee of the island, under conditions Matt called "bathtub sailing."
Continuing southward we next stopped at Warderick Wells, the headquarters of the Exuma Land and Sea Park and a favorite gathering place for cruisers. At the park office, which also includes a nature science center, we passed our time learning about the local fauna and the island's history as well as feeding some small yellow birds called Bananaquits. We had fun luring them onto the palms of our hands with sugar, and it wasn't long before a small flock of these hungry birds were dancing on our finger tips. At the traditional Sunday potluck dinner, Mindy and Matt impressed everyone by baking two delicious breads on PARADOX'S tiny kerosene stove. Many new friends were made that night.
After nearly a week at this wonderful place, we left to explore more of the islands farther south. When we reached Staniel Cay, Matt called home and found out that his girlfriend had decided to join us for two weeks in Georgetown, Great Exuma. The cold weather back home had finally convinced Karen to come.
Picking up the pace to meet her on time, we sailed past dozens of deserted white beaches and perfect anchorages over the next sixty miles. When we reached Georgetown, the final destination for hundreds of cruising boats wintering in the Bahamas, we had two days to spare. Karen was fortunate to leave New York on schedule as a snow storm threatened to cancel her flight. After her safe arrival, we spent a few days sailing together around Great Exuma before Mindy and I decided to venture farther offshore to see some of the less visited Out Islands.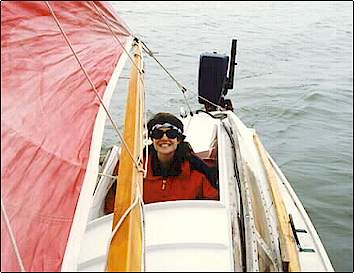 Mindy and I chose to visit Long Island first. On the way we noticed how strange it was to be on our own after a month and a half with Matt. It had been reassuring to raft up the two little boats at night, and we had especially enjoyed sharing our evening meals together. When we reached Calabash Bay, Long Island, there were only two other sailboats in the anchorage. We made friends quickly with these cruisers, but it wasn't long before they departed on their own adventures and we left for Rum Cay.
From ten miles away we spotted the prominent hills on this island. Then, as we got closer our attention became focused on the half dozen large shipping containers high on the beaches. This sight reminded us that we were no longer in the placid waters of the Exumas, but in the rough Atlantic Ocean where cargoes are washed off the decks of ships and thrown onto the beaches like driftwood.
Our fears were quickly forgotten, thought, as the sounds of music and laughter were heard in the distance. As we approached Port Nelson we could see that a party was in full swing. We landed on a nearby beach to investigate, and we were immediately swarmed by a happy crowd of native party-goers. We felt very honored when we were invited to join the wedding reception we had just interrupted.
During our stay, we made friends with many of the islanders. We were given fresh seafood and invited home for lunch. To us this was the Bahamas of yesteryear, the unspoiled paradise that we had dreamed about. Fish, lobster and conch were plentiful. Everyone was friendly. We explored the old plantations, and we went for long walks on the beaches. However, all too soon, it was time for us to leave as we wanted to be back to see Karen before she returned home.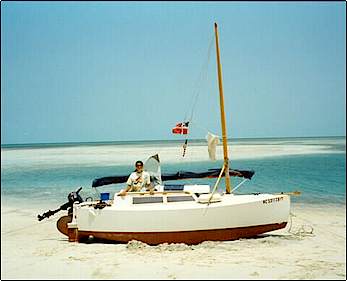 On the way to Georgetown we stopped at Conception Island for a brief visit. We found the island uninhabited except for a fierce population of mosquitoes, no-see-ums, and horseflies, who seemed especially attracted to our red sail. We had planned to anchor in a creek that pierced it's rugged interior, but the entrance was obstructed by a rocky bar. After several risky attempts in the surf, we chose a safer anchorage on the west side of the island. In the morning we returned to Calabash Bay, and then we rejoined Matt and Karen in Georgetown the following morning.
After Karen went home, both boats headed north to visit many of the islands in the Exumas that we had missed earlier. One place in particular, Thunderball Cave, amazed us. It was here that we were told by locals some scenes from a James Bond movie were filmed. By swimming through a hole in the side of a small island, Matt led us into a dark cavern lit only by a few rays of sunlight peaking through a hole in the roof. The cave was both magical and eerie. We explored the other adjoining chambers and watched the colorful fish dart in and out of the many passages. This was probably one of the most incredible diving experiences of the whole trip.
We stopped once more at Shroud Cay, and then we went on to Saddle Cay to visit one of Matt's friends who had a thirty-two foot sharpie which was similar in design to our own boats. Chris and his family had lived aboard HOGFISH for several years, making the Bahamas their winter home. After several enjoyable days with them, we went on to Ship Channel Cay where we left the beautiful islands of the Exumas behind to visit Spanish Wells, Eleuthera.
There we met still another of Matt's friends from an earlier voyage. He treated us to a home cooked meal, a welcomed treat after months of our own cooking. It seemed that wherever we went our little boats brought out the best in people. The following day a lady gave Mindy some fresh home-grown tomatoes, while another presented us with hand painted calendars.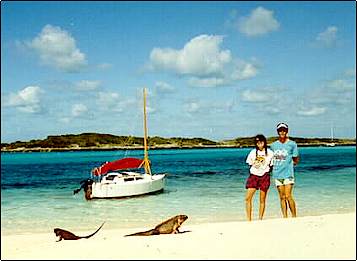 It was now the middle of March, and two and a half months had passed. We knew that if Mindy and I were to be home by April, we would have to start heading back to Florida soon. Matt chose to stay longer so he could visit friends in the Abacos. After a brief visit to nearby Royal Island, we parted company. Mindy and I retraced our path to Bimini before safely crossing the Gulf Stream.
In Key Largo we loaded LITTLE CRUISER on the trailer, and headed north following the spring blossoms all the way to North Carolina. By the first week of April, we were home after eight hundred sea miles and eighteen hundred land miles. We were happy to see our friends and family, and they told us of the cold miserable winter we had missed, the worst that they could ever remember. Our dark tans and broad smiles must have conveyed more than anything else the great times we had experienced. It didn't surprise us, therefore, that everyone asked us if we would be returning next year. Who knows? Maybe we'll cheat winter again.....