An interesting variation to wind surfing is kite surfing. It is done with a very small board, one that looks like a snow board. The kite is attached to the skipper's harness. Skipper is a good term here, because that is exactly what happens. One skips over the wave tops at incredible speeds.
Tuesday, March 20.
"OK, that is the last thing we are taking." (Geo)
After all how much stuff can you pack into a Micro?? And how much do you really need for a single over-night trip? By the time we got everything packed and got both boats launched, it was 2:30 PM.
We sailed 8.5 miles south to Green Hill with southeast winds 5 to 10 knots, arriving at our destination at 6 PM. Tom sailed off a respectable distance and took a shower with his solar heated water from a "sun shower", while Mary and I began to organize the evening meal.
The sunset, food, wine, and company all went together nicely. The water was flat and we were securely anchored in the shelter of a tall sand dune.
At 2:30 AM the wind strengthened and shifted 90 degrees. We became aware of an annoying feature of the Micro design: waves spank the flat bottom, making sleep difficult.
Wednesday, March 21.
"This is a Kodak moment. Too bad we forgot our cameras," said Tom from atop the sand dune with Laguna Madre stretched out before us and two micros swinging on their anchor lines.
In the morning we found that we had both run aground. We had anchored in 4 feet of water, which is near the maximum depth of Laguna Madre; but the wind shift pushed our boats toward shore. Tom has sailed here before and had collected two push poles from Chuck. The push poles sure came in handy.
After anchoring further out, we had a hardy breakfast of scrambled eggs and polish kielbasa. Then we set sail - destination Baffin Bay about 4 miles dead into the wind. We had a good time beating up wind for a couple of hours, but never made it to the Bay. One problem was the intercostal waterway. It is a dredged out trench running through the center of Laguna Madre. The spoils from the dredging are piled up on either side of the trench. The water depth varies from zero to two feet over the top of the spoils. Baffin Bay was on the other side of the ICW from us.
The wind picked up to a steady 15 knots or so and we had a quick run home, wing-on-wing most of the way. Tom's knot stick read steadily at 4.5, surging to 5.5 on occasion. His micro is a stretch version, 18 ft long compared to mine built according to the plan at 14.5' long. His micro has the same sail plan as mine. He gained about 200 yards over the 8-mile run, so I guess the extra length helped him a bit - or maybe he is a better sailor.
Dinner was at Snoopy's, which gets a 4-star rating from us fish lovers. Dessert was ice cream at Scoopy's.
Thursday, March 22.
"I bought extra shrimp for an appetizer", says Mary at the Walmart check out line. The main course will be Tom's specialty, Frogmore stew (potatoes, corn on the cob, kielbasa, and SHRIMP).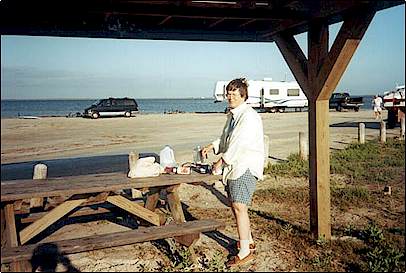 Mary at Bird Island Basin
We intended to sail the Corpus Christi Bay; but after pulling the micros over there, the white caps were just too intimidating. Instead we decided to check out the Columbus ships. Nina was tied up to a dock and we had a good look at her. Pinta and Santa Maria were in the museum. A big sign greeted us there "Columbus ships closed". It seems the ships were not taking in enough money to pay expenses, so they will be moved to Florida.
Friday, March 23.