A little over a year ago, My wife and I were sitting in our backyard on a nice summer evening. I was thinking about all of the things I missed in life since I had become an adult. My thoughts led me back to my upbringing on the Kanawha River in West Virginia and my Dad. My father was a backyard boatbuilder who constructed small hydros, powered by even smaller motors, that were built out of wood and quite fast for that day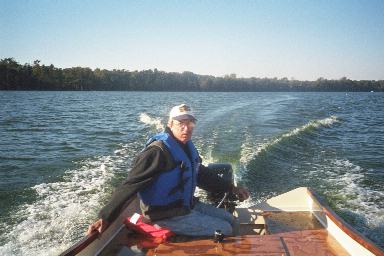 and time. I had a small V bottom and Merc. outboard that was exclusively mine that I enjoyed enormously summer after summer. We were what you might call a '' river family.'' The water and my family go a long way back. I have always loved wooden boats. something that was instilled in me as a child. Anyway, thinking about my father, I told my wife, ya know, ''I'd like to try to build a boat someday.'' I had been away from the river for 25 years and found it was something I really missed.
Sue has always been very supportive of me in my endeavors but I was surprised when in several days she handed me a copy of Dynamite Payson's "Build the New Instant Boats". I then warned her, "Ya know what a boat is don't ya?" She said "No" and I told her: ''A hole in the water in which to throw money." I don't think she knew how serious I was. Always encouraging, she said '' We can do it a little at a time."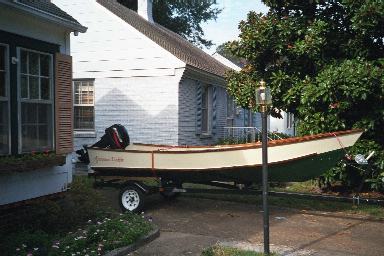 I studied the book for a couple of weeks and decided Diablo was the boat for us. I wanted something fast that we could fish out of and something that could handle rougher water when needed. Having very little woodworking experience, I still thought this was something I could do. Dad always told me '' Mike, you can do anything you want if you put your mind to it.''
Upon receiving the plans from Dynamite, I purchased the wood which turned out to be B.C yellow pine, the only thing comparable, available in my area. At first, I was concerned about the weight of the pine but with the 25 hp. long shaft Merc. I'm running, well, does anyone remember how the monkey's cheeks looked in the centrifuge in ''The Right Stuff?'' This is one fast boat for her type!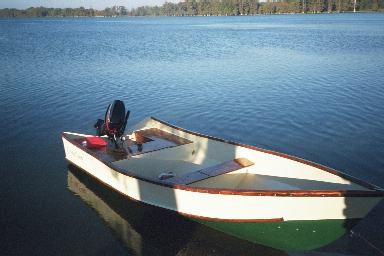 I soon had everything laid out. I cut the parts with a skillsaw as Dynamite suggested and began the assembly. I used some of my own construction methods. I decided on marine glue and in most cases where the boat called for nails, I used galvanized screws. I countersunk em, ran em completely through an puttied up the holes. For any screws that were left exposed, as in the gunnels and seats, I used stainless steel with finishing washers and sealed them all with 3M 5200.
I wanted this boat to look like a wooden boat so the seats are stained and varnished as well as the gunnels, spray rails, stem and knee. the paint is basic exterior oil that seems to be holding up well so far. As one of my buddies says, ''This is one hull of a boat.''