One recent Sunday morning, Alan "MadDog!" MacBride and I arrived at his Graving Dock with intentions of putting in a few hours fairing the hull of Albatross. As usual, the morning began with our obligatory coffee hour…a couple hot cups of java served with heavy doses of BS. The chat session dragged on as we contemplated the monotony of the job ahead of us. An unspoken agreement developed that we would put off the fairing a while longer. Little did we know the procrastination would last more than a month while we slowly toiled with this latest "folly."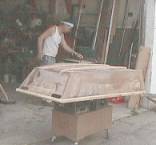 For those of you who've not seen it, the Twig is a small (we're talking TINY here, folks…approximately 4'x3'x1') dinghy made from a single sheet of plywood. Praise must be given to Tony Hunter and Don Elliott for such a practical design. The free drawings are simple and versatile, allowing for a relatively good deal of custom modification. It's a great little boatbuilding project, perfect for a first-timer/novice or someone who needs a quick and attractive small boat tender.
Alan and I both reviewed the drawings earlier that week so they were somewhat fresh in our minds. This was fortunate because neither of us had the foresight to bring the drawings with us that morning! We dragged out a long-neglected scrap sheet of luan ¼" plywood and laid it across a couple makeshift sawhorses. We followed a long tradition of ships' carpenters working with limited measurements and few tools to lay the lines for the dink (proof that good design plans are no substitute for proper layout).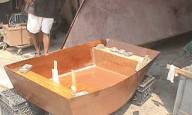 Thanks to Alan's years of building experience the layout was completed in short order. Reasonably appealing curves were marked with a batten to conform as best we could remember to Don's original drawings. A slight rocker was given to the sides. For a bit of graceful sweep, we used a trammel stick to reproduce the rocker along the sheer. The transoms were cut to best fit the curve of the sides when stitched to the bottom. We clamped on a few temporary vertical braces to prevent the chines from popping out of place and glued the seams with a basic filleting mix. All told, the boat was cut and stitched about 2-½ hours after we set down our coffee mugs. Before lunch, we completed as much could be accomplished in one day using Raka's slow set hardener.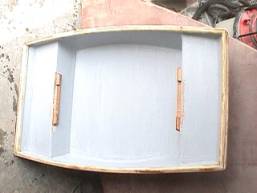 During the next week or two, spare time was spent on the finish work (always the slowest part of any job). Pete Hardy (white shorts in picture above) came down to visit and helped Alan build bow and stern seats (a modification of Don's plans…no breasthooks since the seats tie the corners together while also serving as comfortable butt racks). A plank was milled, urethaned and suspended fore and aft between the seats, allowing one person to comfortably sit amidships. Handholds were cut. Rubrails and sheer strakes were milled and installed, along with runners along the bottom. All the seams were finished with fiberglass tape. The entire hull was copiously coated with generous amounts of epoxy to ensure durability and waterproofing. When we felt comfortable the boat was sturdy and structurally complete, we sanded and primed it to prepare for painting.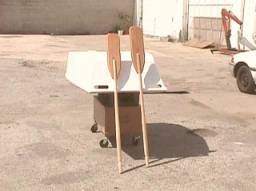 Since we are easily bored by monotony, Alan and I decided to put off painting for a week and toil with yet another (albeit related) project. This side detour brought to life a brilliant idea Alan had for oars. I won't go into much detail on their construction, since a step-by-step how-to sequence is available on Alan's website. Let's just say that shovel handles are useful for more than hauling away our piles of BS!
We were so excited about our unique oars that we couldn't wait to test them. Unfortunately, the only water nearby was the backed-up sewer in the garage's parking lot. Still, we weren't going to let our poor proximity to navigable waterways prevent us from rowing this cute little dink! Like any determined boat builders with little else to do on a Sunday afternoon we built our own "lake."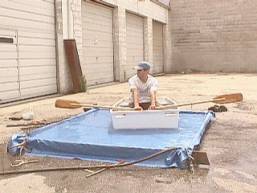 I needed a tarp for a camping trip I'd been planning. So I ran to Wal-Mart as fast as my Escort and the Philadelphia police would allow and picked up an 8'x10' poly tarp. By the time I returned, the last coat of epoxy on the oars had dried. We found some scrap 1x6 lumber lying around the yard. With 2x4 blocks for corner bracing, we built a box approximately 6'x8' and 6" deep. The box was leveled using the corner braces as shims. We put the tarp in and weighted it down to prevent it from blowing away. The hose was turned on and within a few cups of coffee we launched the Twig on its maiden voyage. With thick smog rolling in from the Sunoco plant we set ourselves adrift towards the concrete horizon!
The Twig is now finished and decorating my cramped apartment. (Doesn't everyone have a boat in his living room?) Soon it will be relocated to the bow of a 24' sloop I have moored in Florida. In the meantime however, I enjoy explaining its presence to inquisitive guests.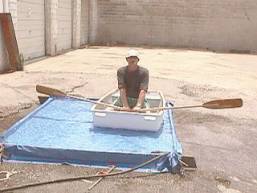 Because of the versatility of the design and the basic skills required building a Twig can be a valuable learning experience for any novice. An inexperienced builder learns tool usage, how to work with epoxy/fiberglass systems and painting techniques. Most importantly however, building a Twig without detailed plans teaches what can be considered the most important aspect of any project. As I trip over the perfectly aligned gunwales and sturdy chines on my way to the shower every morning I am reminded of the importance of proper layout.
---
The Maiden Voyage
You will be pleased to hear that the Twig Alan and I built a little while ago was finally put through sea trials yesterday. She handled remarkably well. The 5' oars propelled her better than expected. Extremely easy to maneuver. We found that she is not conducive to rowing in a forward facing position. Proper ballasting is key to the Twig's performance. A weight shift of only an inch makes a dramatic difference. Due to ballast concerns and low freeboard (not to mention cramped space) rowing with two people or large cargoes will be extremely difficult (we didn't try).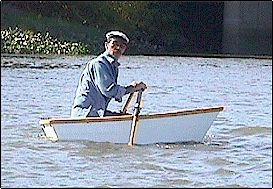 We had a grand time rowing out of Morrow's Marina on the calm waters of a backwater creek leading to the Delaware river. There was a whipping current (I'm guessing 5+ knots on the flood tide) and opposing, albeit light, wind near the bridge where we dropped in. Rowing against the current tested the performance (and our pectorals) quite well. If we rowed near the edges of the channel, away from the bridge, we were reasonably out of the current's effects. Not too many problems. When pulling hard, however, Alan found it quite easy to ship water in the bow (a slight shift of weight corrected this).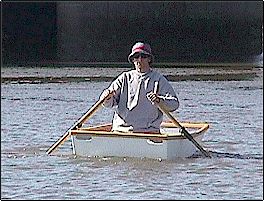 Key things to note during the trial: extremely easy maneuverability when properly seated; good "dock appeal" (many inquisitive boaters made flattering/humorous comments); easy to launch; naturally seems to be bow heavy (perhaps less bow rocker and higher freeboard?); higher freeboard would make the boat drier; somehow secure the oarlocks (eg. chain/toggle); bring a bailer and sponge no matter how calm the water (with less than a foot of freeboard, you tend to take on water no matter what); don't get back in the boat without cleaning your shoes after walking around nearby mud flats.
Brian "The Pelagic Turtle" Gregson