If asked, I could say that the sheer on my Diablo is two inches lower at the bow than the plans specify so as to accommodate local conditions here in Juneau, Alaska. I customized it so when I'm trolling with the Taku winds abeam they won't blow me off course. I could say that but the truth is I screwed up the stem angle on the side panels and faced the classic boat builder's dilemma: How does one proceed from the point of discovering a major mistake?

In the Beginning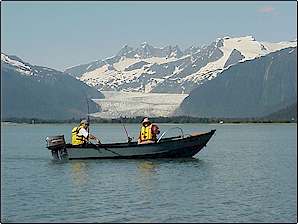 Having lofted and built three other boats either in teams or with partners, I believed I was ready to float solo. The question was: what plan should I start with? I live on a Nordic tug moored in Juneau's Douglas Harbor. A narrow cut that is wetted at a plus 10 tide separates the mainland from Douglas Island. When I want to access the waters north of the island, tides and logistics become primary concerns. A light skiff that could get me to the north end of the Island quickly, either by trailer or over the bar, seemed a logical choice.
I chose to build just to see if I could. In fact, cost was never a consideration for me. Wages are comparatively high here in Alaska and when friends drop in to look at my various projects they sometimes ask: "How much will you save by building your own boat?" My answer is always: "Not a cent". Considering the alternative forgone at my prevailing wage, the answer is true. It's just that, if given a choice of how to spend my time, I'd rather build this boat for $2.50 an hour than make ten times that at my regular job.
An important question to ask yourself before you start any boat building project is: "Do I want to have built a boat or do I want to be building a boat." If you genuinely enjoy the process, not just the product, go ahead and order the plans.
I zeroed in on Diablo since it met my specs and had the reputation of being a proven "New Instant Boat". Besides, I thought that by working with epoxy I could blame my behavior on the fumes. I took all the advice--well most of the advice--Harold Payson and Phil Bolger had to give regarding the building of Diablo, a 15- foot, flat-bottomed, plywood skiff with taped-seam chines. The Diablo was a good first solo project for me. When the plans arrived, I plopped down in my "wailing chair" and poured over the sheets. I didn't pick up a saw 'til I was dreaming about the penciled plywood awaiting butt-scarfing on my shop floor. This is where some experience with lofting pays off. While lofting isn't required for Diablo, using brads on the station points and trusting one's eye and fair batten rather than the measured marks is useful. Finally, I cut everything to within a 32nd of an inch and started the assembly process.