Webbjet 14
review by Larry Pullon lpullon@tcworks.net
Jet John Website
It's a rare day when you get more than a quick glimpse of a one-of-a-kind boat. A recent trip to Tennessee lead me to Tim's door and a tour of his remarkable craft. If you like the no-nonsense qualities of a well made Jon boat, you'll like Tim Webb's Kawasaki 550cc powered "Webbjet 14". Function over form usually means an excuse for ugly, but Tim has created a well balanced rig that looks "just right" to Jon boat enthusiast.
When Tim took me to the Webbjet's "hangar" the first thing that caught my eye was how the small tires and the lack of usual upright bunks on the trailer kept the rig low enough to launch in shallow waters that would thwart most other 50hp boats. I also quickly noticed the hull looks like a current generation aluminum jon, but, is in fact constructed entirely out of plywood. Like everyone else that looks at this boat, I just couldn't resist giving the side a thump.
Tim and the Webbjet in front of her hangar.
A low trailer ensures shallow water launching

Built using Tim's "screw and glue" technique, which is a fast and easy way to make a boat like this, the hull is protected on the outside with two layers of 8oz. satin weave fiberglass cloth and epoxy resin. At fourteen feet long, with a four foot bottom and hard chines, you'll find she has all of the stability that has made Jon boats a favorite for protected waters.

A large fishing deck on either end ensures maximum comfort and casting room for two occupants. Permanently mounted seats on fixed height pedestals provide economical yet comfortable seating.
Tim says he usually fishes from the back seat because it places him closer to the controls when it's time to motor to a new spot. The JS550cc power plant is tucked amidships under a two inch "hump" and lets you know this is no "ordinary" jon boat.
| | |
| --- | --- |
| The entire aft deck is supported by gas struts and easily lifts to reveal a built in 12 gallon fuel tank, starting battery, and the mechanicals of a JS550 Kawasaki Jet ski. Everything is uncluttered and neatly laid out, allowing more than average room for maintenance. Tim has designed a great weight saving engine mount and bearing support system that eliminates the need for all but a tiny part of the Kawasaki Hull (alone worth the price of the plans). Water inlet, pump housing, and ride plate is stock Kawasaki. Tim's motto is "Cut up your stand up!". | The Webbjet takes readily to the water. Engineering is excellent - would also make a good hull for 25 and under outboards. |
The area under the forward deck is primarily for storage but is also slated to contain floatation foam to augment the flotation now secured behind two side panels. The decks are braced just enough to give a solid feel to the seating and flooring areas.
Between the two casting decks is the cockpit area. Here you'll find the centrally located stick steering, designed to be out of the way and operated with equal ease from either side. There's also a sub floor covering the bottom of the cockpit area that promises dry and warm feet on those cold winter trips. The boat's finish is an oil based gray with leave patterns randomly stenciled to give a nice camouflage effect.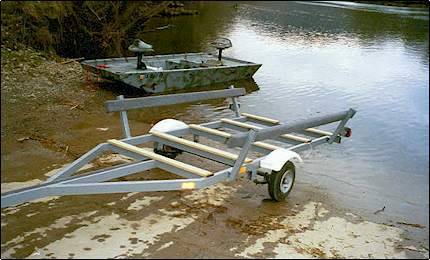 The rig towed without complaint on Tim's homebuilt trailer (also included in the plans!). After an easy shallow water launch we were ready to begin on the water testing. I found the noise level in Tim's boat to be much lower than that in my fiberglass JS550 powered "Xboat". Even though there is carpet soundproofing on the inside of the cowling, the wood itself seemed to absorb much of the noise. Over the years I somehow forgot that wooden boats are quieter than either glass or aluminum!
We headed up river against a 7-10 knot current and quickly reached cruising speed which I estimate in the 25 knot range, a nice speed for fishing boats. I held the controls a bit and found them to be smooth, easy to move, and responsive (everything you expect).
After a silky smooth run of a couple of miles we came upon a shoal stretching across the river area that was the stopping point for most propped boats. There were about four boats fishing in the fast water blow the shoals and I couldn't help but notice the stares as we slowed down for courtesy and then made our way around the amazed onlookers (our boat was bigger than most of theirs!). We easily crossed the shoals without bottom contact and motored across a shallow "flats" area where I noticed Webbjet was "feeling the bottom". I don't mean we were dragging the bottom, on plane in shallow water (under a foot) the hull will tremble as it picks up feedback from the bottom only a few inches away. When you feel that, you know you are floating on dew!
The test river. 7-10 knots running water.
Cold, shallow, and clear - perfect for trout..

A little further upriver Tim found a submerged log and demonstrated the jet's power by pushing right over it! I imagined the possibilities on those log choked streams, normally inaccessible to powered boats. For bottom protection Tim installed four one inch high density plastic strakes which also give you a slippery surface that make log hopping seem easy. Tim said he ran the Webbjet onto the boat ramp a few times "just fooling around", but discouraged this because you quickly loose "cool points" trying to drag the boat back to the water.
Finding a likely place, I disembarked for photos and Tim demonstrated full power turning and control capabilities. The Webbjet turned smoothly and proved the boat has the maneuverability needed to operate around rocks, stumps, etc. Tim says, it's about the only boat you own that needs a winch on the front. He did note, that like all jet ski pumps, the Webbjet must be operated in clean water, hydrilla, too many leaves or trash will disrupt water flow and cause cavitation problems.
The trip back down the river took a bit longer, we were both having too much fun to leave and we had a lot to talk about. So we stopped several times to discuss different aspects of boat design, operation, and just "things" in general.
Don't get me wrong, I'm not saying Tim's Webbjet is the "perfect all around Jon boat", don't even think about using the Webbjet for crossing giant reservoirs or ocean use. But, in it's protected shallow water element, you're going to have to search hard and long and spend thousands of dollars to find its equal! If you need a "skinny water" boat for shallow, rivers, bays, and inlets, Tim's Webbjet is a great boat that will eagerly take you were props dare not go!

No special training needed. Controls and
operation are predictable. Nice ride!.
The Webbjet is definitely a doable boat for typical garage construction
(even first timers) using regular hand tools. Happily, Tim has agreed to
publish drawings with dimensions, and general instructions. He is offering
two plans packages - first is the total package ($30) which includes jon
boat, engine installation, and plans for the trailer. The second package
($20) is for building the jon boat for outboard power and trailer plans.
Both plans packages include a CD with a large collection of construction
photos!
Tim is a great person - I have little doubt that if you choose to build his fine boat he will be there to support you all the way!