From the Boatshop
by Ron Magen
quohog@worldnet.att.net
"Is BIGGER really BETTER ?"
It's a trend that I keep coming back to and I don't know what to call it; habit, rut, or philosophy. The "small boat", micro or mini cruiser if you will, as a target (I don't want to say "end") rather than an "entry level" or "beginners" boat.
Some time ago I spoke with George Hylkema, owner of the Sam Morse Company, and proud builder of the Lyle Hess "Channel Cutters". Even in this level of quality, and displacement (7000 + pounds), the 22' Falmouth Channel Cutter is thought of as "a good entry level boat". You pay for quality and excellent workmanship, in this case we discussed a 1980 vintage Falmouth being offered for $28,000.oo. The owner wanted to "trade up" to a 28' Bristol Channel Cutter..
Other traditional full keel boats of this style are the Pacific Seacraft Flicka (20') and Dana (24'). I have seen this vintage in the sailing magazine broker advertisements for $22,000.oo to $28,000.oo. Excellent boats, but I look at them as a GOAL not the beginning.
Perhaps I should have defined the objectives initially, but that could make for a boring start. It's a good guess that the typical contemporary sailor doesn't own a "cottage" in Newport or "putter around" on Narragansett Bay in a crewed teak & mahogany "J-Boat" named SHAMROCK. The astronomical cost not withstanding today's family simply doesn't have the TIME.
A "traditional" boat usually means wood and all the warmth and beauty and joy to behold it brings. And the MAINTENANCE !! To some this is an integral part of the picture. Just look at the resurgence of "traditional" and "wood" boat shows, organizations and builders. Also note the "compromise" of PLYWOOD plans and boat builders using "modern" adhesives and materials. I have sets of plans for wood dinghies & skiffs which could be "clear finished" just to show the wood. But that finish will likely be epoxy or urethane.
If "doing the work" is the goal, any boat will do; it never even has to leave the backyard. Hours of family time and great voyages around the world and still sit down to Sunday dinner. A trailer/sailor with a micro- or mini-cruiser can do this and on the water, too!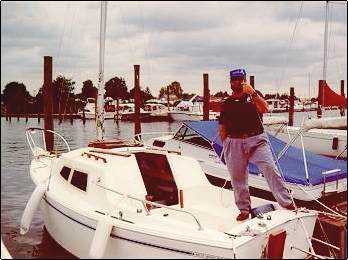 To define, and with acknowledgment to Larry Brown; "micro"- about 15 ft, "mini"- about 20 ft. Another part of the criteria is your own definition of use and what your towing vehicle is.
With the proper vehicle and trailer a Nor'Sea 27 is considered a trailer/sailor, but your probably not going to take it for an afternoon sail at that little lake or cove a half hour away down that winding road. You will with your 400 pound 15 foot MICRO-cruiser !! Ours is a bit bigger; it is a 19', 1250 pound, West Wight Potter 19. 375 pounds of the displacement are in a fully retractable keel that draws three feet when down. There is 55 inches of headroom, 'comfortable' room for four in the cabin and my 16 year old, 4-cylinder, 2 wheel drive pick-up tows it with ease. More importantly it pulls the boat and trailer out of the water and up ramps (to about 15 degrees, so far). I mention this because it is a consideration that many people don't think about.
Pictures have been published of people "launching" their car and we've all smiled and assumed the person forgot to set the brake, left it in gear , etc. I will not back my vehicle down a ramp until the exhaust is under water - but I've seen other people do it. I have also seen people drive their power boat onto the waiting trailer, on the ramp, and sit in it while the tow vehicle's tires squeal, slip and smoke trying to pull it up the ramp. Sometimes it's a 4-wheel drive truck, but the ramps slimy, or it's October and there are wet leaves. Of course the 200 HP outboard and the 200 pound dead weight boat driver don't help, but by getting him out of the boat and onto the rear bumper of the truck and adding my "rail meat" it gets pulled out.
Sailors may not have this problem, or the easy solution. An 18" deep 800 pound shoal draft keel gives excellent stability on a small light weight hull but you have to back farther down the ramp and you can't shift or remove it. Water ballast? True, you don't have to tow the ballast down the highway and there may be a fully retractable fin, but you do have to pull the boat AND THE WATER WEIGHT up the ramp to drain it. (I've read/heard that for safety reasons the manufacturers WON'T install pumps. Accidentally removing the ballast while underway could be disastrous. I don't know what owner-installed devices will do to warrantees.)
Would my wife feel more confident with 1,000 pounds in a 24" fixed keel and 2,000 pounds displacement - ABSOLUTELY!! With our present vehicle could we tow it and launch it as easily -ABSOLUTELY NOT !!
That's why, a 22', 7,000 pound full keel boat is the "retirement goal". Keep it on a mooring in the Chesapeake or a Delaware River slip for the season; for a month here then a month there; summer in New England, fall in the Keys, or that visit to my niece in Santa Cruse, California. A tow it, or have it professionally towed, and cradle launched for a decent period of cruising before moving again lifestyle. And if we want to store it for the winter we simply leave it on it's trailer. A few appropriate jacks and braces to take the load off the tires and a good tarp cover. If our backyard isn't big enough then we'll keep it at a yacht yard for a small fee - nothing like the $24.oo /ft typical cost of hauling & blocking that 28 foot 'mini cruiser'.