This quick and easy to build little boat is the result of the need to make an inexpensive boat for my grandson. After some study, I decided to try and get the most boat possible from one sheet of plywood. Surprisingly, the boat ended up being longer than 8 feet! This was made possible by "kerfing", or scoring some of the plywood pieces to allow them to easily bend.
The eight year old owner of Origami required that his boat be a real Pirate Ship, so it was designed with a clipper bow and bowsprit, and of course the round stern to add to the big ship look. Origami resembles the profile of a much larger ship, in fact she was developed to obtain the most displacement possible from one sheet of plywood. She has a lot of Sharpie characteristics, and she is quite stable. The optional sail plan is a lugg rig, and she flies the Skull 'n Crossbones. The lugg rig is easy to build and sail.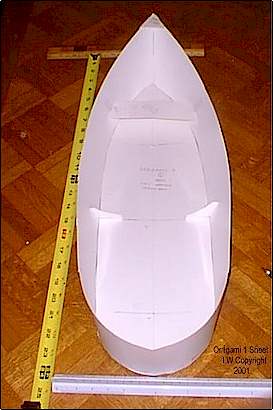 I began with a paper model at a scale of 3" to 1' to test the curves and scoring (kerfing) necessary to get a boat this large from a single sheet of plywood. This process somewhat resembled the Japanese art of folding paper, hence the name Origami. I used ACX Fir Exterior plywood ( not necessarily the best wood for kerfing), and Luan or Marine grades can also be used. No lumber other than this one sheet was used. My goal was to keep waste at an absolute minimum.
The plans were drawn up from the 3" to 1' scale, and the boat was laid out and the pieces cut. Building was a simple process since there are only four major plywood components and assembly employed the stich and glue method developed for epoxy fiberglass construction. Only the outside seams are taped with glass. The little pieces of plywood that are left over became the mast partner, mast step/bow block, bow sprit and 6 chine knees. The leftover sawdust can be used in the epoxy process. The design uses 10 drywall screws instead of clamps during construction, and they are removed before finishing. She is painted with Kils latex and finished with Rustoleum Oil Base Bright White.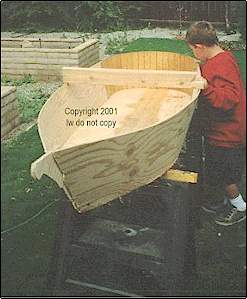 The little boat paddles well, and is shown here at 200 lbs displacement. She paddles and sails her best with a displacement of 140 lbs. The gunwhale support and flotation are made from 1" PVC pipe foam swimming noodles. This unique positive buoyancy flotation and gunwale protection design is included in the plans. The plans also include a V-skeg (another scrap) which provides directional stability for paddling.
Plans that feature a 22"x 34" dimensioned-grid blueprint, assembly instruction, and materials list for the Origami Pirate Ship are available for only $3. For these plans plus the optional mast, rudder, leeboard and sail plan sheets along with step by step building and polytarp sailmaking instructions, please send $7. Full size patterns are also available for a nominal fee. Special rates and builders plans (Mylar) are offered for schools wishing to use the plans in their programs. All of the above can be ordered from - Plans no longer available.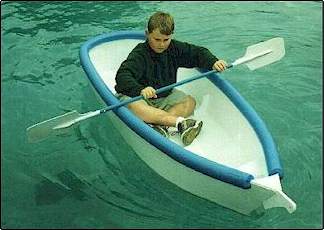 I am working on a second one-sheeter design, and I have named her Mariposa which is Spanish for Butterfly. She should be a little more refined than the Origami.
I had a great time building Origami with my grandson, and he is thrilled to have his own boat. Have a great day and take a kid boating.