Timely reports of interesting goings on from around the boat building world. If you have pictures of anything of interest please send them in for posting. Don't be shy. Send to: chuck.leinweber@gmail.com
July, 2002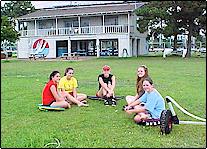 Hello All,

Attached is the reply from the Commodore to my request to host a Messabout at Lake Charles (Louisiana) Yacht Club. The club will welcome all the Messabouters. Date suggested is August 10.
Ken

We brought up your suggestion on a messabout with Conroe and we like the idea. It will fit perfectly with the Mayors request for sails on the lake Aug 8th, 9th, 10th. See if they are available to come that Saturday the 10th and we will put it in the newsletter and have a cook out etc.

Wayne Bonney will provide the social amenities and we can call it the Lake Charles mess about. Maybe a few races etc. So please let them know itís a go.

Thanks,

BD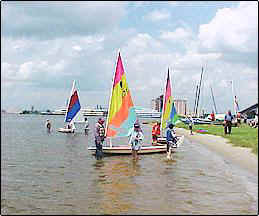 The usual planned activities of a Messabout are none, however we may have a fun race for the sailboats and the Club will provide eats and drinks.

I suggest we meet in midmorning and stay as long as you like. Camp on the grounds is you want to. Hotels and Casinos nearby. Probably need reservations at the Hotels. Bring sunscreen, it will be hot. We do have some trees and a sitting area with shade. Upstairs has air conditioning. Plenty of beach and a good launch.

Here is the website: www.saillc.org

Ken Abrahams, Lake Charles, Many Boats
Here is the official invitation:
---
July, 2002
The Daily Telegraph Adventure Travel & Sports Show 2003 Olympia, London, UK Friday 10th January - 12th Sunday January 2003

The success of The Daily Telegraph Adventure Travel & Sports Show has been truly amazing but don't just take our word for it, read what last years exhibitors have to say about the show at www.adventureshow.co.uk

Next year's show will occupy 3 floors of Olympia, an area in excess of 8,500 square metres including 8 separate lecture areas, interactive features and the widest range of exhibiting companies.

Please let me know if you require any further information on +44 (0)1795 844 400
or email me at martin@atsevents.com . I will be delighted to help you plan your
presence.

For further information please call:

Martin Anslow

July, 2002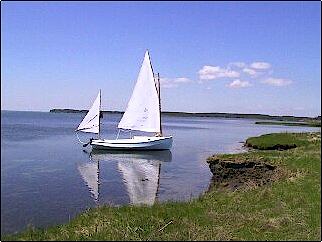 How's it going? I wanted to let folks know about my decision to sell my Chebacco. I really love this Catboat but I love my girlfriend more and want to pursue that a while. The boat is built exactly to Phil's Specs. The trailer was purchased new for $1,300 a couple of years ago and the 1997 Force five hp. Outboard was purchased new for $800 as well (it sat on the showroom a long time I guess). The sails were purchased as a kit from sail-rite, the mainsail being sewn by a professional, and the mizzen sewn by me since it was small and manageable. I launched this boat for the first time in April of this year and have taken one two week trip and several small day trips so far. There are a few normal scratches on the hull and the spars but nothing out of the ordinary. The hull is planked in Douglas Fir Marine plywood and the floors and roof framing are Douglas Fir. There are a couple of floors made of Southern Yellow Pine and the trim is all White and Red Oak. The sliding hatch was cold molded and then veneered on the inside and out with White Oak as were the drop boards - no sign of wear on any of these components. All trim and spar varnish was Epifanes WoodFinish Gloss and it shows.

Bill Samson listed his for 4,500 lbs. Sterling which is approximately $6,500 I think. I would like to ask $6,500 to start and see what happens.

Thanks

Pete Respess RespessP@aol.com
Hopewell, VA
---
July, 2002
From Richard Spelling:
We have a new issue of Chebacco News:
This issue:
Trailering the CLC - Richard Spelling
The cruising season is OPEN! - Jamie Orr
Chebacco Sailrite - Fraser Howell
I get my kicks from Champlain - Phil Mead
Take one homemade boat - Pat Spelling
FOR SALE, sheet ply Chebacco
---
July, 2002
From Gavin Atkin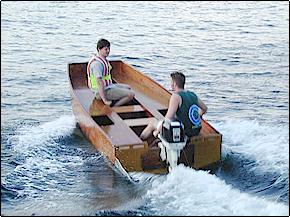 Chuck -

The Dogsbody was designed to be a strong, jack-of-all trades little outboard boat useful for many purposes but with few pretensions to good looks. And so it seems to have turned out with the first example to be built. This boat was built from a kit from a local supplier in Denmark, Dan-Am.

Plans files for the Dogsbody can be downloaded from the Duckworks Design section and from my site Free Boat Design Resources.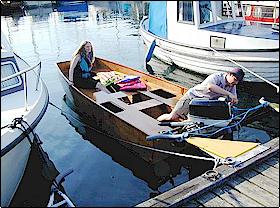 Cheers, Gav

PS This is what Claus, the proprietor of Dan-Am says:

'Hi Gav!

'If I were you I would be very proud of this brilliant little cartopable SKIBOAT, I am proud of the kit and very pleased with the result!!! I hope it will open some doors.
'Best regards
Claus'
---
July, 2002
Hey Chuck,
Been an interesting time since my last update. I was just about to install the new (1992) Kawasaki 650cc engine in Jetfish when I decided to pull the head and check out the cylinders. Good thing I did - the engine was trashed inside! I was so disappointed, yet grateful that I hadn't completed the project before discovering this bad news.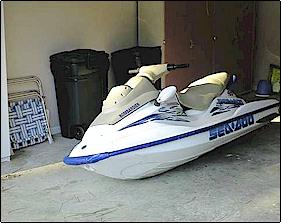 Figuring this was an opportunity to improve, I set out to find another engine. Soon I brought home a 1995 Seadoo GTS with reverse and a 580.7cc Rotax engine (55hp). Now we're talking. Unfortunately, it would require extensive modification to Jetfish so there wasn't time to make Jim's messabout at Rend Lake - hope they had fun.

But that's not all - before I could even make plans on using the GTS engine I came across a wrecked 2000 Seadoo GS with a 781cc engine! Gavin is going to faint - that's a 85hp powerplant!

Stay tuned - there will be tears from jetski riders as I cut up a great looking Seadoo GS to give Jetfish a strong heart. By the way - I'll have to cut out at least a portion of my brand new bottom as well! Here's a photo of the ski.

Larry Pullon lpullon@tcworks.net
---
July, 2002
I've gotten Fisher10 finished enough to try her on the water. I was at Guard camp, in Mitchell, SD. and was able to finish sealing it and get into Lake Mitchell. She still needs some finish work and paint, but the launch was very much a success. I will be balancing finishing it with working on Chugger. I will also be starting an Apartment boat and one of Gavin's Mouses (meeces?), sometime in the near future. I am also considering putting together a Mini-Max Punt, my submission for the OSS boat on the Yahoo group Boatdesign, and currently residing on David Beede's Simplicity pages. New plans are being done up for the LilJon series of boats, so that many sizes can be built from just one plan. So far, 1 other LilJon8 has been built, and 4 more are in the process. I'm really excited over the response to the LilJon8.
Fisher10 ("Spirit of Freedom:) build and launch pictures are here:
https://www.angelfire.com/ego/lewisboatworks/html/fishbuildnav_a.htm
and the LilJon8 built by Kris is here:
https://www.angelfire.com/ego/lewisboatworks/html/Krisjon8_a.htm
with the plans available here:
https://www.angelfire.com/ego/lewisboatworks/Plans/Lil_jon8.doc
I have designed a 15.5 ft. Jon-boat called BigJon155 for someone and the plans are now available, just email me. I am also in the process of designing a larger version of CubCanu, called (appropriately) ScoutCanu. Good for 2 young teens, it is a longer version of Cubcanu MKII, which is also in the works. this a lower and wider version of the original Cubcanu (seems the sides were a little on the high side).
Steven Lewis numbaoneman@boatbuilding.com
---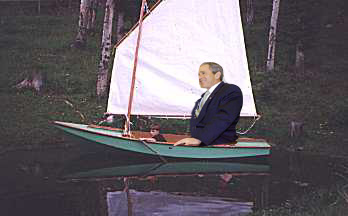 July, 2002
Martin Connelly (opposabletoes@yahoo.com) spotted You-know-who sailing Ray Gallagher's Mixer2, a Jim Michalak design.
Thanks for the report, Martin.
---
July, 2002
Dear Sir/Madam,

Please forgive me for sending this unsolicited email to you. I did a search for boat broker and your name came up. I am the owner of www.boatfinder.com and www.boatfinders.com .

I have been using these domains to sell boats, but I am now ready to sell the domains.

Please let me know if you are interested in purchasing these great domain names for your business. I am selling www.boatfinder.com and will throw in www.boatfinders.com for free.

Thank you,

David Kaplan dave@dkaplan.com
July, 2002
Ahoy!

Hello ! Just a quick note to say that due to overwhelming request, tickets have been reduced to $20 !!!

I am writing you with a special 'heads up' on a charitable raffle that is getting ready for it's official launch. You are receiving this as an early courtesy notice because of your interest in boating.

The Gift Of Love Foundation is raffling off Wm. F. Buckley's 1963 Schooner (See his book 'Airborne!") as soon as all the tickets are sold.

The Cyrano is exceptionally roomy and makes a perfect live-aboard. It has a full galley with 4 burner shipmate stove and oven, full sized fridge, walk in closet, deep soaking bath tub, washer/dryer, and large cabin topside. Cyrano was built in 1963 is 80' long, has a beam of 18 feet and a draft of 6= feet. She is all wood, and powered by a 6 cylinder Perkins that gives her 10= knots under power

There are photos and more specifics about the schooner Cyrano at www.MyRaffleSite.com

Net proceeds of our raffles are distributed to organizations dedicated towards making the world a better place. Please check back frequently for updates and new drawings, as the content is subject to change.

This classic Schooner doesn't need much to be ready to go cruising again, and the winning ticket not only wins the Cyrano, but $20,000 as well!!!

Imagine owning your own yacht right on San Francisco Bay! Perfect for a home, vacation getaway, or even an office !!!

This beautiful yacht is going to go fast... Don't miss out on the opportunity to win your piece of history!!

The Cyrano is being raffled off where-is/As-is

Perhaps you don't need a home, imagine yourself renting the Cyrano out as an office space, or even a live aboard...
Earn great income, with the Bay Area's high rent rates, this yacht might rent out for $1,500 to $2,500 per month!!!

We will be having the official launch of our Raffle site on July 31, so get your tickets TODAY!!!

Please go to www.myrafflesite.com for all the details.

Thank you and Good Luck!

T.P. O'Halloran
Director, Marketing and IT
Gift Of Love Foundation
San Francisco, Ca
650.875.2499
---