S.C. Teens Credit Higher Power for Rescue
By BRUCE SMITH
The Associated Press
Monday, May 2, 2005; 12:15 PM
CHARLESTON, S.C. -- The day that Josh Long and Troy Driscoll were rescued after nearly a week adrift at sea dawned with a perfect sunrise, a rainbow and dolphins capering around their tiny sailboat.
"It was amazing. (Saturday) morning something felt different, a lot different," the 17-year-old Long said from his hospital bed on Monday. "I can honestly say I never gave up hope. God had us in his hands the whole time."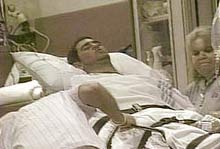 In this image made from television video, rescue workers load 17-year-old Josh Long into an ambulance in Southport, N.C., on Saturday, April 30, after he and 15 year-old Troy Driscoll were rescued after being adrift in the Atlantic Ocean since April 24. (AP Photo/WCIV-TV) (AP)
After surviving on their faith, raw jellyfish and seawater for almost a week, the two saw a fishing boat on the horizon late Saturday. They were rescued off the North Carolina coast, more than 100 miles from where they set out off South Carolina to fish.
"I asked God, 'If it's your will that we not live, take us home,'" said Driscoll, 15. "'If not, send us a boat.'"
Long and his best friend, both from North Charleston, S.C., were sunburned, dehydrated and exhausted, but otherwise in pretty good shape. They were recovering Monday at the Medical University of South Carolina.
The boys had set out to fish for shark near a sandbar a couple of dozen yards off Sullivans Island in their small sailboat on April 24. Forecasters that day were warning boaters about rough conditions.
The current and blustery conditions soon pushed their tiny craft offshore and the teens knew they were in trouble. They lost their bait and later threw their fishing rods overboard, feeling there was no use for them.
Long gargled with saltwater to keep his throat from getting dry while Driscoll ate jellyfish, something his friend wouldn't try.
"I saw them in the water and ate two little strings off of one and the next day I was fine," Driscoll said. "It was nasty and the aftertaste made me nauseous."
The boys huddled together at night and spent their days searching the horizon for help, praying and singing hymns.
The Coast Guard and the Department of Natural Resources searched off the coast for several days but, toward the end of the week, officials started referring to the search as a recovery operation.
"From all the conditions, they were telling us there was very little to no hope they would find the boys alive," said Josh's father, Eddie Long. "We never stopped believing. We always held out there was going to be a miracle."
Driscoll's father, Tony, was first to get a call from the Coast Guard that the boys were all right.
"I screamed at the top of my lungs that they've got our boys," he recalled. "We never gave up hope. That's the bottom line. God had his angels around those boys the whole time."
In Driscoll's hospital room was a red balloon with the word "Survivor." On the door was a poster signed by family and friends. "Welcome Home," said one message. "We are so happy you are safe," said another.
The boys said the ordeal won't keep them from the ocean.
"I'll probably go out, but not anytime soon," Troy Driscoll said.
And it will be in a boat, Long added, "with a motor _ or two motors."