by Mark Steele - Auckland, New Zealand
Of a ketch and a mullety,
and schooners with many masts!
As everyone knows, L Francis Herreshoff's ketches Tioga and Bounty were the forerunners to the famous Ticonderoga, often described as the `ketch above all ketches' both in her beauty and her performance areas. Derek Nicholson of New Zealand's RC Bounty of Auckland was a huge step-up from all of this modeller's previous model sailboat building, and was built exactly as the original full size boat – scarfed stem, keel, deadwood, rudder post, temporary station frames etc, all brass fittings made to either traditional designs or to those by Herreshoff. The 1500mm plus 250mm bowsprit in length model took him over eight months of solid work time, aided only by Henk Hunkawood, a Dutch migrant seen at work on the hull in Derek's workshop, and the owner is thrilled to bits at the manner in which the model sails.
Above-Henk Hunkawood - Right-Bounty of Auckland sailing

(click images to enlarge)
Below is an RC model of a famous New Zealand mullet boat called Nomad, the original of which (or what was left of her) was prized from the mud, restored and then revered. The model, beautifully build by Aucklander, Dave Moore (seen with the model) is owned by him and sailed at Onepoto lake with the Ancient Mariners windling fleet. Built out of timber and the hull then glassed, in a good wind this model is an absolute tearaway and since she appeared a few others have built models of other famous mullet boats.
`WHEN ONE IS WEARY WITH THE WORLD
OR TROUBLED BY WORRY
THERE IS ALWAYS A MODEL SAILBOAT,
AND THE PEACE OF THE POND'
Thames sailing barges are very popular in Britain and as Brian Reed prepares Celia Jane for a run up the lake with the Southwater Dabblers windling fleet he hears a rustle in the bilge.!
Here's another very prolific model boat builder, Keith Murrow of Hull in England who has built boat after boat after boat, and who sails with the Hull Model Boat Club. Keith reckons he has built some 27 sailing boat models including the Cutty Sark (shown below,left), among scows, sloops, schooners, catamarans and cutters. A man who is in his absolute element when in the workshop building, he then delights in taking great pains towards ensuring that his completed models sail as they should. The group which is quite large in numbers, sail at East Park lake which Keith finds very handy in that he lives only about a mile from there. With a good sense of humour, he says that he occasionally delights in living dangerously as the photograph shows a bit of a change from his model yachting! I like it! We must not take ourselves too seriously.
| | |
| --- | --- |
| Keith reckons he has built some 27 sailing boat models including the Cutty Sark | |
`READING ABOUT AND LOOKING AT OTHERS
WONDERFUL SAILING MODELS
IS OFTEN THE GREATEST MOTIVATIONAL FACTOR
TOWARDS GETTING INVOLVED ONESELF'
Back across the Atlantic to the U.S.A, and to Great Schooner Model Society member, Parker W McClennan or `Buck' as he is better known, of Solomons in Maryland. He built this sailing model of the legendary 187' steel-hulled, three-masted schooner Atlantic seen underway in this photograph. Another member of the group, Frank Pittelli also built one, and in fact, this may well be his model seen here. Buck made his boat using a plug and mould for the hull made from Frank's model.. The original Atlantic held the world record for crossing the Atlantic ocean from 1905 until 1980, 12 days, 4 hours, one minute and 19 seconds from New Jersey to England. She makes a graceful windling machine that is an impressive sight on any waterway. I believe that a one sheet plan with sufficient detail to produce an accurate scale model is still available from the US Vintage Model Yacht Group for about twenty US dollars.
And so, down under to Australia. Intent on building a three-master (and they are incredibly impressive, I have to admit!), this is the Lady Annette, built in Queensland, Australia by Rick Mayes another friend of mine some years back. He still owns and sails the lovely model which was named after a late wife. In another issue of this column I will share with you, photos of his stunning model of the 1931 built ship Sea Cloud which you won't want to tackle building when I tell you, that model took him eleven long years to build. Roy Lake of Auckland produced this other three-masted schooner here. Complete with beautifully carved and painted balsa crewman at work aboard, Amalfi II is an absolute head turner!
| | |
| --- | --- |
| This is the Lady Annette, built in Queensland, Australia by Rick Mayes | |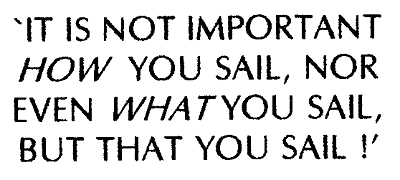 If you are a schooner man (or woman) but have five thumbs like me, and would just like to buy one, (a model schooner not a thumb!) I have recently heard from Will Lench of Tippecanoe, a man I greatly admire for his vision in getting involved in model sailboat production, and he has produced a 43 inch in length schooner. Built from pre-cut, eighth of an inch mahogany plywood, I predict it will appeal to many for schooners have become very much the rage. Grab this fact – Will started 23 years ago, there are now 55,000 Tippecanoe model sailboats in 46 countries! That is truly mind-boggling! I haven't even eaten that quantity of potatoes in my 72 years!
`I am a mucker-abouter with boats,
models, I must be precise
Though I haven't the urge to race them for glory,
I leisurely sail (and that's nice)
The sight of them sailing across a still lake,
white-sail reflections on water
Hard on the wind my eyes on the sails,
I delight as she goes where she orta.
Sails point at the sky, transmitter held high,
starboard tack and she heads for the shore,
Another great sail, no water to bail,
and on Sunday we'll come back for more'
(Mark Steele c)
***
I may have inadvertently confused some model yachting viewers. Where the winds blow may not always be posted online monthly but will appear regularly. As you can see there is always a steady flow of new material on Duckworks and it is rather akin to `waiting for a slot in the flow of traffic in order to sail out of the marina'. If you are a new viewer not totally familiar with the website, I suggest you go to links below to see the earlier columns and other articles of mine. - Mark

Other Columns by Mark Steele:
Articles by Mark Steele: