by Mark Steele - Auckland, New Zealand
Swiss Mini Sail mastery, `newie' sailors,
a mighty fine square rigger and those
Kiwi cat-rigged Fiji schooners!

A visit to the Swiss Mini Sail website is a journey of sheer delight in that it provides a wonderful array of photographs of often incredibly detailed and authentic sailing scale models, but be prepared to give yourself time to browse leisurely rather than hustle through it. The photograph above shows a group of their delightful models being sailed at Egelsee, a small lake on the east side of Berne during a Swiss Mini Sail regatta. My contact, Stefan Streit who lives in Berne, has been most cooperative. He is a modeller himself very active in the Swiss Mini Sail movement and he kindly supplied me last year with much additional photographic material, including all of these images above and below.
The Bisquine Pomare, (a French 19th century Breton fishing boat model) was built by Felix Wehrli of Zurich who also built the Tapena Tute. A group of nice looking boats share the water (photograph at the top of the page) during a Swiss Mini Sail regatta. Under sail is Unicornio at Egelsee, a small lake on the east side of Berne (built by the late Edi Bannwart who also built the 1900's schooner, Andromeda). The photograph (lower centre) shows a model of a catboat built and sailed by the father of Stefan Streit.
People(ing) the models!
It's always going to be a matter of personal choice of course, whether or not that sailing scale model is going to carry crew figures or even just a helmsman (or helmswoman) as Roy Lake of Auckland carved out of balsa for his Spidsgatter (Danish for double-ender) Lola. Choose not to include figures and that's fine but here are a few examples where models do carry figures that vary in construction, both material used and method by various modelers including Hans Staal of the Netherlands (top right and bottom left photos below).
Starting life as a paddle steamer called Punjab in 1830 she was bought by the brothers Willis who added 90' to her length, removed her boilers and taking lines off the Cutty Sark converted her into a Clipper ship called Tweed. She was to sail seventeen times from Britain to New Zealand transporting immigrants, one of them (in 1874) being New Zealander Warwick Stephens Great Grandfather, a John Millow. Warwick Stephens who lives in the Southern city of Christchurch in New Zealand has built a lovely RC model of the vessel which he started in 2004 and completed two years later.
Six feet in length, the hull fully planked in cedar, the mats out of southland beach and sails of Egyptian cotton bought by Warwick and wife Judith in Egypt the year he started the project. The 1/48th scale model is fully controlled by radio, has no false keel and is transported fully rigged. The real vessel used to return to England after each voyage ballasted with wool and tea, and Warwick has ballasted the model with scale wool bales made out of lead placed in the hull which has 6" of depth of hold and a 10" beam, the ballast weight accounting for 13.5kg.. The model is seen in the first photograph on the water at Lyttelton harbour , the second photograph shows the builder and his wife with the completed model.
Sailing Rules or is it etiquette?
Some model sailboat(ers), particularly those who have spent years producing an absolute masterpiece of a model, understandably tend to be wary of sailing on the same pond at the same time as `newies' because of their concern about collisions and resulting damage. Without wanting my fellow windlers or cruising-minded model yachties to go the way of the International Class(es) guys who revel in racing rules ad infinitum, the best advice I've had (from my friend, Des Townson, fullsize yacht builder, Champion yacht racer, and maker of the Townson `Electron' model yachts), can be summed up in one statement….`sail like a gentleman! The port tack boat gives way to the starboard tack boat, the windward boat gives way to the leeward boat, and knowing that and understanding it, and for the inexperienced, keeping well clear on the pond or lake of such `super duper' models is all that you need to know. For those who sail those time-consuming built models, they should remember that they too were once `rule `green' and that accidents can happen ! My advice to them would be… play safe and .sail with guys who sail similar boats or choose a quiet place or day to sail when there are few boats (or none at all) on the water. It is sure nice to see and to sail with fifteen other model yachts on the water, but that does increase the likelihood of a `crash-bang' occurring. One does not have to be Einstein to work that out!
KEEP YOUR EYES ON YOUR BOAT!
SCAN LEFT AND RIGHT AND LOOK
OUT FOR OTHER BOATS!
A round the world She Biscuit attempt!
Imagination and humour are two important attributes to the true windler, so here is the 12 inch long, She Biscuit, balsa-built by Auckland `Ancient Mariner', Bob Walters (seen on his knees below). There will be three crew on the planned 2007 `round the world' attempt, the lady owner at the helm, and her husband seen in front of the mast. Three did you say???. Yes Bob who is going to swim alongside and operate the radio transmitter! (Note the smaller `squall rig' for getting around Cape Horn).
I shall keep you posted but somehow I think that Harley in his Sea Biscuit has a better chance of a successful rounding than Bob! (He will certainly get further as Bob admits to not being a good swimmer and can only dog paddle! He's practicing though and is getting the action right and says he is not going to bother the US Coastguard either! We need a lot of humour in this world, and must not take ourselves too seriously!
The Fiji Magic model schooners were never intended to set the world alight when they came on the scene in New Zealand. A few months later with the first three boats on the water they were hot news. Designed and built by noted fullsize boat designer, John Spencer, and taken on board by yours truly who was heading the Fiji Government's National Tourist Office in New Zealand, a further development was agreement by Marine Modelling International magazine to produce a workable and professional plan for sale on it's (Traplet) shipmodelling Plans Service.

A metre on the waterline, the prototypes, three that included my own Fijipsy Jack were launched (shown above) off Russell in New Zealand's Bay of Islands. Cat-rigged with easily slipped-on unstayed masts, another was built in Victoria, Australia by Barry Gibson (seen above), one in Japan and another ten or fifteen materialised in various parts of New Zealand. Despite an excellent plan done in England, and a UK prototype, plus the easy availability of the plan from Traplet (which is still available), UK demand was not particularly wonderful, partly I believe due to the fact that it was cat-rigged as opposed to a conventional rig, and I don't think that the English are particularly keen on rigs of that sort. It was also flat-decked like normal racing one metre boats, thus lacking on deck scale or semi-scale interest. Easily rectified that, (as indeed I did with Fijipsy Jack) but I don't think many considered deck addition detail worthwhile. The schooners represent a boat of great character, sail extremely well, `goosewing' downwind impressively and as a model were certainly I believe ahead of their time. I still believe that they will one day enjoy a renaissance of interest and be the subject of some demand.
Finally friends, let me dispel the theory that the larger the transmitter the faster your sailboat model will travel. I have tried it and it just is not true! But then you knew that didn't you?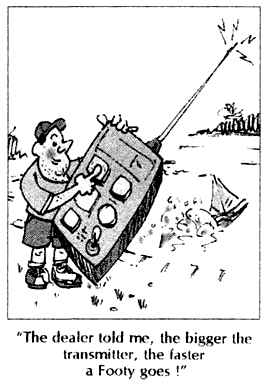 Previous Columns by Mark Steele:
Articles by Mark Steele: