The Center For Wooden Boats Festival Boatshow
By Pete Leenhouts - Port Ludlow, Washington - USA
Part1 - Part2
Hi Chuck - I had the opportunity to participate in the Center for Wooden Boats Boat Show in Seattle WA yesterday as a volunteer for the Northwest School of Wooden Boatbuilding. The show runs through the 4th of July.

This is the 31st year for the Center for Wooden Boats, which, at the South end of Lake Union in Seattle WA, is one of the centers of wooden boat activity in the United States.

We had wonderful weather - nice and cool in the morning on the ferry from Bainbridge Island east to the city (46 degrees)...

...and nice and warm on the piers at the south end of the lake (low 80's, I'd guess by mid-afternoon).

And, boats everywhere! This is the proud owner of a home-built CALEDONIA yawl (an Ian Oughtred design) talking to a fellow enthusiast and his son. There were several CALEDONIA's at the show. It is a popular camp-cruising design.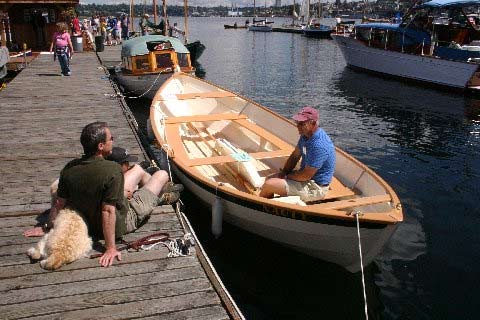 This boat (below) is the Pete Culler-designed fantail launch ZIPPY, built by the Northwest School of Wooden Boatbuilding for a Bainbridge couple in 2005.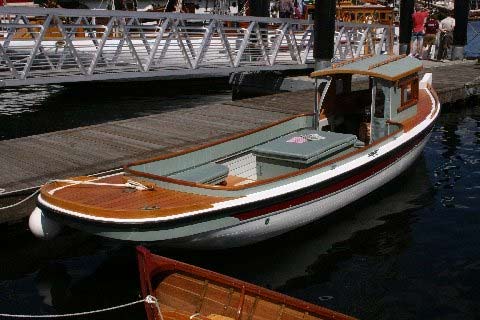 One of the highlights of that first day was the launch and dedication of a Haida canoe, built on the Center's grounds with public support by an expert builder, Saaduuts.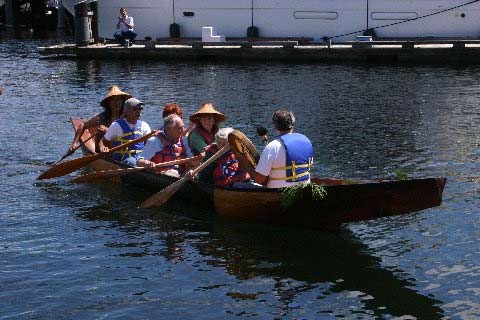 This little boat, FATHOM, which began life near the turn of the last century as a sailing gillnetter, was rescued by its owner in 1954, bailed out and rebuilt into a neat little fishing tug. It's had the same owner for 54 years!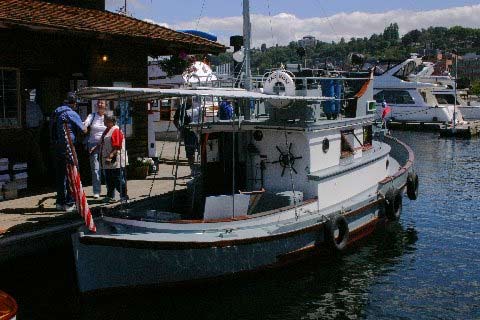 Of course, there was a family boatbuilding event ongoing under tents near the entrance to the show. Here, Tad Cline (with drill) and Scott Cline MacKinlay make great progress on a Union Bay skiff.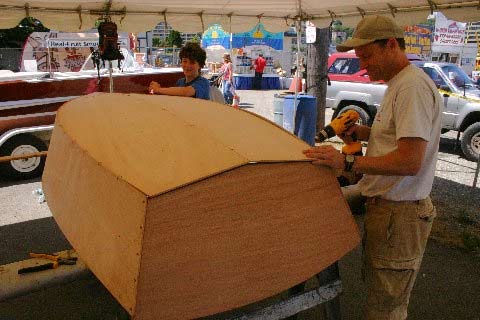 One of the highlights was our location on the pier just across from the Kenmore Floatplane pier on the southwest end of Lake Union, whose pilots reflected great professionalism in safely navigating among the increased boat traffic on the lake. Here, one of the planes taxis around the ferry VIRGINIA V and one of the Center's two sharpies (right distance) enroute to the terminal.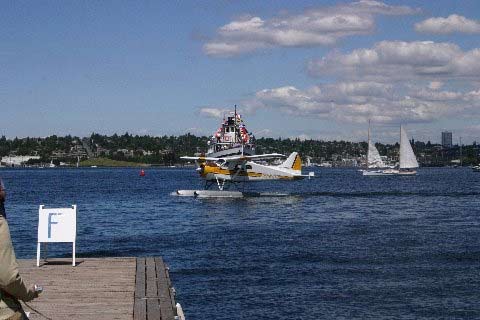 The Seattle Community College Wooden Boat Program showed off their programs nearby. That's a beautiful little Jay Benford-designed skiff, one of their beginning projects, in front of the tent.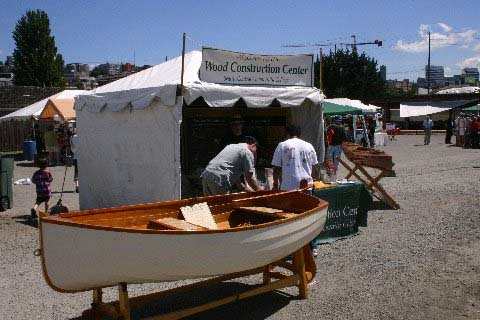 From hydrofoil racing boats...(here, SHOCKWAVE shows off next to ongoing construction which will yield more park space next year) ...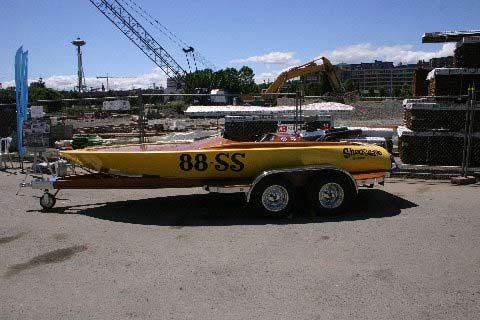 to the fully restored ferry VIRGINIA V...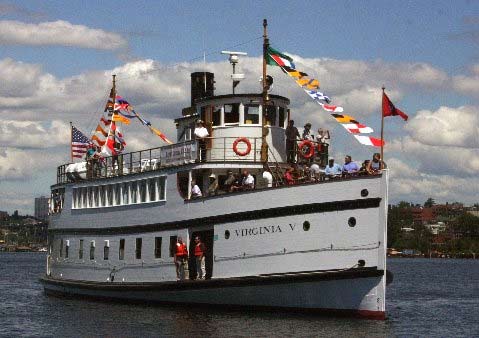 ...there is plenty to delight the eye and something for every wooden boat enthusiast at The Center for Wooden Boats 2007 Lake Union Wooden Boat Festival, which runs through the 4th of July.
Pete Leenhouts
Student, Repair and Restoration Class
North West School of Wooden Boatbuilding
Port Hadlock WA
https://www.nwboatschool.org/