Campskiff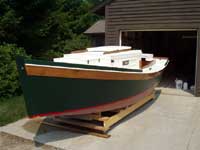 Readers of this magazine might be aware of the postings about the construction of this boat as well as the trials and tribulations of the maiden "voyage".
I have been in correspondence over the last year or so with a number of builders of either the "Campskiff" or the deriviative "Redwing" from Chesapeake Marine Design. All of my correspondents have commented on one or another of the following problems.
The boat "squats", the boat either doesn't steer or has an excessive turning radius or in a breeze the bow tends to wander, especially at low speeds.
Some had all of these problems, especially the "Campskiff". (Including mine).
The articles previously published in this magazine detail the advice and possible solutions. Here is what works for the "Campskiff" and from one correspondent, for the "Redwing".
Squatting: Doel fins help a lot, maybe enough. Adding angle to the transom to enable the engine to have one more increment of adjustment. I assume that StingRay hydrofoils would also work.
Excessive turning radius: Boats with little or no steering problem have long shaft engines. (But most other correspondents commented on the "wide" turning radius. Otherwise the solution is to cut off the skegs completely aft of the propeller. Bow wandering is part of this problem since the bow tends to "skid" so the boat won't turn. The solution for bow wandering is also part of the solution for excessive turning radius.
Bow wandering: This is exacerbated by the squatting so that has to be solved. I have added a 1 ½" x 8' keel forward and a small fin forward. This keel and fin keep the bow from skidding. I will be reducing the fin bit by bit until it is useless and then restore a previous version that worked.
My "Campskiff" now operates properly and turns on a dime. It is for sale. Please see ad below.
Bob Chamberland
************************
For Sale: 18 foot "Campskiff". This is the Chappelle original upon which the Stambaugh designed "Redwing" is based. Readers of this magazine may be aware of a series of articles about this boat that have appeared over the last few years chronicling the building of this boat and problems at the maiden "voyage". The problems have been resolved though modifications that have been tried have to be made permanent.

This boat is a work in progress. Running lights are installed but not wired into a panel. There is no panel installed yet. There is a battery box built in but no battery. Bunks are built in with storage under however there are no "mattress" pads. This version is built with the "flip-up" cabin top, however no "rain skirts" are installed nor is there anything as yet to hold the cabin top in the flipped position. The cabin interior is painted but is not fitted out for camping.

Included is a model SLB30BS Shoreland'r trailer bought new for this boat. The trailer has brakes. The carrying capacity of the trailer is 3000 lbs.

Power at present is a 5 hp Nissan 4 cycle motor.

The give away price is $6,500.00.

Bob Chamberland 231 271 4231