Photos from Australia
Dear Chuck,
I'm glad to hear that you are both back home ok. I guess it must have been exhausting to spend so much time with strangers. in strange countries.
Here are two photos – one showing a fine gentleman in profile, and the other showing three boats during a mid-week mini-messabout on our local dam. The boats are a Joel White Pooduck Skiff, a Bolger Bobcat (Instant Catboat), and my beautiful 52 year-old International Finn which you saw under a tarp at my place. She was built for the 1956 Olympic Games and (as you can see) still sails like a thoroughbred. I've got her in my favourite position – to windward and overtaking!
All the very best to you both, and thank-you again for taking the trouble to come all the way to see us,

Big Sail for Sherpa
Hi Chuck, have watched your progress through the Antipodes, and saw you met with Ross L. (who designed this bigger sail, as you have previously acknowledged) so you came to very close to where a bunch of us who sail little wooden boats at Caloundra. (Sherpa, Pooduck, Pathfinder, Bolger Catboat, and Phoenix III, (by Ross). These pics I thought you might enjoy, as they show a grandpa (myself), sailing with his G'son on quite a windy day (later). And a great pic of my daughter about to hit the beach, on her first sail.
| | |
| --- | --- |
| | |
| | |
| --- | --- |
| | |
| | |
| --- | --- |
| | |
As I have said before, this boat is a great and forgiving trainer and the sail moves her along very well indeed, and though the company I sail with romps past me, rarely have had one sail above me, if I'm being mean. Sherpa rows well, takes my 2 hp outboard for fishing, and is the photography boat par excellence. Love the easily rigged balanced lug, which will find it's mates in the boat (Periwinkle), that Ross is designing and building for me. He may have shown you the plans.

Thanks Chuck, and kind regards - John Shrapnel

Buy cheap - Fix - Sell high
Katie and I will again be in the canals of Canada and the U.S., and the Rivers and bays of the east coast this Summer and will not be able to attend the Texas200. Good luck to all participants.
Here are a couple of shots of our new (to us) 1994 Nimble Nomad.
Lee Martin
New Versions of Toter
Good Morning Chuck,
It may come as no surprise that I have a couple of more designs on the board. The preliminary name: the 'EZ' and as the name implies, it is designed to be maximized for easy build and use. It is almost a kayak, but electric motorized (can be paddled). I am going to build this, so the plans are underway. It uses similar technology as the Toter: nests for travel, flip-in motor, and simple construction. Thought you might be interested.
| | |
| --- | --- |
| | EZ - click to enlarge |
Ken Simpson
New Kayak
Here are some pictures of a new JEM Watercraft kayak I built. That's my grandson paddling.
- James Heger
Contest
Hey Chuck....
I think your next design contest should be about light family beach cruisers. I'm looking at designing something that we can tow behind our '02 VW Golf TDI, sleep 4, and carry enough gear for a week. Would be nice in a 12 foot package like a SF Pelican, or the like. under 300 lbs. Thinking pop top deck, like a westfalia.
Attached is a great looking little punt, not sure of origin. It might have come from Duckworks?
Tom Gale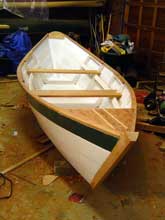 Banks Dory
Here's a picture of the Banks Dory I just finished. The Penguin looks like fun, and I'll keep in touch. Are there many Penguins in the US?
Phil

Ozark Johnboat
| | |
| --- | --- |
| | This is the first boat I have built. I got the plans, if you can call them that, from a book about ozark rivers. The book was "Rivers To Run" by Larry Dablemont, a Missori Ozarks writer. The boat is yellow pine and marine ply for the bottom. I shall be using it on the lower buffalo river in arkansas and surrounding creeks. I don't plan to motorize it, mainly a downriver float boat.... |
| | |
| --- | --- |
| Here are a couple more pics of the building stage. The next one I make I will epoxy over it and leave it natural wood colour. The book called for good oil paint. The joints are all sealed with butyl caulk and after priming I put 4 coats of oil based floor and porch paint on it. | |
| | |
| --- | --- |
| | I'm expecting to recoat the bottom every time I've floated over any shoals but I'm expecting it to float in 4 inches of water without dragging. The dimensions, by the way, are: 36'' wide in the middle at the bottom; 44'' wide at the top; 23'' wide at the front; and 24'' wide at the back. The sides have a 15 degree rake and are 14 '' high. The boat weighs in about 200 lbs. |
John

Sailboat 85' Mast; Bridge 65' Clearance

| | |
| --- | --- |
| | So you want to travel the ICW with a mast higher than 65 feet! This boat came in last night at Vero Beach. |
It has an 80' mast and 7'10' draft. Each water bag weighs 2000#.
It's been coming down the ICW.
| | |
| --- | --- |
| | What a treat to watch the crew execute this maneuver. |
submitted by Bruce Armstrong

Thought this might brighten your day..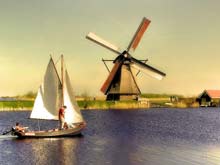 Tom Burton
Mikesboat
The Mikesboat has finally gone 3D with . https://moffitt1.wordpress.com/
Bill Moffitt

KSS and KSS Catamarans at the International Marine Conference, 2008
The pictures are of two KSS projects in NZ. Cool Change on the left, below, and KaivitiKat on the right.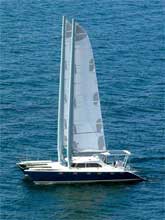 Cool Change is perhaps the most interesting sailing catamaran to be launched in NZ for a long time. In the best NZ tradition, she was built entirely by the couple owning the catamaran, to the highest standards, including making the freestanding wing masts. Based in the Bay of Islands she is available for charter. Skippered by Don and Marilyn Logan who are well known in the area. No one is better qualified to show you the sailing, lots of water activities and the beautiful Bay of Islands.
Derek Kelsall, from New Zealand design company Kelsall Catamarans Limited, is to present a paper on the KSS custom boat building technique, at the International Marine Conference in Sydney, on Thursday 31
January 2008.
There are two areas of the marine industry that have seen remarkable expansion over the past two decades. They are the use of composites and the catamaran configuration. Derek Kelsall was THE pioneer of foam/fiberglass construction methods at the start of his professional career in 1965. His first projects were catamarans and racing trimarans. R and D has continued into boat building methods, using the same basic materials ever since. The Kelsall Design co. has always specialized in catamarans.
The boat building technique called KSS (Kelsall Swiftbuild Sandwich) is the only build method ever to be topic of long term development and refinement. KSS offers boat builders substantial saving in build time, quality laminates and improved working conditions. It is applied to all sizes and types of catamaran. Designs for modular assembly are also on offer for further time saving. Important refinements have been added to the KSS technique, in New Zealand, during the last six years. The basis of the KSS process is a full size mould table on which every part of the catamaran structure starts, using resin infusion as the
laminating method.
KSS build projects are spotted around the World. Peru is one of the most active. Korea and China (the third KSS in China) have new projects starting.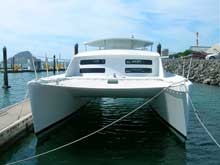 KaivitKat is also an owner build, but starting from an Innovation Lamination kit. At the other end of the scale to Cool Change, she is the simple way to get onto the water. 10m, light weight, the slim displacement hulls are easily driven. The twin 60 hp outboards give a full 20 kts top speed. She is surveyed to carry 18 pax. Ideal for general cruising, or fishing or just spending time on the water whether port to port or just exploring the coast line.
While most of the KSS projects to date have been Kelsall designs, the company is offering the technology to boat builders working with other designers. The first such project was in Australia, with 100% success in converting those involved to KSS. Other similar projects are planned.
One incentive to open up the KSS build technique to others is a recent refinement called KSS Pressure Shaping. This novel process, involving the use of air pressure within an air bag, produces compound shapes for areas of the boat structure using a very simple set-up. For example, hulls which are full compound curvature, which some designers favor, are shaped from sheets of foam joined into one large panel for each half of the hull. An interesting contrast with the industry standard of cutting the same foam sheets into miles of narrow strips as the starting point.
Claims of better than halving the typical build time of the industry standard of strip foam or strip cedar are backed by the simplicity of all of the steps involved and the long successful track record. The claims are difficult to ignore. Boat builders interested in learning more of this exciting process can go to www.kelsall.com and are invited to contact Tel 00 61 7863 3332 or e-mail derek@kelsall.com