Sunset Cruise
Just got back from a sunset cruise on the "What, Me Worry?" Here's a shot coming in.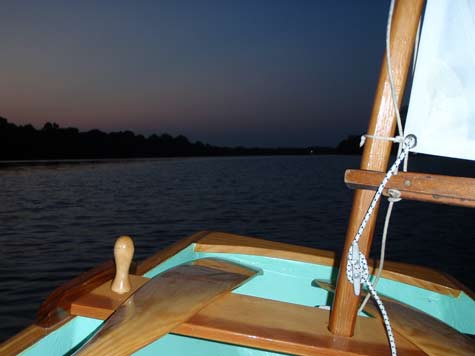 Stacy Smith

Bored with Rowing Skiff
Hi there Chuck,
I ordered plans and supplies for a QT rowing skiff from you a couple of years ago and got it built. However, now I am bored with it and want to make it a gaff rigged saiboat. I like the gaff rig because of how it looks and all the cool rigging, but I was hoping you might have some advice about it or would know who to refer me to. here is a picture of the QT when it was almost done and one with it in action.
Thanks,
Jeff Edward


7 Months on the Water
Hi Chuck,
I'm back in the e-world, having returned to Idaho after 7 months on the road and water. I had an unusual winter, since low water kept me from crossing lake Okeechobee, so I had to round the south end of Florida coming and going to the Bahamas.
I wound up spending weeks between Marathon and Miami, crewing on a friends 80 ton schooner. Then an easy couple months in the Bahamas - the water never got below 78 ( it's usually 72 to 74 ) so the diving was comfortable - and we had almost no cold fronts to dodge. So the violent weather I encountered back here was a shock. It got colder for the first 2 weeks I was back, then finally we had snow on June 10th. Now it's 90 degrees, and full summer.
| | |
| --- | --- |
| Egret at anchor | Lapstrake Lugger |
On returning to the States, I sailed back around to the West coast, then got talked into attending the Cortez meet in April. Jim Thayer drove out from Colorado, and Dennis Bradley was there on Egret, so we had the core Kokonauts in attendance. It's a fun, small, informal affair, with some nifty boats, often run by novice sailors. The dock is at the downwind end of a dredged channel into the mangroves, and there were frequent pile ups as people tried to raft up to docked boats as they ran downwind. I watched one guy with a gorgeous Melonseed sail right down the spoil bank paralleling the channel, grounding repeatedly, without ever finding the marked route! There were some real salts around too, but Florida does collect some interesting characters.
Jim's all fired up to try the Bullfrog to Hite one way sail this year at Powell. I'd really like to do that, if the ramp is usable at Hite. It's an easy shuttle, and if we have any pre-frontal winds, they'll usually blow up the lake. Jim and I sailed that stretch on the first Kopkopelli in '97, and haven't been back since. So there's a bunch of canyons I need to explore in there. I have my wife Helen convinced to try it this year, so we'll be there with the Pearl. I think she's missing the Utah slickrock as much as I am.
Steve Axon

The Nagare 21
Here is the boat that came to me in the middle of one fitful night. Maybe I should call it Somnambulist? (Sleepwalker)
I call it The Nagare 21. (na-gah-re)
Nagare is Japanese for Flow. I thought it a suitable name for a boat that relies on slender hull technology for its speed and efficiency advantages.
Specs:
21' LOA
8' 2" BOA
Vaka hull 24" BOA
Dual Mirage Drive setup
Displacement: 530 lbs.
Boat weight all-up including twin Mirage drives: 170 lbs.
Stitch and glue 4mm marine ply with taped interior seams and a full exterior
laminate. Completed boat fits under trailer width limits, so no disassembly needed to make ready for launching. Slide it in and go. I see it as a great human powered vessel for lakes, protected bays, slow moving rivers and harbors. The perfect day cruising boat for two that is nearly silent in operation and easily driven with low energy leg action. Take pictures, eat a sandwich, look through binoculars with hands-free operation.
Easy to build with very gently curved panels of very low (non-existent) torture stress. Will wire-up quickly and evenly for fast assembly.
Yes it could be so much faster with a set of prop drives and the design allows for that modification if chosen by the builder. Could also be electrified for near silent running.
I'll do a nice piece on it for Duckworks that tells about the evolution of the forms that came together to make this design.
Chris





A CIRCUMNAVIGATION RACE IN TEN FOOT (3 meter) BOATS

With 200 Days to the race start in the Bahamas, the support boat is about to be launched in Portugal and in preparation for the Trans Atlantic passage en route to the start line.

Racers Kristofer J. "Harley" Harlson who has been unable to find Sponsorship and Matt Layden who is dropping out for family reasons were both founding racers. Gordon Brimhall who joined as a racer more recently is dropping out for health reasons.

Dutch Architect Han Van Ardenne joins the race with his self design boat "Azzurro" (pictures at right.)

The event does not have a main sponsor and it is certain to offer exceptional value with enormous media coverage for forward looking brands.

AroundInTen.com - the biggest challenge in the smallest boats.

Event Contact
Nick Dwyer.
nick@dwyer.ie
https://www.aroundinten.com


Boat Building in South Africa
Hello Sandra
Sorry this is so late but just to let you know that the parcel arrived here safe and sound with no problems. We have just heard that Amazon will no longer be sending goods through our postal services as too much stuff is going missing.
I'm finishing up the last bits and pieces on Bolger's Sailboard Sportsfisherman (Nina design) and I'm hoping to take it to some interesting locations here in Southern Africa. I'd really like to get it to Inhambane bay in Mozambique some time in spring (October) or December when the weather is more like we like it down here. The local craft there are descendants of the Arabian Dhows who plied their trade along the east coast of Africa. Nina also has a lanteen-type rig so it should make an interesting comparison.
| | |
| --- | --- |
| A dhow on Inhambane bay | That's me on the left with my homemade"dayglow" nylon sail. |
I always wanted to try my hand at sailmaking but that first required me to teach myself how to use my gran's sewing machine that was passed on to my mother and now on to me. I must have become a real nuisance to those women I knew who had any knowledge about sewing (and a few raised eyebrows from my male friends!).
So thanks again Sandra for the outstanding service.
Regards
Harry W

Ohhhh, Well
It goes without saying that I'd really like to be anchored here for pretty much the whole year. Well, except for hurricane season of Mexico and then I'd like to be hanging at the Wedge in Newport Beach. Ohhhhh, well.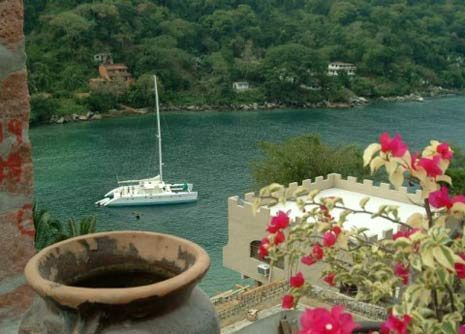 Boca de Tomatlan is about 10 miles south of PV at the mouth of the Horcones River.
Chris Ostlind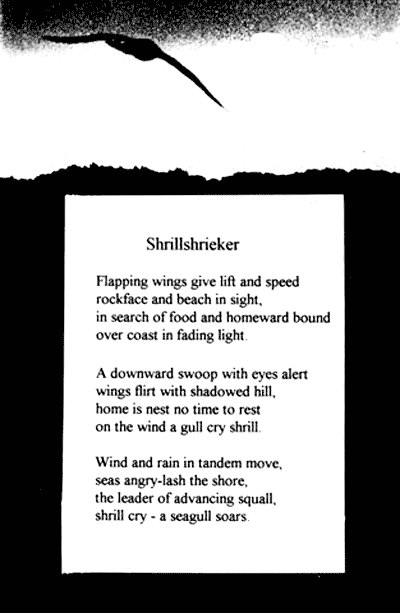 Mark Steele
Chuck,
For the gathered masses at Duckworks who are total tool freaks:
My new cordless, rechargeable nail gun, made by Dewalt.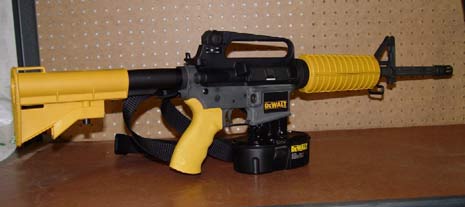 It can drive a 6-D nail thru a 2 X 4 at 200 yards.
This makes construction a real breeze …
you can sit in your lawn chair and build a fence. Just get the wife and kids to hold the fence boards in place while you sit back and relax with a cold beer. When they have the board in the right place, just fire away.
With the hundred round magazine, you can build a fence with a minimum of reloading. After a day of fence building with the new Dewalt Rapid fire nail gun, the wife will not ask you to fix or build anything else.
Available as an option for just a little more is the 'band-aid magazine' for those near misses when building fences.
Chris Ostlind
It was a beautiful foggy morning about an hour after sun-up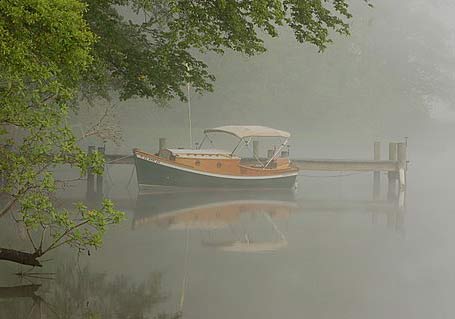 photo by Paul Breeding
Pathfinder
Water Craft magazine wants to carry a piece about my Pathfinder - they have asked John Castell (who is my neighbour) to write it up. I am keen that the finished product does justice to John Welsford's great design.

Nishan Wijenaike
A Note From a Good Friend in Germany - from Buce Armstrong
To Heidelberg! Two weekends ago ... On the Neckar River... Three days with by oldest friends Sabine and Markus ... By boat in a phantastic landscape! A SUPER trip!

Arno Beyer

China Photos
Hello Chuck,
These three shots are from Qingdao Beach on the Pacific in China. Sean was there and took them while Paul and I were on the Texas 200.
He tells me it is an old fishing boat. Note two pins on stern for twin yulohs. Use these any way you wish.
Thanks, Bill Moffitt




The Trackstick II is a small GPS device that continuously records its own position for later download through a built in USB connector. Plug it into your computer to see your exact route on Google™ Earth, Microsoft™ Live, and many other online mapping programs. Recorded data includes date, time, location, speed, heading, altitude, and the exact length and location of any stops.
The Trackstick II is popular among hikers, bikers, boaters, photographers and anyone that wants to record an exact history of their travels for later review on digital maps. Additionally, the included software can embed location data into your photos to show the exact spot that your pictures were taken. Trackstick II is also compatible with Flickr, Myspace, and other online communities that accept geotagged images.
The Trackstick II runs on two AAA batteries which can power the device for up to a week. Visit https://www.trackstick.com/ for more information about this product.

SHURITE MARINE SYSTEMS, A DIVISION OF PRIME TECHNOLOGY, LLC. INTRODUCES THE SHORE POWER INLET PROTECTOR
ShIP 110TM safely and accurately monitors AC shore power connection and detects damaging overheating at the vessel power inlet plug
Prime Technology, LLC of North Branford, CT introduces the Shore Power Inlet Protector, or ShIP 110TM, a monitoring and alarm device that prevents destructive overheating at the shore power inlet plug on docked vessels. Under its division, Shurite Marine Systems, the company has been servicing the ever-expanding and complex needs of the marine industry for over 40 years.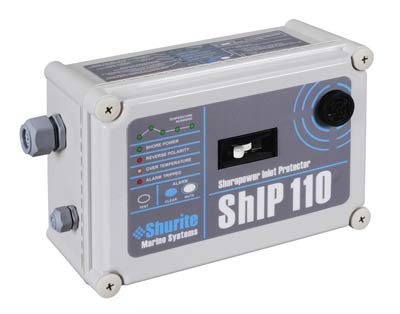 In addition to monitoring the temperature of the on-board shore power inlet plug and the wiring to it, the ShIP system will also automatically disconnect the AC shore power when an unsafe temperature develops at the power inlet plug. At this point (196°F), the alarm will sound and the power shutdown will commence automatically. The audible alarm will sound continuously for 5 minutes before turning off in order to avoid any prolonged disturbance to surrounding boats. The ShIP system will also alert the user as to any improper wiring during installation or normal operation via a reverse polarity indication light on the front of the unit.
The ShIP system offers the convenience of a simple contact closure interface that is used to trigger external devices programmed to initiate a phone call or send an e-mail to a remote location if the alarm is sounded and the auto shutoff is tripped, giving customers the safety and peace of mind even when they are not near their vessel. Another convenient feature of the ShIP system is it's test mode. To ensure the proper functioning of the unit, simply depress the test button located on the front of the system and the unit will perform an automatic, built-in test which will simulate an over temperature condition and trip the circuit breaker, sound the corresponding audible and visual alarms, as well as initiate the operation of any external device interfaced through the contact closure.
The ShIP series is designed and manufactured under full compliance with the applicable American Boat and Yacht Council (ABYC) regulations.
Prime Technology, LLC, a privately-held company headquartered in North Branford, CT is a proprietary manufacturer of precision instruments and systems, serving the commercial, nuclear, and military marketplaces. The company's five divisions manufacture products ranging from intricate electromechanical assemblies to state-of-the-art electronics. Prime Technology is a vertical manufacturer with on-site machine shop, tool room, and molding facilities. These capabilities enable it to produce to stringent military specifications. The company maintains complete control of all critical processes required to produce to nuclear instrument and Mil-Spec.
For more information please contact:
Celia Bozsum
Marketing Specialist
Prime Technology, LLC
344 Twin Lakes Rd
North Branford, CT 06471
Phone: (203) 481-5721 x377
Fax: (203) 481-8937
Email: cbozsum@primetechnology.com
Website: www.primetechnology.com

SP Help PUMA Create a Real Monster
23 June, Isle of Wight UK – PUMA Ocean Racing has officially launched the boat it hopes will bring home the Volvo Ocean Race 2008-2009 title. Il Mostro, Italian for "The Monster", was christened in a ceremony held in Boston, Massachusetts on May 12. At the heart of il mostro lie the materials and engineering expertise of SP, the marine business of Gurit.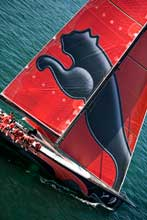 Boston-based PUMA Ocean Racing enlisted the help of SP to maximise the racing potential of their latest boat by incorporating SE70 epoxy prepreg, SA70 epoxy adhesive film and SPRINT® ST70 Carbon into the craft. SP also supplied 15 engineers to work alongside boat builder Goetz Custom Boats ensuring the SP materials contained within the Botin Carkeek designed racing machine perform to their optimum capability and that the boat would cope with the stern conditions it is likely to face during the demanding 37,000 mile Volvo Ocean Race.
Il mostro demonstrates the tremendous stability and strength afforded by the SP materials involved in the build. The use of SA70 in conjunction with SE70 and the Structural SPRINT® ST70 has significantly helped reduce the overall weight of the vessel. SP engineers also specifically batch selected the ST70 fibres to achieve the maximum mechanical properties allowed by the VO70 rule. As a result, less material was used making for a lighter, stronger boat without sacrificing the structural integrity. Finally SE70's excellent surface finish combined with ST70's strength and ease of application was ideal for use in il mostro.
PUMA Skipper, Ken Read, said: "I am just incredibly pleased with the effort that went into the boat design and build process. We started building just over six months ago and finished within days of our goal.
"SP's engineers have worked tirelessly to get this boat ready and their expertise in helping us optimise the craft has been essential in developing what we hope will be a very fast boat. Their rigorous testing and attention to detail has inspired a great level of confidence in the team."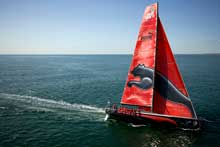 "I am now looking forward to the chance to do what we as a team do best and that's to go out and sail."
About SP
SP is the marine composite business of Gurit Holding AG headquartered in Wattwil/ Switzerland, (SWX Swiss Exchange: GUR) and currently supplies the superyacht market, high performance custom, production and workboat sectors. SP has 25 years of composites experience in performance boat building. Gurit supplies markets including marine, wind energy, aerospace, winter sports and automotive with a range of products and services including prepregs, liquid epoxies for infusion and laminating, structural pastes, film adhesives, dry reinforcements, core materials, structural design and process engineering. Gurit has operations in Europe, China, North America and Australia.
For more information
Contact Chris Lawrenson and Matt Gainsford @ MMPR
E-mail: chris@marketing-matters.co.uk / matt@marketing-matters.co.uk Tel: 01202 777111
Address: MMPR, Unit C, Acorn Business Park, Ling Road, Poole, Dorset, UK, BH12 4NZ