Every once in a while whenever I get the feeling that `I have seen and heard it all', that there is little else in the way of model sailing boats and or really interesting folk involved in the gentle art of building and just sailing them, I ponder whether this column after several years should take a rest for awhile (even cease altogether?). Then suddenly I light upon something that enthuses me no end and prompts some further continuance.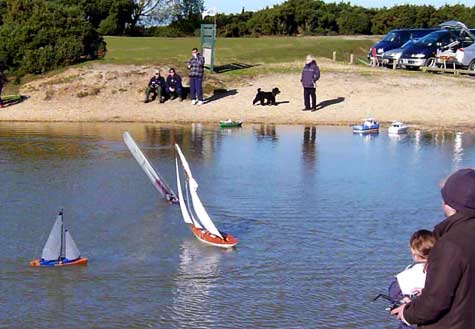 A nice day for a sail
My mind (this month every day of seventy-seven years old) took me back to when on a visit to England in 1994 I had been collected and transported to a pond called Setley in the New Forest in Southern England, to watch (and as it turned out, to compete) in a one metre class event. Employed at the time by the Fiji Islands Government I had sponsored the regatta for a `break the ice' end of Winter regatta called the FIJICICLE. It turned out to be a great day that I enjoyed choosing to forget my own dismal performance in finishing absolutely last with a Bantock Jazz called Trad 2. It was also the coldest day I had ever experienced, or so it seemed to me.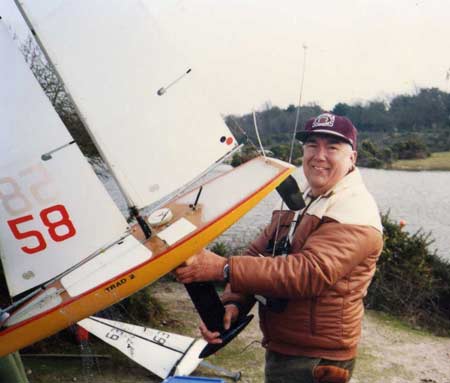 The writer at Setley 1994 – tail-end Charlie and guardian of last man home spot
Looking at the website of the Solent Radio Control Model Boat Club (probably the most comprehensive I have seen for many a year) I was to absolutely lose myself in a photographic offering of exceptional sailing models, astounded to find such an array of scale and near or semi-scale boats. So here for however long the extended `while' lasts, the column still draws breath and `the beat goes on!'
Here is a model boat club that caters to members of varying choice in what they bring to the pond, powered boats or sailing boats of any and every description, racing boats, fun boats, cruising boats and wonderful square-riggers. Their website www.srcmbc.org.uk will show you photos of almost each and every one, boat by boat. Best way to get an idea of the pond on which they are sailed is to take a short ride aboard club member, Alan Bond's pusher tug in the following video. Look and listen, even the engine aboard the tug makes the short cruise quite enthralling.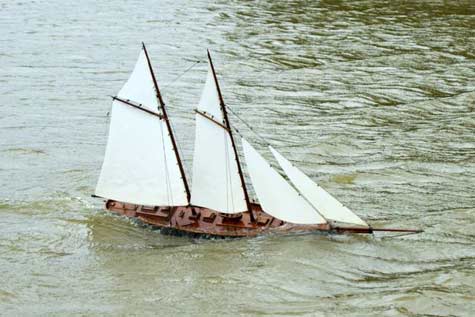 Columbia built by David Edwards
| | |
| --- | --- |
| Ian Holliday's Marine II sailing fishing yawl | David McNair-Taylor's Sailing Barge |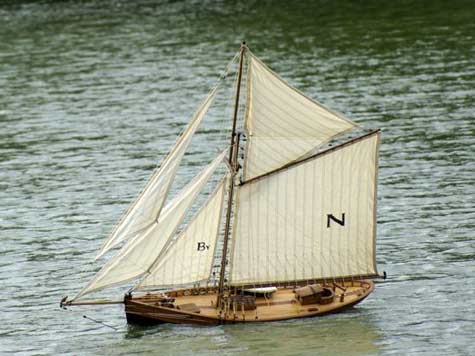 Topsail Cutter Louis Heloise by Alan Read
| | |
| --- | --- |
| Ken Dyer's schooner Atlantis | David Edwards Halloween |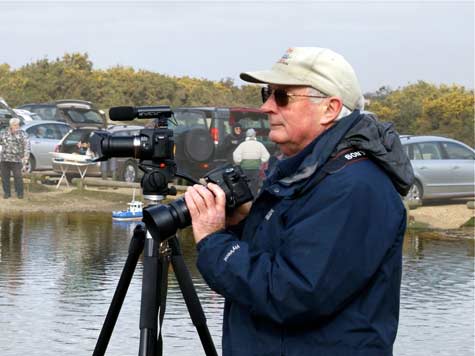 (Setley ace snapper Peter Taylor)
In last months column I showed photos of Solent member David Edwards' three beautiful square-riggers, photos of which were taken by the club webmaster, Peter Taylor. An enthusiastic photographer he has been of tremendous help. We have been in constant touch by email for several months, and each time I needed extra information he was there. Though I came close, I failed to drive him crazy! He seems an unflappable kind of guy! He also (when not photographing of sailing model boats) is a keen dinghy sailor and owner of a Seafly Classic British racing dinghy, and maintains a website: www.seaflymemories.org.uk
David Edwards also built the model of Halloween (seen above) at a quarter inch to the foot scale, which not yet photographed before sailing has a waterline length of 56". The real boat was said to be the only vessel able to seriously rival the square-rigged Thermopylae for speed and she made several record-breaking passages. See also his model of Columbia shown above.
There is the 1: 40 scale HMS Surprise (shown below) built over three long years by Brian `Tug' Wilson who after losing his wife to cancer, needed a project to keep his mind occupied. He made a fiberglass plug of the hull with all the copper plates showing, built up the model of the famous frigate of (year?), fitted 5 channel RC, `fiddled-faddled' adding detail and additional functions like being able to lower and haul an anchor that can hold the vessel, and reef four of the six sails. He says that she sunk once with minimal loss of only one crew member… and a winch. The model also has stern thrusters on each side of the hull that activate when the rudder is turned which assists the manoeuvre.
(In last months column on Duckworks, for those who missed it, another model of HMS Surprise by US modeller, Ray, did battle at sea with the Yankee boat Syren and the battle was recorded on video and the link provided. It is worthy of viewing!)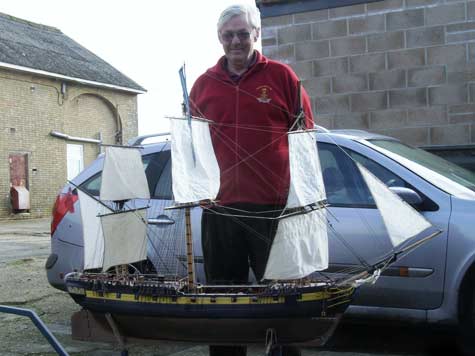 (Brian Wilson with HMS Surprise)
| | |
| --- | --- |
| Surprise under sail | Cliff Newell's Pilot Cutter Mascotte |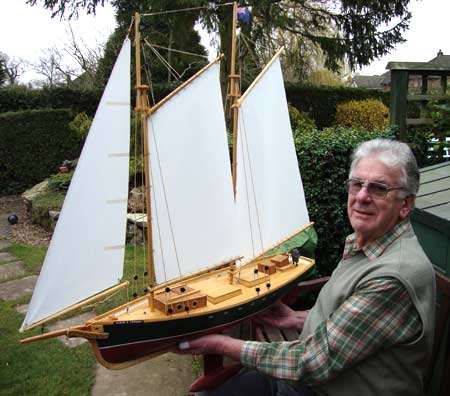 John Cooper with his Alison S Carnaby
| | |
| --- | --- |
| Colin Ching's French fishing vessel Louis Heloise | Alan Read's Soleil D'or |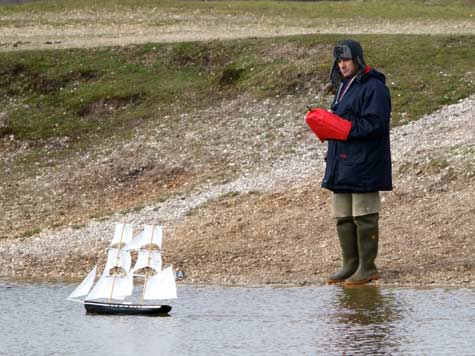 Reg Radley sailing his Brig on a cold late Winter's day
Reg Radley of Lymington, Alan Read (one of the best modelers)and John Cooper who lives in Warwickshire and travels 140 miles to the pond (that's what I call a keen sailor!) and who built up a 34" ´long Mary J Ward schooner from Victor Model Company in the US, are other Solent sailors of much admired model yachts that are sailed at Setley.
John's daughter Alison lives in New Zealand and the schooner fitted with 2 channel radio, a Hi Tech servo and high duty rudder servo is named after her and flies the New Zealand silver Fern. Fitted with 2 channel radio, a Hi Tech servo and high duty rudder servo, John scoured the New Zealand city of Christchurch before finding one displayed on a pair of ladies briefs in a lingerie shop! The schooner sails very well in light to moderate airs. (It is all to do with the `Silver Fern /Lingerie connection!' Ed)
Alan Read of Southampton built the 52" hull length motor sailer Soleil D'or after retirement. He double-planked the hull with 2mm thick planks ending up with a really beautiful shaped hull. She doesn't carry a great deal of sail, and with increased larger sails would need a keel and bulb. The existing sails are controlled by a sail arm winch in the deck house. A low-revving motor is running very slowly all the time which makes the model look like it is sailing. Among his many models he also has a semi-scale wishbone schooner Atlantis and a topsail cutter that appeals to me.
Colin Ching sails his Louis Heloise French fishing vessel entirely scratchbuilt from the Marine Modelling International (Traplet) plan MAR 2431. It is 45" long with an 11" beam, the original boat built in 1910. The model which was Colin's first build of a scale model has sails which are hand-sewn. He added a small electric motor to get out of trouble as the pond has some overhanging trees and the French fishing boat model can be difficult to tack. It was a demanding and lengthy build and Colin's wife even suggested at one point that he take his bed out to the workshop!

---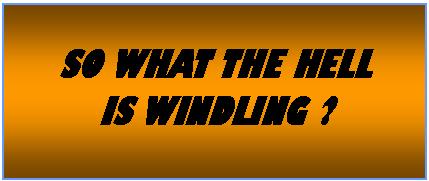 It has been around for years, the word `created' by the writer fed up at the time with the poor sportsmanship, argumentative attitude and outbursts of bad behaviour of a great many (International Classes) model yachtsmen. Windling is social sailing, the model sailboat equivalent of `cruising', where adult men gather to enjoy each others company and sail their sailboats in a relaxing atmosphere.
There is no room for serious competitive stuff when windlers sail and even on occasional `regatta days', apparent `races' are no more than cruise style roundings of the buoys, no calls, no shouting for buoy room, no anger, no protests or claims that a boat has `touched the buoy', it is all laid back fun sailing, both peaceful and relaxing. There is no quoting of rules either because there are no rules in windling.
They take the time to greet and help each other as they share the pond with ducks, eels and a diving cormorant, to say good by before they leave the pond, to help in recovery of others boats that may have `strayed', talk to pondside passers by, have a cup of tea or two, share a joke or three.
---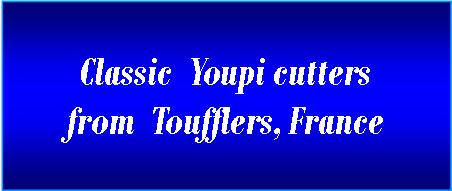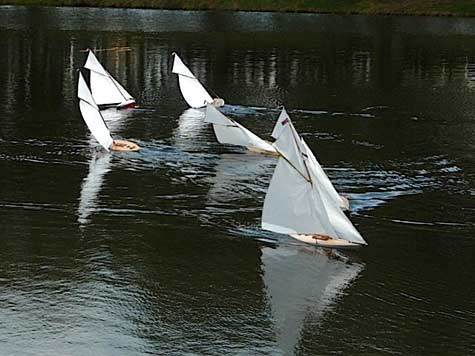 A cluster of Youpi's in a close race
Dominique Tourte lives in Toufflers, a small village in the north of France, 250km from Paris and just next to the border with Belgium. He is the designer and therefore the brains behind the one-design YOUPI classic RC yachts. With really lovely very Fife(ish) flowing lines, the Youpi one-design boats available in a range of hull colours are a refreshing addition to the world of model sailing yachts.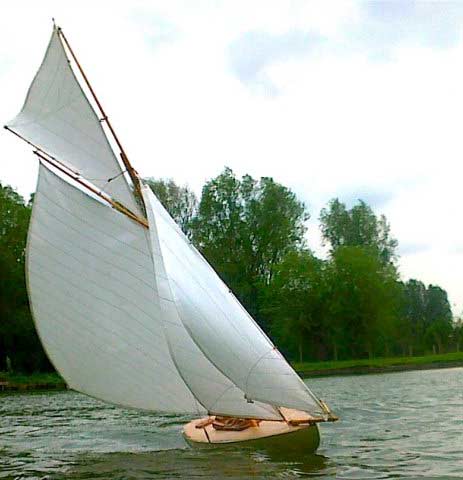 Sailing sweetly along
| | |
| --- | --- |
| Youpi hills awaiting delivery | A very special Youpi on the build. |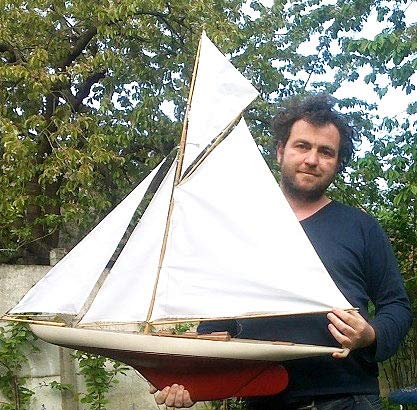 Dominique with a Youpi cutter
I first heard of Youpi which in the English language is Yippee (a shout of joy) from my friend Phillip Artweger in the Czech Republic who has bought one of the yachts as a kit.
Available as weighted fiberglass hulls only for 100 Euro, as a complete kit (less radio) for 290 Euro or for 700 Euro Dominique will supply a complete yacht ready to sail. In all cases shipping is extra. Hull length is 92cms, with 17cms width and depth. Weight is 2,300 kg, ballast 1300 kg. Just Google Voiliers Classiques rc, (then enjoy what you find.)
---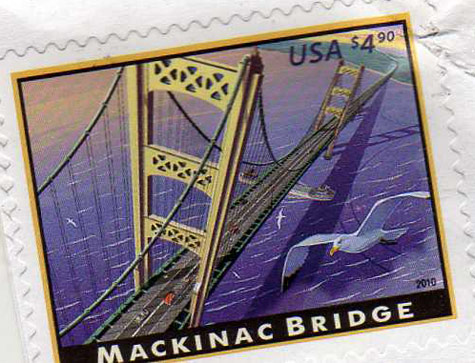 Mackinac Soarers
Seagulls soaring over the Mackinac Bridge, the subject matter for an attractive bit of artwork by US artist, Daniel Cosgrove of Cincinnati, Ohio that was commissioned by the US Postal Services and used on a Priority $4.90 stamp. The bridge is in the State of Michigan, USA.
---

-30-