Camper
...an idea for those who would like to try camp cruising but don't want to invest in a larger boat.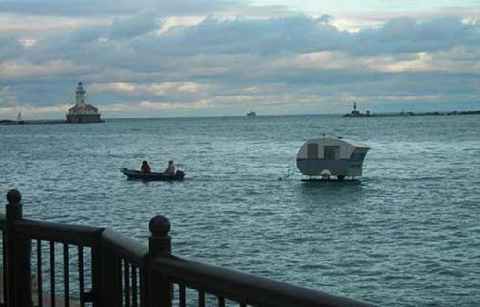 J B panter
---
Michael Storer
Michael Storer and I will be attending the WoodenBoat Show in Mystic this June to participate in the Family Boatbuilding program. We hope our East Coast fans will come by to say 'Hi' and that anyone interested in building one of Michael's Quick Canoes will sign up here:
https://www.duckworksbbs.com/boatshow/
Chuck The Duck
---
Spars
I've got some interesting recent postings on my blog - the last two being about assembly and construction of 'Bird's Mouth' spars.
https://rosslillistonewoodenboat.blogspot.com/
Ross Lillistone www.baysidewoodenboats.com.au
---
My daughter, Darcy Bryn, helping me build a Piccup Pram.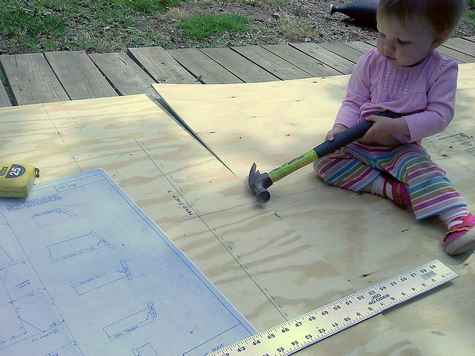 Paul
---
Some Boating Articles
If you are in the mood to read about other sailors voyages, and related sailing events,you might wish to check out these two articles that I added to my WWPotter Owners web site this week.

The first is about John Depa's 3-month sailing his potter 19 foot sailboat in Florida waters. John has in the past sailed his boat to the Bahamas and back.

https://www.wwpotterowners.com/SailingStories77.html

The second by Anne Westlund is not really a sailing story as much as some comments about the "Minnesota Shuffles". Anne has sailed and lived aboard her 15-foot Potter for months at a time. She is a real sailor.

https://www.wwpotterowners.com/Anne24.html

If you don't like the stories, I will gladly refund your admission price. OH! That's right...there is no add mission charged!

Bill Nolen
OKC
---
New Design: The 12 ft. Granville Bay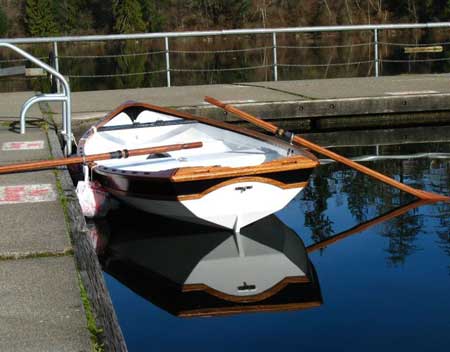 This hull was named after my best friend of 38 years. I had been working on the 12ft Padilla Bay skiff, and showed Nick the finished model. He liked the hull, but was more partial to the rounder bottoms of my boats like the Laura Bay and PUD-g designs. I told him I'd see what I could do and started on this new design. I had been working on a model with a wineglass transom, but was having a hard time getting the bottom two panels to twist enough to come together at the stern. I have since found a way to do this, but not for this hull. This one will use a "keel strip" that starts from about the last 1/3 of the hull, and extends to the bottom of the stern panel to give it a straight keel to sit on. I also changed the stern panel from one piece to two, so I could add more character to the hull.
Granville Bay Specifications
Length: 11' 11.5" Beam: 56" (outside rails) Weight: 132lbs Max Outboard: 3hp
When I slipped the Granville Bay into the water, I was happy to see that the hull sat on it's lines like the cardboard model had when I did the initial tank tests with scale weights. It sits light in the water, and as weight is increased in the hull, the boat lowers, but the hull widens so much as it does, that there's plenty of extra built in displacement to carry it. In the videos of me in the hull, there is not much difference in the waterline from an empty hull.
I was impressed on launch day as to how effective the keel strip was in making the hull track straight as I rowed around Lake Wilderness. I was able to spin the hull in place by counter strokes with the oars, but it was more work than in my other hull designs, and this is another indicator that the keel strip along with the hull shape, keeps the boat on track.
I didn't have a GPS with me to tell what the rowing speed was, but it moved along with less effort than the O&P Pod (3.5mph/easy rowing), which has been the easiest rowing hull of my designs so far. It also has a very long "glide" after you stop rowing at hull speed. Again I was impressed by how the hull moves through the water, and the smooth surface of the water in the hull's wake.
I tried to keep all the volume in the stern area that I could, and still have enough "up sweep" to give the hull some style. The beam is 56" (including the rails), and there should be plenty of freeboard when loaded. Maximum people weight is 2 ½ persons, and with an optimal weight for two adults. Like the O&P Pod, the Granville Bay has less flotation/support in the bow and stern (unlike the Nuthatches which have a much wider foot print), so the seats are moved inward to keep weight out of the ends. On the O&P, I got the depth of the foot well correct on the first design, but I have moved the foot well back a few more inches in the build/study plans for the GB12. You might want to copy the dual port and stbd tanks used under the middle seat, with a set of hatches on either side of the gap under the stern seat, or placed on either side in the seat top. You could line the interiors with insulation, and have dual coolers. At a streamlined 12 feet, this is not a weekend cruiser to carry a lot of camping gear in, but a fun boat to row around the lake, or go day sailing in.
The maximum outboard by U. S. Coast Guard calculations of the ratio for beam width to stern width, is 3hp. I would only use an outboard with two people on board, as the bow rises too far out of the water with one person sitting in the stern. I never really considered the use of and outboard with this hull anyway; with the exception of the Electric Paddle. It was designed as a mainly single person rowing and sailing hull.
This hull is also CE/CLR balanced for use with the Neil Pryde 64sq ft sprit sail I helped design, and should have more than enough power to make you grin. While I had the hull next to the dock, I used one finger to push on the calculated CLR position on the hull, and it moved sideways with absolutely no turning as it should have based on my paper tests. The boat should sail very well, but I will have to test this first and make a video for my www.youtube.com/redbarnboats site.
I like all my designs, but have to admit that this hull is my favorite so far. Let me know what you think of the 12ft Granville Bay.
Plans include 50 pages of text instructions, and 30+ pages of full color drawings.
Warren Messer
Red Barn Boats
Plans are here: https://www.duckworksbbs.com/plans/messer/granville/index.htm
---
Navigator
It's been a while so I better give you a further update. In late 2010 I got the deck on followed by the gunwales so then a few church friends helped me turn her over. We supported her on some tires but decided to be safe by also tying her to the garage roof. You will see that I gave all seams an extra glass and tape for strength before glassing the hull bottom. After glassing the bottom (this was a job I was not looking forward to, but in the end it was a piece of cake.............. no problems at all) she was faired and then came the sanding......... sanding......... sanding. I attached the keel............. again.............. no worries there. Nav was then given 2 coats of Hi Build Primer followed by sanding........... sanding.............. sanding......... followed again by 2 coats of undercoat and more sanding..... sanding........ sanding. I am now ready to top coat the hull bottom. It has been a long trip but I am looking forward to reaching the end of the project and enjoying the fruits of my labor.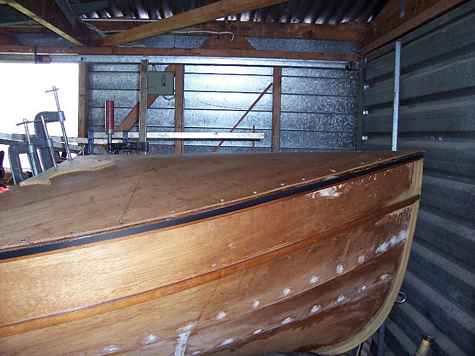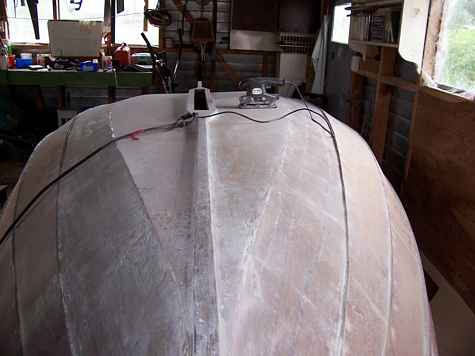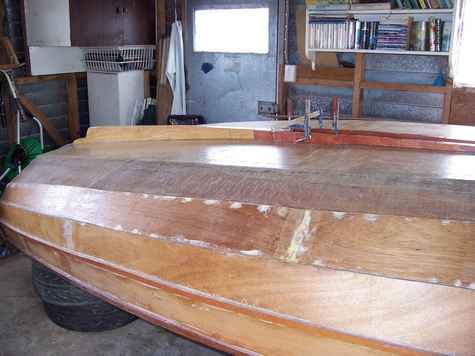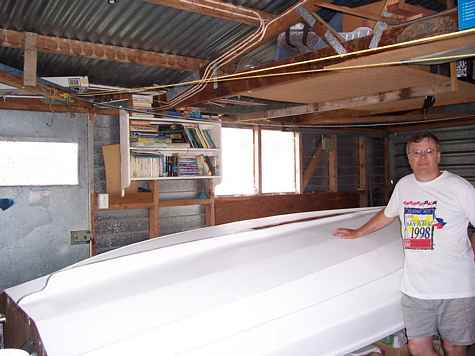 Regards Robbie
---
Notes for Louisiana
My name is Steve Legendre and I have been a fan of your site for quite some time. Just wanted to drop you a line about the recent gathering of museum built boats in Madisonville, Louisiana. The Lake Pontchartrain Maritime Museum runs a traditional boat building class where participants can build either an Achafalaya skiff, a bateau, or a pirogue. Most people choose the skiff because of it's versatility in southeaster Louisiana waters. In total there have been about 90 participants in the program and on March 19, 2011, 8 boats showed up. Four in the water and another four on trailers. It took place on the Tchefuncte River front in Madisonville, LA. A beautiful day for boat rides, lunch on the river front and talk about wooden boats. For more info on the class: https://lpbmm.org/education/boat-building/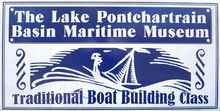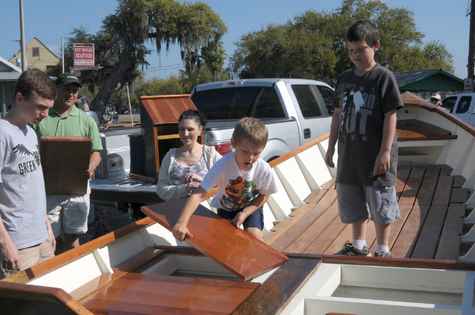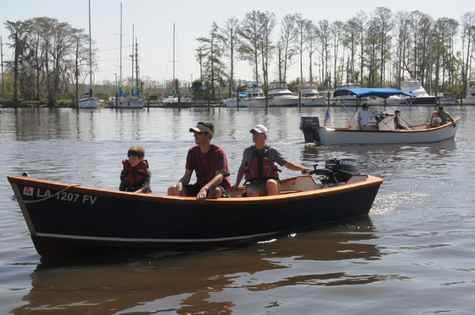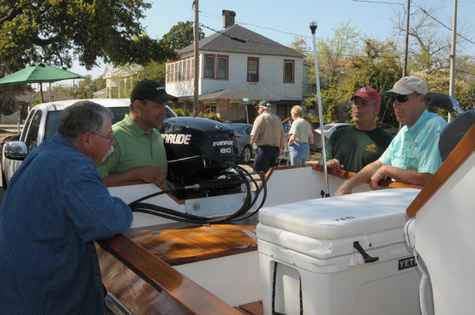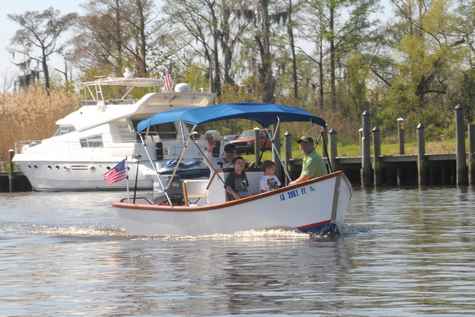 Steve
---
Fantail Launch</p>
My fantail launch is coming along now that I've got the engine compartment mostly done. I put the window openings in today. I've included two of how it looked after the fire burned it half up. It was going to be a sailboat but I realized that I really wanted a comfortable coastal cruiser that I could trailer all over the country instead. These two show how I added the extra eight inches of freeboard. You can see all of the black burned wood. It wasn't too bad grinding the black wood off but the half burned fiber glass really sucked. After it was all back to white wood I reglassed it with 25 ounce cloth inside and out and later added the four foot fantail. We finished redoing the outside of the surf boat that the museum did for Jacksonville Beach four years ago, we added some extra wear stringers with Kevlar and rolled it over. We pulled the seats and floor boards, some rot and broken frames but not too bad except for one seat which we replaced. Here's one of Jim scrubbing the crud out of the inside. The stuff in there was something we've not encountered before. Sand, mold and some kind of fungus all solidified into a mass that had to be scraped out. I knew it was something special when Jim told me that it was something he'd never seen before and he's been every where and seen everything. Last and best is this 13 foot Melonseed that Si Bloom just finished. This is especially special because Si built it in a little basement and he's been fighting a major illness. He hopes to have it at the Cortez Small Boat Festival the middle of April. This is one I'll definitely try out.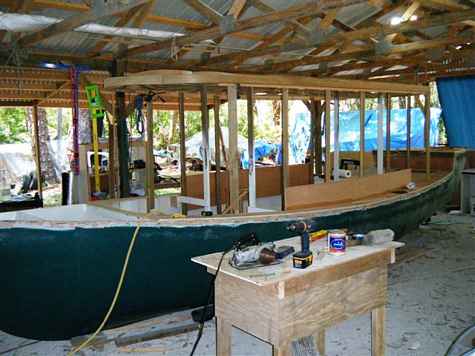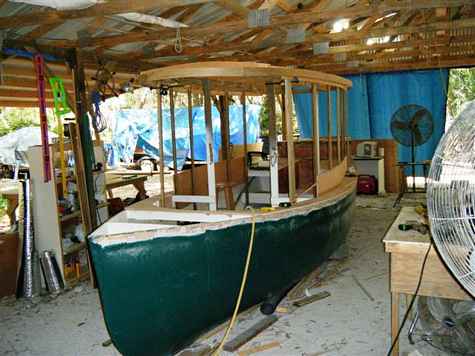 David Lucas
---
Cross 18
Two videos of the Cross 18 Trimaran.
This is the family out for a fun sail at Rockport State Park, Utah
and
This is me stepping on the gas at Willard Bay, Great Salt Lake.
Eric
---
Not for Navigation Releases New Bag Styles for Spring/Summer
Not for Navigation's line of custom canvas nautical bags for Spring/Summer, 2011 includes five new styles, including a new duffel, dop kit, wristlet, purse and tote.
April 4, 2011, Ipswich, MA – Not for Navigation (https://www.notfornavigation.com), creators of nautical accessories for boats and homes, today announced that five new bag styles are making their debut as part of their Spring/Summer, 2011 collection. The new offerings enable individuals to take the cherished Not for Navigation look with them off the boat for use on land. In addition, regettas, fishing tournaments, luxury resorts and convention groups now have additional options to offer their clientele.
For those who have a lot of wet or dry goods to store on or off the boat, the Square Duffel (MSRP: $195) will be your companion wherever you go. Made of water-resistant polyester, this large bag (21 x 12 x 10) features two top zippers, Velcro reinforced closure, an inside zip pocket, an adjustable/detachable shoulder strap and two pockets, including one that is mesh for wet items. The smaller Side Panel Tote (MSRP: $110) is another great companion for people who need plenty of storage. The 20 x 14 x 6 bag is the ideal book or laptop bag and the inside zip pocket and key clip put pens, keys and more at your fingertips.
For travelers who want to take their favorite destination with them, the Not for Navigation Dop Kit (MSRP: $48) toiletry bag are ideal for storing daily personal essentials. A zippered closure, lined interior, mesh Velcro pouch and deep pocket makes storing and finding shampoo, conditioner, deodorant, toothpaste, toothbrush, soap and more easy.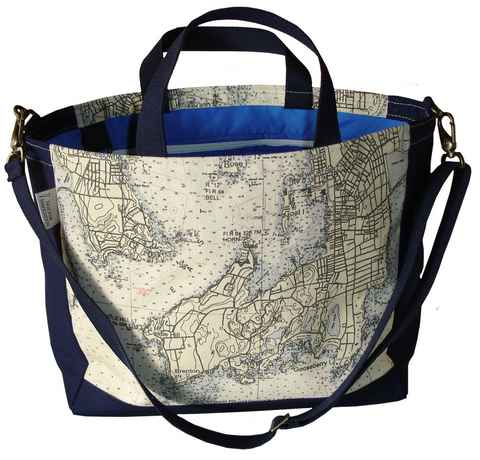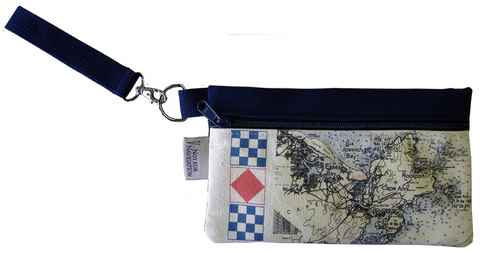 For sea-loving girls-on-the-go, Not for Navigation's lined Wristlet (MSRP: $32) and Purse (MSRP: $27) bags feature nickel '"D" ring detail with detachable wrist handle that connects with a nickel swivel clip. At 9 x 5.5, the Wristlet is large enough for holding a wallet and other essentials while the smaller Purse 7 x 5.5 will hold a cell phone, money and Chapstick.
All of the bags can be customized with the customer's choice of domestic or international nautical chart, with or without lining, choice of six lining colors, exterior canvas in two colors, nautical flag or burgee. In addition, corporations and events can further customize the bags with their logo resulting in endless possibilities.
Not for Navigation creates custom silkscreened bags for discerning boaters, retail stores and corporations throughout the world. From totes to duffles to Messenger Bags, the line consists of 11 handbag styles and a pillow that are customizable with any nautical chart. They are sold online, as well as in retail stores in the United States and Europe.
For more information, visit www.notfornavigation.com.
---
NorseBoat Sailing & Rowing Cruisers
NorseBoat Sailing & Rowing Cruisers announces a series of videos that feature their new NorseBoat 21.5 Cruiser. These videos, now available on YouTube, illustrate the boat's classic lines, high performance, comfort and stability, and ease of trailering and rigging.
The series videos can be found at:
https://www.youtube.com/results?search_query=norseboat+21.5&aq=0
One especially compelling video was taken while sailing in Sarasota Bay with three young kids onboard. This video helps make the case for introducing young children to the joys of sailing. The direct link to the video "NorseBoat 21.5 With Kids Onboard" is:
For additional information on the innovative new NorseBoat 21.5 Cruiser, please visit www.norseboat.com, or contact:
Kevin Jeffrey, President NorseBoat Sailing & Rowing Cruisers "The Swiss Army Knife of Boats!" tel: 902.659.2790 kjeffrey@norseboat.com https://www.norseboat.com
---
Erie Canal Packet Boat, Chelsea, Grizzley and Round Bed Rooms
Buffalo NY is known for it's snow and snow but what it needs is a new waterfront. This is the one they need. Roger Allen sent it to me along with this picture of an Erie Canal Packet boat that he has a commission to build. All you building facilities eat your heart out. It can tie up at the dock on the new water front. Sure would be nice. We can all go there when it's finished, in the summer.
Howard is totally rebuilding Chelsea, our sweet little launch with the air cooled Briggs. It's really the 17 foot Chapelle Whitehall hull that slips through the water without and fuss. Crazy Steve loves the new bow he put on it, reminds him of an old Thompson or something he grew up with.
When you come to the small craft festival in two weeks you'll see why I call him that. He's increased the size of the sails on his schooner and added a jib, needs more power. This is a twenty pound, eleven foot long Wee Lassie canoe. See? My neighbor discovered a Fringe tree in his woods, beautiful. We have pretty good tools in the shop but never a really good band saw, now we have this Grizzly and it's a beauty and fun.
When Helen and I delivered the new surf boat to Jax Beach two weeks ago I saw that the old one needed some work so I naturally brought it home. The guys will never let me go anywhere by myself again. What started as minor touch up ended up being a total rebuild, stripping and redoing it inside and out with some major reinforcement.
Those life guard guys use these boats, really hard. Kevlar and Dynel are a royal pain in the ass to work with. I put Helen's bedroom in the fan tail launch today. See that round thing on the front? It's her round bedroom. I told you this boat has it all, a/c, ice maker, power steering, power brakes and now a round bedroom. And last, Si broke his tool and is looking for a new one, sounds like a personal problem to me. I'll be sure to embarrass the rest of you also if you send me pictures, so go for it, we love to see what you're doing.
Dave
David Lucas Lucas Boatworks and Happy Hour Club
(941) 704-6736
---
Clean Boating Requirements
April 4, 2011
Dear BoatU.S. Member,
The U.S. Environment Protection Agency (EPA) is developing future clean boating requirements for all recreational boats in the next few months, and they need to hear from you. During April, they are hosting weekly "webinars" to solicit boater input (April 6 - 6 pm, April 14 - 8 pm, April 22 - 10 am, and April 25 - 12 pm; all eastern time). I'm writing to encourage you to participate in one of these online events.
For more information on the webinars and to register in advance (which is required).
A specific list of proposed requirements is not yet available. We do know that sewage will not be discussed or covered - it's part of a different law. EPA is looking at several broad categories of vessel discharges:
Antifouling paints and zincs
Graywater (from showers and sinks)
Bilge water (with concern about oil and grease, which is already illegal to discharge)
Cleaning products/maintenance practices
Disposal of garbage and fishing waste
Transport of invasive species
We need you to help EPA know that any new mandatory "management practices" must be based in science, and should be reasonable, practical, and economical. You should share with EPA the clean boating practices that you already employ, or that can be easily adopted within your boating. For ideas:
https://www.boatus.com/foundation/cleanwater/
For additional information on this topic from BoatU.S. go to:
www.boatus.com/gov/cba/
You may also submit questions, comments or concerns directly to CleanBoatingAct-HQ@EPA.GOV before June 2, 2011.
For more info from EPA:
https://water.epa.gov/lawsregs/lawsguidance/cwa/vessel/CBA/about.htm
It is crucial that EPA hear from a variety of boaters on this topic. We hope you can tune into one of these sessions so that EPA can gain your perspective.
Many thanks for being a BoatU.S. Member!
Margaret Podlich
Vice President, BoatU.S. Government Affairs
GovtAffairs@BoatUS.com
703-461-2878 x8363
BoatUS.com/Gov
---
Kayaking
Steve, Red and I went kayaking up Wares Creek yesterday. I know, it must have been a full moon to get me in a kayak but it was pretty fun. I've wanted to see this creek for thirty years and a little boat is the only way to do it. It's a little shallow silted in drain that goes right through the middle of Bradenton, Fl. But you couldn't tell that from these pictures. It was like going out into the jungle. I recommend it to you locals but make sure to do it on a high tide, under the bridges would be dry at low tide. I had so much fun that I'm thinking of building a sailing canoe. If Crazy Steve can put three sails on a Wee Lassie I can do something with a bigger boat. I'm thinking of Hugh Horton's Bufflehead sailing canoe. I've been seeing them up at Cedar Key for years (and making fun of them) but I can see where it would be really handy to have one.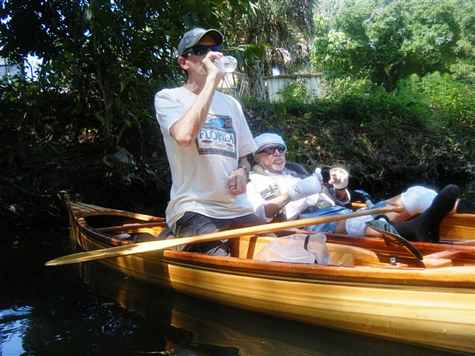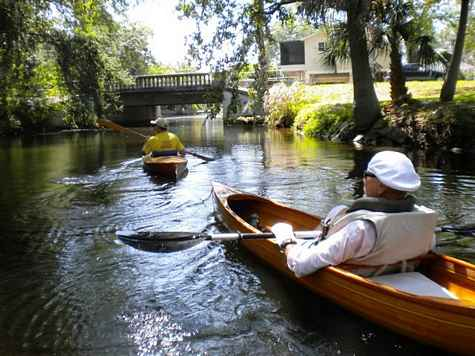 David Lucas
Lucas Boatworks and Happy Hour Club
(941) 704-6736
---
Kingfisher
Here are some shots of my Kingfisher.
Thank you for keeping Weston Farmer's plans available.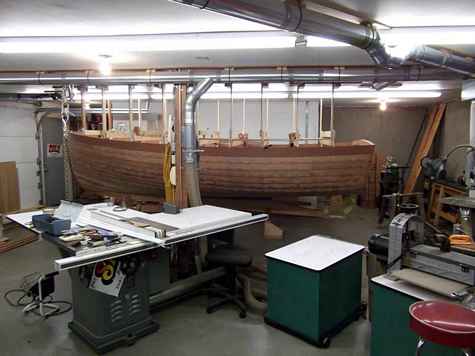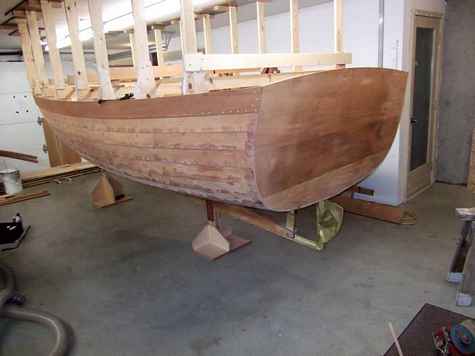 Phil Jans
---
Class B AIS Transponder on the Horizon from Digital Yacht
Digital Deep Sea, the manufacturer of marine navigation and communication products has launched a new Class B AIS transponder designed specifically for the work boat and small commercial market. It joins their wheelmarked and type approved Class A product and is ideal for users who are not mandated to carry a Class A product, but yet want AIS functionality aboard their vessel.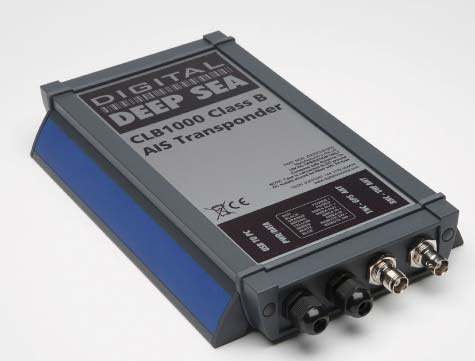 This CLB1000 is designed to inter-connect with existing chart plotters or radars to present an AIS overlay of targets. It comes complete with a combination VHF/GPS antenna which means that just a single coax feed is required from the antenna to the transponder, greatly simplifying installation especially in retrofit situations where access to cable runs may be difficult.
The CLB1000 not only receives AIS data from other vessels equipped with AIS, but also transmits the vessels position to other AIS users in 30 second time slots as defined by the Class B standard. It features a regular NMEA port for connection to chart plotters as well as a USB connection for a PC or MAC, for PC based navigation systems as well as programming. Although it is similar to the best selling AIT1000, which is produced by our sister company, Digital Yacht, the CLB1000 boasts a single wire commercial grade antenna that has been specifically designed to cope with extensive use and extra wear and tear, which is present on commercial vessels.
The CLB1000 is priced at $999.95 including the antenna. For further details go to www.digitaldeepsea.com or call 978 277 1234.
---
THE MICHIGAN SCHOOL OF BOAT BUILDING & MARINE TECHNOLOGY
Summer 2011 Boatbuilding Workshops
July 11-16


Images do not enlarge
The Willow Sea Kayak The Willow Sea Kayak is 17' 8" long with a beam of just under 23". The average weight is around 44 pounds and the boat is suitable for paddlers from 140 to 250 pounds. While ideal for day paddles, Willow has the volume and solid performance required of a true expedition kayak. Tuition: $570 Materials: $1010 + $130 shipping
or the new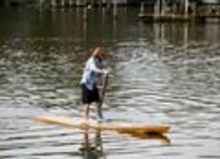 Chesapeake Light Craft Stand-up Paddleboard Why are Stand-Up Paddleboards all the rage? Because they're ridiculously fun--like walking on water. Working with surfing and paddleboard guru Larry Froley in California, we've created a board with that rare quality of being fast enough to race but stable enough for first-timers. Tracking is great and a fine bow with kayak-derived shaping lifts the Kaholo up and over waves. Tuition: $570 Materials: $799 + $89 shipping
July 18-23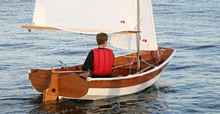 Chesapeake Light Craft Passagemaker Here's a handy boat that can be rowed, sailed, and powered with up to three large adults, and it "nests" to take up less space. The Passagemaker Dinghy is easy to build but looks great and performs beautifully. A smooth glide when rowing, spirited performance when sailing, and steady handling with an outboard mark this latest entry in our fleet of graceful build-it-yourself boat kits. Tuition: $570 Materials: $1224 + $114
August 1-6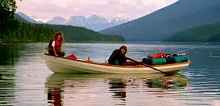 Pygmy Wherry The Wineglass Wherry (WGW) possesses the wineglass transom and smooth double-ended waterline of a classic rowing boat. When designing her, John drew inspiration from the "beach skiffs" that were common along the New England coast during the late 1800's. Used in the commercial fishery, folks launched through the surf and rowed out to the fishing grounds. Their narrow flat bottoms enabled them to be parked upright on the beach. Their "planked skegs" allowed them to be more easily built and avoided the added weight of heavy keels. Developed before the advent of power, they were superb pulling boats used year-round in coastal waters. Tuition: $570 Materials: $1359 + $113.15 shipping
August 8-19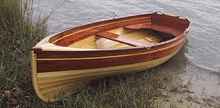 Newfound Lawton The Lawton Tender came about in response to a customer looking for a small yacht tender he could build with strips. The lines were taken directly from John Gardner's Building Classic Small Craft and modified for cedar-strip construction. Originally designed by Charles Lawton, renowned for his fine tenders and superlative craftsmanship, the tenders had to "row and tow well, be moderately good seaboats, carry heavy loads, yet shine like a piece of fine furniture." The Lawton Tender will complement the finest yacht or serve as classy little fishing boat. Tuition: $1140 Materials: $2225 + $325 shipping
or

Adirondack Guideboat "No doubt Dwight Grant would have grabbed at epoxy and other modern materials to cut weight," says Kenneth Durant, author of The Adirondack Guideboat. Strip-building is an excellent way to easily build a light, strong and beautiful Guideboat. The guide-boat was a fast, light, oared boat pointed at both ends - a cross between a rowboat and a canoe. It was big enough for the guide and his customers but light enough for the guide to take on his own over the many 'carries' between lakes," wrote Kenneth and Helen Durant, authors of /The Adirondack Guide-Boat./ Our Guideboat design is derived from the Cole's Guideboat, 16'2" long with a 38" beam. Tuition: $1140 Materials: $2500 + $325 shipping
Build and take home your own boat! All workshops will be taught by noted boat builder, teacher and author David Nichols! Bring a friend or family member to build a boat with you! Tuition for the second person is 50% off!
SPACE IS LIMITED SO PLEASE REGISTER TODAY AT THE IRISH BOAT SHOP WEBSITE!
Please contact Dave Lesh if you have any additional questions. davidlesh@charter.net 1.317.260.1263
---
TerreStar GENUS on amazon.com
Did you know the TerreStar GENUS, the world's first satellite/cellular smartphone is now available on Amazon? The device works up to 200 miles off the U.S. coast, in mountains and valleys and in cellular dead zones. This video explains how the phone works. Below are the details – let me know if you have any questions on this news.
Meghan Callaghan for TerreStar (212) 715.1608
---