October, 2001
From: Jim Betts pointpubco@aol.com
AT LAST! A boat in the water. A GP-16 launched June 29. It was built by Fred White and Dan Anderson In Ohio, but was launched In Canada where Fred has a summer home. Boats in Florida and Australia are completed too: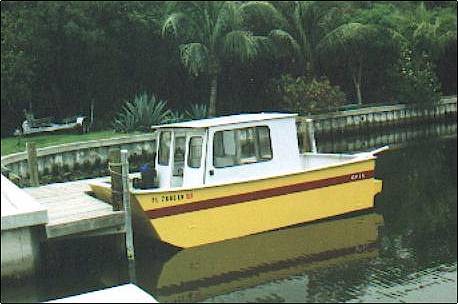 Fred's boat Is actually a GP-18, stretched 2 ft. by simply spacing out the frames. All went well and the boat hit 21 MPH with a Honda 50-hp motor. It would have done maybe 28 MPH, but the propeller was the standard that came with the motor and this is really for something like a 16-ft. runabout. If you build and buy a motor, be sure to tell the dealer about the boat's design and displacement so that he can supply the right prop.
Robert Bruce - the builder In Australia - has a nice 15-page website that shows the boat in various stages of building, nearly finished and painted.
https://www.hotkey.net.au/~robruce/
The design Is now featured on the website: www.bateau.com . They have done a very good job of helping me sell plans. In fact, on July 9, I received three orders. I think that must be a record for sale of do-it-yourself boat plans of one specific boat in one day.
On the bateau site, there is a chat feature that covers a lot of subjects from plans to methods and materials and building techniques. GP-16 is a regular subject, ranging from wheelchair access to the possibility of a DXF CNC computer program that would allow the cutting of parts with a router controlled by the computer. But why complicate a simple project? Anyway, such a program would cost about $1,000 to develop and is really only good if you plan to build 10 or more boats. Keep it: simple!
As far as I know, there are six more boats a'bullding at this time. Ted Brewer and I are at work on a GP-20, which some people want. If you are interested, let me know. This could have inside bunks, enclosed head and other features. In brief, this will be stretched with a couple of added frames and can be 8 ft. or so wide simply by cutting the bottom frames longer.
I would like to hear from you if you are building, or plan to. Also add your comments and suggestions.
Jim Betts Yacht Design
P.O. Box 1309
Point Pleasant Beach NJ 08742-1309
PHONE (792)295-8258
FAX (792)295-8290
E-MAIL pointpubco@aol.com
---