Timely reports of interesting goings on from around the boat building world. If you have pictures of anything of interest please send them in for posting. Don't be shy. Send to: chuck.leinweber@gmail.com
August, 2002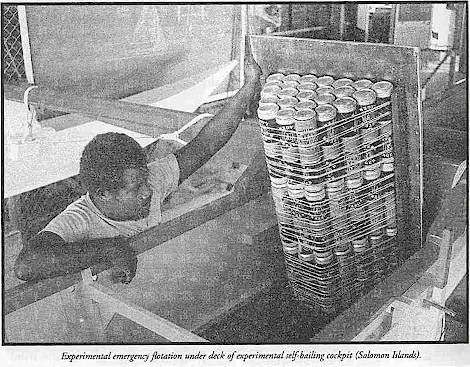 I am not much of a drinker, but the attached photo show the obvious boating benefit of drinking beer.
Saw the photo in Small Craft Advisor, a really neat magazine dedicated to small sailboats.

Shorty
---
August, 2002
Hello, all.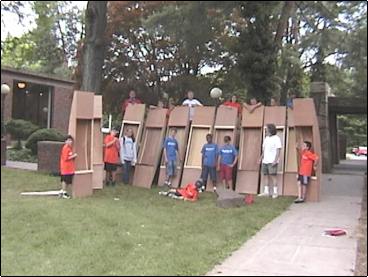 I am running out for a week of driving and family reunion. Had to post a shot of Mouses completed (or nearly so) by my summer students a SummerPlace at U of Hartford. Quite the squeak!

More later.

Regards,

David Colpitts
---
August, 2002
Hi, duckworks guys!

My name is Brent Brown: you'd shown my little boat on your projects page one time. I've noticed that Herb McLeod's page has dried up. If anyone wants his plans, I have an eMail link on my page where they can obtain the plans. I've put a link to my page below, if you're interested. I'm still using the PuddleJumper for sail and row!

https://personal.nbnet.nb.ca/brownelx/boats/oss.htm

I've tried to contact Herb with no success, but he seems like a real nice guy, so I'll take the risk on passing out his plans. Thanks for the great eMag!

Brent.
---
August, 2002
From Richard Spelling:
We have a new issue of Chebacco News:
---
August, 2002
Just got back from a 500 mile trip thru the Canadian Gulf Islands in my Tolman.....saw results of two skippers who were not paying attention...this one in the La Conner Cut...Bruce Armstrong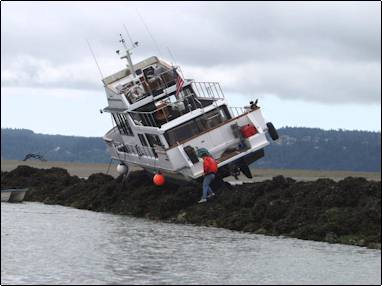 ---
August, 2002
Some of my emails have been accidentally deleted over the last couple of months. I've had many inquires about the Yakoos of all models and I'm trying to answer everyone, but I am sure that some got overlooked. Please tell the folks to please be patient if they inquire to you, as I don't have any plans for any of my boats since I rarely measure anything I just start cutting and build and see what happens! Sometimes it's good! I'll try to help them anyway I can. Thanks Richard Frye
---
August, 2002
Chuck,

FYI, my site on building the Bolger Brick "Tetard," a Bolger Yellow Leaf canoe, and hopefully much more in the future, is finally back up.

Please pass the word and update any links to go directly to the home page:
Thanks and regards,

Matthew Long
Santo Domingo, Dominican Republic
---
August, 2002
September 28th, 2002 (7 weeks from now)

Come on down and have a fun day messing about in boats at Lake Conroe which is just North of Houston Texas.

Special Guest: Jim Michalak

For more info and pictures from previous years:

https://www.shortypen.com/boats/maib02-2/

Thanks
Shorty
---
August, 2002
Not there yet, but in the picture-is-worth-1000 words-Dept...


Okay, that's Martin (Number One Son) doing something... At the Left Rear we have an unfinished Summer Breeze. Forward of that, an unfinished Little Dubber kayak. To the right, a Piccup Pram in the early stagesof construction. On its side in front of that, a Mouse Boat. Forward of that, a 14 foot Platt Monfort Snowshoe and an 11 foot non-vintage (actually, getting on in years-- built in a living room in Washington, DC in 1988-89) ply canoe. Hidden from view, the other unfinished Little Dubber and the other unfinished Mouse Boat. This was before the Last Mad Push To Get Something Done right before we headed to a lakeside cottage near St John, New Brunswick. Both the Little Dubber and Mouse Boat were completed on site (the Connelly Mobile Boatshop, consisting of eight or nine cardboard boxes of tools, material, clamps, glue etc being of great use) and used with Great Abandon by the children present...

Mike Connelly
---
August, 2002
For your next boat?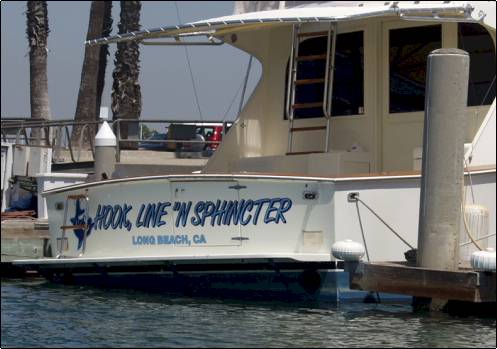 ---