Here are a few photos from the recent festival:
https://www.boat-links.com/DepoeBay/03/BoatFest-1.html
It may not be the biggest, but it's the nicest!

The pictures are now up for the messabout we just had:
https://www.shortypen.com/boats/maib03-1/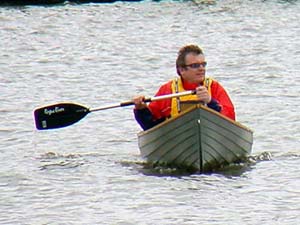 To get an email of the next event, or other messabouts/sailing events in the area, join this group:
https://groups.yahoo.com/group/pds-tx/
Thanks
Shorty


A Bolger Sneakeasy, Champlain, Micro and over a dozen amateur built boats will be at this year's largest Amateur Boating Messabout in the Northeast. 2003's première Messabout will be held in Kingston, Ontario, Canada on the weekend of September 5-7, 2003. Visit https://www.brucesboats.com and click on the Messabout map on the home page to peruse all the details.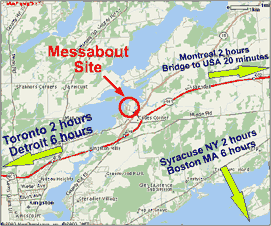 Chuck Leinweber of Duckworks eZine will be there, driving all the way from Texas to do so. So we won't accept distance as being an excuse not to come yourselves. Kingston, halfway between Toronto and Montreal, is only 90 minutes north of Syracuse New York via Interstate 81 and driving access is easy, involving only one turn after you exit the freeway.



The Kingston Messabout will be on a major waterway, permitting larger amateur built boats to attend. The venue, Rideau Acres Campground (https://www.rideauacres.com) is on the Rideau Canal, which is linked to the St. Lawrence Seaway and the world.

Rideau Acres Campground is a full service site, with a beach for launching small craft, a ramp for trailer launches and 4 foot draft docks for over twenty boats of all sizes. Serviced campsites, RV sites are directly adjacent to the Messabout beach. The site also has a large well equipped clubhouse, heated pool, real toilets and hot water showers.



For those who prefer a tad more luxury Kingston is well stocked with hotels and motels, even a floating B&B on an ex-Canadian Coast Guard Icebreaker! With the event taking place after Labor Day, many will be offering rooms at off season rates.

Events at the Kingston Messabout will include a wine and cheese "Meet and Greet" on Friday night.

The main Messabout will be on the Saturday from 10 a.m. until 4 p.m. On the beach, adjacent to the Messabout there will be a "Boat Jumble" where boating items will be available for swap or purchase on Saturday, all participants are invited to bring whatever boat plans, outboards, and general boaty stuff they want to unload. A "Potluck" dinner begins Saturday evening at 6 p. m. and all participants are encourage to bring a pail of their favorite slop to share. Salads, main courses, stews, pastas, and desert items will be devoured by a crew of hungry sailors.



At 10 a.m. Sunday morning I'll offer up a huge pot of my sugarless "Texas Beans and Bacon" for a complimentary Cowboy breakfast on the beach. Feel free to add to the feast with your favorite early morning treats. Coffee, of course, will be most welcome. Unscheduled Messingabout continues as desired on Sunday. Keep in mind many of us work Saturdays and can only attend on Sunday, so stick around as your schedule permits.

Anyone planning on attending with a boat is asked to contact me by email at bruce_hector@hotmail.com or to call 1-888-214-9104 so I can add them to the database of visiting vessels on the Messabout website. A ton of photos and a write up on the event will be sent off to Bob Hicks at Messing About In Boats after the event. I hope to meet lots of new "boat nut" friends at the Kingston Amateur Messabout on September 5-7, 2003. Be there!

Bruce Hector



Chuck,

I want to report that my Acorn, currently called No Name, has finally been launched. Here's a link to a short video of the launch at Tempe Town Lake in Tempe, Arizona. https://fatguysbuildingboats.tripod.com/boatlaunch.wmv . This video requires Windows Media Player 9, and users should elect to download required codecs automatically.

By the way, the new site looks grand!

Kevin

I've attached a picture that demonstrates the strength of the white polytarp material we use in our kits. After unsuccessfully trying to get my son's cute wife or her sister to pose on top of the 10' x 12' cover that we'd put up over the play equipment for all the kids who came for an Easter party, I hoisted my 200 lbs. up on the tarp and had my son snap a couple of pictures. I wasn't too worried that the tarp would hold me since I had dumped almost 4 cu. ft. of water out of that little area where I am standing earlier in the day. I calculated that sea water weighs about 64 lbs. per cubic foot, so the tarp must have held over 240 lbs. of rainwater earlier. Of course, the water weight was a little more spread out on the tarp than my weight was.
By the way, the tarp was attached to the fence and play equipment only with the plastic cable (luff) ties we now include in our kits for attaching the sail to the mast. You might find these pictures useful in convincing those who doubt the strength of our white polytarp sails.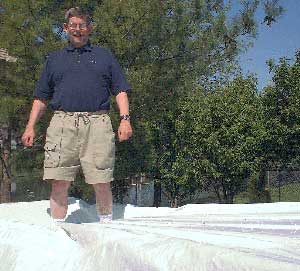 Of course you might need to add the caveat, "Old guy who has lost touch with reality. Don't try this stunt at home!"
Best regards,
Dave Gray

THE 14TH ANNUAL MIDWEST HOMEBUILT BOAT MESSABOUT will take place at Rend Lake in Southern Illinois on the weekend of June 7 and 8. Lots of folks come on Friday and leave early Sunday. Take I-57 to exit 77W and then follow the signs to the Gun Creek Recreation Area. Camping at this Corps of Engineers facility is $10/night and that includes the ramp fee. There is no schedule of events except a pot luck dinner in the campground on Saturday evening - we wing it. This year some of us have reserved the campsites on the water of the two middle camping loops so look for us there if we aren't at the boat ramp. - Max Wawrzyniak

Marine Money International and Cheshire Academy have teamed up to provide international high school students with an enriching summer experience in a beautiful campus environment in rural Connecticut.

The Summer Advantage program provides students with concentrated opportunities to develop themselves through the arts, athletics and academics as well as learn the basics of ocean shipping, international trade and finance.

In addition, the Summer Advantage program also features one-on-one counseling services for students interested in attending an American prep school or college in the future. This invaluable opportunity allows students to determine the prep school or university that is most appropriate to suit their needs and gain an advantage in being admitted to the schools of choice.

For more information about Cheshire Academy and the summer program, please visit our website

Pittsfield, NH - Progressive Epoxy Polymers, Inc., today announced the introduction of Corro Coat FIREPROOF 2200 epoxy. It's based upon our family of Corro Coat FC 2100 epoxies, yet it's something very new and different. Corro Coat FIREPROOF 2200 is an odor and solvent-free, Kevlar (tm) microfiber reinforced maintenance coating with a cycloaliphatic, non-hazmat, curing agent. The epoxy can be applied to dry, wet or submerged surfaces by brush or roller. This new epoxy contains a newly developed, patented, thin film intumescent fire/smoke retardant.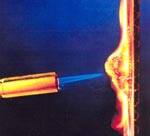 Corro Coat FIREPROOF 2200 epoxy was formulated to pass smoke and fire spread rate criteria as per ASTM testing. The new epoxy is available in several colors and is available in 1.5 gallon, 3 gallon and 15 gallon units. Call for pricing.
According to Progressive Epoxy Polymers' technical manager, Paul Oman, "Corro Coat FIREPROOF 2200 represents the vanguard of a new generation of 'Application Friendly / Disaster Mitigating' industrial coatings. Applications are vast and include commercial and government buildings, marine/ship and offshore facilities, and military structures. The product is surface tolerant and solvent free for the applicator, and smoke and fire resistant for the personal safety of the general public. Because of our attractive pricing and liberal reselling policy, we expect demand for this new epoxy to be very large."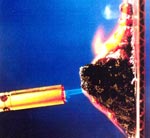 Corro Coat FIREPROOF 2200 epoxy is available for export and can easily be shipped overseas because of its non-hazmat status. Private labeling is available and third party ASTM testing is encouraged.
Corro Coat FIREPROOF 2200 epoxy has its own web site: https://www.epoxyproducts.com/fireproof.html. Parties interested in this new epoxy should contact Progress Epoxy Polymers, Inc. via the contact information provided above.
Progressive Epoxy specializes in introducing new and innovative coating technologies. Customers include end-users interested in small quantity industrial coatings and resellers from around the world interested in being the first in their marketplace to introduce new coating technologies.


Hi Chuck.....I sent a copy of this to my friend Steve, thought you'd get a kick out of seeing what kinda crap I have to put up with! I've been very busy this morning! Came out of nowhere! It was the normal shitty weather we've been having...and me trying like hell to get things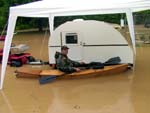 done to the TD before we leave. I've been busy as a bee this morning trying to get all kinds of shit to higher ground! The water was 28" at one point in the yard. 36" in my basement! But I did manage to save all my nightcrawlers from drowning! I had to go over to Beckys next door and rescue SMILEY, her dog since they were gone to town! He was trapped in his dog house with a 2" air space at the top of the door. Saw his nose sticking out, and we thought he was out front!! A terrified Basset Hound isn't much fun to deal with! He's good swimmer, but getting him out was a bitch. His house weighs around 250 pounds, and he was on a 20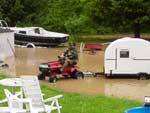 cable! The water was swift and I couldn't budge it! Finallly I just ducked his head underwater and pulled his ass out! Never dreamed I'd be able to paddle up to my TD! Maybe I should put some of those oar holes in the sides like the Viking ships had...you know just in case! The tide is going out almost as fast as it came in! No serious damage done, but a real pain in the ass. Still have some things to get done before next Wed. before we leave on our trip! I'll get it done somehow. Ever had to paddle to an Outhouse? Toilet paper should be kept in at least a Zip-Loc bag or dry bag! Got me to thinking. Somebody "UP THERE" must think everytime I build something I'm suppose to use a paddle or sail! May have a Marine Model Teardrop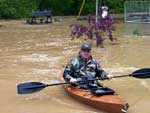 coming out soon! BTW the Yakette did real well in these conditions. Had a hard time getting back to my yard from the neighbors thru the very fast current! She surprised me! I kinda suprised myself by not moving somewhere in the Andes, Mount something or nother! Anyplace thats at least 8000 feet above sea level! See what my wife has to put up with! I'm talking about MEnot the flood! Ya'll all know she thinks I have a mental problem cause I do weird things at times. But it's fun once in a while! Course... my shop is out of commission for a week or so! Gotta take a break now...my old ass is wore out! Wonder if a lug rig will work on
my TD? Later... Richard Frye - aka WHITEWATER WILLIE


Plans

Books

Magazines

Chandlery


Sail Loft


CDs

Wearables

Fun Stuff

d