Pacific Troller
I decided to fair out my boat's interior after all. So there is a new order for some S3 Quickfair and some mixing pots again. After looking at all those pretty boats on some of the websites, I just couldn't keep it completely work boat finish on the interior, though it might be kind of amateur compared to some (newbie fillets). At least it won't be completely embarrassing.
cheers, Bob Arnold

AF4
Chuck,
I realized I forgot to send you my update photos of the AF4 color choice. I'll attach some images for you. These are the "in progress" painting photos. I'll get more to you of the green copper treated interior. Thanks!
Mike Russon

Outrigger
Chuckster This is what I'm in too.. Thought maybe you'ld want to sea it..
Lowell "Ratty"

Pathfinder
I haven't gotten a thing done on my Pathfinder since July! Here's a pic of where I left things - I have a long way to go. A fall launch is out of the question.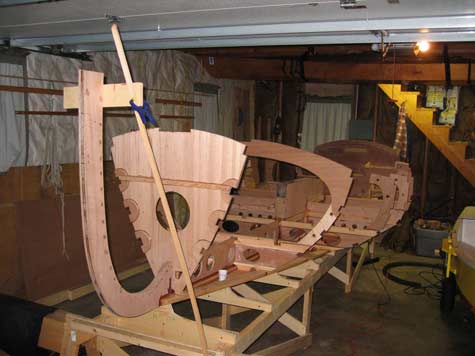 Tom Hamernik

Can-Yak
14' Can-Yak.. Plans from Glen-L.... I built this when I was just out of my Halo..It took me 9 months ,but I did it......
Ratty

Rowing
Chuck.
When rowing, the rower is facing backwards and needs to twist around periodically to 'keep a proper lookout'. Some old guys like me aren't very flexible and twisting around is so difficult that we don't do it as often as we should. I've seen rowing shells with rearview mirrors, but trying to adjust these from inside the boat could dampen your enthusiasm for rowing (to say nothing of your entire body).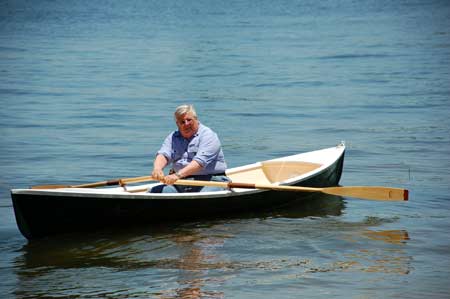 A solution which works for me is a bicycling mirror which clips on your glasses. These are about 1" in diameter and some have a wide angle curve. They are not perfect, but they do let you know if you're about to run into something. It might be a product that would sell to your clientele.
John Trussell


Diana
I have just now ordered plans for Diana and wanted some info regarding the photo you have shown for this boat as I plan to build a model of her. I really would like to build a large scale (1/6 or 2" = 1'0") model of around 50" length but have found that steam engines sufficient to power a boat this big are around $4000 ready-to-run complete with boiler, fuel tank, boiler fill pump, plumbing, etc. This would be something like the Stuart D10 or equivalent. You show a steam engine in your photo and I am wondering what brand of engine this is......also what is the length of the model shown?
web site www.vvm.com/~btbldr

some photos attached for your perusal......."
......."Endless" is a 1/12 scale model of a 28-foot Hacker runabout owned by an investment banker in Boston.....I built it for 3 of his clients to give to him as a Christmas gift.....did the hardware (52 pieces) in hard purple jeweler's wax and had the pieces cast in the lost wax process by a custom jeweler in Salado out of silver and silicon bronze.......(I have all the "masters" and Castanaldo rubber molds for more Hacker models at 1/12 scale if ever needed.) Upholstery by Nancy Simmons of Indiana (she builds miniature collectible furniture) .....transom gold leaf lettering by John Bruening of upstate New York....he letters the full size Hackers at the plant located on Lake George, NY..........he used a 4-hair brush to letter this model. I have 671 hours in this model of which approx. 70% are a "one time effort" consisting of carving all the wax pieces and making patterns for the boat frames, planking, etc.
Also included is a photo of my Piccolo sailing canoe.

Thanks!

John Campbell


Primrose
Hello Chuck,

Here is a picture of "Primrose" my No Frills 15 designed by John Pruitt.
Jim Stumpf

Big Motorboat
I picked up a big motor boat hull, mostly for the dual axel trailer (even has LED lights) no motor, but has a strange drive unit I'm trying to research. It's called Surface Piercing Propulsion. I need to find a prop. There's no company name on it anywhere. One cast T fitting has "Hardin Marine" on it. Ever hear of them? Attached is a photo oh the unit. Goggle reports that it's a very efficient drive. Thinking of hooking up a Honda Civic motor to it, for extended travals at Powell... Could be interesting.

Hope you both are having a great summer...
Tom

AF4B
Hey Chuck,

Attached is a pic of the AF4B project in primer and one with paint and ports. I think I'm onto something. I hope Jim likes it.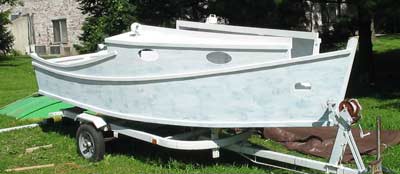 The one thing I think I screwed up is that the wales and coamings are a little thick. The red trim is a little clunky, which makes the boat look a little like a toy. I don't mind it, but if I were designing it as a product I'd refine those for sure.
Also, attached is a photo of a cool trick I discovered, which will be in the article. I didn't want to make a trip to my dad's to use the bandsaw on the plexi. But of course a jigsaw will launch shards of plastic at your head when they break loose. (And they will...) So I found a downward-cutting blade and cut a slot in an old stool. A quickie bandsaw, sort of!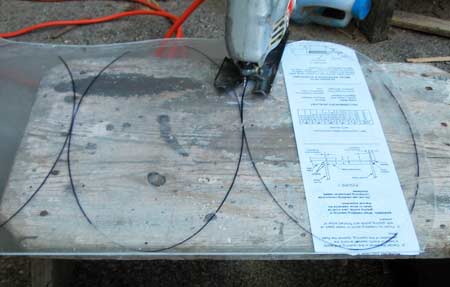 Rob Rhode-Szudy

Port Townsend
Chuck-
I just got back this evening from the Port Townsend Wooden Boat Festival. I stayed on my little Jewelbox Jr. three nights tied up right in the middle of the Festival. Quite an experience! :o) Here are a couple of photos showing that I really was up there, along with Dick Mitsch in his little Tug, Sea-Weed:
The Koko-nauts invaded the festival. I met a couple -- Steve Axton and "Tom" -- but missed meeting Jim Thayer. The two Koko-nauts I met said Jim would love to see Sage, and I kept my eye open for him, but we missed each other. :o(
John Kohnen
jkohnen@boat-links.com
www.boat-links.com

Dreaming of the Sea
I'm working, albeit slowly, on a cedar strip kayak. I've got strips milled and forms assembled but it's just too bloomin' hot here in the summer to do much work outside! Hopefully, I'll make more progress over the fall/winter months. I also built a little Bolger Tortoise just for messin' about and I'm toying with the idea of a Michalak AF3 for some time in the future. A couple of pics are attached.
Oh well. Back to the daily grind... (but dreaming of the sea.)
All the best
Shawn