Summer Workshop Schedule Announced at Boat School
The Northwest School of Wooden Boatbuilding, located on the Olympic Peninsula in Port Hadlock WA, has announced its summer workshop schedule.
The Boat School will center its summer workshops around the construction of a classic American small craft, the 16-foot Whitehall pulling boat. Summer workshop students can sign up to participate in one or all of the nine different short classes focused on lofting, building, painting and fitting out this timeless craft. Every aspect of building the boat will be taught through this series of workshops.
| | |
| --- | --- |
| Lofting | June 21, 22, 23, 24 |
| Molds and Backbone | June 28, 29, 30 |
| Framing - Steam Bending | July 12, 13 |
| Planking | July 19, 20 |
| Carvel & Lapstrake Planking | July 26, 27, 28, 29, 30 |
| Caulking | August 2 |
| Interior Fitting-Out | August 9, 10 |
| Paint and Varnish | August 16, 17 |
| Oar Making | August 23, 24 |
You can sign up for just one workshop or attend as many as you would like. You do not need to take every class to participate – even if you attend just one workshop you will have a hand in building a working Whitehall.
If a workshop you would like to attend lasts for more days than you have available, that's ok, too. Most workshops are designed to allow participants to attend all or part of a session. If you can only attend part of a workshop, you must attend the first day. As an example, Lofting is a four day workshop but you have the option of attending only the first day if you would like and then more days if you desire.
Workshops will provide demonstration and hands-on experience. Participants will not be using large stationary power tools but, depending on the workshop, small tools may be required.
Visit the School's website at www.nwboatschool.org for more details.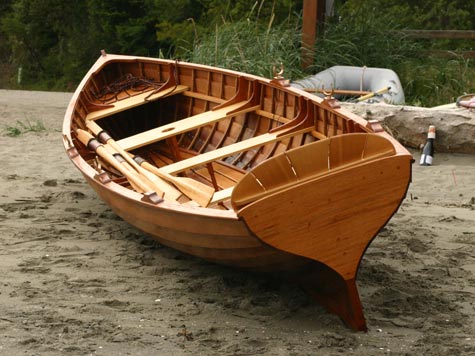 a classic Whitehall pulling boat built by students

The Northwest School of Wooden Boatbuilding is committed to providing men and women of all ages a quality education in traditional wooden boatbuilding and fine woodworking.
The School's mission is to teach and preserve the skills and crafts associated with fine wooden boatbuilding and other traditional maritime arts with emphasis on the development of the individual as craftsperson.
The Northwest School of Wooden Boatbuilding was established in 1981 by Puget Sound Master shipwright Bob Prothero to teach and preserve the skills and crafts associated with wooden shipbuilding. Since then, over one thousand students have graduated from the School's vocational programs, and thousands more have attended summer and community workshops, studying traditional maritime arts. The tradition continues today on the new Heritage Campus, located on the historic Port Hadlock WA waterfront.
The School strives to impart sound, practical knowledge in traditional maritime skills, using wooden boats as the training medium. The School hopes to imbue all students with the pride and satisfaction that comes from skillful work joyfully executed.
The School currently offers six courses which can lead to an Associate degree. Courses include basic traditional wooden boatbuilding skills; traditional small vessel construction; traditional large vessel construction; contemporary wooden boatbuilding; yacht interior construction, and wooden boat repair and restoration.
The Northwest School of Wooden Boatbuilding is accredited by the ACCSCT (Accrediting Commission of Career Schools and Colleges of Technology) to grant:
- Diploma in 6-month Traditional Small Craft;
- Diploma in 9-month Traditional Small Craft, Traditional Large Craft, or Contemporary Wooden Boatbuilding;
- Associate Degrees of Occupational Studies in 12-month Traditional Small Craft, Traditional Large Craft, or Contemporary Wooden Boatbuilding.
The Northwest School of Wooden Boatbuilding
42 North Water Street
Port Hadlock WA 98335
Ph: 360-385-4948
Fax: 360-385-5089
e-mail: Info@nwboatschool.org
Web: www.nwboatschool.org
A Walk Through the Shops at the Northwest School of Wooden Boatbuilding
Ladies and Gentlemen, I thought you might like to take a break and walk vicariously with me through the three shops here at the Boat School on a Friday afternoon - just before we begin sweeping up the shavings of the day.
Rich Wilmore's class, in the Large shop, has the bottom planked (and long-boarded) and several of the mahogany side planks on the 1934 Monk runabout.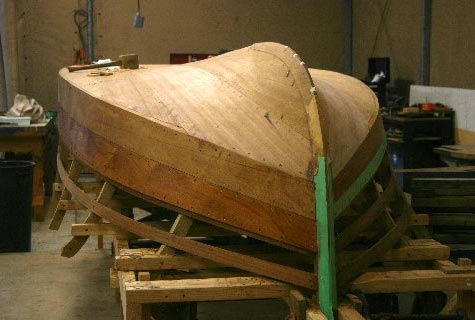 We've begun framing the 1900-era 20-foot Crosby catboat (the same boat that Mystic Seaport built in '86). If you look closely, you can see two of the four frames installed today right amidships on the starboard side.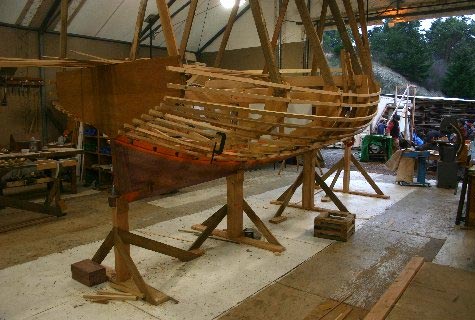 In the Contemporary shop, Bruce Blatcheley's students are readying the Nubbin dinghy mold for it's first hull. No mold release wax for this vacuum mold - it's cellophane tape and hairspray, believe it or not.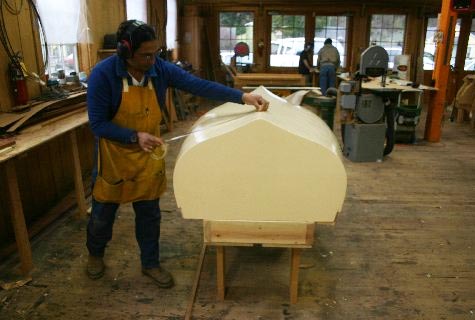 The 1935 two-masted Atkins canoe is going to be painted next week. After that's done, it's deck framing and internals will be installed.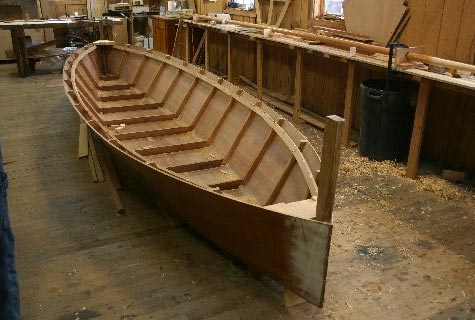 The Carpenter boat (profiled in Wooden Boat several issues ago) is being planked with marine plywood fastened with epoxy.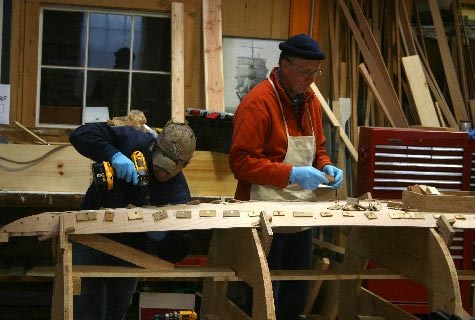 Over in the Small Craft Shop, Tim Lee's class has the first of two Davis boats off the molds. This one is a trim 14-footer. The molds have been set up again for a 16-foot Davis Boat. Davis boats were originally built in Metlakatla AK beginning in 1905.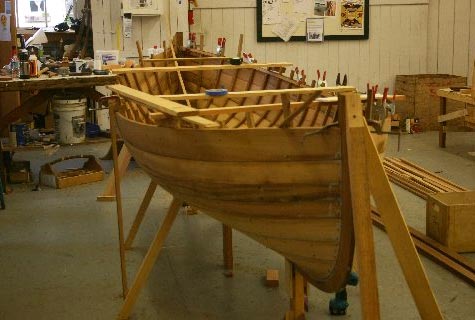 The 12-foot Grandy dinghy (foreground) and the 9-foot Grandy dinghy are being planked with western red cedar.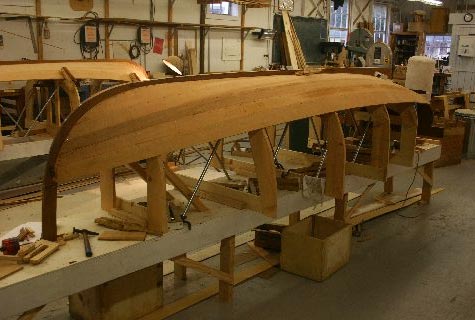 There's only one Monk Skiff left, now, a 14-foot model - the other two, a 12-footer and a 14 - have already been sold. These are spectacular boats, with their red cedar planking and floorboards, and yellow cedar frames and inwales.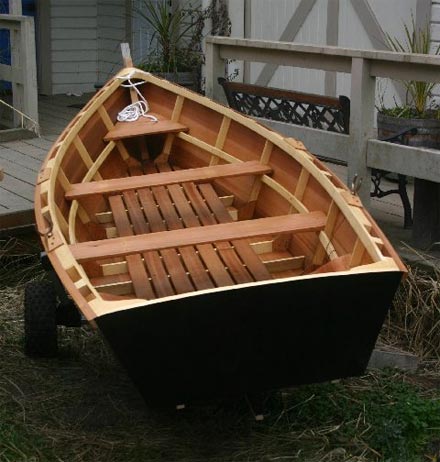 Hope all is well and you are getting some shop time and/or time outside as the weather permits!
Sincerely, Pete Leenhouts
Student, Large Craft Construction
North West School of Wooden Boatbuilding
Port Hadlock WA
https://www.nwboatschool.org/