Have you seen this boat?
Heinz, an elderly friend (age 81) built a 35' steel cutter and sailed her in 1979. Sold her in Sept. 1979 in Miami, FL, to a gentleman from near Sausalito, CA, who sailed her to San Fransciso and lived on her for awhile, then sold her in 1981-1983'ish to finance his going back to school. Heinz built her in his backyard in Scottsdale, AZ -- yeah, the middle of a desert! Marco Crane dropped her on Heinz' house (literally) while lifting her outta his small backyard. Took him another year to get her and his house back together and finally took it down the inland waterway and sailed away in the Atlantic in 1979.

Below is the info I have. Heinz would like to track her and see if she's still alive and well and what her name is now and where she might be residing. He called the US Coast Guard or some such and they didn't even know what he was talking about and insisted they had no way to track her Doc Number. Hmmm! How do I start my search for him. He does not have a computer ... in fact, it's only been a couple years since I convinced him to get a tele. answering machine. *SIGH*

Doc #602413.
Original name: Wandering Star
35' L.O.A.
Cutter Rig Sailboat
Orig. aux. power: Volvo 10hp motor
Thanks for any help or suggestions you care to share.\

Tossed
I came across this on youtube. It will make you uncomfortable.
Mike John
Whale Shark at Thunderhorse SS 274
Howdy Chuck
These were forwarded to me by a former student who is now a CWO Coastie.
Happy Trails,
Tyson in Galveston
Attached are some absolutely incredible shots of a whale shark that were taken by workers on one of the deepwater offshore oil and gas facilities in the Gulf of Mexico. Discovery channel stuff. I have been lucky enough to see whale sharks (less the rider) while I've been offshore. Sightings like this are another reason I love my job!!!!!!!!

Chuck -
I built a Bolger/Payson Bobcat catboat some 20 years ago and still have it. The instructions are very specific about the sail being laced to the mast and not attached via hoops. I don't leave my sail on the boat so lacing and unlacing each day would kill my sailing joy in no time. I tied brass clips to the boom and gaff and my sister spliced me two mast hoops from heavy rope.
I found those hoops unsatisfactory because they tended not to slide easily up the mast. The idea of saturating them with epoxy crossed my mind, when (while building a potato cannon) I decided to try making hoops from a large diameter PVC pipe. Five or six inches, maybe four; I forget.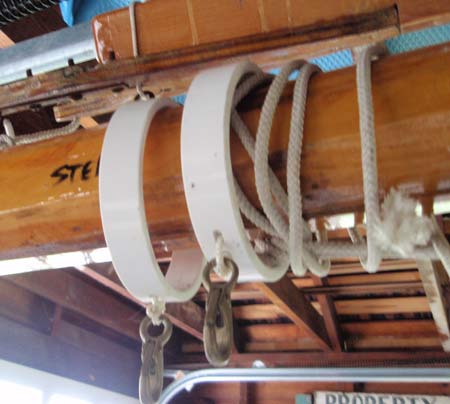 Choose a size that fits your mast. I sliced an inch off the end of the PVC and sanded the edges. I then drilled two holes in the side of my hoop so I could tie a brass clip on. I routed (gouged?) a trough between the holes on the inside of the hoop so the cord would not project very much into the inside. The hoops work fine; they slide easily, they do not grab or tighten the way the rope hoops did.
- Peter Pfister

Gone Fishing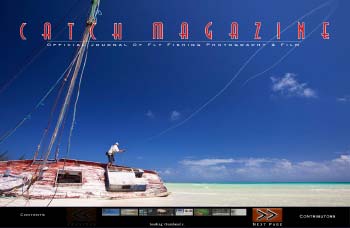 I doubt that anyone that likes small boats and sailing hates fishing. Both outdoor activities best done (IMO) away from the maddening crowds. Although YMMV on this point.
Even if you're not a fishing aficinado, the pictures here are stunning. Enjoy.
Besdt,
Leo

Steve and Bruce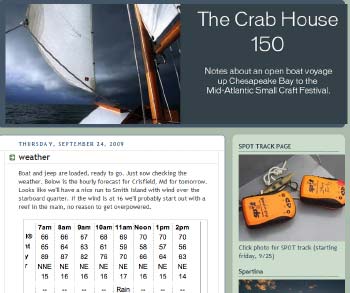 So is anyone else tracking Steve and Bruce on their 2 week voyage? You can track their progress through the "Spot" tracking device, the link to the spot is on his blog. They are making great progress so far. Today wind from the south at a very steady 25 knots with higher gusts. Can't wait to talk to them about this leg of the trip!
https://logofspartina.blogspot.com/
Kevin

Navigator Update
Hi.... once again it seems that I have to apologise for the length of time since my last update. I just found out in the files that I last updated in November 2008 so once again sorry. I can only say that Hockey refereeing and coaching along with family etc have kept me busy BUT progress has been slow and steady with lots done lately. I am still enjoying the project(I wouldn't have believed anyone if they had told me it would take this long) and have learnt heaps......... but am looking forward to the day she is finished and I can get back on the water sailing and fishing.
| | |
| --- | --- |
| | |
| | |
| --- | --- |
| | |
| | |
| --- | --- |
| | |
From the attached photos you will see that the inside is pretty much finished and painted, the deck is going on, Teak rubbing strips have been fitted (the black tape is to stop me getting Epoxy glue on them as I have yet to decide wether to paint or oil these). The top rubbing strip is going on in 2 pieces. A side piece and the top which is planed and sanded into it's final smooth shape. As soon as the Bow deck is in place I shall turn her over and finish off the bottom......... something that I think will happen in the next couple of weeks.

That's
all for now - I'll try to update again when I turn her over.
Regards
Robbie

Message 303: Return to Sender
A short story by Win Lee

The weather was calm and clear. The light of a bright, almost full moon cast shimmering reflections on the gentle swell of the waves. Charlie, standing on the deck of his trawler, feet apart, hands in his pockets, enjoyed the feel of the breeze in his face, as he listened to the rhythmic chugging of the engine beneath. It's a perfect night. If only it could be like this all the time. Many a time he'd endured stormy weather, rough seas and was forced to abandon fishing and return to port. As it dragged the nets, the trawler left a wide, rolling wake. It should be a good catch tonight.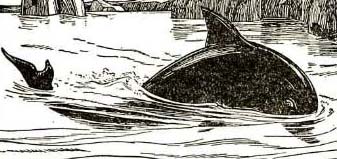 Charlie frowned as he looked astern. A small pod of dolphins was following trying to tear holes in the nets to get the fish…an easy feed for them, but not so good for Charlie's livelihood. He ducked into the wheelhouse where he kept his rifle, a 303, for just such an occasion. He loaded and fired into the pod a single shot, not meaning to hit any dolphin, but just to scare them away. The dolphins dived…then disappeared. Charlie smiled grimly. "That'll teach the buggers", he thought. As he returned to the wheelhouse, he heard a strange noise, "Clunk!" Curious, he went to investigate. There, gleaming in the moonlight, gently rolling to and fro upon the deck, lay the bullet he'd fired. The dolphins had thrown it back.
A true story.

Win (Winifred) Lee
Win is from the Dutch East Indies. Her Dutch father built boats as a hobby. The War changed their lives in 1942 when the Japanese invaded Java. Two Australian soldiers took her father's home built yacht and sailed towards Australia to escape the Japanese. It is unknown if they got there. Win moved to Australia in the 1950s and has lived there ever since.

A friend called Dylan Winter has made a superb short video of my Micro called Applecross.
Martin Roberts
Just thought I'd let folks know my blog about building a Valgerda is up to date. I'm planning to really hit it this weekend so maybe I'll have something new to post on Monday too.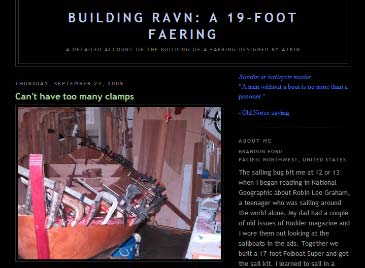 Here it is: https://valgerda.blogspot.com/
I sure would like to talk to someone else with a Valgerda, especially someone who's built one.
Brandon

For all of you that follow my project building fafnir all the new photos will be on my blog https://fafnirsailboat.blogspot.com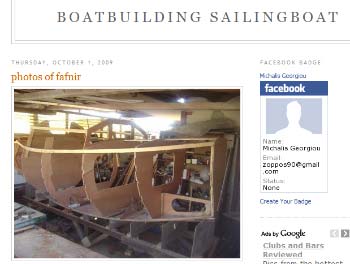 Michalis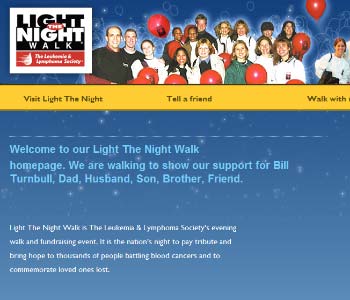 "As you may know I was diagnosed with Non-Hodgkin's Lymphoma about a month ago and am currently undergoing Chemotherapy in my battle against this disease. This Saturday I will be walking in the Light The Night Walk which raises money for Leukemia and Lymphoma research and awareness. If you can, please consider a donation to my Team".
Leo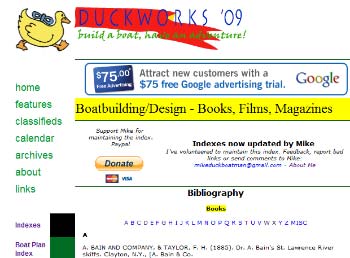 We have put together a list of boatbuilding and boat design books, films and magazines. Some of the books are obscure and will be hard to find, but we have made the index as comphrensive as possible. There is bound to something in the index you have never heard of.
Mike John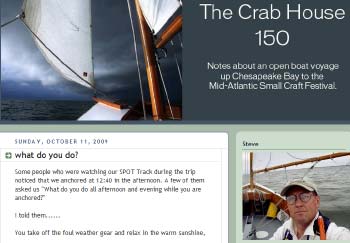 My sailing partner Bruce and I just completed a seven day sail on Chesapeake Bay in my Pathfinder. As usual John's design proved herself to be a perfect boat for camper/cruising. The yawl rig was ideal for this trip. We had high winds - sustained in the high 20 mpg range and gusts to 30 plus two to three foot swells - and sailed with a variety of combinations from mizzen and jib only, to reefed and double reefed main and one day under jib only where we hit 7.4 knots surfing down the face of a wave.
If anybody is interested I'm posting the daily log at.....
https://logofspartina.blogspot.com/
We finished the trip by sailing in to the Mid-Atlantic Small Craft Festival at St. Michael's, Md. It was great to see Slip Jig, a Navigator, in the fleet.
Steve

Lightning Strike
LAKE CHARLES , La. (AP) - A lightning strike on a fishing boat killed one man and injured another. State wildlife agents say Saturday's strike on Old Black Bayou near Lake Charles killed 44-year-old Joe Landry. He was pronounced dead at the scene. His fishing partner - Richard Bergeron of Lake Charles- was treated and released later Saturday from a hospital. Investigators say the two were attempting to pick up anchor and retreat from a small storm when lightning hit.

Sailing at MASCF
Hi Chuck and Sandra,
I finally got an on water picture (attached) of the custom sail that I ordered from you last spring for my canoe. I've been sailing it all summer, mostly in 10-15 mph conditions, and it has behaved quite well. The picture was taken at the Mid-Atlantic Small Craft Festival (MASCF) in St. Michael's MD. It's a long way from Texas but you might want to try to make it up there sometime. Dozens of home-built boats and a beautiful town/location too. The kids project at MASCF this year was to build a Puddle Duck Racer on Sat. Anyway, please pass on my compliments to your sailmaker.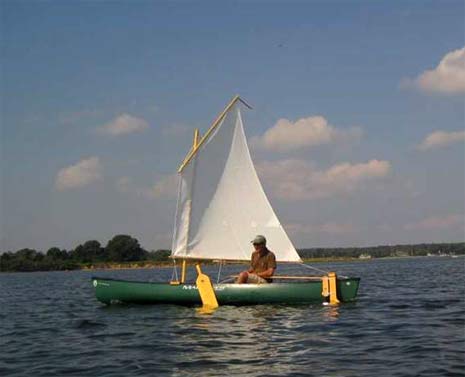 Best Regards,
Rob

Report from Murton's
Hi chuck we have Welsford Pathfinder under construction for an Auckland client. We are setting her up with a Galv steel plate instead of the wooden board it will give her more stability with the extra weight hanging down below and a gaff Yawl rig all wooden spars
Sea Nymph is back upright. Angela wanted a yellow boat she will be easy to spot from miles away .shaft and prop are in flat areas on stern are for rudder gudgeons.
Regards
Peter and Angela Murton
Murton's Timbercraft
425 Moutere Highway
RD 1
Richmond
Nelson 7081
www.murtons.co.nz
Ph 03 544 1818
Fax 03 544 80 90

Joubert ply dealer in Australia
G'day Chuck,
In Australia we have had really poor quality okoume/gaboon ply for a number of years. After getting fed up with supply issues, I have recently become the sole importer of Joubert BS1088 marine plywood into Australia.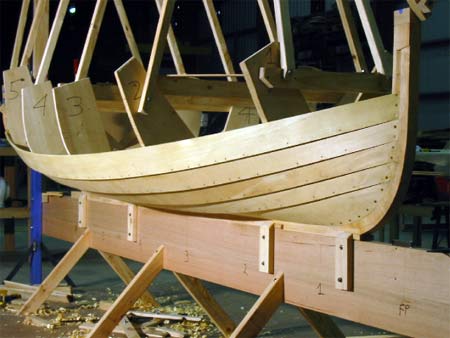 I am just trying to get the word out in Australia about this and I know you have many hundreds of Aussies who come to your site for a look. Any chance of a mention??
regards,
Andrew Denman
Director
Denman Marine Pty Ltd
www.denmanmarine.com.au

WATERCRAFT RESCUE INNOVATOR SHAWN ALLADIO TO PARTICIPATE IN EUROPEAN TRANSPORTATION CONFERENCE
Annual Italian conference focus is on all forms of transportation
TUSTIN , CALIF. , (3/5/2009) – Orange County, California based Shawn Alladio, founder of K38 Rescue, has been asked to present information about personal watercraft (PWC) rescue team organization, training programs and technical elements of using PWC for water rescue.
This year's Italian International Conference on Safety in Transportation (ICOSIT) will be oriented primarily to land and marine transportation issues. K38's expertise in quick response under normal conditions of water safety as well as major disasters on or adjacent to bodies of water lead to Alladio's invitation.
Alladio's company, K38 Rescue, has been involved in the practice of water rescue service and the training of water rescue specialists in the use of PWC for nearly two decades. Alladio and members of her international network of K38 rescue affiliates have provided water safety services for a variety of international events including surfing contests and PWC races. Alladio organized and conducted several days of disaster rescue work using PWC in New Orleans in 2005 immediately following hurricane Katrina. Her work in the flooded portions of that city was recognized in a human interest story in New Yorker magazine.
For the past several years Alladio's K38 Rescue organization has enjoyed the use of Kawasaki JET SKI® watercraft as part of a sponsorship arrangement with Kawasaki Motors Corp., U.S.A. With these JET SKI watercraft K38 has managed the water safety and course marshal responsibilities for the International Jet Sport Boating Association World Finals championships. Alladio has also developed a national professional association, H2O Responders as part of the American Watercraft Association.
At the ICOSIT Alladio will be presenting an overview of these professional boating safety and rescue initiatives. She will also provide in-depth briefings about organizing professional training for the use of PWC by boating rescue agencies.
In 2009, K38 Water Safety celebrates 20 years of service to recreational, occupational and event management water safety and education. K38 has trained thousands of personnel from fire rescue, lifesaving, military, law enforcement and search and rescue agencies and is the worldwide recognized authority in the occupational use and application of Personal Watercraft. K38 is represented through accredited affiliates in 14 countries worldwide teaching water rescue, racing, officiating, event management, operations, swiftwater, flood, big wave, towsurfing and industry support using JET SKI watercraft for rescue or patrol applications. K38 is founded by Shawn Alladio a professional IJSBA racer for 2 decades, National Safe Boating Council instructor and water rescue professional. K38's motto is 'The Life You Save May Be Your Own'
# # #