The Treasure Chest is a place to put those cool sailing, cruising, motoring, boatbuilding or boating tips you have. Send us your ideas... We just need a photo and a short description.
This time we have...
Headband
A simple toweling headband can make working in the heat a lot more pleasant.
Eucalyptus Oil
Eucalyptus oil is great for removing stickers from tools, paint from your hands and a host of other things.
---
Hauling Out a GIS
A quick primer on hauling out a dinghy while on your adventure cruise!
---
Re-Boarding Ladder
While there are a few interesting ideas being floated here (pun intended !) on the subject of re-boarding after capsize, I thought I'd highlight the solution I employed on my Ladybug. While it is not a new approach, it is simple & works well.

For readers who may not have taken particular notice of them, I have attached a few photos from the large batch I submitted in both the Michalak & Duckworks forums photo section, to focus on just the ladder.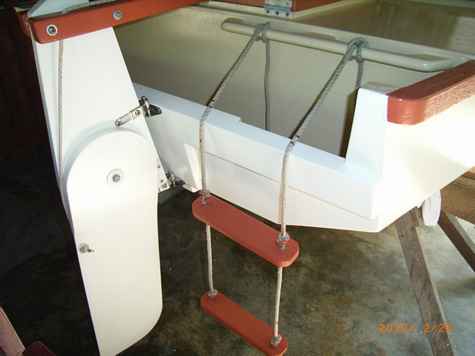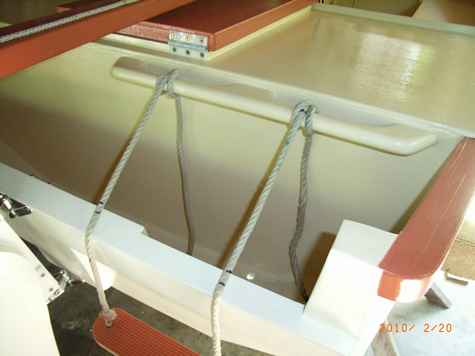 As can be seen I attach the two lines to a wooden grab handle attached to the rear bulkhead. This handle serves as an attachment point & grab handle & when not needed, the ladder lies in the splashwell where it is easily accessed after a knockdown & the boat has been righted.

The top rung sits a couple of inches above the bottom level of the transom & when a foot is placed on the bottom rung & weight applied, this rung will swing forward under the boat a little way & hold the top rung hard against the transom ready for the other foot. Jim has designed the top of the transom so it is not far above the water making it easy to use as a hand-hold during re-boarding, & the grab handle is also within easy reach. Most people should have little difficulty climbing aboard with this rig.

I used left-over 3/4" thick treated pine flooring timber for the rungs & 9mm nylon rope (re-cycled)....very low-tech!

Al Burke
---
Fantail and Carpenter
Never say I don't know how to make a fantail. Actually I made it twice, had to make an adjustment for the motor clearance. Just slap on some two inch foam and glass the hell out of it. It'll get a couple more layers of 25 oz cloth then I'll roll her over and start the inside. Here's a picture of what she'll look like when I'm all done. An eight foot wide sled is really wide, could put a fan on it and have an airboat.
David Lucas
Lucas Boatworks and Happy Hour Club
(941) 704-6736
******