The Treasure Chest is a place to put those cool sailing, cruising, motoring, boatbuilding or boating tips you have. Send us your ideas... We just need a photo and a short description.
This time we have...
Bulkheads, rope and pavers
Bend thin metal to get shape of bulkheads. Old pavers make great weights (I found these ideas somewhere). If you are burning the ends of a lot of rope, light a candle and use that flame. It saves time and money.
Mike John
Fairing
I apply filler with a notched trowel and leave it harden. Sand the ridges with the long board then fill in the remaining grooves. Less stuff to sand that way...
Paul Esterle Freelance Boating Writer "Capt'n Pauley's Place" The Virtual Boatyard www.thevirtualboatyard.com
---
Rope Stirrup
I thought some of your readers might be interested in this simple device that I use on my 8' long John Spencer-designed Firebug dinghy.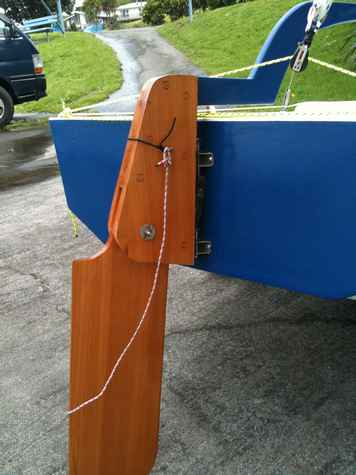 The boat is very easy to re-board after a capsize using this rope stirrup. It is attached to two s/s saddles, one either side of the rudder stock. When not in use it is tucked up neatly under the piece of black bungee cord. When you put your foot on the stirrup it is prevented from going under the boat by being able to press against the rudder blade. Remounting the boat over the stern makes it much easier to keep the boat head- to-wind throughout the manoeuvre. I can be sailing again very quickly after arriving in the water, and it's not an exercise that requires great upper-body strength, which somehow seems to have deserted me over the years!
Hugh Blank
Marine and Industrial Division
Pure Science Ltd
Wellington
New Zealand
tel: +64 (04) 233 6308
www.purescience.co.nz
---
Spile your Planks
HAJO INQUIRED:
'So do you build on a stringer frame and spile your planks from there without attaching to them or do you have correctly projected panels to do an 'almost' jigless stitch and glue?'
I set the frames up on the hull bottom and install the Kingplank and the top inwhales in place to hold frames in correct alignment. Half frames of course will have stretchers between them, and I also brace the tops of frames together athwartships.
I then spile the plank parts on the boat and I scarf them and glue the scarfs up right on the boat similar to what is mentioned in current issue of Wooden Boat.
I never have mentioned that before as I could see people critiquing the thought but it works fine for me, and certainly with Wooden Boat publishing the thought I now have cover.
Garboards are filleted and taped to hull bottom inside and out.
Rest of planks are simply glued lap on top of each other.
I purposely leave plank bottoms a bit over sized so once done I can spring a batten to them and strike the plank edges right where they look best and trim down to the lines and finish up with a rebate plane.
When fitting planks in place it is a good idea to have a "stringer" batten to clamp to top side of the plank on the outside as this fairs the plank nicely and then the "Stringer " batten is removed once the glue sets up to use on the next plank.
Ray Frechette
Great Falls Boat Works Building Dreams One Boat at a Time
*****
Some of our more experienced builders use a technique very similar to that described by Ray, but for most mortals its easier to clamp a piece of ply over some stringers and run a pencil around to get the shapes, and then use the stringers to ensure that the planking stays fair (nice even curves rather than bumps and hollows).
Its a matter of skill and experience, but then, experience starts when you begin.
John Welsford
https://www.jwboatdesigns.co.nz/
https://www.duckworksbbs.com/plans/jw/index.htm
*****
As you probably know, Pathfinder uses stringers to define the plank locations. One is supposed to clamp the planks and draw lines that would need to be cut and faired. Since the stringers were already there and faired, I used a router and a bearing guide bit to cut the planks to the proper shape.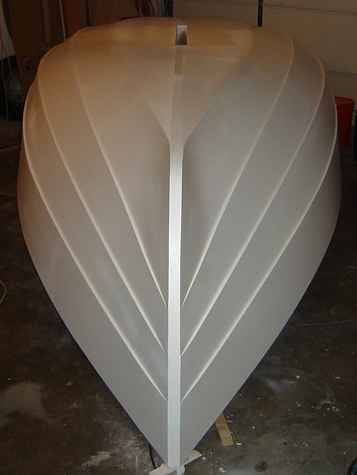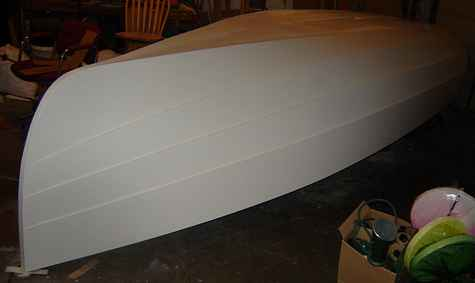 Kevin Sluder
---
Adjustable Mast Step and Mast Partner
I came up with an idea for an adjustable mast step and mast partner. It consists of two rails that the mast partner can be screwed to and a slotted step. The mast can be moved fore and aft easily and a rake to the mast can be achieved if desired by moving the partner more then the step.
| | |
| --- | --- |
| | The upper two rails are the same with of the mast (yellow) The block on top and bottom (natural wood color) are screwed to the rail to move the mast forward and aft. Down below is the mast step has a slot to slide the step forward and aft. |
| | |
| --- | --- |
| | The rails are attached to the forward air box or thwart and center board trunk and or airbox. |
| | |
| --- | --- |
| | You can see the slot somewhat better here for the mast step. |
| | |
| --- | --- |
| | Here you can see both Mast Partner and mast step and get the idea of how to slide them back and forth. |
Mark
---
Sewing
Almost all sewing projects, no matter how big or how small, require you to decide which type of seam to use. When you're working on outdoor canvas projects, the seam is especially important when you consider water resistance, UV protection, fabric strength, fabric usage, and time.
Typically an overlapping seam, semi-flat felled seam, or full flat felled seam is used for outdoor sewing projects. We've just created a new video to demonstrate how to construct each of these seams and to discuss the benefits and drawbacks to using each one.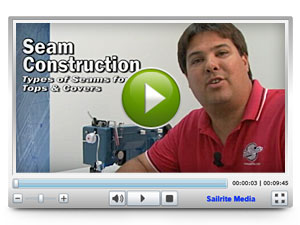 Having problems with the Silverlight player? Watch it on YouTube - Click Here
Here are a few brief comments regarding each seam. Sailrite typically recommends the semi-flat felled seam because it offers a good balance when it comes to water resistance, UV protection, and fabric strength compared to construction time and fabric usage.
---
Duct Tape
Cheap easy to remove duct tape with glossy backing comes in handy often enough in boatbuilding too.
Use it to mask off areas you do not want epoxy to stick too. Than peal off as epoxy begins to kick.
Use for making molds too. Layup glass cloth on it and peel the glass part off the tape later.
I have used it on chines of jigs I have built where I screw down the developed ply panel onto the jig and then force thickened epoxy in the gaps. Let cure, remove screws and then round over and glass tape in place. Then you can remove boat off jig. Duct tape prevents any epoxy from sticking to the jig...
Ray Frechette
Great Falls Boat Works Building Dreams One Boat at a Time
---
Beat the Heat with Easy Ways to Cool Off on the Water
Boating experts offer convenient, affordable options to get feet wet this summer
CHICAGO (July 20, 2010) – As summer heats up and temperatures rise, Discover Boating, the non-profit awareness program for the U.S. recreational boating industry, has affordable tips to help landlubbers make waves while creating lasting memories with friends and family aboard a boat this summer.
Boating is a favorite warm weather pastime across the U.S. In fact, according to the National Marine Manufacturers Association (NMMA), an estimated 66 million Americans went boating in 2009. What's more, Discover Boating reports that spending time on the water is one of the best ways to connect with family and friends. Results from a May 2010 survey of 4,300 members of the nation's largest boat owners group,BoatU.S. reinforce this as more than two-thirds (nearly 78 percent) of respondents said spending time on the water plays a significant role in bringing their families together.
"As the heat index climbs across many parts of the country, getting out on the water on a boat can be the perfect way to cool off while spending quality time with family and friends," says Ellen Hopkins, spokesperson for Discover Boating. "Boating enthusiasts, not just boat owners, can find easy ways to test the waters and discover the boating lifestyle this summer."
Whether considering boat ownership or just looking to get your feet wet, Discover Boating has on-the-water options to float your boat:
Rent or Charter. Boat rentals come in a variety of forms, from hourly and daily rentals to weeks-long charters. Renting is a helpful way to compare boat types and explore local waterways from a new vantage point. Multi-day chartering may help save on trip expenses such as food, lodging and activities, which can often be negotiated into the overall cost of a chartering package.
Share Time and Costs. Fractional boat ownership, similar to lodging timeshares, are cost-effective ways to use well-appointed boats and distribute costs related to fueling, pump-out, maintenance and insurance among a group of friends or other local timeshare boaters. Members pre-schedule use of the boat online and often get the added benefit of lessons, flotillas and additional crew, if needed.
Join a Club. Local boating clubs and organizations allow inexperienced boaters the chance to test the waters through lessons, regattas and events. Clubs provide members with access to a variety of boat types, interaction with fellow boaters and events for all skill levels for an annual or monthly fee.
Test the Waters. Visit a local boat dealer as they can help narrow down options if in the market to purchase a boat, suggest options to best fit a budget and take interested boaters out for a test drive to experience how the boat performs. Similar to shopping for a car, test driving several boat types will help even the most experienced boater make a selection that works best for their budget and lifestyle.
For more boating tips, resources and information, visit DiscoverBoating.com.
About Discover Boating
Discover Boating is a national awareness campaign developed by the North American recreational boating industry and managed by the industry's trade group, the National Marine Manufacturers Association (NMMA.org). Discover Boating programs focus on improving the boating experience and building interest in recreational boating by providing a resource for Americans to explore the benefits, affordability and accessibility of the boating lifestyle. To find out more, visit DiscoverBoating.com.
******