Ocean Signal America
Here's a link for the Ocean Signal America YouTube channel.
I'm very excited to tell you that we have our first two videos online now. One is about EPIRBs - what are they, how they work, what is so special about the Ocean Signal America range etc. The duration is just over two minutes.
The other video features Nick Heyes, Vice President of Ocean Signal America and James Hewitt, Sales & Marketing Manager for Ocean Signal in the UK giving a brief overview of the company and the three main products - EPIRBs, SARTs and VHF radios.
Tracy
---
Bayou Teche Wooden Boat Festival
These pics are from the Bayou Teche Wooden Boat Festival. I didn't get any pics of the party end of the street. As you can see we had a prime parking spot for our truck camper including electricity that was provided by the city for the cooking tent (blue) that was on the other side of a five foot "hurricane" fence.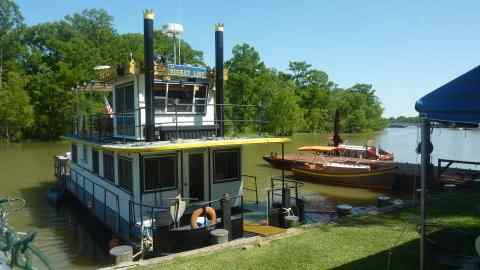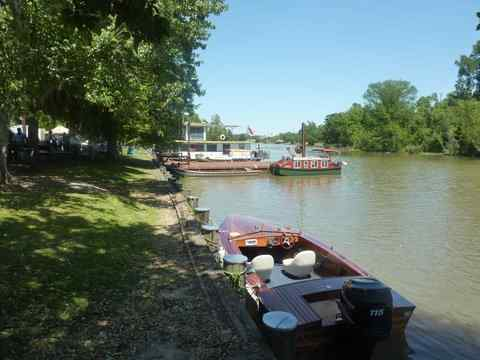 Gene Lueg
---
Keep Turning Left (KTL)
We have had some great Easter weather - and the sailing must have been marvellous - sadly, yet also happily, I had some paid work.

However, I managed to finish the film about Southwold and the Blythe - its ktl 68 and 69 - which you can find here:

https://www.keepturningleft.co.uk/category/2010-season/

The first part is about the town of Southwold which has everything you
could possibly want in a seaside town.

It has a brilliant pier with slot machines made by Tim Hunkin:
https://www.timhunkin.com/

Southwold once had a railway - narrow gauge - it would have brought a smile to the face of Roland Emmett:

https://en.wikipedia.org/wiki/Frederick_Roland_Emett
And then there are the ferrymen who row up to ten passengers at a time across the harbour with its four knot tides. It has rabbits that run wild through the town centre and more toffs than you shake a stick at.

That is all in film 68.

The second film is about my journey up the Blythe - and then you can see how easy it is to do several hundred pounds worth of damage to a boat by taking it up an obstruction strewn navigation. The railway bridge and the obstructions ensure that it is one of the least visited rivers on the East Coast - and in my book that makes it even more magical. Was the journey worth the £500 repair bill - certainly was.

Dylan
---
Wanderer Update
Here's is a photo of Wanderer - the hull has been wired together, getting ready to wire in the frames.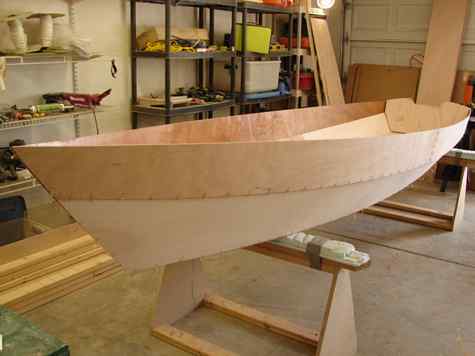 Bill
---
Windvinder
This is the Windvinder, unmanned vessel of the Expedition to the Origins of the Wind: a satellite on the ocean. It is steered by wind alone and driven by headwind. A windmill drives the ship's propeller; a tail fin in the wind keeps the vessel on its never changing course.

From time to time an island pops up in its path.

For anyone who finds it there, instructions are engraved on all parts of the ship (translated into more than 45 languages): People are asked to mend what is broken, improve what wasn't working, and to relaunch the vessel on its voyage – to where the wind comes from.

Please report date, position, and any changes in the construction to the Expedition Headquarters.
The website is: https://www.windvinder.com/index.php?id=18&L=1

Here's a brief video of the Windvinder under way.
Some sailors might want to go on the follow up expedition, scheduled for this summer, which is a sort of hunt for this beautiful little vessel.

It's worth the time to prowl around the website, a gorgeous, creative boat. Mosagra
---
Everything Old is New Again
The Irish coracle type boats of Vietnam are alive and well, very popular North and South tending traps and nets. My friend Emmet in the Merchant Marine saw them last year in the middle of the South China Sea working off a mother ship. The examples that I saw this year at Vung Tau and Nha Trang had laminated frames and gunwales lashed with heavy monofilament, the woven hulls waterproofed with tar or resin. Roughly 6 ft. round, about 2 ft. deep, they are easily carried above the high water line or aboard of a larger vessel.
| | |
| --- | --- |
| | A traditional woven Vietnamese Coracle |
| | |
| --- | --- |
| | Sea Silver Fiberglass Shop |
| | |
| --- | --- |
| | Fiberglass Coracles and a bathtub |
| | |
| --- | --- |
| | FG Coracle with molded gunwale |
In Nha Trang I stumbled across a fiberglass shop and piled outside - fiberglass coracles! Our driver got me inside, a Robb White nostalgia moment, not the sweet smell of 1/2 pint to the gallon old outboard exhaust, but the strong stink of polyester resin. These guys were busy. Coracles, bath tubs, inboards, outboards, wave piercing cats and tri's, it was like South Florida 40 years ago. We can make anything! I saw the mold for the coracles and found a finished product out back. Note the wide molded gunwale with molded in pad eyes. Somehow gunwale just don't seem right here does it.
Ray Schaefer
---
Kayaking Accessory
Thought you might like to see my latest kayaking accessory. Now, where are a few personal watercraft when you want 'em?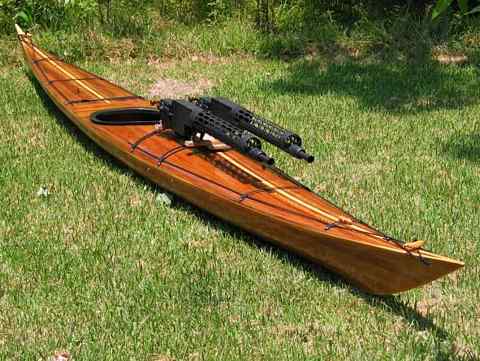 Kurt
---
Rustic Model Boats Indexes
I started posting articles but now I am focusing on indexes to old model boat plans in Popular Mechanics and Popular Science. There are indexes to free real boat plans on the Internet which can be scaled to make model boats.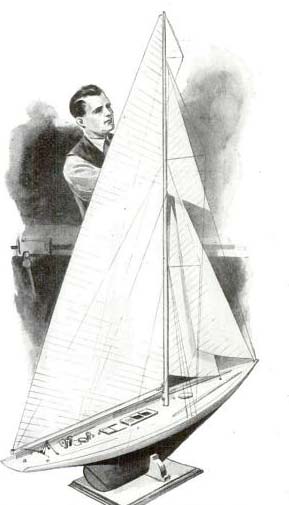 There is a comprehensive bibliography of model boat books and links to model boat sites. There are some movie reviews, book reviews and computer tips.
Recently, more entries have been added to the Free Model Boats in Popular Science Index and Popular Mechanics Index and there are more to come.
Link is https://www.rusticmodelboats.com
Mike John
---
Cedar Key
A really nice slide show with large photos for May 7th is here. There is a scroll bar at the bottom to move through them faster or skip any you're not interested in, but they are nice & large in the slideshow.
Or you could also look at single photos here. There are 181 photos in that set, all from Saturday. Lots of good photos of you & Helen sailing Laylah!
There are also some pictures from Friday in this set, including another version of Jim drinking wine with a straw!
Lenna
---
My Boat
A few recent pictures of my boat. I finally got it out of the garage and onto a trailer.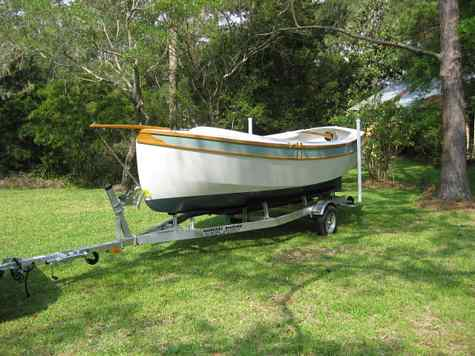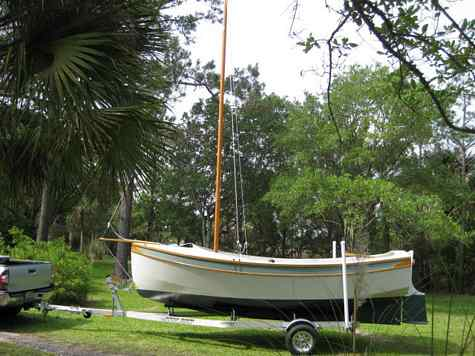 Chip
---
Sea Tow® and the Sea Tow Foundation Kick off National Safe Boating Week
Organizations Offer Common Sense Tips to Increase Boating Safety and Enjoyment
Southold, N.Y., May 11, 2011 – At the end of next, Sea Tow and the nonprofit Sea Tow Foundation will help kick-off National Safe Boating Week, which runs from May 21-27. As in years past, the goal of National Safe Boating Week is to educate and inform the boating public about the need to follow safe boating practices.
"Late May is the start of boating season in many regions across the U.S.," said Gail Kulp, executive director of the Sea Tow Foundation. "But even in communities that enjoy year-round boating, this is a good time to remind boaters of some key boating safety practices."
Take a boating safety course. Whether this is your first summer on the water or you've been boating your entire life, make sure you're aware of all current boating regulations and the rules of navigation. One of the best ways to do this is by taking a boating safety course. Traditional classroom courses are available through a variety of sources, including state boating agencies, U.S. Power Squadrons®, local marine dealers or other organizations. Time-strapped boaters can also take online courses at their leisure at BoaterExam.com. As an added incentive, those who complete a course may be eligible for a discount on boat insurance.
"Taking a boating safety course is one of the single best things you can do to ensure your safety on the water," said Kulp. "In 2009, the last year for which statistics are available, the U.S. Coast Guard reported that three out of every four boating-related deaths could be attributed to boaters who had not taken a boating safety course. Why not play it safe and take a course this year?"
A list of all of the approved boating safety courses offered nationwide can be found at nasbla.net/courselisting.php.
Get a vessel safety check. The list of required on-board boating safety equipment includes everything from an anchor and a fire extinguisher, to life jackets for all passengers. While it is easy to forget something on the list, the Coast Guard Auxiliary and the U.S. Power Squadrons both offer free Vessel Safety Checks to get you ready for the boating season. And, failing to carry the required equipment can lead to a ticket and fine.
File a Float Plan. Never go boating without telling someone where you are going and when you will return. That way, if you don't return on time, your friend, family member or other contact can notify the authorities to begin a search. "A float plan can be as simple as jotting a quick note on a message board on your refrigerator, or leaving word with a friend before you get on your boat," reminds Kulp.
More information on how to file a float plan is available at: floatplancentral.org/classroom/preparation.htm.
Designate a sober skipper. A fun day on the water should not have to end in tragedy. Boat operators must be clear-headed and able to make quick decisions to avoid collisions while on the water. Consuming alcohol or taking drugs, even some over-the-counter or prescription medicines, can decrease reaction time and the ability to think clearly.
"Over the past five years, the U.S. Coast Guard has reported that 1,118 people have died because someone was driving a boat under the influence of alcohol or drugs," said Kulp. "Don't be a statistic. Designate a sober skipper."
Wear a life jacket. The Sea Tow Foundation is dedicated to ensuring that life jackets are available to boaters who need them. Over the past three years, 12,000 life jackets have been provided to recreational boaters by Sea Tow captains through the Foundation's Life Jacket Loaner Program. Life jackets save lives and, with comfortable options like inflatable belt packs and vests, are easy and comfortable to wear at all times. "There's no excuse not to wear a life jacket while your boat is underway," reminds Kulp.
Ready, Set, Inflate
To help kick-off National Safe Boating Week, and to showcase the wide array of available inflatable life jacket options, the National Safe Boating Council, in partnership with the Canadian Safe Boating Council, is inviting boating safety professionals and members of the boating community to participate in this year's "Ready, Set, Inflate!" Inflatable Life Jacket World Record Day on Saturday, May 21, 2011. Throughout North America and around the world, participants will inflate life jackets to try and beat last year's world record of 1,154 participants. For more information on this event and National Safe Boating Week, please visit readysetinflate.com or safeboatingcampaign.com.
About the Sea Tow Foundation
In 2007, Sea Tow Founder & CEO Capt. Joe Frohnhoefer created the Sea Tow Foundation – a 501(c)(3) nonprofit organization – to promote safe boating practices. The Foundation's goal is to reduce accidents, fatalities and property damage related to recreational boating. For more information, visit boatingsafety.com.
About Sea Tow:
Sea Tow Services International Inc. is the nation's leading marine assistance provider. Founded in 1983 by Founder & CEO Capt. Joe Frohnhoefer, Sea Tow now serves over 160,000 members in more than 106 locations throughout the United States, Europe, Australia, U.S. Virgin Islands and Puerto Rico. For a full list of membership benefits, or to inquire about becoming a Sea Tow franchise owner, please visit seatow.com.
For more information or to schedule interviews, please contact: Emily Corman at ecorman@seatow.com or (631) 473-2869.
---
Sparrow Photos
Getting ready to finish rigging Sparrow, thought I would send these pix along.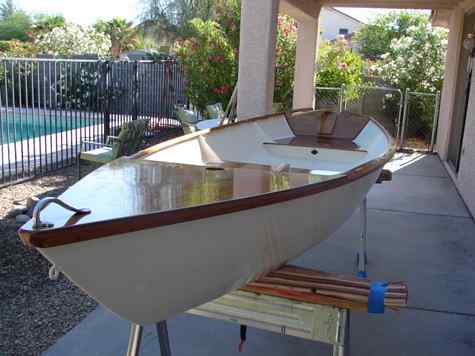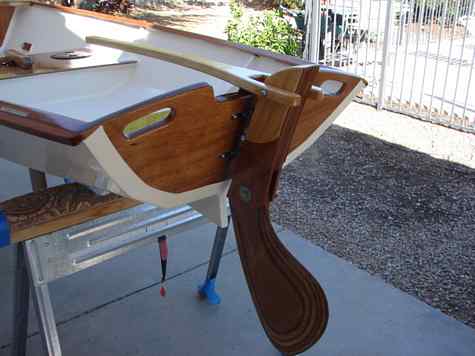 Starting Wanderer this weekend, plenty of photos will be taken - I have decided to alternate pages of photos with pages of text in the manual - pictures are worth many words....
Bill
---
Something About Navigator
by Robert Ditterich
"As a violinmaker, I am aware that the greatest instruments seem to look very relaxed. They don't appear to have been worried and coerced into mathematical perfection. Rather they seem lively and natural and happy with the minor flaws that give us glimpses of the humanity revealed in their making."
Now this is a lovely book about a very lovely boat, the Navigator, written by a guy who has built one of them. There are a couple of really good sections on building the Navigator, and there are a lot of interesting reflections on why one might sit down and decide to spend a year or two of spare time and fair amount of cash building one, or any small wooden boat.
But when a guy who makes violins for a living tells me something like that, I figure it is worth hearing and thinking about and remembering.
Do it right and do it clean or do it again, but there is a point after which it is possible to measure and machine the life out of an object, even one made of wood, or especially one made of wood, that has already had a life before it made its way into a shop, and ideally should gain a second one as a chair or a desk, or, especially something like a boat or a violin.
Ditterich's approach to the book mirrors this way of thinking. He produced the bulk of it, a section on the designer, John Welsford and the origins of the Navigator design, a thorough photo essay with good advice on building it. But there are some very fine sections and chapters contributed by a number of other folks with other thoughts on building a boat, but more to the point from an author who remarked dryly, "Boating is an out-door sport and the elements will conspire to take part in the appearance of your boat as you use it...", are the chapters about cruising the boat.
Richard Schmidt's voyage in his "Bootstrap" romping through the Sounds area of New Zealand; Martin Welby and family in his "Windlass" in Marlborough Sounds, New Zealand; David Perillo turning heads (and no doubt wrenching some necks) among the blue-water cruisers in Fiji; Owen Sinclair rambling around in his "Tusk."
Kevin Brennan writes his way through the building of his "Slip Jig." There are also photos and some thoughts from Barrett Faneuf, who built two Navigators, "Yuko" and "Grace," simultaneously. Boats that, like many in this book look remarkably alive in the sense that Ditterich wrote about. But another of my favorite bits was a delightful, in the sense of misery loves company, photo of Faneuf upended over a gunnel with her head tucked in a compartment accompanied by her poem "requiem for sanding."
It starts out:
Here lies a sorry fool boat builder
Hearken to the thought that killed her
Everybody who's been there has their own idea where it might go.
'Nuff said, why not have a look?
Review by Brian Anderson - Ange, France
---
Glass-foam Blocks
I attached a couple of photos of my new boat in progress--going out to sand some more right now. It's already a lot smoother than in the photos.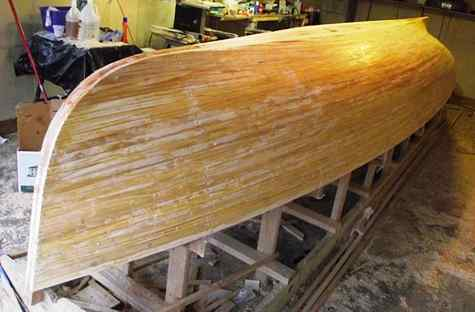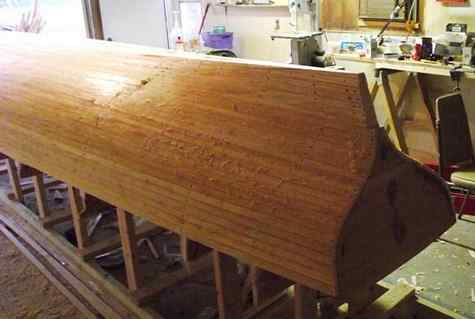 Tom Pamperin
---
Product of the Week: TRAC Ecological Products Barnacle Buster™
Share this product news | Find on Facebook
Marine growth build-up is the #1 reason water cooled equipment malfunctions. These deposits will reduce equipment effectiveness which will often result in costly downtime. Even a thin layer of growth, as little as 1/64" can result in a 15% decrease in efficiency.
While conventional methods of cleaning such as mechanical brushing do have some success, harsh acids are harmful to the user, the equipment, & the environment and in many instances, these methods result in damage to the equipment users were trying to clean.
Barnacle Buster™ can safely and easily dissolve scale, barnacles, zebra mussels, calcium, rust, lime, & other mineral deposits. It can be used to descale heat exchangers, air conditioning systems, outdrives, outboards, & anywhere marine growth can be found. Available in ready-to-use or concentrated form in 1 quart or 1 gallon bottles, 5 gallon pails, 55 gallon drums & 250 gallon tanks (for really big cleaning jobs).
More info: www.trac-online.com
---
Unique attempt to sail the Northwest Passage wins Kannad Marine's SafeLink SOLO PLB competition
Les Ulis 19-4-11 – Orolia (NYSE Alternext Paris – FR0010501015 – ALORO) announces today via its subsidiary McMurdo Ltd:
Kannad Marine has announced the latest winners of its monthly SOLO PLB giveaway competition. Nicolas Peissel from Canada and Edvin Buregren from Sweden will attempt to become one of the very few boats to ever sail the Northwest Passage in a bid to raise awareness of climate change.
On learning of their win, Peissel said; "To have the support of Kannad Marine, the world's leading manufacturer of emergency location beacons, is fantastic news. Our voyage will take us into unchartered waters and to have such an essential piece of equipment to help ensure our personal safety gives us great reassurance for the success of our trip."
The campaign, known as 'Northwest Passage on a Shoestring', will take place in June 2011 beginning from Malmo, Sweden, in Belzebub, a 1976 Hallberg-Rassy Monsun 31 boat designed for long distance sailing. The voyage will include over 14,000 nautical miles in just four months, taking in Scotland (Orkney), Iceland (Reykjavik), Greenland (Nuuk), Canada (Resolute), U.S.A. (Nome) and Canada (Vancouver). Peissel and Buregren will follow a route which, due to climate change, has only recently cleared of ice and become navigable, andBelzebub will be the first ever boat to follow this route through this extremely remote part of the world. This high latitude sail is intended to highlight the dramatic effects of climate change.
As Peissel and Buregren voyage through this remote and hostile environment, the pair will have peace of mind knowing that, should they find themselves in distress, they can alert the international search and rescue authorities to their precise location simply by activating the SOLO PLB. Waterproof, rugged and compact, Kannad Marine's SOLO PLB is a small piece of equipment but one that could prove vital in a distress situation, thanks to its ability to continuously transmit a distress signal from anywhere in the world for up to 24 hours. Able to operate at temperatures as low as -20°C, the SOLO PLB is ideal for this Arctic adventure.
Ensuring personal safety is of paramount importance on this extreme challenge, and Peissel and Buregren are currently undergoing intense preparations for the voyage in their home countries. Both are experienced sailors and are looking forward to undertaking their most extreme voyage yet. Kannad Marine is proud to be supporting their endeavours and this worthwhile environmental awareness campaign. Further information about Peissel and Buregren's challenge can be found at www.belzebub2.com
Kannad Marine's competition continues online at www.kannadmarine.com/giveaway, with more chances to win a SafeLink SOLO PLB in 2011. Price: At RRP (excluding tax) of just £245 (UK), €295 (Europe), $390 (USA) the SafeLink SOLO PLB represents excellent value for money. Availability: see www.kannadmarine.com
Here's a link to the guys doing the trip:
https://belzebub2.com/?lang=en/