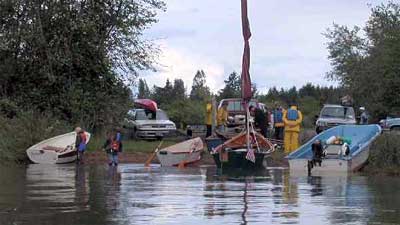 Here are some photos from the recent Fern Ridge lake messabout, Near Eugene (example above):
https://www.boat-links.com/messabout/03/Messabout-1.html
The next messabout will be June 21-22, behind Caterpillar Island (Fishermen's Slough, IIRC) on the Columbia near Vancouver Lake. Check the Western Oregon Messabout mailing list for details:
https://groups.yahoo.com/group/MessaboutW/
--
John <jkohnen@boat-links.com>
https://www.boat-links.com/
People say that life is the thing, but I prefer reading.
<Logan Pearsall Smith>

The Web Page for the Fall Lake Jordan Messabout is complete enough to post a link to. I hope this helps all who are needing info.
Let me know if there is any info that I have left off that would be
helpful.

A Bolger Sneakeasy, Champlain, Micro and over a dozen amateur built boats will be at this year's largest Amateur Boating Messabout in the Northeast. 2003's première Messabout will be held in Kingston, Ontario, Canada on the weekend of September 5-7, 2003. Visit https://www.brucesboats.com and click on the Messabout map on the home page to peruse all the details.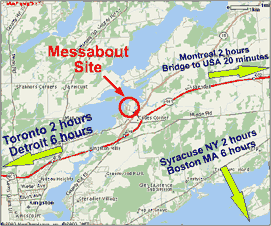 Chuck Leinweber of Duckworks eZine will be there, driving all the way from Texas to do so. So we won't accept distance as being an excuse not to come yourselves. Kingston, halfway between Toronto and Montreal, is only 90 minutes north of Syracuse New York via Interstate 81 and driving access is easy, involving only one turn after you exit the freeway.



The Kingston Messabout will be on a major waterway, permitting larger amateur built boats to attend. The venue, Rideau Acres Campground (https://www.rideauacres.com) is on the Rideau Canal, which is linked to the St. Lawrence Seaway and the world.

Rideau Acres Campground is a full service site, with a beach for launching small craft, a ramp for trailer launches and 4 foot draft docks for over twenty boats of all sizes. Serviced campsites, RV sites are directly adjacent to the Messabout beach. The site also has a large well equipped clubhouse, heated pool, real toilets and hot water showers.



For those who prefer a tad more luxury Kingston is well stocked with hotels and motels, even a floating B&B on an ex-Canadian Coast Guard Icebreaker! With the event taking place after Labor Day, many will be offering rooms at off season rates.

Events at the Kingston Messabout will include a wine and cheese "Meet and Greet" on Friday night.

The main Messabout will be on the Saturday from 10 a.m. until 4 p.m. On the beach, adjacent to the Messabout there will be a "Boat Jumble" where boating items will be available for swap or purchase on Saturday, all participants are invited to bring whatever boat plans, outboards, and general boaty stuff they want to unload. A "Potluck" dinner begins Saturday evening at 6 p. m. and all participants are encourage to bring a pail of their favorite slop to share. Salads, main courses, stews, pastas, and desert items will be devoured by a crew of hungry sailors.



At 10 a.m. Sunday morning I'll offer up a huge pot of my sugarless "Texas Beans and Bacon" for a complimentary Cowboy breakfast on the beach. Feel free to add to the feast with your favorite early morning treats. Coffee, of course, will be most welcome. Unscheduled Messingabout continues as desired on Sunday. Keep in mind many of us work Saturdays and can only attend on Sunday, so stick around as your schedule permits.

Anyone planning on attending with a boat is asked to contact me by email at bruce_hector@hotmail.com or to call 1-888-214-9104 so I can add them to the database of visiting vessels on the Messabout website. A ton of photos and a write up on the event will be sent off to Bob Hicks at Messing About In Boats after the event. I hope to meet lots of new "boat nut" friends at the Kingston Amateur Messabout on September 5-7, 2003. Be there!

Bruce Hector



Messabout -Quinn's Cove Solstice, June 21, 2003
Here is a web site for our messabout. Lon
https://www.dragonwall.net/solstice-messabout

Chuck,

Here's a note on our homemade harpoon for use shark fishing (only Mako's - we won't kill any other kind of shark). We did this out of necessity, as I really don't want to gaff a leaping fish with teeth. Also, our twins are due soon, and didn't want to spend 200 bucks on a harpoon for Mako's, so we made our own. Tolman Skiffs look fishy, more so with a harpoon.
I made the first of two harpoons yesterday. I used an old telescoping boat hook aluminum pole (two sections - when I figure out the optimum length, I'll epoxy them together). The boat hook part was long gone. So I used that end and carved out a 6 inch piece of Doug fir with a power planer to fit into the end snugly. I epoxied it in with some quick set epoxy. When it dried, I cut it off flush, and drilled for a 3 foot section of steel rod I got at Home depot for $3. I cut it in half to make two pieces for two harpoons, since I got two bronze harpoon heads (unsharpened) from Blue Ocean Tackle www.blueoceantackle.com $20 plus 4 for shipping). After the wood was epoxied, I drilled it out about 3 inches to take the rod, and epoxied that in, and used the excess epoxy to wrap nylon twine around the business end of the alum pole to make it stronger. Not necessary, but did it anyway. While that dried, I sharpened he dart, since they come unsharpened. Bronze sharpens up real easy with a file. I didn't think it was going to be sharp enough but it's plenty sharp. Don't ask me how I know. I had a short file. Its sharp!
I also cut off the wimpy looking 1/16th wire attached to the dart and used 7 feet of 3/16th cable and crimped it onto the dart, and used a thimble for the other end. The cable is 400lb working load, so breaking strength is much higher.
The dart fits in the steel shaft rod pretty well, but one time around with black tape made it nice and snug, but still easy to come off after the dart goes thru a fish... then I taped the wire to the shaft in a few places. To the thimble end, I just clip my running line with a SS shackle and the line and off we go. In the interest of thriftiness, I am using heavy duty detergent bottles for the floats. Or I can use the anchor float (boat bumpers). I think 100 ft of line is plenty, but read some guys use like 400-600' of lead core sinking line... But we are using ours as a fly gaff substitute. I could always clip on the anchor line to the end and if I needed more line. But for a normal size fish, Less than 200 lbs say, I think we'll be fine. If we ever happened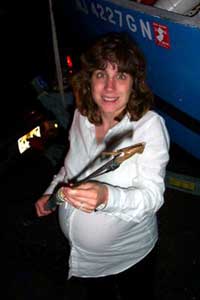 to hook a big fish, in excess of 300 - 400 lbs or something, we'll have to stick two harpoons in him and shoot him to boot. There are only three of us aboard. We intend to stick the fish with the dart, and drive it right thru the fish. It is not for throwing.
It was fun to make, and every kid in the neighborhood wants to see the harpoon...
Total cost was about $16 bucks each. I have another to make yet.
Dave Nolan
DavidTanya@att.net


I guess I have lost my amateur status; This page shows me working for money on the Schooner Virginia (see picture #5 in the slide show:

https://home.hamptonroads.com/
Here is a webcam:
https://schoonervirginia.com/construction/schoonercam.htm


It's like paying a kid to go to Disneyland everyday.
Mike Goodwin

Come on down!

The second Lake Charles Messabout will be on August 2, 2003 at the Lake Charles Yacht Club under the bridge on Lake Charles in Louisiana. The club features a launch area, sandy beaches, piers, a clubhouse with restrooms and showers, shady areas and good companionship.

Activities: No scheduled activities but a lunch of hot dogs and chili will be served at about noon and an informal dinner will be served in the evening. The dinner is a Club function and was scheduled on this date in conjunction with the Messabout. Happy hour will start at about 6:00 pm with dinner following. Menu is unknown but the Bonneys always have good food!

Who is invited? Anyone interested in ''Messing About in Boats''. (This includes Club members.)

The grounds can be used for camping if you like and some slips are available. I suggest that participants start arriving about mid-morning but anytime is fine. If you plane to arrive early, or Friday, let me know and I'll arrange to have the gate opened.

What is a messaabout? It is just a gathering of people interested in small boats, either paddle, oar, power or sail. It generally brings out home built boats but Potters, Montgomerys, Ventures, etc. are all welcome. I'll probably have my PocketCat 18 and an Uncle John 10 in the water.

For additional information contact me, Ken Abrahams at abrahams@structurex.net



Hi,
I put up a few pictues I took at the Duckworks Messabout
on S. Padre Island (Corpus Christi) on May 17, 2003.
https://www.hiline.net/~mitt/duck_mes.htm
It was a fine day, good fellowship, good sailing.
---------------
Gerard Mittelstaedt mitt@hiline.net
McAllen, Texas
USA

PROGRESSIVE EPOXY INTRODUCES QUICK FIX 2300 - NEXT GENERATION, "5 MINUTE," NON-HAZMAT, UNDERWATER EPOXY PUTTY

Progressive Epoxy Polymers, Inc. (Pittsfield, NH) has introduced QUICK FIX 2300, a fast setting, Kevlar (tm) filled, epoxy gel/putty. Quick Fix is considered a 'next generation' 5 MINUTE EPOXY. Actual potlife is 5 to 15 minutes and the epoxy is hard in 20-35 minutes.

Simply mix the black part A resin with the white non hazmat (can be shipped without regulation) part B in a 1 to 1 mix ratio and apply with a putty knife or spreader. It can even be applied underwater. The resulting hard epoxy is sandable. Private labeling is available. PRICING: $98 gallon, $62 per 2 quart unit. Applications: filling, fairing, gluing, waterproofing.

Progressive Epoxy Polymers, Inc. maintains an extensive website of technical articles, information and links in addition to product information. Progressive Epoxy has three on-site catalogs (marine, industrial/commercial, and international) and offers a wide range of overlapping underwater and dry surface coating products and fillers from multiple formulators and manufacturers.

PAUL OMAN ----- Progressive Epoxy Polymers, Inc.
Frog Pond Hollow - 48 Wildwood Dr - Pittsfield NH 03263
603-435-7199 FAX 603-435-7182 VISA/MC/Discover
info@epoxyproducts.com https://www.epoxyproducts.com
Boating site: https://www.epoxyproducts.com/marine.html

Plans

Books

Magazines

Chandlery


Sail Loft


CDs

Wearables

Fun Stuff

d