Whew, what a ride!
This was posted in the electronic version of Latitude 38
Mystery Solved
November 5, 2007 - Marshall Islands
In the August 10 edition of 'Lectronic we wondered about the origins of a 'Mystery Boat' washed up on an outer island of the Marshalls. We received several colorful theories which we ran in November's Loose Lips. They were all wrong.
Just as we were finishing up this edition of 'Lectronic, Sausalito historian Derek Van Loan strolled in with the facts. Van Loan, who's lived and worked in Sausalito since 1967, literally wrote the book on Sausalito's waterfront stories (conveniently titled Sausalito Waterfront Stories, now out of print - any publishers out there?) and recalls Larry 'The Wizard' Greetz vividly.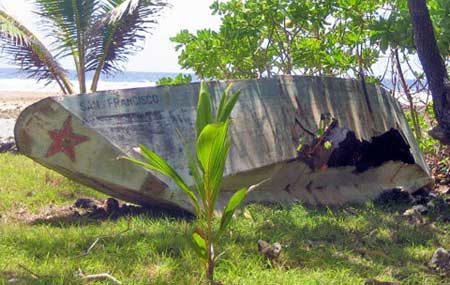 The 25-ft dory Disko was sailed to the Marquesas by Larry 'The Wizard' Greetz in the early '80s.
Photo Courtesy Moana
© 2007 Latitude 38 Publishing Co., Inc.
"The Wizard may have been crazy, but he was not stupid," Van Loan wrote in his book. "He traded [his 36-ft lifeboat] straight across for Disko, a 25-ft dory sailboat built by Herb Manley." Van Loan goes on to relate his experience in teaching The Wizard to sail Disko in 1979, and that he was vociferous in his goal to sail to the Marquesas.
"There came a day when everyone noticed that they hadn't seen The Wizard in awhile." The commonly held theory was that he had been sent back to the "funny farm." For months, no one knew what became of the wharf rat, then "The Wizard reappeared as suddenly as he had departed. I noticed the white coral scars that covered his body, and his missing ear." Though Greetz was more interested in talking about his new goal of becoming the "champion weightlifter of the world," Van Loan managed to get the story out of him.
Greetz believed "they" were after him so he left Sausalito under the cover of darkness, headed for the Marquesas. "I sailed and I sailed," he told Van Loan. "I ran out of food, so I caught fish. My hooks rusted away and I had no more food. Then a seabird landed on my bow. I ate him, feathers and all. I sailed on. I was a dead man in my coffin. Then one day my boat stopped. I was on a coral reef!"
It seems he'd drifted for five months until he reached the islands he so desperately sought. He was badly cut swimming to shore from the reef and, once there, lived on cockroaches until he was discovered. "The Wizard was then airmailed to Los Angeles and the psych ward became home. It was there that a fellow inmate chewed his ear off."
This just goes to prove that truth really is crazier than fiction.
Submitted by Chris Ostlind