Weekend on Lake Geneva
Here's how I spent last weekend on Lake Geneva, WI.

High school friend and I took his 33' Hacker-designed custom to the ACBS boat show.

-=Grant=-

click thumbnails to enlarge

Bathtub Toy
Guess there is some money left around!!

Bud K

Tom Perkins' bathtub toy (289 ft)
American Queen
2nd largest steam ship on the river. American Queen. The largest is the Mississippi Queen and we have photographed her too about nine years ago.
Today was a nice day on the river but lots of boat traffic with the really nice weather.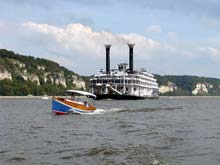 Kilburn Adams
SkiffAmerica20.com

Hiatus
I love Duckworks! Because of it I have returned to small boat building after an hiatus of nearly thirty years.
I've started with a small pram style dinghy to check that the skills survived and also to test out a few theories. The design is mine (I did three years of Westlawn until I figured out that they were producing designers of production fiberglass boats, I quit when the next module was to design the inside plug for the deck and bulkheads of said production boat) I digress. The design is based on the Chinese sampan and is my first ever attempt at stitch and glue. It took me a while to figure out how to expand the panels but it all came out perfectly. It's not painted yet, the black stuff you see in the pictures on the chines is rubber, spray on, rocker guard coating. It's tough and is completely waterproof and you can paint over it without bleed through. I'm going to paint it forest green and black although chinese red and black is still in contention.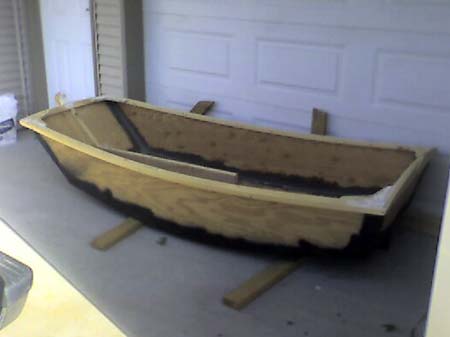 All this is a prelude to building a bigger boat once I find a building space. Again this will be my own design based very much on the Bolger, I have most of his books, square boats with a pinch of Michalak, his book too. See the lines plan attached, 17'6" LOA, 6'6" beam. It will be junk rigged, main and mizzen with the chinese arrangement of a daggerboard just aft of the main mast and a very large rudder, both will be kick up using Michael Storer's bungy cord method. I'm toying with water ballast so that it's easily trailerable.
All of this inspiration came from your website, thank you
Kevin McNeill
Experience starts when you begin - R.D. Culler

Stained Glass
Here's a couple pics of stained glass which I have been know to dabble in. The AYC burgee is in the club these days. The Great Pelican belongs to a friend of mine who lives in San Antonio.
I've been off of stained glass for about three years due to my shop and my time being eaten up with house remodel "stuff" but I hope to get back into it this winter.... if I can remember how it's done.

Rich Green

Guitar Boat
Hi Chuck,
Came across this on the web – thought it was interesting. "Singer-songwriter Josh Pyke rode this rather nifty guitar-boat into Australia's Sydney Harbor as part of a shoot for an upcoming music video. The giant-sized floating six-string is a replica of the musician's instrument of choice - a Maton brand acoustic."
Best,
Rick Malagodi
How to Load a Boat onto a Pickup
1. Load up beer, 2-3 ice chests full
2. Relax, have beer.
3. Hook boat trailer up to truck
4. Drink lots of beer
5. Drive real fast
6. Hit light pole (needs to be a solid one)
7. Boat will load it self onto truck.
8. Relax, have another beer.
submitted by Bruce Armstrong
Wee Lassie
The Wee Lassie planking is past the turn of the bilge with 26 planks.
Nice thing about a Wee Lassie, you don't have to worry about hooking it up to a trailer and pick up truck.
Regards from Southwest Oregon, home of the "Wild & Scenic Rogue River".
Clyde K

"Man vs. Weather"
Book Review

by Annie Holmes

Man vs. Weather by Dennis Diclaudio

Coming from San Diego, a place on the planet where we don't really have any grown-up weather to speak of, I thought I wouldn't really need learn aboutweather. I mean, everybody else in the US has actual weather -- are even famous for it. Florida attracts lots of coverage and excitement around it's annual hurricanes. The Pacific Northwest gets tons of rain, the northeast is famous for it's deep freezes in winter, the midwest gets real floods and lots of great press for their tornados. It's enough to make us San Diegans jealous. Here I am in California where the only weather we're famous for is...well... no weather -- OR SO I THOUGHT!

"Weather has an insatiable appetite for human extinction," wrote Dennis Diclaudio. I was naive to think San Diego was somehow exempt. Au contraire! Our horrible fire season is the direct result of WEATHER! Diclaudio's book sneaks up on you as much as some of the weather he writes about. You find yourself learning more than you ever learned in a classroom, and it's a lot more fun, too.

Every well known weather form is followed through from its sneaky start to its fully formed (and often dangereous) finale. The author is an expert, and you will become one as well. Diclaudio's wry sense of humor creeps in as you learn, making it not only painless, but downright fun, and at the end, which comes too soon, you're a weather expert! You are armed with knowledge which could save your life. No kidding.

Catboat
Chuck,

I thought you might like to see my latest project, the 10-ft catboat (attached). She is a plump little beast with lots of beam and a smidge of character. She is part San Francisco Pelican, part optimist pram for an old fat guy and part cape cod catboat.

Mike Gill
Big Cat
I have attached a couple of picutres of my project. It is impossible to get much of a view inside the shop but I think you can get a sense of the scale from these images. Both hulls are sheathed to the tumblehome and I have started framing in the troughs for the beams that connect the two hulls together.
I am about 3 years into the build and I expect probably two more years before I am launched and living aboard. I've done about 80% of this project alone but I have had excellent help with the sheathing and glassing so far. Some how I'm always alone when it comes the the longboarding!

Clif

Rare wreck discovered in clean-up of Port Louis Marina

Camper & Nicholsons on-going clean-up operation of Port Louis Marina has discovered a new wreck to add to Grenada's diving portfolio. The 50ft rare Cuban fishing vessel is the second wreck that Camper & Nicholsons Marinas have donated to the Grenada Diving Association – in a joint effort to increase diving attractions for tourists.

The wreck, Grenada's 17th in total, will be located off Grand Anse Beach at a current dive site called The Valleys. Phil Saye, President of The Grenada Scuba Diving Association said: "The wreck will serve to enhance an already amazing dive site and offer scuba divers a rare chance to view a piece of maritime history."

Danny Donelan, Sales & Marketing Coordinator at Port Louis Marina said: "As a result of our efforts to clean up the marina we were thrilled to unearth a rare and unusual vessel. We are hopeful that the addition of the 17th diving wreck site will provide a further boost to Grenada's already booming scuba diving offering."

In 2007, during the first clean-up phase of the lagoon, the Peter de Savary Group removed wreck 'Hilda' and sunk it in open waters outside of Mollinierre where it has since been a popular site for diving.

Port Louis, a recent addition to the Camper & Nicholsons group of marinas, is a rare yet exclusive Caribbean hideaway for all sizes of yachts. The marina offers a unique chance to visit Grenada's dramatic scenery, tropical rain forests, waterfalls and endless golden beaches. The first ten superyacht berths at the marina will be fully operational at the beginning of November. By Spring 2009 Port Louis will offer almost 400 berths for craft from 10m to 90m – including 73 superyacht berths (25m+ in length).

Alongside the marina is the exclusive EC$1.5 billion Maritime Village. The Peter de Savary project which will include individual houses, residential units, a luxurious 5-star hotel, a world class premier spa and wellbeing lifestyle centre, restaurants, bars and duty free boutiques. The village will become a cultural centre in Grenada – offering the very best in international style and luxury.