Centicubits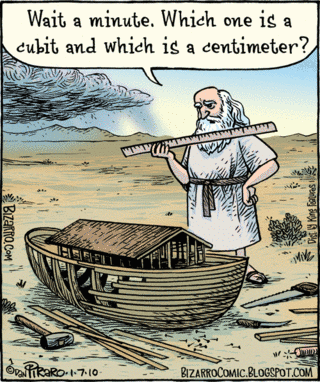 ....inventor of the moaning chair ...used to contemplate ...centicubits...millicubits???

J Panter
---
Toter 2
Hello Portable Boat Enthusiasts, The new year has brought new vitality to my boat design and building activity. This has taken shape in the form of the TOTER-2, a careful redesign of the original. This new version holds true to the original in more than a few ways. It can still fit in the trunk of many cars when nested. It can be rowed or powered by a trolling motor. It is easy to build, requiring only 3 sheets of 1/4 inch plywood, and it's light enough for most people to lift. However, that is where the similarity ends. TOTER-2 can accept a stock trolling motor. TOTER-2 can accommodate 2 occupants in tandem. TOTER-2 can be rigged as a daysailer ! All this in a boat that is 3 feet wide and 8 feet long. Nested (there are 3 bolt together modules) it is 3 feet square and about 16 inched high.
I started construction on December 30, and today, January 8, all hull modules are complete, except for the taping of the seams. The boat just about builds itself, after you cut out all the hull panels. I am excited about this boat, because it encompasses the good attributes of many of my other designs into one compact, yet roomy, portable boat. And best of all, it looks like a boat, and no trailer is required. The hull form is somewhat a teardrop shape, to provide good water characteristics and occupant weight balance. There are also 3 built-in buoyancy chambers for safety (it wont sink if swamped), and, in the sailing version, there are bolt-on side sponsons for greater stability, no centerboard required. The plans are complete, except for photos of the finished boat in the water. I expect launch date to be early March 2010, or before.
I want to thank all the people who wrote in with their ideas for the final design. It seems that multi-use capability is very important, room for two, a sailing version, and of course portability is a must. I think TOTER-2 will satisfy the needs of all those that do not want to trailer a boat, or have boat storage problems, and just want a nice, safe, portable little boat to cruise the local waterways.
Happy New Year, and Happy Boating!
Regards, Ken Simpson
PHOTOS The boat shown includes a 4 foot center module. The standard is 3 feet in length, but I am building the extended version and will outfit it as a sailboat as well. The plans include both versions. Sail plans, including rudder, mast and rigging are extra.
| | |
| --- | --- |
| | The 3 hull modules bolted together. |
| | |
| --- | --- |
| | Center module is the 4 foot long option. |
| | |
| --- | --- |
| | All 3 modules nested for storage. |
PS: If, for any reason, you do not wish to receive e-mails of this type, just reply with a "Do not send again" notice. I will delete your e-mail address from the mass mailing listing.
---
I recently received the System Three QuickFair from you, which allowed progress on the micro Auray punt. It's nice stuff; easy to mix, goes on smooth, and sands nicely. The little boat is planned for a young grand niece so that she can learn to row. I started with plans from Hannu's Boatyard (https://koti.kapsi.fi./hvartial), which resulted in a boat 7'-3" by 40" to the outside of the rail. I tried to make it look a bit salty by adding some curve to the tops of the transoms and some quarter knees and bow knees out of plywood.

The two pictures show the punt and oars. All it needs is a little sanding and paint. Painting will be completed by grand niece and her grandma (my sister) in colors of their choice. I'm eager to see how that works out. The oars are whittled out of pine and are 5.5 feet long. Note the Duckworks clamp-on rowlocks. These are easier for a beginning rower.

Fair winds, Andy
---
Pirate Terminator
I've seen the construction pix but never the underway pix.....amazing.....how many Merc. outboards on the back?
| | |
| --- | --- |
| | Here are some recent photos of the LCS 2 (to be USS) Independence. She's at 43 knots here running at half power. NOTE the absence of a bow wave. |
| | |
| --- | --- |
| | Turns tightly, also; allegedly this also was done at 43 knots...and from the look of the small bow wave, she's still in the turn. |
| | |
| --- | --- |
| | And then we have the massive helicopter deck big enough for a CH-53. Last time I talked with the SURFPAC guys years ago, THIS was the LCS they liked because of the huge storage capacity under that flight deck and the size of the flight deck. |
| | |
| --- | --- |
| | Note that there is very little spreading wake. In fact, it does not look like a wake at all, just foamy water from the water jets. Somehow, at 40 knots, you'd think there'd be more wake. |
| | |
| --- | --- |
| | She's strange looking but aerodynamically designed; is this beginning of a new design in ships? |
| | |
| --- | --- |
| | Here's a Look at The U.S. Navy's New Pirate Catchers! |
WOW! A couple of these should be able to clean up the pirates off the coasts of Africa.....

This is the U.S.S. Independence (LCS-2)

It is a Triple Hulled, Weapon-Laden Monster.

Here it is under construction....
Bruce Armstrong
---
Adjustable Outboard Bracket
It's hard to judge the correct height of an outboard bracket on a canoe before you launch it, so I made an adjustable one. The rope bottom right is an anti-torque line to stop the beam turning. The bolts are 3/8".
Mike John
---
2010 New Orleans Boat & Sportshow Postponed to 2011

CHICAGO, November 23, 2009 – The National Marine Manufacturers Association (NMMA), North America's leading boat and sportshow producer, announced today that the 2010 New Orleans Boat & Sportshow has been postponed until 2011 in order to address dealer demands as the boating industry pulls out of the recession.

"There just wasn't enough critical mass to warrant an acceptable 2010 show for our exhibitors," said Cathy Rick-Joule, vice president of southern shows. "We want to continue to be the Gulf Coast's largest and best boat show and look forward to a new day for our industry and a sustainable and strong 2011 event."

In addition to the show's postponement, Barbara Sclafani, who has been with NMMA for 17 years and successfully run the New Orleans Boat & Sportshow as show manager for seven years will retire on November 30.

"Barbara has served and devoted nearly two decades to helping build and produce an excellent show in New Orleans and will be greatly missed as part of our team. The foundation she built and the reputation she helped create for the show throughout the boating and outdoors community in the Gulf Coast will no doubt ensure a strong and viable show going forward," noted Rick-Joule.

The 41st annual New Orleans Boat & Sportshow is scheduled to take place January 5-9, 2011 at the New Orleans Morial Convention Center. A replacement for Barbara Sclafani has not yet been determined.

Editors' Note: For more information please contact Sarah Ryser at 312-946-6285 or sryser@nmma.org.

***

About the New Orleans Boat & Sportshow

The New Orleans Boat & Sportshow is produced by the National Marine Manufacturers Association (NMMA). NMMA is the leading association representing the recreational boating industry. NMMA member companies produce more than 80 percent of the boats, engines, trailers, accessories and gear used by boaters in North America. The association is dedicated to industry growth through programs in public policy, market research and data, product quality assurance and marketing communications.

Sarah Ryser
---
Maiden Voyage
Gazing at this recently acquired landsailor, and knowing that my dirtboating buddies in Montana had an additional season sailing on ice, and further, stumbling upon some DN runners I'd purchased years ago when I was first attracted to the concept of iceboating, I thought to myself "Gee, I've got 95% of an iceboat sitting right here". So with a couple of weeks, a couple hundred bucks, and some judicious headscratching, I found myself searching, somewhat desperately, for sailable ice. And yesterday it showed up! Sunny, 29 degrees, and blowing 8 to 10 kts. I'd been watching Diamond Lake, an hour north of me, but it had seen snow, and not quite enough melting to produce a decent surface. And in the middle of the day my feeble mind finally wandered to Sprague Lake, an hour south, where I used to windsurf. Called up the resort, got a mildly favorable assessment of the ice from someone who didn't know much, and finally decided it was a nice afternoon for a drive in the country. Arrived to find 9" of variable, but in some spots great, ice. Rigged in less than 20 minutes, and got to spend well over an hour screamin' around in my new toy! Worked amazingly well, considering all the dimensions I just guessed at. Front runner remained solidly planted the whole run, which is critical for maintaining control of the boat. When pressed too hard, the rear runners would break into a skid. But smooth driving kept her solidly planted, and the acceleration bearing away on clean ice is breathtaking! Gps gave a 47.9 mph top speed in no more than 12 kts of breeze, with the smaller 4.0 meter sail. Not too shabby for her first run!
| | |
| --- | --- |
| | |
Tore her down as the sun set, and grinned all the way home, knowing I've got ANOTHER great sport to entertain myself with! All hail SPEED!

Dave

---
Puddle Duck Under Snow
I really loved yesterday's article, Where the Mountains Meet the Sky. I told my wife we're going to have to go there, even if we only take the puddle duck! The article was especially nice to see, given that I woke up to snow this morning (a rare event in Las Cruces). I thought you might appreciate a couple of pictures of my puddle duck sitting out in the yard under snow and my Muy Fragile sitting on the back porch. I have a barn, but it's so full of other things I couldn't get the boats in there. I did have the puddle duck in there over last winter, but the space seems to have filled up over the summer and I never got it cleaned back out. I have really enjoyed going back and reading through the archives during some time off I've had. I love your publication and the store. Keep up the great work!
Paul
---
Novel Approach
Back sometime around 1996 or 97 I build a "stitch and glue" dinghy using 1/4 exterior plywood and epoxy resin. It mostly lived upside sitting in the mud at a 'dinghy' landing in a marina on Clear Lake in Kemah, Texas (which produced some minor rot on the tips of the transom and bow plate).
| | |
| --- | --- |
| | In 2000 I moved myself and the boat to Central New Hampshire and in 2001 or 2002 I set the afloat in a small pond in the back of my property. It was there that the boat had a few moments of fame when I posted on the internet pictures of it buzzing around the pond powered by a gasoline leafblower. |
Robert
---
William Atkin's "Gretchen"

Hi Chuck and Sandra,
I'm building William Atkin's "Gretchen", featured in BDQ 19, and need
some gudgeons and pintles. It looks like the "Rudder Hardware for
Weekender" will work but I just want to make sure that it is o.k. to
squeeze them down to fit a 1-1/4" thick rudder.
| | |
| --- | --- |
| | William Atkin's "Gretchen" |
I just finished a strip-planked version of the hull and am getting ready
to glass it; picture attached.
Thanks, Dave
---
...Seen in a recent ad for used boats....for $200 (minus the engine) ...apparently the builder is both creative and optimistic....
---
Boat Trader "Pets on the Water" photo and video contest
Hello, Chuck.
Whether their boat is a kayak or a yacht, every pet owner knows that their pet is the best-looking on the water. Now they can prove it.
Boat Trader's "Pets on the Water" photo and video contest is asking for submissions of photos or video showing pets enjoying the boating lifestyle. The grand prize winner will receive a Flip video camcorder.
For more information, please see the press release below or contact Courtney Chalmers, Boat Trader brand manager, at 757-351-7496 or courtney.chalmers@traderonline.com.
Regards,
Jennifer
***
NORFOLK, Va., Jan. 11, 2010 – Boat Trader, a division of Dominion Enterprises, today launched the "Pets on the Water" photo and video contest. Boaters are asked to submit their favorite photographs and videos of their pets enjoying the boating lifestyle for a chance to win a Flip video camcorder.
From Jan. 11 to Feb. 12 Boat Trader will accept photo and video submissions which will be posted to the Boat Trader Facebook page and to the Boat Trader Insider blog. On Feb. 13 Boat Trader will announce three finalists and will open voting to the public until Feb. 28. The photograph or video with the most votes will be announced March 3.
"One of the best aspects of boating is that it's a family-oriented activity, and many of us consider our pets to be part of the family. We want to create a more communal environment throughout Boat Trader's social network, and what better way to kick it off than by sharing photos and videos of our pets?" said Courtney Chalmers, brand manager of Boat Trader.
Boaters can keep up with the latest news about the contest by becoming a fan of Boat Trader on Facebook.
Courtney Chalmers
Courtney.chalmers@traderonline.com
---
Santa Barbara browns no longer endangered!
| | |
| --- | --- |
| | Santa Barbara Browns |
Bruce, Santa Barbara
---
Substandard
I saw this on the net and thought you might like it.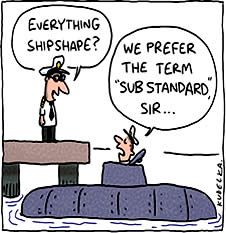 Cheers Stewart
---
Winter Support
| | |
| --- | --- |
| | The attached photo shows why overturned boats should be supported from below in the off season in some areas. The boat in the photo is the canoe in the article published on 18-19 November. It's supported buy a folding lawn chair wedged between the keel and the ground. The snow layers will compact and turn to ice if left long enough. Comes a thaw and rain will soak in increasing the load. |

William R Watt
---
Chuck, I have been meaning to thank you again for taking the time to come look at my pathfinder in August. I have made some progress since then and am attaching pitcures so you can see how it looks. The coaming, deck, seats and bunk flats are just dry-fit at this point, so a lot of gluing still to be done.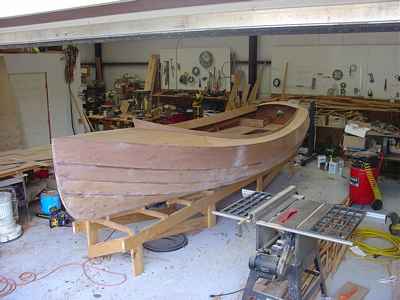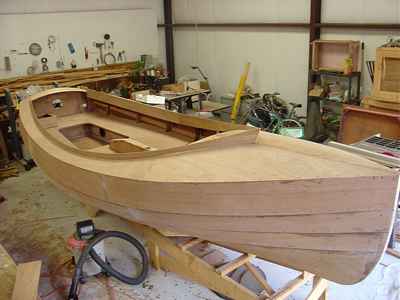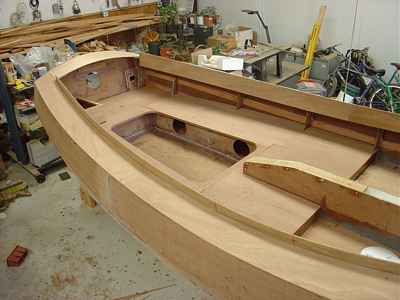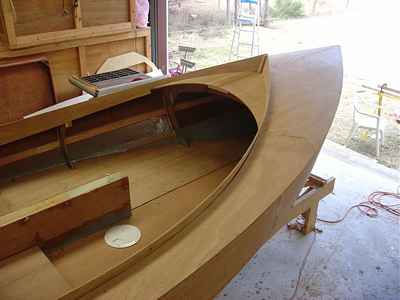 I plan to order the sails from Duckworks some time in the spring and may have a few questions before ordering.

Also, I plan to make the masts with aluminum if possible (per the plans).

Thanks,

Jon
---
Sponsorship for the Palm Beach Marine Flea Market and Seafood Festival
The Palm Beach Marine Flea Market and Seafood Festival will be held at the Palm Beach Kennel Club in West Palm Beach Florida this Feb 26-28, 2010. I would like to offer you, a leading and respected company, sponsorship in this exciting event. Your company will be featured in all advertising as well as throughout the event. This sponsorship opportunity will promote your business in a very cost effective way.

The Marine Flea Market will provide an outlet for the marine industry and private individuals to sell overstocked, new and used marine equipment at a fraction of the original retail cost. Many boaters, fishermen and divers will find valuable items for their maritime lifestyle at bargain prices and the best value for their dollar. The Palm Beach Marine Flea Market and Seafood Festival will be the answer for buyers and sellers alike. Vendors will offer a wide variety of items including fishing rods, reels, lures and lines, antique collectibles and maps, teak furniture, tournament gear, nautical art, crafts and jewelry, marine artifacts, boating apparel, taxidermy and fish reproductions, diving equipment, marine accessories and parts and floating docks.
In addition to the many varied nautical and maritime exhibitors, this event will also feature healthy delicious seafood and all the traditional side dishes, beverages, desserts and comfort foods for visitors to savor as well. As an added attraction, live musical performances will provide entertainment and add a festive atmosphere to the show.
We have two sponsorships available, a business sponsorship and corporate sponsorship.
Business Sponsor $500.00
Recognition of your company name and logo in all print advertising and website.
10 X 10 booth in location of your choice.
Editorial on your company/product in 20,000 complimentary copies of show Program
Corporate Sponsor $1,500
Recognition of your company name and logo in all print advertising and website.
10 X 20 booth in location of your choice.
Editorial on your company/product in 20,000 complimentary copies of show program
Logo advertisement on banner at main entrance and at the main stage featuring 7 large performances.
If you would like to take advantage of this offer simply email me your logo info@flnauticalfleamarket.com and send your payment to Under the Sun Promotions 7040 W Palmetto Park Road Suite 4 Box 362 Boca Raton, FL 33433. If you have any questions, please feel free to call me at (954) 205-7813.
---
Product of the Week: TCNano® Gelcoat Sealer
| | |
| --- | --- |
| | The new Gelcoat Sealer from TCNano Technologies of Denmark uses chemical nanotechnology to clean, seal and protect gelcoat above the waterline all season long. The safe, easy-to-apply coating creates an invisible, durable dirt, oil, water-repelling and UV-resistant shield on the treated surface. A special compound also polishes damaged gelcoat and removes powdery oxidized deposits with no impact on the substrate. Just one 250 ml (8.5 oz.) can treats a 30-foot boat. More info: www.tcnano.com. Inquiries: Barrow International – call +44 1590 688332 or email chris@barrowint.co.uk. |
Watch the YouTube application video.
TCnano Technologies ApS -A.P. Møllers Allé 9B - DK-2791 Dragør, Denmark.
Add news@homeportmarine.com to your address book to ensure our emails reach your inbox.
Join the Marine Products Network group on LinkedIn
Product of the Week prepared by Home Port Marine Marketing
www.homeportmarine.com
Press Release Friday January 15, 2010
Home Port Marine Marketing
---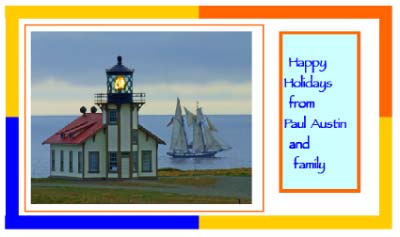 ---