---
The Mark Steele Challenge to build the smallest RC Model Schooner on Planet Earth!
There are two classes (a) Smallest RC Schooner
and (b) Smallest freesail schooner.
This Entry Form to be emailed with 3 different close-range photos of the entered model out of the water and/or on the water sailing, to:
windlingworld@xtra.co.nz (attention Mark Steele)
by 15th November 2010. There is an award for each class and winners will be advised by email in early 2011, and photos and details shown in an article in a 2011 issue of
Marine Modelling International
after that in Duckworks Magazine and The Model Yacht.
---
Kayak Kathy
Kayak Kathy wanted a larger cockpit for this kayak so she grabbed a jig saw and grinder and made one. She'll finish it up with some kind of fancy combing and it'll look great. As we've always said, you can't screw up if you're the factory.
Stan's "Nancy's China" is getting close to the way he wants it. He had her sailing at Cedar Key and she sailed good with just the big gaff sail. He's added a bowsprit and big jib with home made roller furling, a curved wooden bimini top and all kinds of lighting and electrical fixtures. She's ready to go coastal cruising.
The huge new shop is filling up, it's only been finished a week, so I'm adding on. The far side is getting an eight foot addition along all sixty feet. I don't know, it fills up as fast as I can add the sections. Howard's Texas Sled is starting to almost look like a boat or a book shelf. He's doing this one the smart way. He cut out all of the pieces and glassed them on both sides so he doesn't have to stand on his head to do it after it's together. You can see the huge shop in some of his pictures.
Notice I didn't gossip about any women in this one. Isn't there an old saying about never mixing women and boats? Dave

David Lucas
Lucas Boatworks and Happy Hour Club
(941) 704-6736
---
John Goodman and GIR
I've enclosed some pictures of John Goodman's arrival in Port Arthur in GIR, his Goat Island Skiff. He singlehanded her from Freeport. Thought you might be interested in seeing these. This is under the Highway 87 bridge just before the ICW hits the Sabine-Neches ship channel.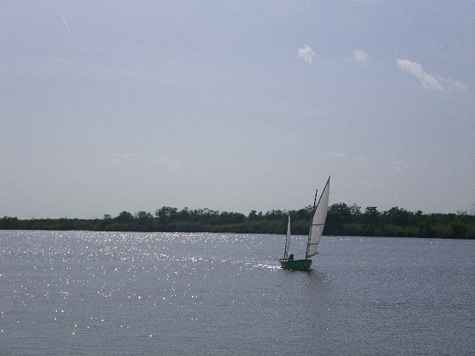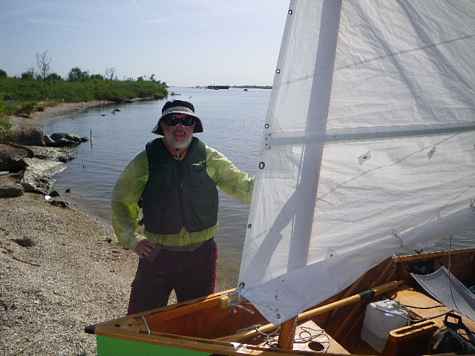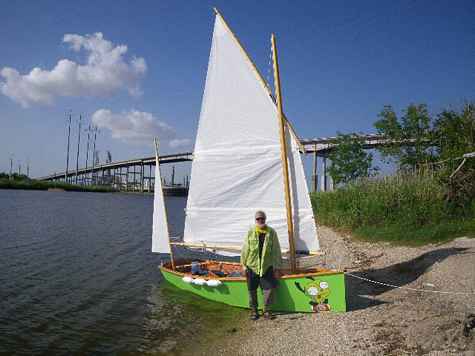 Chuck Pierce
---
Boats on the Trailer
I thought you might get a kick out of this picture. I didn't have anyone to film or take pictures of us on the water this year for raft the rio, but I took this photo after we got home of the puddle ducks and the puddle goose on the trailer.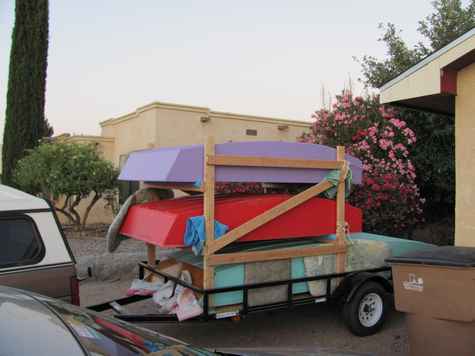 Paul Cook
---
Use & Stow Equipment, Accessories Anywhere on Board With New V-Lock Universal Mounting System from Larand Products

POMPANO BEACH, FLORIDA (USA) - Now you can use and stow most of your equipment and accessories virtually anywhere on board with the V-Lock Universal Mounting System from Larand Products.

There are two marine grade aluminum, anodized components to the V-Lock system - the base and the insert. Attach a V-Lock base in a logical convenient location around your boat, then mount each of your accessories to a V-Lock insert. Use any accessory where you have a V-Lock base. Use your equipment where you need it, with the ability to quickly and easily move it or remove it when not in use.
For more information about the V-Lock Universal Mounting System and other Larand products, visit www.larandproducts.com or call 1+877.786.0606 (toll free in the US) or 1+954.977.6333.
Larand Products, Inc. - 2173 NW 22nd Street - Pompano Beach, FL 33069 USA
---
Countdown to the Greatest Adventure of the Decade

Budapest, 2010. július 24. – One year from now the international fleet of the AEC will set sail to follow the legacy of Vasco da Gama, Bartolomeu Dias and Henry the Navigator in a unique journey, through hard struggle to explore the amazing continent of Africa. The countdown starts!
Yacht sailing races have already been organized in every corner of the world. So far - except of a few brave sailors - Africa has been avoided by the challenge seeking yachtsmen. Until all this! Because, József Gál and Dr. Péter Kondricz, and their team already started the preparations, to exactly one year from now on 24/07/11 from the port of Malta the Africa-Europe Challenge Yacht race can start their charity and cultural mission. Their adventure around Africa.
"We believe that there are many yachtsmen all over the world whose heart beats faster when they see the real adventure ahead. Who are brave enough to sail for a long distance and who are not afraid to drop anchor on a god-forsaken place instead of a full-luxury port. Who think about Africa as a dream and take the courage to get to know it first hand. Who aren't afraid of losing their well-known, safe and comfortable frame of life around them. Who would like to join an event which is more than a yacht race, more than meeting other cultures, more than charity, this is all in one and much more: salute to Africa" – said Mr. Gal and Mr. Kondricz.
In the AEC not only professional teams and yachts, but also amateur yachtsmen are more than welcome to participate, who can sail with us only 2-3 weeks because of their engagements.
If you would like to participate in the first international complex yacht race event series which is exciting, hard, poignant and imposing, whereby you are going to consider the world a little bit different, join to AEC Yacht-race! You are going to be enriched with a lifelong experience!
---
Nav-Tracker Tracks Stolen Boat In The Bahamas
HydraSport Recovered 8 Hours Later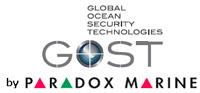 FT. LAUDERDALE, FLORIDA (USA) - A 33-foot HydraSport equipped with the Nav-Tracker 1.0 wireless boat location and GPS tracking system from Paradox Marine, stolen from Treasure Cay in the Bahamas in the early morning hours last Wednesday (July 14), was located by the system and recovered in Bimini by authorities about eight hours later.
"There is no question that without Nav-Tracker, my boat would have never been found," said Jose Mas, the owner. "I had just installed the system two weeks before and I was amazed at being able to track the boat and follow the thieves. In addition to the technology, the customer service provided by Paradox Marine in tracking my boat real time from theft to recovery was amazing. Everyone at Treasure Cay in the Bahamas was talking about an owner tracking the boat as it was stolen. Hopefully, more boat owners will install the Nav-Tracker to help deter boat thieves," he added.
Paradox Marine's Nav-Tracker 2.0 with an infrared beam sensor and a siren was responsible for protecting a second boat the same night - some 15 miles away from Treasure Cay, in the Marsh Harbor area. The owner received an 'in alarm' message from their boat as the thieves were trying to steal it. After the siren went off, the would-be thieves took off.
Last year, Paradox Marine received a service medal from the U.S. Coast Guard in recognition of the role Nav-Tracker 2.0 played in the recovery of a Contender stolen in the Bahamas in September, 2008. As many as 27,000 boats are stolen annually and the odds of recovery are only about 1 in 10, according to the International Association of Marine Investigators.
When a Nav-Tracker 2.0 transmitter is mounted discreetly on a boat and armed, a wireless 'fence' with a 500-meter range can be created. If a boat is moved outside of this fence, Nav-Tracker 2.0 uses Inmarsat based GPS satellite technology to monitor a boat's location and notify up to four people by email and/or text message every 15 minutes with the latitude/longitude, speed, heading and distance to closest city.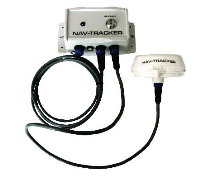 The message transmitted from Nav-Tracker on board the HydraSport when it was stolen would have been similar to this:
Message From Nav-Tracker
User: Paradox Marine
Asset: M/Y Island Time
Fleet: ETI
Date/Time: 2006-07-25 15:06:28 (EDT)
Event: Geo-fence breached;
Location: 26.05767,-80.1303.3 (0.75 mi NE of Hollywood, FL 33019)
Speed/heading: 9.2 Knots, 144 deg
Google Earth Map: [KML]
Some insurance companies now offer premium discounts or require GPS tracking devices to be installed on certain types of boats, including high performance boats and boats with triple high-horsepower outboards.
For more information about Nav-Tracker and other Paradox Marine boat security, monitoring, tracking, surveillance and acoustic deterrent systems, visit www.paradoxmarine.com or call 1+954.565.9898.
Paradox Marine - 1200 NE 7th Avenue - Ft. Lauderdale, FL 33304
******