The Treasure Chest
The Treasure Chest is a place in Reports to put those cool sailing, cruising, motoring, boatbuilding or boating tips you have. Send us your ideas... We just need a photo and a short description.
This time we have...
How I Do Fillets
Chuck told me a great method to do fillets. Chuck said: I do my epoxy fillets in two passes. First, I place the epoxy on with a small spatula. To do the rounding, the first pass is held level with the ply on one face and the second pass is held against the ply on the other face. This cleans up the whole area and the fillet is Done!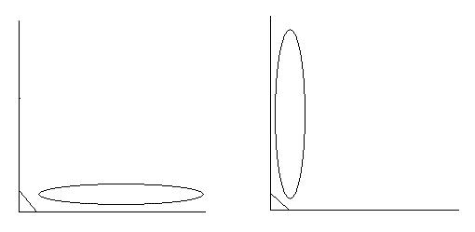 The drawing is not great but it will give you the idea.
Mike John
What Did Chuck Say?
Here are a few tips when making masts. The glassing method works very well for me.
https://www.youtube.com/watch?v=hDU560doctY
Chuck
---
Free: Portugese Dinghy and One Sheet Skiff
I have two (not quite) one sheet boats row boats I made two years ago, the portugese dinghy and the one sheet skiff. They look fantastic, used only a couple of times, but the fun was in the construction of them, I have them sitting around now and I think somebody else might have fun with them.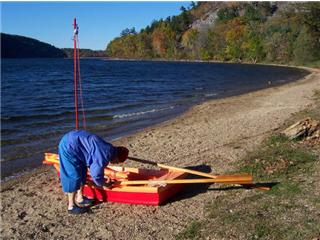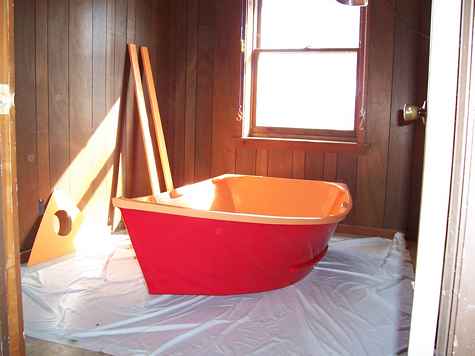 The skiff is all rigged for sailing too. (So is the dinghy, but that was just for the experience, it really is horrible to sail). They both have floatation/storage chambers, and have glasfiber/ epoxy reinforced bottoms. Sails (orange and yellow tarp) and dagger board for the skiff are included, and both have their own oars. I include some pictures (the portugese dinghy was not finished at the time the picture was taken). They are free. For the real lovers I hope.
They are in South Central Wisconsin. Anybody interested can email me at enderiek@hotmail.com
Riekje
---
Howard's Rebuilding
Remember that old "ready for the dump" star Howard's rebuilding? Here it is ready for paint. Are we good or what? Joe conned us into this some how, still not sure how. It's a 1929 boat. It's the 16th oldest one in existence and was built with the short mast, long boon sail rig and was then changed to the current taller mast when the rules changed in 1930. We have both original masts for this boat as well as lots of neat hardware. After finding all this out we just have to do an extra good job restoring the boat. If any of the rest of you have ideas about coming to us for restoration jobs, forget it. We only get tricked once or twice. I really is fun seeing this boat come back to life.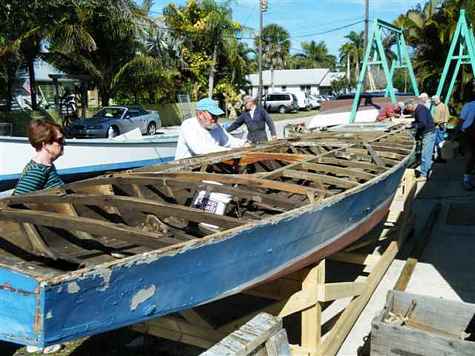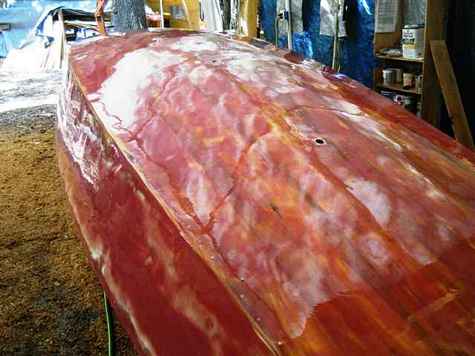 Dave

David Lucas
Lucas Boatworks and Happy Hour Club
(941) 704-6736
---
Better Start for Wanderer's 4th Season
Attached are a couple of shots from the first two outings this year .. A big improvement from that lousy day a year ago in my article. Steve Bosquette cut and sewed a new jib & mizzen from some light dacron and, as you can see, they set much better than the polytarp originals. Steve was along 3/18 and we had 3- 7 variable winds with temps in the high 60's .. delightful! Paul Moffitt brought his dog along the other day (4/13) and there was very light, fluky wind and a cool drizzle .. but it was good to meet him and talk OBX and boats. Any day on the water is a good day. Lake Nockamixon, which Paul hadn't seen before.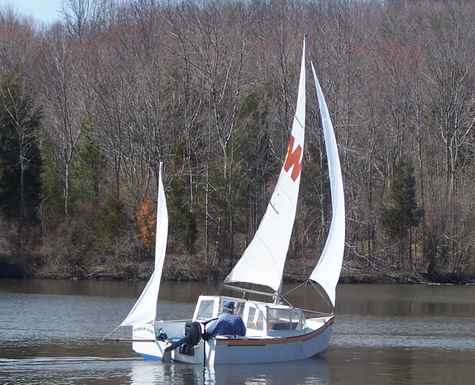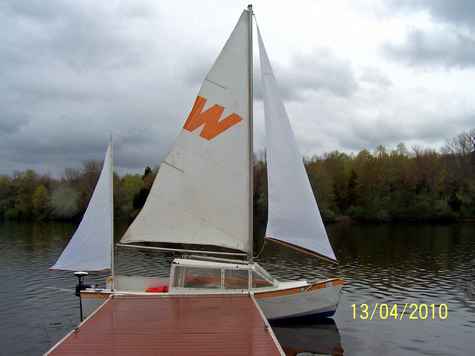 Bob Throne
---
Celebration of Wooden Boats Grafton
Good Morning fellow Wooden Boaters., It gives me great pleasure to advise we are all go again for Jaca Wooden Boats Celebration 2010!!! I hope you all put it in your calendars for this year too. Participants from last year stated they would have liked a more social day, so we have changed Friday accordingly to a sail/motor/row/tow to the Ulmarra pub for lunch, then back to Grafton to watch the Venetian Carnival - I think it is a better idea, and if we can have some boats near the Crown Hotel and mentioned over the p. a. at the Venetian Carnival, it should be enough to draw interest for Saturday.
Try to turn up Thursday if you can, though for the fun and street party, as it is a locally proclaimed holiday. We will also be a little more organised this year, now knowing what to expect, with areas designated for different types of boats. Corcoran park has been booked again as the venue, and hopefully the weather will be a little kinder to us and those that got flooded in, or couldn't make it last year because of the weather. Over 32 boats made it last year, despite the inclement weather, and word of mouth at the event promised us with heaps more for this year, with well in excess of 50 boats envisaged. We will also be chasing sponsorship and prizes, so fingers crossed! My wife is also on board this year, so we are ultra organised already. It would be good to have numbers for the Ulmarra pub, so if you can make it, please send me a return email accordingly. Feel free to contact me if you have any queries. We all had a great time last year, and regardless of the weather, the foundations have now been laid for an even better year this year.
Yours in timber, Gregg
***
Celebration of Wooden Boats Grafton - Friday 5th and Saturday 6th Nov 2010 An invitation for anyone with a wooden boat to participate. Be it a canoe, kayak, sailing boat, speedboat, or steam boat, bring it along for both static and on-thewater displays. This is a great opportunity to display your pride and joy on the mighty Clarence River and take part in the 76th Grafton Jacaranda festival. Prizes will be awarded. Owners of boats over 8m in length will need to provide public liability insurance. All owners are asked to provide the organizers with an A4 sheet detailing the particulars of their boat. It is recommended that participants arrive on the preceding Thursday to avoid the rush and also to take part in Thursdays "Jacaranda Day" celebrations.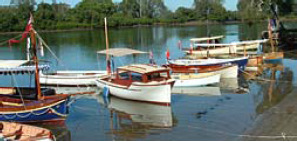 Friday 5th Nov. Social Day
10:00am - 11:00am Meet & Greet, Corcoran Park, Kirchner St (enter via Villiers St)
11:00am - 4:00pm Boat launching & Sail/Row/ Power downstream to Ulmarra pub for social lunch.
4:00pm onwards Return to Crown Hotel Grafton (waterfront) for viewing of Venetian Carnival.
Saturday 6th Nov. Wooden Boat Display
8:00am - 4:00pm Display wooden boats for the public at Corcoran Park Gold coin donation for entry
1:00pm - 2:00pm BBQ lunch, Corcoran Park Also on display will be Blacksmith and Woodwork displays, Model boats, Fly casting tuition, Vintage Outboard motors, Nautical Knot display and vendors. Proudly brought to you by the Jacaranda Festival Committee
https://www.jacarandafestival.org.au/
---
Cliff's POLUNU, the biggest homebuilt boat in Scuzbums
Launched in 2008, this is just the first time that I have been able to get some pics under sail. The design is by Mike Waller of Australia.
She is 29' loa 16' beam 2.5' draft. Build is Santee CA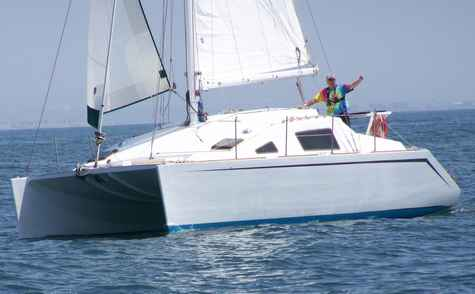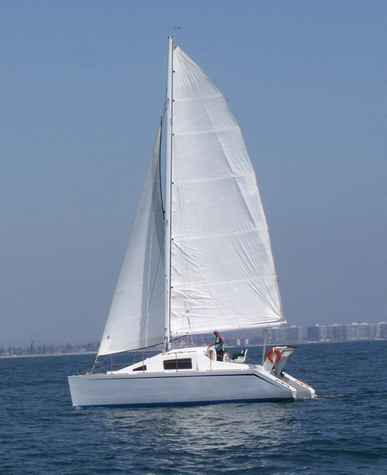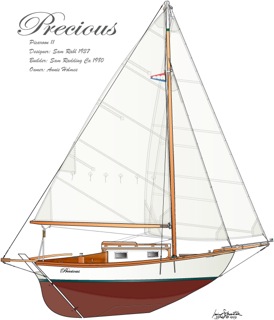 Cliff Vaughan
---
Terry Long and F.D. Crockett
Barry Long has been working on two of these 13ft melonseeds forever, well maybe not but I bet he thinks it's been forever. Here's Terry holding one and it weights only 80 pounds. How would you like to be the first skipper to run this boat up on the rocks. Jump out and run.

These two links come from Vera England. Make sure you look at them to see what a bunch of dedicated volunteers can do with a big old nasty fishing boat. When you open these links you can look at other links inside them to see lots of pictures and information. This project is one I'd like to see our guys get involved with if we had a big rail way.I don't think that would be possible because all of the really old Florida boats are long gone, nothing to restore.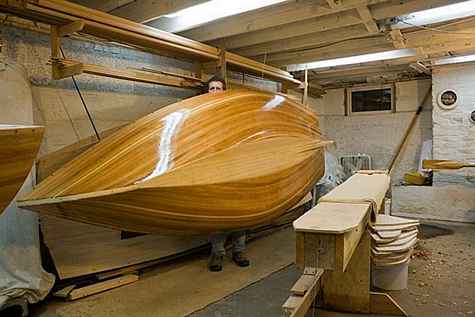 Dave
https://fgctsca.weebly.com/index.html

David Lucas
Lucas Boatworks and Happy Hour Club
(941) 704-6736
---
TRAC Ecological Barnacle Buster™
Product of the Week: TRAC Ecological Barnacle Buster™
Eco-Friendly, Efficient, Economical Spring Cleaning For Onboard Water Systems, Friday April 23, 2010
At the boatyard or in the driveway, marine growth can be quickly and safely removed from engine heat exchangers, air conditioning systems, piping systems, outdrives or outboards with Barnacle Buster™ from TRAC Ecological Marine Products.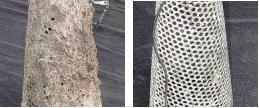 Traditional methods of cleaning (such as mechanical brushing or harsh acids) can damage equipment and are potentially harmful to the user and the environment. Barnacle Buster is a safe, non-toxic, and biodegradable chemical that efficiently & economically dissolves scale, barnacles, zebra mussels, calcium, rust, lime and other mineral deposits.
Available ready-to-use or concentrated in (US) one gallon bottles, five gallon pails, 55 gallon drums and 250 gallon tanks.
More info: www.trac-online.com or call 1+954.987.2722.
TRAC Ecological Marine Products - 3402 SW 26th Terrace, Suite B-11 - Fort Lauderdale, FL 33312
---
Laguna Sinko Report
Sails are done. I still need to clean up the booms and yards a bit.
The last parts I need to construct are thr mast steps, the part of the
partner that actually holds the mast in, the rudderhead, and tiller. I
need to shape the leeboard and, well, paint and cogitate on the
rigging, I guess.
Damn, this is an easy boat to build.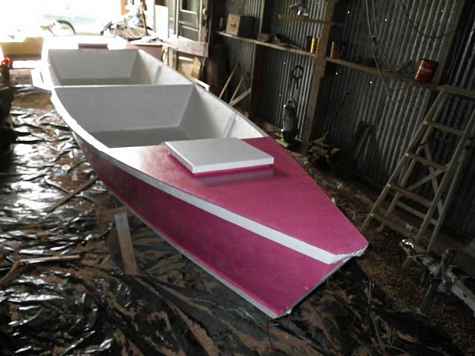 Just finished sanding and rounding the spars and shaping the foils. I
have the rudder head glued up. I just need to shape it and make the
tiller. Oh, dammit, I need to make the mast steps, too.
I laid on a layer of pink (better known as PINK!) yesterday. I guess
I'm going back to calling her Laguna Sink-O: Flamingo de Fuego.
It's quite lovely, really. She's gonna look great - on fire.
Andrew Linn
---
Shock Cord
I'm making my reefing bungies. Using wooden balls from the art supply
store but would like to use red shock cord. It is available elsewhere.
Any chance you might carry it soon? Quarter inch is perhaps the most
useful size.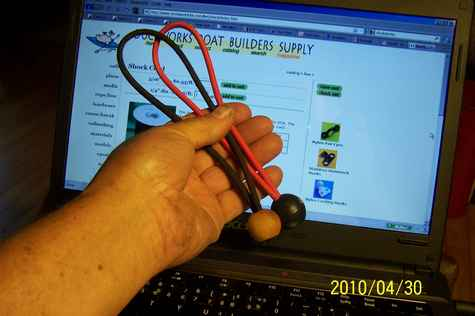 Thanks,
Paul
Father of "The Canoe Guru" https://thecanoeguru.com/

---
Fun with Paracord
Hi Chuck, I have been playing some more with knots. I saw online an ad for paracord bracelets and belts. Very expensive but I love the idea. These are made from 550# test paracord and are meant to be unwoven in a survival situation, or if a sheet breaks and you forgot your back up, or a tie down for anything, etc. The belt has 30' of line, 4' of webbing, and two D rings. The D rings are rated at 780 which I got from the depot and the webbing came from a tie down strap. I was able to get a spool of paracord 550 for 17 dollars at this awesome store.
Here is a link to the pictures of my final product. I am thinking of making a bunch of the bracelets as presents for the OBX130.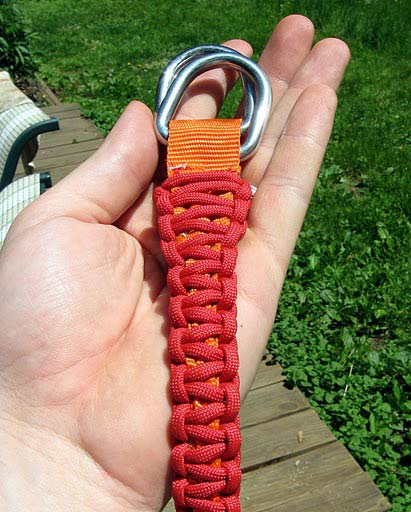 https://picasaweb.google.com/thatmoffitt/FunWithParacord#
Directions for the Cobra knot and Diamond knot are easy to find on Youtube.
I thought this might interest some of your readers.
Thanks
Paul Moffitt
---
How do you get rid of an old, worn out sailboat?
You'll should have been there to see this. A 6000 pound MacWester 26, twin keels, massive hull. Took it to the dump, no engine or fuel tanks and for the standard fee of $36 per ton they took care of it. I don't know what we were expecting but certainly not this. He grabbed it with this monster machine, dragged it off the trailer, crunched it up and dumped it onto the pile. All in less than a minute!!! This was a 50 year old hull with no redeeming features. We pulled the engine and any good hardware (not much). Fixing it up to use or sell was not an option, you can buy um in good sailing shape for way, way less than it would cost to fix this one up. The interior was a horror story.
| | |
| --- | --- |
| | The End |
Dave
David Lucas Lucas Boatworks and Happy Hour Club (941) 704-6736
Our TSCA web site https://fgctsca.weebly.com/index.html
---
Fishing Trip
My name is Capt. Raymond Griffin, owner of Griffin Fishing Charters. We are giving away a fishing trip to introduce you to our services. All you need to do is book a trip for 2 people at our regular package price and your trip is complimentary. The trip includes over night accommodations, all of your meals, rods, reels, bait, tackle, ice, fuel and 6 to 7 hours on the water. This is a $350.00 value that at no cost to you, just for trying our service.
We are a 12 year old fishing charter service, located just 30 minutes south of New Orleans, La. We specialize in exciting shallow water marsh fishing for red fish and speckled trout. Our lodge is up scale , with one and two bed room water front apartments. Our specialty is corporate groups from 10 to 50 people. Companies like Miller Brewing, Coke and Lennox A/C have used our services for years
We have a staff of 7 full time guides and a private dining room for our guests. We serve some of the best Cajun food that you have ever tasted! Pleasetry our services just once and we are sure that you will be back to see usagain and again.
At Griffin Fishing we have a saying, "We don't go fishin', We go catchen!" Take a look at our web site or give us a call for the "catchen" trip of a lifetime.
Thank you for your time,
Capt. Raymond Griffin
1-800-741-1340
https://www.neworleansfishintours.com/
---
Boat School Announces Summer 2010

Hi Chuck - here's the summer course schedule for the Northwest School of Wooden Boatbuilding in Port Hadlock WA. Thanks!

The School's thirtieth anniversary is next year, in 2011. We're just now developing a series of celebrations, all involving boats in one way or another. I'm working up a longer article that I hope can be published in sections dealing with what was built and when. Hopefully you'll find it of interest. Pete
***
The Northwest School of Wooden Boatbuilding, located on the Olympic Peninsula in Port Hadlock WA and locally known as "the Boat School", has announced its summer workshop schedule. www.nwboatschool.org
The Boat School will center its summer workshops around the construction of a classic Pacific Northwest boat, the Lamberson Skiff.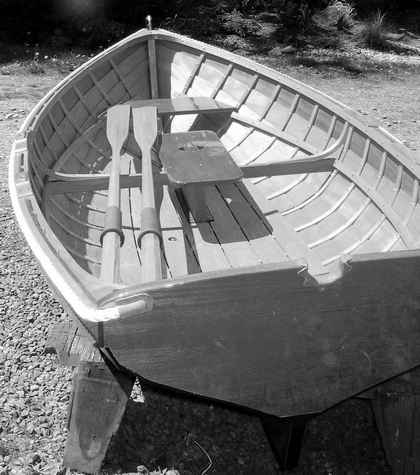 The Lamberson Skiff
Instructor Tim Lee will teach the workshop series. Tim, a full-time instructor at the School for the past decade, has taught both the Traditional Small and Large Craft programs. He has a special interest in preserving boats of significance to the Pacific Northwest region. Tim's thoughtful approach and enthusiasm for the boats he's building and his students make him an excellent instructor.
The skiff is perhaps the perfect yacht tender, combining lightweight glued lapstrake construction with traditional good looks.
Ed Lamberson, the late Puget Sound shipwright and boatbuilder, developed and refined this small boat over a period of thirty years based on the experiences of his wife, Gayle, and himself. Tim will be using Ed's original molds and plans to build the Lamberson Skiff.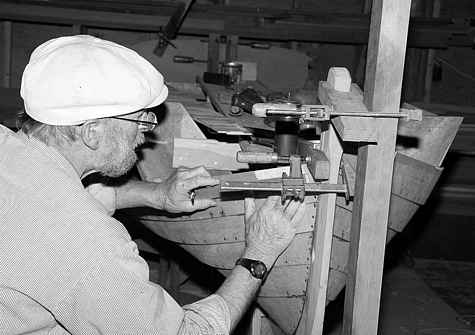 The late Ed Lamberson at work
Summer workshop students can sign up to participate in one or all of the eight different short classes focused on lofting, building, painting and fitting out this timeless yet modern craft. Every aspect of building the boat will be taught through this series of workshops.
Lofting July 9-11
Molds, Backbone and Set-Up July 16-19
Lapstrake Planking and Scarfing Plywood July 23-25
Lapstrake Planking and Steambending July 30 – August 1
Fitting Out the Boat August 6-8
Finish Work August 21-22
Oar Making August 28-29
All workshops take place from 9am-4pm each day with a half hour lunch break from 12:30 – 1pm.
You can sign up for just one workshop or attend as many as you would like. You do not need to take every class to participate – even if you attend just one workshop you will have a hand in building this beautiful little lapstrake skiff.
If a workshop you would like to attend lasts for more days than you have available, that's ok, too. Most workshops are designed to allow participants to attend all or part of a session. If you can only attend part of a workshop, you must attend the first day. As an example, Lofting is a three day workshop but you have the option of attending only the first day if you would like and then more days if you desire.
Workshops will provide demonstration and hands-on experience. Participants will not be using large stationary power tools but, depending on the workshop, small tools may be required.
Participants should bring eye and ear protection to the workshops as well as a dust mask, or you can purchase these items at the School. The following list of tools will be used during the workshops – the School can provide them if yours aren't available.
#3, or #4 smoothing planes or a #5 jack plane
Low angle or standard block plane
Chisels
Sharpening stones
Combination Square
Bevel Gauge
Japanese (dovetail) or Western (crosscut) saws
Tape Measure
16 ounce hammer
Mallet
Electric or battery-powered drill and drivers
The Lamberson Skiff you'll build during this series of workshops will be available for purchase, with preference given to students taking the complete workshop series. Contact Boat School Director Bill Mahler at 360-385-4948 for details.
Visit the School's website at www.nwboatschool.org for more details.
The Northwest School of Wooden Boatbuilding is committed to providing men and women of all ages a quality education in traditional wooden boatbuilding and fine woodworking.
The School's mission is to teach and preserve the skills and crafts associated with fine wooden boatbuilding and other traditional maritime arts with emphasis on the development of the individual as craftsperson.
The Northwest School of Wooden Boatbuilding was established on the Olympic Peninsula by Puget Sound Master Shipwright Bob Prothero, and has taught the marine trades vocationally and recreationally since its founding in 1981. Well over one thousand students have graduated from the School's vocational programs, and thousands more have attended summer and community workshops in traditional maritime arts. The tradition continues today on the new Heritage Campus, located on the historic Port Hadlock WA waterfront.
The School currently offers six courses which can lead to an Associate degree. Courses include basic traditional wooden boatbuilding skills; traditional small vessel construction; traditional large vessel construction; contemporary wooden boatbuilding; yacht interior construction, and wooden boat repair and restoration.
Fulltime students are eligible to participate in Federal Student Aid, to include Pell Grants and Direct Student Loans. Veteran's Benefits are also available.
The Northwest School of Wooden Boatbuilding is accredited by the ACCSC (Accrediting Commission of Career Schools and Colleges) to grant:

- a Diploma in 9-month Traditional Small Craft, Traditional Large Craft, or Contemporary Wooden Boatbuilding;
- Associate Degrees of Occupational Studies in 12-month Traditional Small Craft, Traditional Large Craft, or Contemporary Wooden Boatbuilding.
The Northwest School of Wooden Boatbuilding
42 North Water Street
Port Hadlock WA 98335
Ph: 360-385-4948
Fax: 360-385-5089
e-mail: Info@nwboatschool.org
Web: www.nwboatschool.org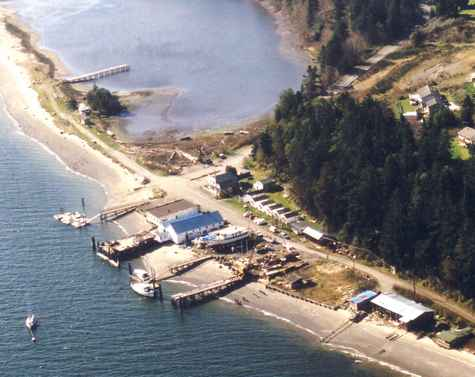 The Northwest School of Wooden Boatbuilding ("The Boat School") is right on the water on Washington's Olympic Peninsula, in the little town of Port Hadlock. (The School's waterfront facilities are the building with the blue roof and the brownish-gray roofed building right above it. The School also has a larger shop, a blacksmithing shop and a new welding shop a short walk above the waterfront facilities, half-way up the bluff).
---
New Viking 70 Convertible Features Interlux® Micron® Technology

UNION, NEW JERSEY (USA) – The running surface of each new Viking 70 Convertible (hull #1 is due this summer) will leave the Viking Yachts factory with the premium Interlux® Micron® Technology antifouling system.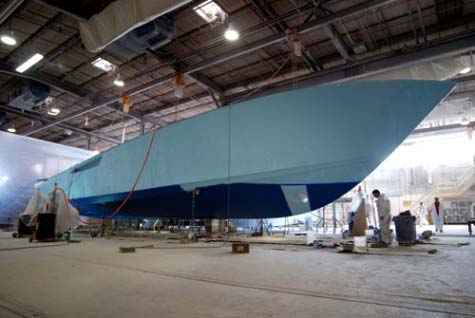 Hull #1 of the new Viking Yachts 70 Convertible is painted with the
Interlux Micron Technology antifouling system at the Viking factory.
Widely recognized by sportfishing anglers for their speed and sea-kindly performance in blue water, Viking is working closely with Interlux to achieve maximum efficiencies from the aggressively-designed hull of the new 70. "Vikings are designed and built to perform around the world as hard-core tournament fishing machines and luxurious cruising yachts. Micron paint provides exceptional anti-fouling protection that enhances this performance," said Peter Frederiksen, Viking Yacht's Director of Communications. Interlux Micron antifouling paints are designed for multi-season use – boats can be hauled and re-launched without repainting. The polishing action of Micron Technology products such as Micron CSC, Micron Extra and Micron 66® yields a smoother surface than hard antifoulings to maximize on fuel economy and unlike old-fashioned high copper bottom paints, Micron uses less copper more efficiently for the longest-lasting antifouling protection. With world-wide recognition and premier brand association, Micron Technology continues to be a preferred choice by boat builders, boat yards and boat owners. For more information about Interlux® Micron Technology products and other Interlux products, visit www.yachtpaint.com/usa.