Wheel
Here's the wheel Howard made for my "Helen Marie", two days. West Indies mahogany, google it.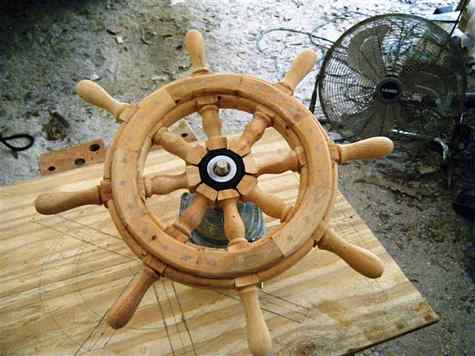 Dave Lucas
---
Jaca Wooden Boats
Grafton, Australia - Friday 4th and Saturday 5th Nov 2011
An invitation for anyone with a wooden boat to participate. Be it a canoe, kayak, sailing boat, speedboat, or steam boat, (half built, falling apart, in need of TLC - everything welcome/wanted), bring it along for both static and on-the-water displays. This is a great opportunity to display your pride and joy on the mighty Clarence River and take part in the 77th Grafton Jacaranda festival. Prizes will be awarded.
(nb, rain, hail or shine, the event will go on, so please don't let inclement weather deter you from bringing your boat)
Owners of boats over 8m in length will need to provide public liability insurance. All owners are asked to provide the organizers with an A4 sheet detailing the particulars of their boat. It is recommended that participants arrive on the preceding Thursday to avoid the rush and to enjoy Thursday's "Jacaranda Day" celebrations throughout Grafton.
Friday 4th Nov. Social Day
10:00am - 11:00am Meet & Greet, Corcoran Park, Kirchner St (enter via Villiers St) 11:00am - onwards Boat launching & Sail/Row/ Power upstream to Crown Hotel for social lunch then on water social activities for afternoon. 5:00pm onwards Jacaranda Festivals Venetian Carnival starts at 5pm on the waterfront adjacent to the Crown Hotel. (unless bad weather venue used)
Saturday 5th Nov. Wooden Boat Display
8:00am - 4:00pm Display wooden boats for the public at Corcoran Park
Gold coin donation for entry by public (toilets and food available on site)
Also on display will be Blacksmith and Woodwork displays, Model boats, Fly casting tuition, Vintage Outboard motors, Nautical Knot display and vendors.
Proudly brought to you by the Jacaranda Festival Committee. www.jacarandafestival.org.au
Contact: gregg.spies@clarence.nsw.gov.au
---
Doug's Project
I thought I'd pass along the state of my project with these two pics. got it off the strongback today which feels good.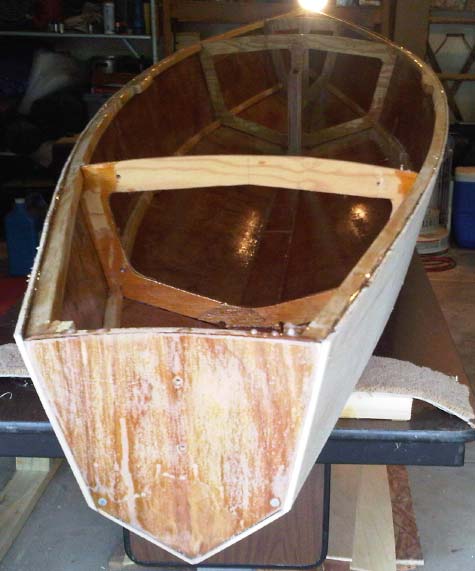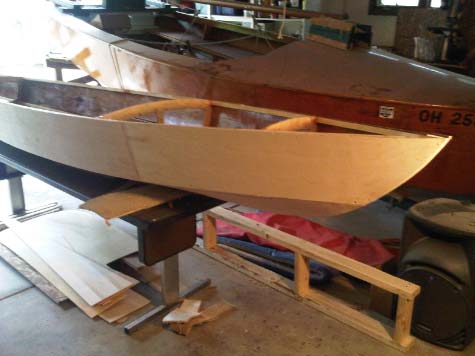 The other boat in the background is also a home design/home build from 24 years ago which uses Thistle spars/sails/rudder/centerboard.
Doug
---
Larsboat
A couple of progress shots of the Larsboat. It won't be long now and it will be in the water.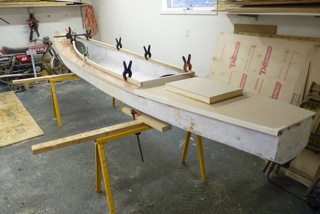 Decks fitted & mounted, ready for gluing.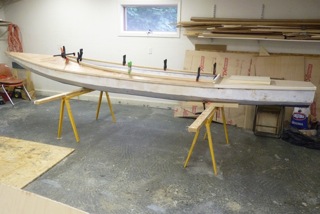 Jim Hauer
---
A Tour of the Shop
Several of us drove to Harper today for a cafe lunch and a tour of Chuck's on-line store (some of us coming home with a few items we 'really needed'), his shop, and his Walkabout build in-process which he may take on the EC 200. Chuck stretched this Welsford design 12% from 16.5' as Welsford shows. He coated the bottom with a glass/Kevlar cloth set in epoxy with a layer of graphite covering it. The bottom is 3/8" aquatek marine ply and the strakes are 4mm ply (Okoume as I recall).
It was interesting to wander the various rooms of his shop that are filled with numerous power and hand tools, scraps of various types of wood and, of course, plenty of sawdust. Few of us have the amount of space to build boats and store wood/tools that he has, on the other hand I imagine all our bathrooms are more readily available than is his, as there is none there.
A few snapshots of this event are here, along with three from March at Greg Habas' in Georgetown (he's working on a stretched Tom Cat):
https://www.flickr.com/photos/lansdownes/sets/72157626649346211/
Guess our members are fond of enlarging the plans designed by others, but of course this is Texas, where everything is bigger.
Steve Lansdowne
---
F Cat
Splash - about 16 years ago I launched this cat. Self designed, self built, but always going out with other people. Two hundred people later, some more modifications it still works as per its original design: sit on the beach and await a time to go out. Leave with people and food, have a good time, and return. No muss, no fuss. Graduated from paddles to engine, a big 2.3 hp engine. Goes good, works in flat water, very stable.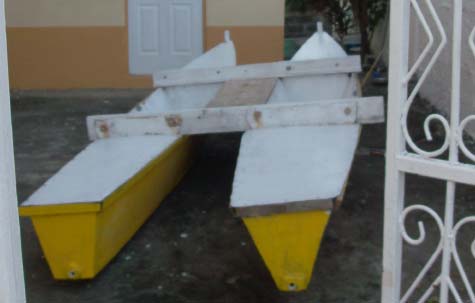 Present color and modifications are in yellow. Neither hull is as per original launch, and presently neither hull are the same dimensions!! We have taken it farther up the island than ever before, and thinking of a circumnavigation around SVG.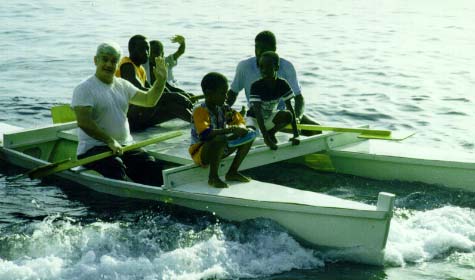 Coming soon: an article of building this simple boat.
Alan
---
A Report from East of Eden</p>
Jojo Serna, a talented Filipino boat carpenter and I have completed, blessed and launched a ten meter bangka recently. Photos: https://www.flickr.com/photos/boblq/tags/jojobangka/
So far we have taken three trips.
First, an overnight trip to local islands. Next, another overnight trip to Fortune Island. Most recently, a four day long line commercial fishing trip to the South China Sea, which I am still trying to sort out.
As of today the new bangka "Macho Tsongo" has been registered in the port of Wawa, Nasugbu, Batangas, Philippines, with Owner Thelma G. Romero. it's registration number is BGS 1700034 Tada!
Not exactly sure what is next. Dealing with fishermen is a trip ... One needs to be able to hold ones alcohol and hang on to one's wallet.
But all is well.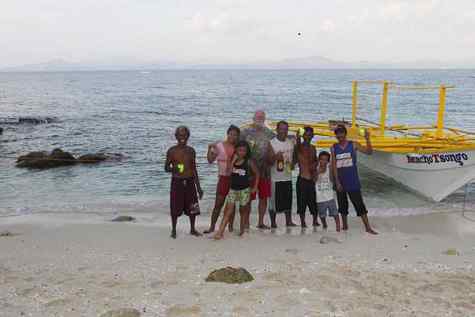 My plans are to return through San Francisco early July and stay about a month. Will hook up with these guys, Pelican sailboat, who sail on SF bay. Also a fellow in Santa Cruz who sails on Monterrey Bay. My mom, who will be 100 years old in October, then friends in San Diego ...
BTW, here is Monkey Tower where we live and build https://www.flickr.com/photos/boblq/5636936634/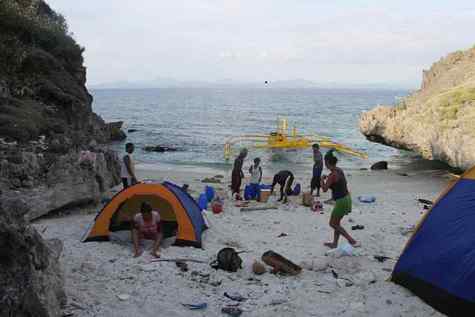 Good clean fun,
BobLQ
---
My Project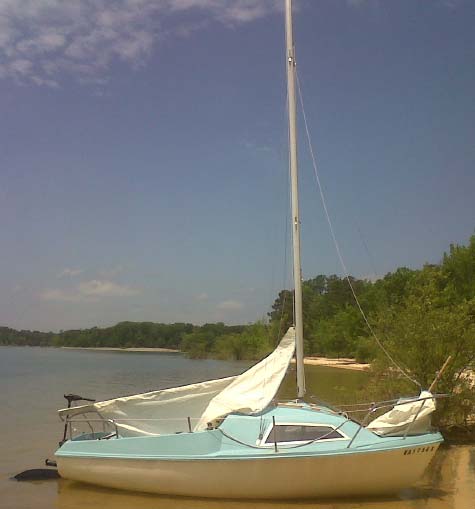 Attached is my project boat (1973 Skipper 17) supplied with line, stays, turnbuckles, blocks, sail ties and more from Duckworks. This boat sat in a friend's yard for 26 years unloved. It now has a new life.
Many thanks! VR,
Dan
---
Pepper's AF4 Grande
Its almost time for a rollover party.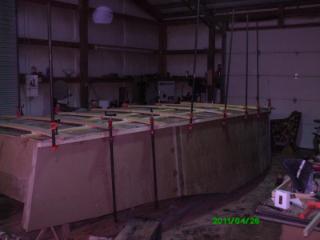 Stephen
---
Oar Making Class at Gig Harbor BoatShop
The weekend of July 16th & 17th, the Gig Harbor BoatShop will feature an Oar Making Workshop at their 3805 Harborview Drive location located on Gig Harbor's waterfront.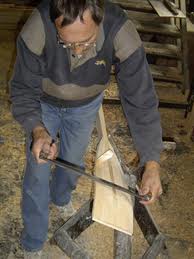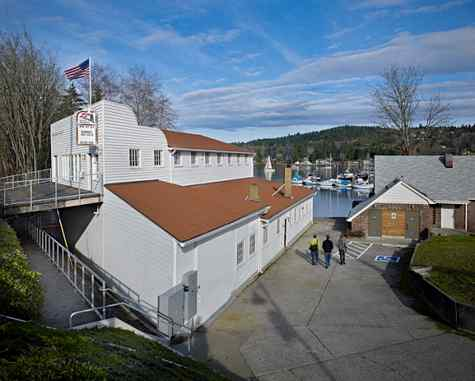 Over this two day period learn the skills and techniques of traditional oar construction with a shipwright. The first day will be focused on understanding oar design, milling stock, and lamination. On day two, the class will focus on hand tools, sharpening, and shaping an oar. Students will come away with one finished and one ready to be shaped oar blank. Class size is 4-6 students max. Fees for this weekend workshop is $175.00 for GHB Members and $235.00 for Non-Members. Save on class fees by becoming an annual member of the Gig Harbor Boatshop at $50.00 for individual and $75.00 family membership. Class fees or memberships may be paid by mailing a check to PO Box 1187, GH 98335, or using a credit or debit card at www.gigharborboatshop.org. For questions or to register email gigharborboatshop@gmail.com
---
D'Arcy Bryn
Finally getting started again after more than a year! Does not seem that long...
I hope to have 3D by Monday evening. My old camera is barely up to the job. Too bad I soaked my good one in Texas sea-water!! Forgive poor quality.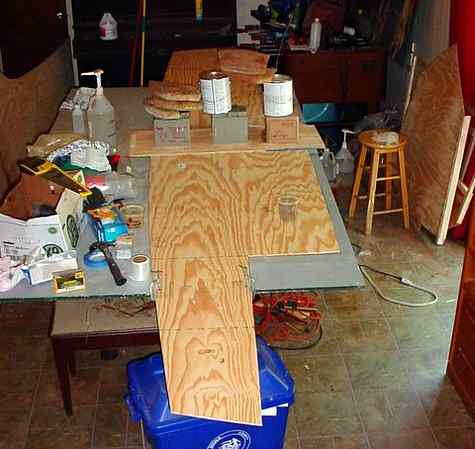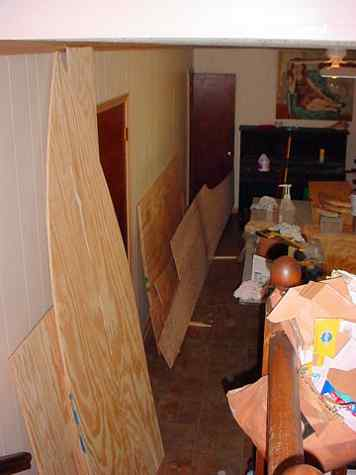 William Moffitt
---
Cruising
Spotted on the web in a "my favorite shots" album. It was submitted by Don Nicholson on the Yahoo Microcruising group: https://groups.yahoo.com/group/microcruising/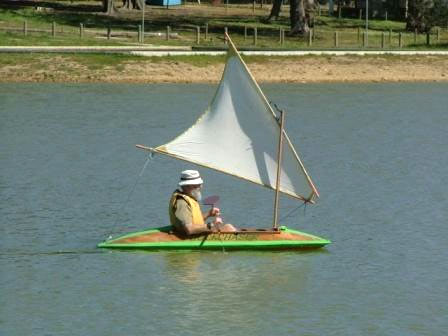 Chuck
---
Product of the Week: TRAC Ecological PSR™ Scale Remover
Share this product news | Find on Facebook
TRAC Ecological is the leading supplier of safe, environmentally friendly and effective onboard water system cleaning products.
Fresh water produces residues, including scale, silicate, calcium, sludge and other mineral deposits. PSR™ safely removes these residues from potable water systems.
Made from food grade-rated materials, non-toxic and bio-degradable PSR is safe for users, equipment and the environment. It will not harm the properties of most surfaces including plastic, metal, rubber, fiberglass, vinyl, wood, or paint. (However, care should be taken when PSR™ is used with zinc based metals such as zinc anodes, tin, or galvanized materials.)
Sold in concentrated form. One gallon of PSR™ treats approximately 30 to 40 gallons of potable water. Available in 1 gallon bottle, 5 gallon pail, 55 gallon drum or 250 gallon tote tank.
More info: www.trac-online.com or call 1+954.987.2722.
TRAC Ecological Products, 3402 SW 26th Terrace, Suite B-11, Fort Lauderdale, FL 33312 USA
Add news@homeportmarine.com to your address book to ensure our emails reach your inbox.
Join the Marine Products Network Group on Linkedin
Product of the Week prepared by Home Port Marine Marketing
www.homeportmarine.com
---
Rip and Jam
I have two designs that I would like to share.

Both designs are slightly under 8 feet and one is a canoe and the other a kayak. Both designs have a free manual and offsets. I do offer full scale templates for the kayak if people want them.

The boats are called the JAM 8 and RIP 8. More information at www.synergyboatworks.com.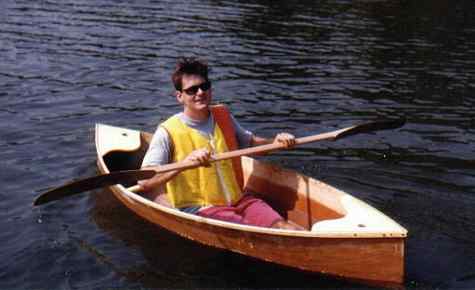 Rip 8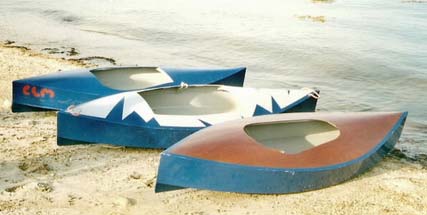 Jam 8
Ed Sutt
---
Bluenose
I have been reading your site for over four years. I think it's great. I don't live too far from where Phil Bolger lived and I see his boat in his yard all the time. (It's a shame it's not in the water.) I thought it was good the way you published the articles about his death.
My son and I built a stitch and glue dinghy about two years ago and it was great fun. I used to own a 1927 25' Elco which is posted on your site from Weston Farmer. It was my first boat in 1978. I'm looking to build something else and I really like the John Westford designs. My son got an engineering degree so it's a lot of fun to look at boat designs with him. He figures out the math and I just look at it and say "it looks pretty good to me" Here's a picture of the boat we built together. It's a V12 from bateau boats.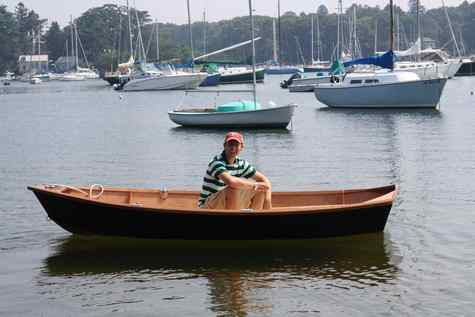 Paul
---
Digital Yacht America Launch AA10 Antenna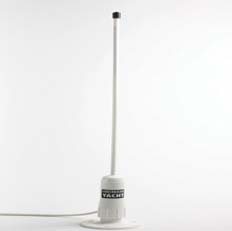 With more and more yachts fitting AIS receivers and transponders, it makes sense to use a VHF antenna that's up to the job. AIS systems actually utilise a frequency of around 162 MHz whereas traditional VHF operates at 156 MHz. The difference does not sound significant, but the use of a dedicated, tuned AIS antenna will greatly enhance performance of both receivers and transponders.
Digital Yacht America has just launched the AA10 antenna which is specifically designed to operate with AIS systems. It is a white quarter wave whip antenna which measures just 21 inches. It is designed to fit a standard, one inch GPS antenna style mounting, so it can be fitted on to the pushpit rail, mast top or wheel house roof allowing for all possible installations. It comes complete with a 33ft cable which is fitted with a neat solder-less connector, no thicker than the wire itself, so that you do not have to drill a great big hole through bulk heads in the boat when running the cable.
The AA10 antenna costs $65 and is available from Digital Yacht America. For further information please call 978 277 1234 or log on to www.digitalyachtamerica.com