Yup... she finally sails.
After about a month of struggling with a series of sewing machine problems, I finally sailed Doris complete with a 60sqft spritsail this evening in a F2 dropping through F1.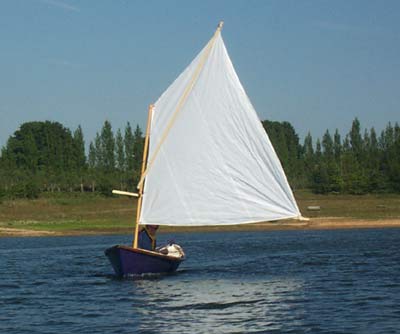 She sails pretty well, with a light weather helm - about 3degrees, so it's really quite light in these conditions but I don't expect it to change much in a blow. Going about is a stately affair, but I found that if I held on and accepted that she would not turn on a sixpence in the way a racing dinghy does she always got there in the end - and after several boat lengths. I must have gone about a dozen times and gybed a couple, and I did not once get stuck in irons.
Despite what you might have read about small dories, Doris does sail upwind in light winds perfectly respectably (45 degrees or less - really!), reaches at a reasonable lick and runs in a satisfying sort of way. In fact, I was very pleasantly surprised to find how well she would go upwind, given that I have still some rig tuning to do (of course!). I should make it clear that even with tuning, she won't ever be a racer but that's hardly to be expected with a long slender boat's large wetted area and small sail plan.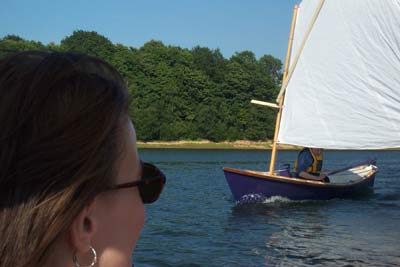 What she'd be like in an F4 is anyone's guess, but my feeling is that she'll be just fine in an F3, and that reefing (scandalizing in this case) will be needed somewhere around F4-5.
I think I've got the boat I thought it would be fun to own: Doris is a very good rower and reasonable sailer, and will be a fine boat to explore some of our rivers and estuaries. No pictures yet, I'm sorry - I didn't have anyone to take them.
Cheers, Gavin
PS - I've started a discussion group for those interested in building my designs: