SD Wooden Boat Festival Time Wormhole
While we're on the topic of wooden boat shows, attached for your edification are a few images from the recent Newport Beach Wooden Boat Festival of three weeks ago. I displayed my fresh-from-the-shop-after-a-14-year-long-restoration project, a Canadian Chestnut-brand 19' x 4'-6" wood-canvas freight canoe. What a long strange tale goes with that boat. Lots of other very nice boats of course, though more of the gold-plater yacht variety and less of the ScuzBum/Duckworks flavor. Mine got plenty of attention, though. Some folks had nice comments, but I think that everyone walked up and touched it, which was a nice thing.
| | |
| --- | --- |
| Bums Boats | Canoes |
| | |
| --- | --- |
| Chestnut | Edith Steam Launch |
| | |
| --- | --- |
| Electric Kayak | Mark's Boat |
| | |
| --- | --- |
| Grand Craft | Models |
| | |
| --- | --- |
| New Decal | Reen Actors |
| | |
| --- | --- |
| Runabout | Sibling Skiffs |
| | |
| --- | --- |
| | Steam launch and CC kit. |
Kim
---
Product of the Week: DuraSafe Coupler ConnectT
Friday October 22, 2010 Trailer Hook-Ups Made Easy. DuraSafe Coupler ConnectT is an easy-to-use trailer alignment device that eliminates the problems many people have with trying to hook up a trailer by locating the trailer coupling directly over the ball without the need of assistance - and prevents damage to the tow vehicle. A unique mounting bracket (fits standard 1" diameter ball shanks) accommodates a wide range of couplers and ball mounts and allows for maximum turning radius. MSRP $39.99.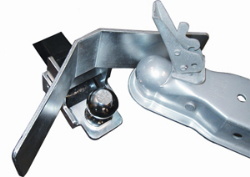 More info: www.durasafelocks.com or call 1+262.544.5615. DuraSafe - 1785 S. Johnson Road - New Berlin, WI 53146 USA
---
WoodenBoat BARC
For further information, contact:
Carl Cramer, tel. 207-359-4651; carl@woodenboat.com
NEW PROGRAM OF BOATBUILDING, ROWING FOR HIGH SCHOOL STUDENTS
(BROOKLIN, ME) Carl Cramer, publisher of internationally renowned WoodenBoat Magazine, announced details today of the company's newest effort to stimulate boatbuilding and rowing skills to Downeast Maine high school students.
"This is our pilot program: to involve students from three area high schools to build and then row their very own boats, said Cramer. We are honored to announce that shop and marine program students from Deer Isle – Stonington High School (Deer Isle), George Stevens Academy (Blue Hill), and Sumner High School (East Sullivan) will be joining in this first effort. I fully expect the parameters of this program to be adopted on a nationwide basis, by high schools and communities alike. We are calling the program 'WoodenBoat BARC' (Boatbuilding & Rowing Challenge)."
The boat chosen for this program is the 22-foot-long St. Ayles Skiff. Designed by acclaimed yacht designer Iain Oughtred and engineered by Jordan Boats (both in Scotland), this design has already captured acceptance throughout Scotland, where communities have begun building them this year in order to bring communities together in the building and rowing process. The boats each have a crew of five people.
Cramer continued, The Deer Isle-Stonington High School marine program students will begin building their boat next week, once the first kit has been cut. The goal is to get all three boats launched and competing against each other in early June 2011."
WoodenBoat has donated one boat kit each to the programs from Deer Isle – Stonington High School and Sumner High School; Hewes & Company (of Blue Hill, Maine), the company that produces the kits, is donating one to the program at George Stevens Academy. Kits are available to anyone in North America from Hewes & Company.
The Landing School (Arundel, Maine) will be providing assistance as well. "The Landing School staff and faculty are eager to contribute their support and expertise to the students endeavoring to learn the art of boatbuilding. A representative from The Landing School will visit each group of Maine high school students to offer guidance and encouragement as these aspiring boatbuilders take on Iain Oughtred's St. Ayles Skiff. The collaboration with WoodenBoat, the regional marine trade and public high schools is an opportunity to advance the craftsmanship and integrity of boatbuilding for which Maine is renowned."
Products are being donated to the three programs, as follows:
Epoxy – West System (Bay City, MI)
Fasteners, hardware – Hamilton Marine (Searsport, ME)
Paint – Epifanes North America (Thomaston, ME)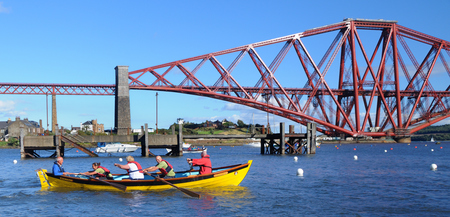 Links:

WoodenBoat Magazine – www.woodenboat.com
WoodenBoat BARC – www.woodenboat.com/barc
The Scottish Coastal Rowing (read about the boat; view videos)– www.scottishcoastalrowing.org
Hewes & Company (they produce the boat kits in North America) – www.cnc-marine-hewesco.comw

The Landing School – www.landingschool.edu
---
Deleware Ducker
I just scored a great deal on a very nicely constructed '16 ft Deleware Ducker. Was in the paper as a sailing canoe. Had been built in 60's maybe and covered with polyester glass. He peeled it right off. Has a few damaged spots but nothing serious. Sprit sail, wooden mast, Very nice1/8" ply. Looks exactly like drawing in Chappell's classic book. Can't weigh more than 120lbs or so. Till later
Tom Gale - Port Townsend, WA
---
Ft Lauderdale Boat Show 2010
We went to the Ft Lauderdale boat show and walked our legs off and looked at a zillion dollars worth of motor boats. The question we've been asking each other for years is why would anyone buy one of these things. I figured it out. They're really just floating high end condo's and time shares! With few exception they're all the same, big, comfortable, low maintenance temporary homes on the water. Of the hundreds of boats at the show we really only liked about three. This little 25 ft, 1979 totally rebuilt Bertram, the giant 250 ft Cakewalk and the fantail launch Sycara IV. The Bertram looks like the perfect boat for guys like me to go fishing in, I don't know if $60,000 is a good price or not. Cakewalk really makes a statement, not just a condo. Love the "hanger" for the "small boats". Sycara IV took my breath away. She is the most beautiful boat I've ever seen. Click on the link to read about her. The one I'm building is just like her. I think the four outboard boat speaks for itself. Howard took me to dinner at Cap's Place Island restaurant. He warned me it was kind of run down. You take a boat to get to it and when you see it you can't believe anyone would be allowed to go near the place. It's a totally run down piece of junk shack. Ready to fall down any minute. It was built in the 20's as a shack and hasn't changed at all. Still the same exact building, no changes or improvements. Their link doesn't fully reflect that aspect. The food was really, really expensive and pretty good.
| | |
| --- | --- |
| Bertram 25 | Oakewalk |
| | |
| --- | --- |
| Oakewalk | Cakewalk |
| | |
| --- | --- |
| Cap's | Cap's Island Inn |
| | |
| --- | --- |
| | Statue |
| | |
| --- | --- |
| Sycara | Sycara |
| | |
| --- | --- |
| Sycara | Sycara |
Dave

David Lucas
Lucas Boatworks and Happy Hour Club
(941) 704-6736
Cap's Place island restaurantShortcut to: https://www.capsplace.com/
Shortcut to: https://www.yachtforums.com/forums/
---
A Sailboat is Born
Here's progress photo #1 of my new Falcon 12; the concept being a light, strong cartopper that can be rowed or sailed. I will send pics over every so often so you can follow along.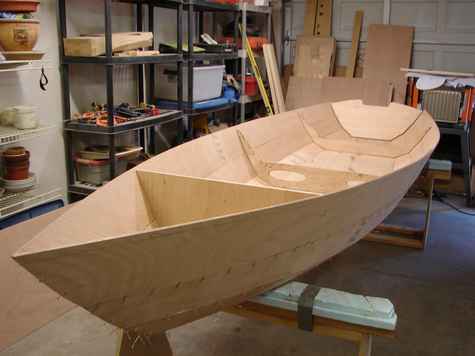 I have departed from "Lap-Stitch" construction (ala CLC boats) and am now doing more of a carvel-style 6mm plywood planking, with complete sheathing of the hull, inside and out, with 6 oz fg cloth and epoxy. More later...
Bill
---
Marine Battery Equalizer
Breakthrough Battery Additive is found to be the Key to Doubling Battery Life
Carlsbad, CA -June 29th - A breakthrough battery additive is being introduced to the US marine market that will save money for boat owners and be a boost to the environment as well.
Battery Equaliser is patented, well documented and fully tested. Tests have shown that with normal battery maintenance, battery life will double with only one treatment. The additive also reduces charging time and increases discharging time. For the mariner, this means less time plugged into the dock or running an auxiliary power source to get the batteries charged and ready for duty.
Battery Equaliser mixed with electrolyte solution (of any lead-acid battery) dissolves existing sulfation and prevents new deposits from forming, for several years.
In Europe, in the 1980s, Battery Equaliser was a doctorial thesis, researched by Dr. John Willis-New, (now a triple PhD). Battery Equaliser's International Patent was expanded to cover the US in 1997. The product has been sold in at least 30 countries and is now available in the United States, industrial warehouses and golf courses nationwide have already experienced the benefits. Mariners, who generally do not have the luxury of using their boats or batteries daily, will note that Battery Equaliser will allow them to store their boats up to three times longer without the batteries loosing their charging.
"We're excited to bring this product into the US marine market ," said Ken Hardesty, General Manager of Battery Equaliser, USA. "Every boater would prefer to run their genset to charge batteries as little as possible, to cut down on noise and fuel consumption. Battery Equaliser can help make that happen."
Battery Equaliser is currently available in three sizes: The quart container is good for the treatment of larger batteries or the equivalent of ten automotive batteries and retails for $49.95. The twelve-ounce bottle will treat four car-size batteries or one 8D battery and runs $19.95. Battery Equaliser will introduce, this summer, a three-ounce bottle ($5.95) available for a single automotive battery treatment. Mariners can choose the size right for their battery needs.
The product is gaining wider marine industry acceptance and distribution and can be found in most chandleries and marine hardware stores.
"We save batteries and therefore money," added Hardesty, "along with a positive impact on the environment. This product potentially reduces the amount of lead needed for new battery manufacturing and with the increased lifetime of old batteries, there will be fewer of them in our landfills."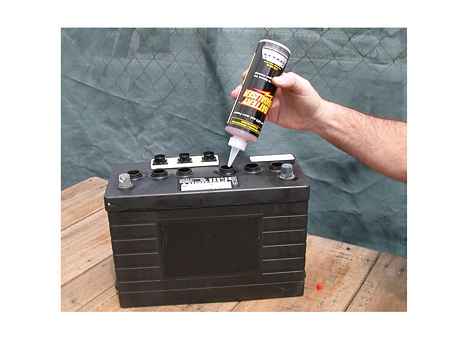 More information on the company, the product, general battery functionality or third party test results, contact Ken Hardesty at (888) 851-4431 or visit the web site at www.batteryequaliser.com
---
Melonseed
Here's a 13 ft melonseed that Rex and Kathie Payne are making. I wouldn't normally stoop to sending anything about these "toy" boats but in this case the building technique is different and may be something I'll use. Notice that they didn't start at the sheer and add the strips up till they came together like usual. they somehow let the strips run wild up to the sheer and then cut them to fit. ??? is this a good way or are they nuts?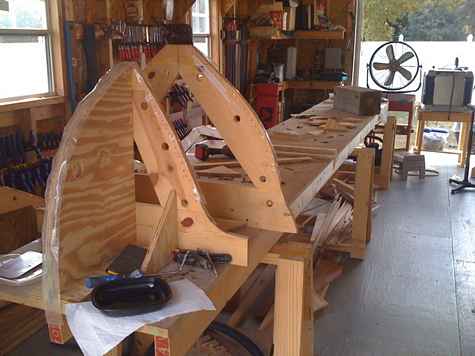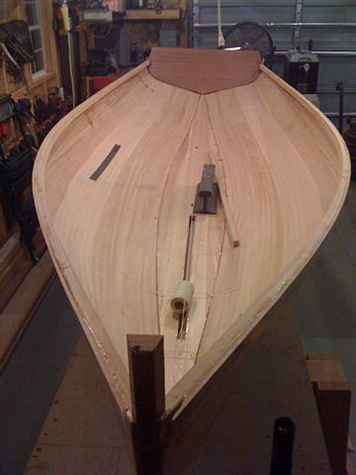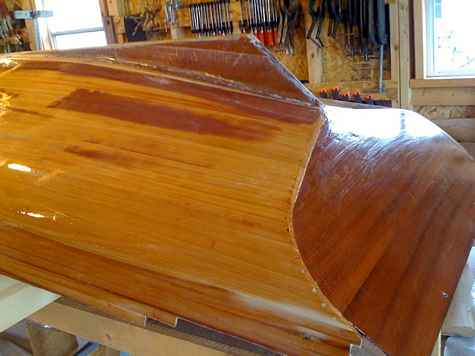 Dave Lucas
---
Norteck 80
At the boat show this Norteck 80 caught Howard's fancy. He excused himself while I was having a beer and enjoying the view of all the hundreds of skimpy clad girls. He was taking a long time so I went looking for him and found him standing under this sign with his credit card in hand. I had to drag him away, yelling and fighting. I said he could get the little purple one instead.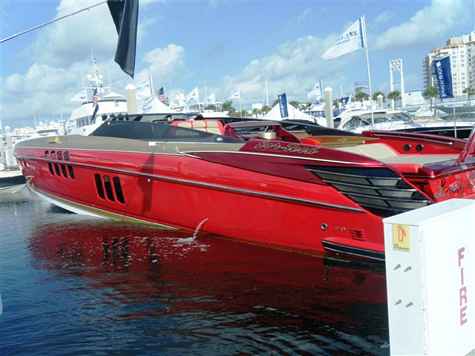 Dave Lucas
David Lucas, Lucas Boatworks and Happy Hour Club
(941) 704-6736
---
Navigator
I have been busy lately and making progress. The hull has been turned over bottom glassed...the skeg has also been attached and I will shortly begin painting.

Robbie Powick
---
Block Plank not Strip Plank
What a bunch of amateur builders you all are. If you have the right stuff you'll do it this way. Look closely at the boats and how he made hulls, all the hulls. Go to all these sites to get the whole story and more pictures. Notice the rest of the wood work. We sat around at happy hour today looking at the pictures and none of us could imagine how anyone could do this. These aren't just works of art, they actually go in the water. We're going to have to take a trip over to the St. Johns river to look at this place.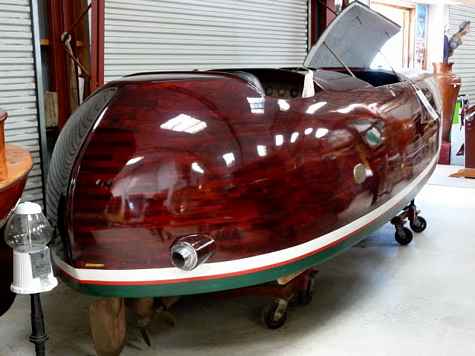 https://www.northstarcharters.net/welakaboatours.html
https://jacksonville.com/tu-online/stories/110908/spo_353909744.shtml
https://www.welakamaritimemuseum.com/
And, Here.
David Lucas
Lucas Boatworks and Happy Hour Club
(941) 704-6736
---
New Boat Security Products At METS 2010
GOST To Feature New GOST Cloak At METS 2010
Impenetrable Smoke Cloud Stops Thieves in Their Tracks
See at Stand 11.612, Amsterdam RAI, November 16-18
Watch the GOST Cloak demonstration video
FORT LAUDERDALE, FLORIDA (USA) – Global Ocean Security Technologies (GOST - formerly Paradox Marine) will feature the new GOST Cloak system at METS (Marine Equipment Trade Show) 2010, November 16-18 at the Amsterdam RAI (Stand 11.612).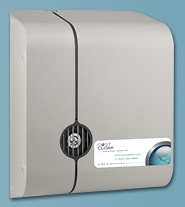 Most property loss occurs in the initial minutes of a break-in, before police or security teams have had a chance to respond. The GOST Cloak system is designed to provide protection in the critical time gap between onboard alarm activation and the response team's arrival.
In a matter of seconds, the GOST Cloak system fills the protected vessel interior with an impenetrable cloud of smoke that makes the intruder disorientated and confused and forces them off the vessel until the response team arrives. This prevents damage or loss of property on the vessel.
The fog is created by vaporizing a specially formulated glycol solution. Glycol is classified as a foodstuff and is found in many day-to-day substances such as toothpaste and deodorants. The vapor produced is a dense, white fog which reduces visibility to less than 30 cm, practically no visibility, but which, under normal usage, is harmless to anything aboard a yacht.
Other GOST Products To See At METS 2010:


Left to right: GOST Insight, GOST Nav-Tracker, GOST Marine Magellan,
GOST Watch, GOST Acoustic Barrier Powered by Inferno and GOST Immobilizer.
GOST Insight - Wireless security, monitoring, tracking & surveillance cameras can be set to record clips to website on alarm activation and send text & email notifications. DVR will record four cameras for 30 days.
GOST Nav-Tracker - Inmarsat Satellite-based GPS Tracking. Remotely control geo-fence and track your vessel online anywhere in the world using Google Earth interface. This product was awarded a medal by the US Coast Guard for assistance in the recovery of various high profile vessels.
GOST Marine Magellan - Wireless security & monitoring. Call into system from any phone to arm/disarm or control relays. Up to 32 wireless sensors & eight wireless relays. Systems available for any size vessel.
GOST Watch - Surveillance system that can easily add-on to existing cameras onboard, which enables you to view your cameras remotely from your smart phone or computer from anywhere at any time.
GOST Acoustic Barrier powered by Inferno - Functions as a sound barrier or as a traditional siren. GOST Acoustic Barrier effectively stops intruders in their tracks by generating a patented unbearable pattern, frequency and intensity noise. Combine with the GOST Cloak for the ultimate interior vessel protection during initial stages of break in.
GOST Immobilizer - The new GOST Immobilizer is a simple yet effective device for protecting tenders, outboard boats, or PWCs from theft. The system is controlled via key fob and when armed will prevent the engine from starting. When armed, it blocks high current draw from the battery as the starter is engaged. When someone is attempting to start the vessel, it will not start and the siren will sound for a predetermined set time.
For more information about the GOST Cloak system and other GOST marine security and vessel tracking products, visit Stand 11.612 at METS 2010, www.gostglobal.com or call 1+954.565.9898.
---
Man Overboard Safety Products At METS 2010
Autotether™ Wireless Man Overboard Safety Products At METS 2010
See at Stand 4.528 (Sea Tech & Fun Europe), Amsterdam RAI, November 16-18
Watch the Autotether videos
CHESTER, CONNECTICUT (USA) – Wireless man overboard safety products manufacturer Autotether™ will feature its Wireless Lanyard System and Screamer Wireless Alarm System at METS (Marine Equipment Trade Show) 2010, November 16-18 at the Amsterdam RAI (Sea Tech & Fun Europe Stand 4.528).
Autotether™ Wireless Lanyard System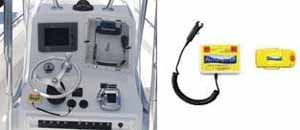 Unlike traditional lanyards that come standard with boats and require the operator to be tethered to the boat, the patented Autotether is an easy-to-install, unobtrusive wireless unit. No wiring or tools are required – the system clips to the boat ignition switch and is self-powered with AAA batteries. Operating via transmitter that sends radio waves to a receiver connected to a boat's engine, Autotether shuts off the engine in the event that the boat operator falls into the water. It also sets off an alarm in the event that passengers (or pets) wearing the Autotether sensors on the boat fall into the water. The passenger sensors can also shut off the boat's engine when the red alert button is pushed in the event that you have a runaway boat.
Screamer Wireless Alarm System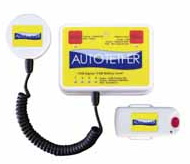 The Screamer is a wireless alarm system designed to protect people and pets aboard larger boats. It sounds a pulsating, 105-decibel alarm and flashes red lights when any of its sensors are submerged under water or are beyond approximately 150 feet from the receiver. The lightweight sensors can be easily adjusted to fit around the arm, wrist or personal flotation device of a child or adult. The compact, portable system can also be used to alert the mother vessel if a towed dinghy breaks loose.
For more information about Autotether wireless man overboard safety products, visit Stand 4.528 at METS 2010, www.autotether.com or call 1+860.526.1700.
---
New Marine Audio Products At METS 2010


Products With A Watertight Reputation
www.aquaticav.com
New Aquatic AV Marine Audio Products At METS 2010
See Waterproof Digital Amp, Multi-Environment Media Center
At Stand 11.528, Amsterdam RAI, November 16-18
CAMPBELL, CALIFORNIA (USA) – Aquatic AV will introduce the international market to two new marine audio products at METS (Marine Equipment Trade Show) 2010, November 16-18 at the Amsterdam RAI (Stand 11.528).
Aquatic AV Waterproof Digital Amplifier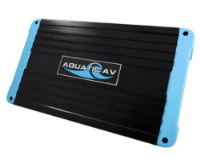 Introducing a fully waterproof digital amplifier made to true Audiophile standards that will stand up to harsh marine conditions. The new IP55-rated, low draw, compact 400-Watt Digital Amplifier from Aquatic AV features 4/3/2 channel output, onboard electronic crossover adjustments and gain controls. This amp has plug and play connections for easy installation.



Aquatic AV Multi-Environment Media Center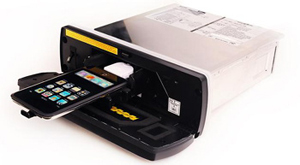 Designed to meet multiple digital audio playback requirements on board (AM/FM/XM-Sirius/MP3). iPod docking station, full iPod control and interface. Dual zone operation, plug & play subwoofer output, dual 12v accessory output, XM aux input. RF ready. Stainless steel sealed chassis. Waterproof to IP66.
For more information about Aquatic AV products, visit Stand 11.528 at METS 2010,www.aquaticav.com or call 1+408.559.1668.
---
Help Name the Pirate Ship Playhouse!

Hi! Everyone
Hope your having a fine day!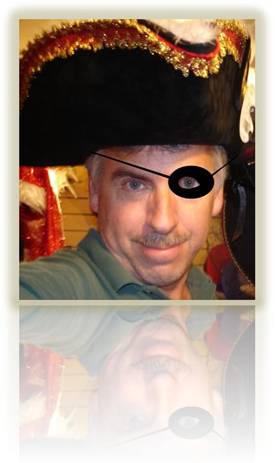 NCaptain HighTide and Hanah -Need yur Help! N

ANNOUNCING!
"Help Name the Pirate Ship Playhouse!"Pirate Ship Playhouse above is being Built for Special Needs Daughter Hanah!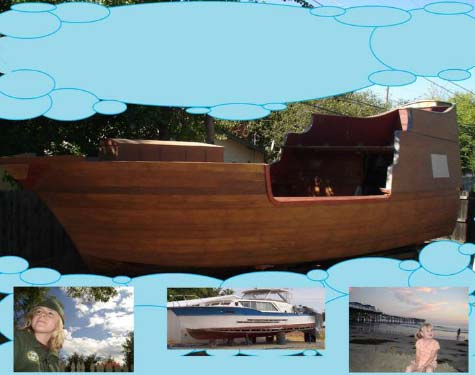 To Read the story about this project and to also vote, please click link below.

Help name The Pirate ship playhouse here
(Completion date is Summer 2011 so please vote)
---
New Waveblade Power Barnacle Remover:
Hull Maintenance Made Easy
Compact, lightweight hand tool effortlessly removes biofouling
See at 2010 Ft. Lauderdale International Boat Show, Booth 3067, Convention Center
PORT ANGELES, WASHINGTON (USA) - The new Waveblade Power Barnacle remover from Wavecraft LLC effortlessly removes biofouling from any type of hull surface, propellers, shafts, drives and trim tabs - above and below the waterline.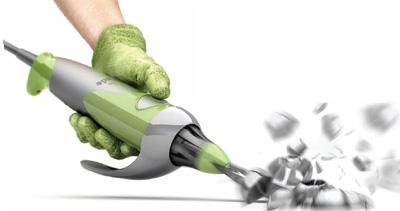 Waterproof to 15 feet (4.6m), patented technology enables the Waveblade's powerful oscillating head to deliver a high frequency resonance through a coated steel scraper blade into substrate encrusted with barnacles and mussel deposits. The wave power of the compact, lightweight hand tool removes fouling in a fraction of time compared to traditional methods, leaving bottom paint intact with no damage to the surface. The Waveblade uses a safe, standard 12V DC power source and is attached to a 45-foot (13.7m) cable to provide substantial reach from the surface.
Four blades are available for use with the Waveblade. A 3" multi-purpose scraper blade in powder coated steel comes standard and is ideal for bulk removal. Also included standard in the starter kit is a flat chisel scraper. A 3" delicate surface multi-purpose scraper can be used on more vulnerable surfaces and half round and flat chisel scrapers are designed especially for smaller areas. All blades are available in powder coated steel for land use and stainless steel for underwater.
For more information about Waveblade, visit Convention Center booth 3067 at the 2010 Ft. Lauderdale International Boat Show (October 28-November 1), www.waveblade.com or in the US call 1.877.895.WAVE (9283).
Wavecraft LLC - P.O. Box 2435 - Port Angeles, Washington 98362 USA
******