Emerson Point Messabout
We had a perfect messabout today. Great weather, great water and an especially great group of boatnuts. We had 18 or 20 boats and a whole bunch of boaters. I'm finding that beer drinking kayakers are as much fun as beer drinking sailors, maybe more so cause they have more money to spend, none of those expensive sailboat things. Laylah boat was a hit, everyone had a go in her. These "Cortez" melonseeds continue to impress me as being the best small boats in the world. You can't hurt them, they won't hit you in the head with anything and they're fast and responsive. Everything you could want. Of special note is Oreo, Kathy's toy Aussie Shephard. He's a fun boat dog and this is as big as he'll get. The two beautiful bright pointy kayaks are the last two that Sam built. Pat and Reesa make them fly with no effort.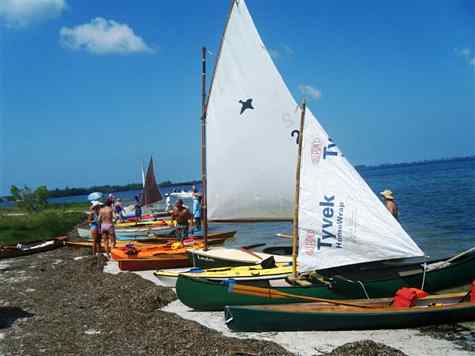 David Lucas
Lucas Boatworks and Happy Hour Club
---
Pilgrim with Sails!
I've just recieved my sails for my Pilgrim. After a little experimenting, I think I've got them about right. Still waiting on a hull id # and registration from the state... then insurance, a motor, and the running rigging and I'll be sailing.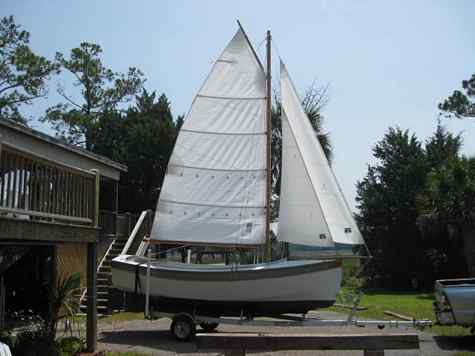 Chip
---
Scuzbum Messabout
I only got a few photos to share from our messabout Saturday and even fewer decent ones, but here it is. You can't see it, but Annie on the inflatable canoe has a Chihuahua on her lap, trying to train her to be a "boat-dog" like her others, but progress is slow.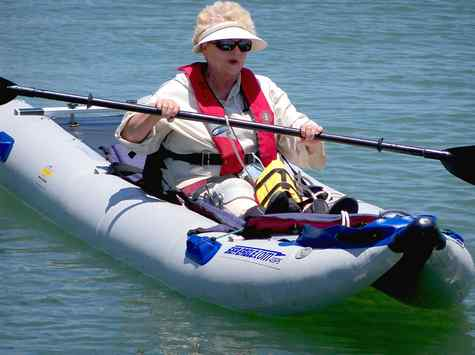 Leland in the red racing Sabot was having a great time, but was limping after he finally got off the water.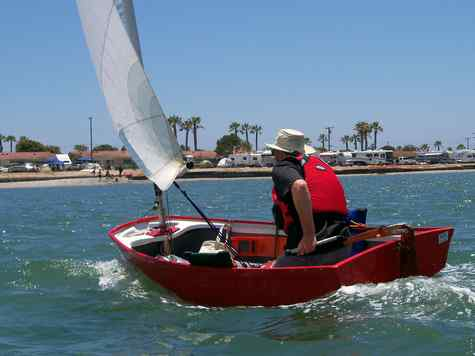 The big (by Scuzbum standards) yellow sloop is a camp cruiser and utility skiff designed and built over 50 years ago by Joe Dobler, who later imported stitch-and-glue technique from the UK, and popularized it in the U. S.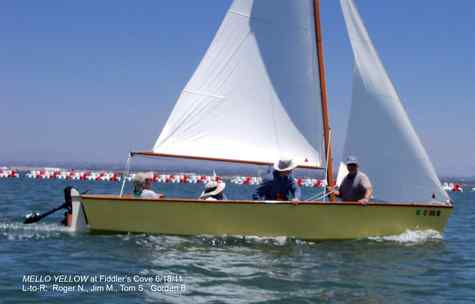 It's had a lot of work done on it over the past several years, and it's looking and sailing well again.
Kim Apel
---
Me sailing my PDR, Salacia (#496)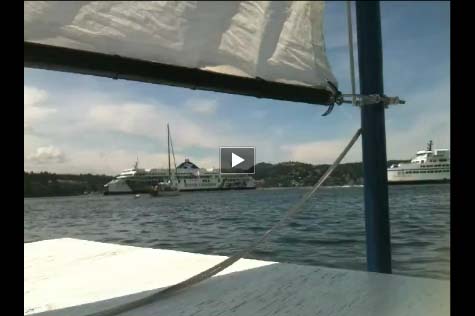 Me sailing my PDR, Salacia (#496) in departure bay, Nanaimo BC.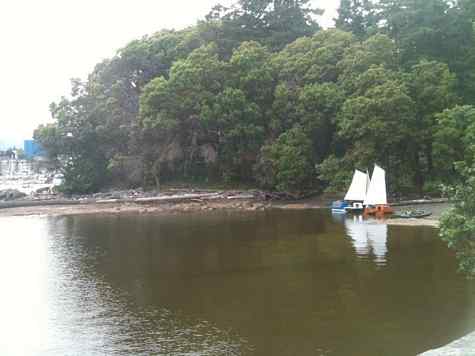 Mine and my two cousins Gavin and Paco's PDRs in a bay on Newcastle Island just outside Nanaimo.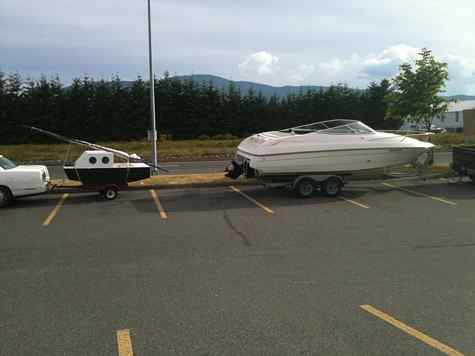 Couldn't resist parking here to take a picture. They definitely get a lot of attention on and out of the water.
Reagan Crause
---
Sculling Boat
Its been a while but its time for another multihull update.
Big news is I sold the little Wharram catamaran at the end of last year and have been a lot more productive without the distraction of having another boat to maintain, let alone the temptation of sailing instead of boat building. Even bigger news is the main/centre hull of the new trimaran is completed and thanks to the good will of a bunch of friends was safely carried out of the shed and up into the back yard. It now looks huge and dominates what I used to think was a big back yard. Fortunately, everything else I have to build is smaller...and there's still lots to go, but the light at the end of the tunnel is getting larger J.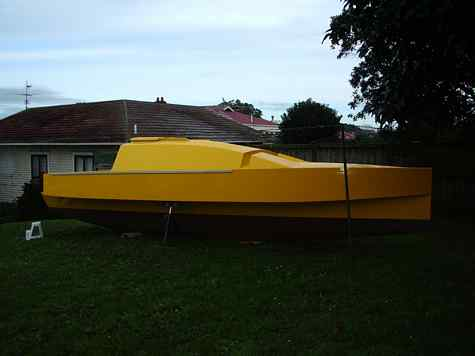 If anyone wants to be informed of progress on a more or less regular basis I paste a few pics here from time to time.
Greg
---
A Bunch of Kayaks
Here are some pictures my son Jamie sent me from Utah of his neighbor building a bunch of kayaks for a boy scout group. I think he said it took them a week to build ten of these things, look pretty good to me.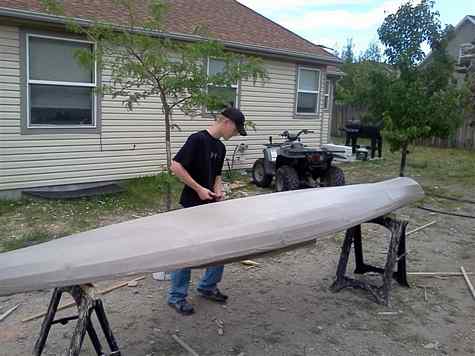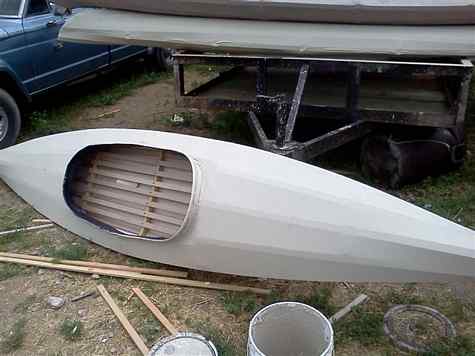 David Lucas
---
Product of the Week: Nauticomp Glass Bridge® Displays With Multi-Function Remote
Share this product news | Follow on Facebook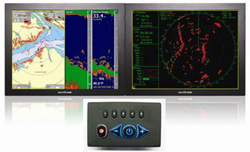 Nauticomp's top of the line Glass Bridge Displays are specially-designed for multiple display installations and include a compact (just 2" x 4"), IP67 waterproof Commander remote to control up to 5 displays from a single keypad. Multiple inputs, available at each display, allow access to all sources (DVI, VGA, NTSC/PAL, and S-Video) with complete redundancy. They also offer deep dimming (0 to 100% via 'Potentiometer'), as well as Picture in Picture and Picture beside Picture capability.
More info: www.nauticomp.com
---
2 Locks, 1 Key: DuraSafe To Introduce Unique
Electronics & Swivel Mount Lock Set at ICAST 2011
New Product Showcase Award Nominee
See at booth 1540, Las Vegas Convention Center, July 13-15
NEW BERLIN, WISCONSIN (USA) – DuraSafe will introduce a unique, keyed-alike set of locks for marine electronics and swivel mounts at the 2011 International Convention of Allied Sportfishing Trades (ICAST), July 13-15 at the Las Vegas Convention Center (booth 1540).
The new DuraSafe E-Lock™ (Universal Electronics Lock) and Swivel Mount Lock set offers total protection against theft of marine electronics. Simple, compact and easy to install, the locks replace the factory knobs and when they're locked, prevent removal of a unit.
The DuraSafe E-Lock fits most major brands of marine electronics - Cobra®, Eagle®, Garmin®, Humminbird®, Icom®, Lowrance®, Raymarine®, Standard Horizon® and Uniden® . The DuraSafe Swivel Mount Lock is available in three sizes to fit the most commonly-used swivel mounts.
For more information about the new DuraSafe E-Lock™ / Swivel Combo and other DuraSafe products, visit booth 1540 at ICAST 2011, www.durasafelocks.com
---
Sea Tow® Reminds Boaters To Designate a Sober Skipper
Will Put Message in Hands of Boaters July 4th Weekend
Southold, N. Y., (June 27, 2011) - Recognizing July 4th weekend as the busiest and most celebratory weekend of the summer boating season, Sea Tow is reminding people to boat responsibly. In addition to reviewing pre-departure checklists, filing float plans, fueling up, and reviewing safety procedures with guests, people who consume alcohol while boating are encouraged to do so in moderation and to always designate a sober skipper.
In an effort to get this message into the hands of boaters, Sea Tow captains across the country will be handing out 30,000 koozies - foam can insulators - to boaters during the July 4th holiday weekend. The koozies are emblazoned with the message: "Booze and Boats don't mix. Designate a Sober Skipper." Sea Tow captains will distribute koozies between Friday, July 1 and Monday, July 4 as their schedules allow. Boaters in need of assistance will receive priority service. Boaters can also purchase koozies by following the "Merchandise" link at www.seatow.com
"Sea Tow is not a proponent of consuming alcohol while boating, but we recognize it is a reality we must deal with," said Capt. Joe Frohnhoefer, Sea Tow's founder/CEO. "I want to remind people who drink while boating to do so responsibly and in moderation. I've witnessed too many alcohol-related accidents over the years to not feel compelled to promote even the simplest ways to reduce them. Prevention takes just one smart, split-second decision and a willingness to be a sober skipper. It's my hope that literally putting the message into people's hands will serve as a constant reminder to make smart decisions while boating. We don't want anyone to become a statistic."
Alcohol and drug use impairs a boater's judgment, balance, vision, and reaction time. In addition, the effects of the sun, wind, noise, vibration and motion that are common to boating can intensify the side effects of alcohol, drugs and some medications. Operating a boat under the influence of drugs or alcohol is illegal in every state and territory and the Boating Under the Influence (BUI) laws pertain to all boats. The U. S. Coast Guard has consistently listed alcohol use as the leading contributing factor in fatal boating accidents.
About Sea Tow
Sea Tow Services International, Inc. is the nation's leading marine assistance provider. Founded in 1983 by Chairman & CEO Capt. Joe Frohnhoefer, Sea Tow now serves over 160,000 members in approximately 106 locations throughout the United States, Europe, Australia, the U. S. Virgin Islands and Puerto Rico. For a full list of membership benefits, or to inquire about becoming a Sea Tow franchisee, please visit www.seatow.com
---
World Panel Products introduces Cabin-Sole carpeting, indoor/outdoor for boat floors
Ideal for cockpits,decks & Interiors
Riviera Beach, Fl June 29, 2011- World Panel Products continues to innovate with new ideas, now introducing to the Marine industry additional cabin sole options in the form of MarineTuft Carpeting, produced in Australia.
MarineTuft is plush, attractive & comfortable under foot. The factory offers an extensive warranty of 5 years indoor and 2 years outdoor(see website for details).
MarineTuft attributes it durability to 100% exterior-grade non porous fibers with enhanced UV inhibitors, and their Marine grade Polypropylene backing.
Available in 14 different styles, the product is currently stocked in Florida & North Carolina utilizing the five most common pattern choices and colors.
From teak and holly planked styles, to solid colors, Marine-tuft will dress your decks, and interiors to impress! Carpet can be combined with the wood and laminate options if necessary.
Sizing is important, as Jim Hunter (from WPP) explains..."We spoke and listened to several of our customers on the best patterns and sizes that would work for the different areas around the boats they were designing, and it was agreed that we would offer three different widths, x any length required. Those widths are 6',7' and 13' (x any length you require)"
With two locations to better serve boat builders, ship-wrights and crew, World Panel Products will stream line your orders.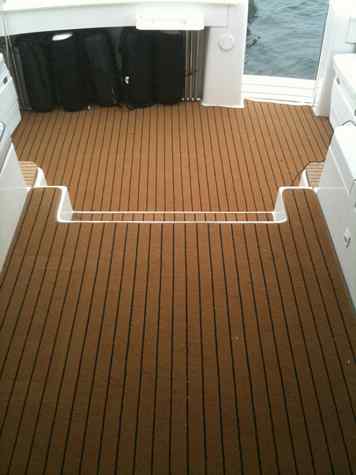 Ibex Floor Specials (for your own booth!)
World Panel Products is pleased to extend special offers to trade/industry personnel that wish to dress their exhibitor booths at IBEX and the Fort Lauderdale International Boat show.
To view the full product line, visit them on the web at worldpanel.com
---
Product of the Week: Autotether™ Wireless Lanyard System

</p>
Unlike traditional lanyards that come standard with boats and require the operator to be tethered to the boat, the patented Autotether is an easy-to-install, unobtrusive wireless unit. No wiring or tools are required – the system clips to the boat ignition switch and is self-powered with AAA batteries.
Operating via transmitter that sends radio waves to a receiver connected to a boat's engine, Autotether shuts off the engine if the boat operator falls into the water. It also sets off an alarm in the event that passengers (or pets) wearing the Autotether sensors on the boat fall into the water. The passenger sensors can also shut off the boat's engine when the red alert button is pushed if you have a runaway boat.
More info: www.autotether.com