6 Metre Whaler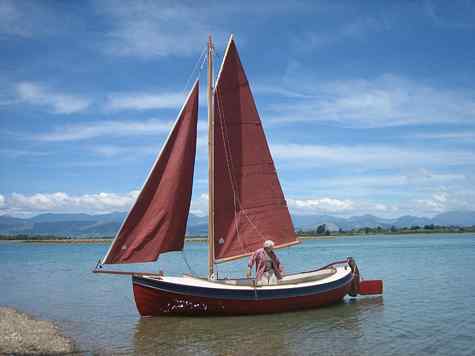 Here is a picture of New Zealander Peter Murton's recently launched 6 Metre Whaler, a John Welsford design. It is Peter's third Whaler.
Chuck
---
ECpuddleduck
You may have heard but Shorty has talked me into trying to do the impossible: doing the Everglades Challenge in a Puddle Duck Racer! I started a yahoo group to help with this attempt called ECpuddleduck. I have finished the primary design work and have started the build.
I should be ready to launch and start testing the boat out December 1st. I am attaching some sketches and photos.
Scott Widmier
---
Packing for a Small Boat Cruise
I love camp cruising on small boats and I try and make every event out there. One thing I have learned throughout all of these events is how to pack. I first started packing "like a boyscout" meaning I brought everything I could possibly ever need on the cruise with me just to be on the "safe side." What I discovered over time is this type of packing can actually be dangerous for two reasons. First, stuff equals weight which can slow a boat down, reduce the freeboard, and make it hard to pull up on a beach out of danger. Second, if you have too much stuff you can't find what you need when you need it no matter how well organized you are. I have tried color coded bags, organizing systems, and all sorts of innovative storage solutions only to have it all come apart in a jumble when I am desperately clawing for something with one hand while the other is on the tiller.
A better way to pack is exemplified by the backpacking light crowd (https://www.backpackinglight.com). Their philosophy holds that it is better to pack the absolute essentials and go light than it is to pack for every possible need. You put a lot less stress on your body and can use lighter and more comfortable footgear if you are not carrying a 50 pound pack. You can hike through dangerous territory quicker and seek shelter from storms. You can pack quicker and have less gear to dry out should it get wet. I have left out a lot of other advantages but needless to say, this philosophy could easily be applied to small boat cruising.
Let me give you some possible scenarios to highlight what I am talking about. A front pulls through dropping the temperature very quickly so you go to your small bag and easily find the wool sweater you have for warmth. A big nasty storm with high winds and lightning is bearing down on you so you pull your boat high up on the beach, empty it out, turn it over, and shelter with your gear in comfort under the solid wooden hull instead of inside a flattened tent. You decide to sail outside instead of in protected waters and the weather turns nasty. You beach your boat through the breakers and pull it up far enough on the beach to not drift away. Some nice folks come up and offer you a lift over to the protected inter coastal and easily load your boat in the back of their truck. All of these scenarios would be made more difficult or impossible if you had a mountain of gear to contend with.
I have been asked repeatedly what I pack to go on a cruise. Below is my list of gear that I use when cruising in a small boat for the four day Florida 120 cruise. This includes the clothes I wear for day 1 of the event. I tend to pack in waterproof bags in the categories listed in required gear.

Required Gear:
Clothing:
2 swimsuits
1 pair quality floating flipflops or watershoes (I like Crocs as they allow you to wear socks for warmth)

Most watershoes do not dry out quickly which can be a problem

4 synthetic sport t-shirts
1 synthetic sunshirt with collar and long sleeves
1 floppy sunhat
4 pair synthetic underwear (travel kind, more comfortable to me than bathing suit mesh)
1 pair synthetic wind pants
1 thin synthetic fleece pullover
1 thin synthetic fleece stocking cap
2 pair synthetic socks
1 pair athletic shorts (for sleeping in)
1 quality nylon rain poncho (kept easy to reach in the boat)
Cooking:
1 backpacking stove (Cat-Can stoves are excellent and inexpensive)
1 pack waterproof matches with waterproof striker
1 mug shaped pot (see the Heineken pot)
plastic spoon, fork, and bowl
Dawn dish soap and small dishrag
Consumables:
Sunblock (I prefer bullfrog gel)
Baby powder (or monkey butt powder)
4 Canned chicken
2 different Knorr brand noodle packages (makes 2 meals with chicken)
12 Granola bars
1/2 lb Homemade beef jerky
1 Mio liquid water enhancer (cool stuff for when you get tired of plain water)
8 packets of tea and sweetener
2 gallons of water in tough water bottles

Disposable bottles can't handle rough waters (powerboat wake)
Sleeping:
1 nylon tarp (or use the poncho) shelter from dew/rain

Breaths better than a tent, packs lighter, and gives you more area
4 stakes suitable for sand
1 extendable paddle/boat hook (hold up tarp)

Click here to see a setup I really like

1 ground cloth made from cut open plastic lawn bag
1 synthetic (microfiber) sleeping bag liner

Cotton absorbs too much water especially in salty sea air

1 mylar blanket if it gets cold

Mylar sleeping bags are a nice outer wrap as well
I use the Thermolite bivy as my outer shell with the sleeping bag liner as inner. Makes a nice waterproof and lightweight sleep system

1 synthetic pillow or stuff sack (clothes make up volume)
4 "Simply Sleep" sleeping pills
Toilette:
1 Pee/bailing bucket (Folger's aroma seal coffee container)
1 roll biodegradable toilet paper (remove cardboard center)
Bathroom supplies (soap, shampoo, deodorant, toothpaste, and etc…)
1 small bottle hand sanitizer
1 Garden spade (Walmart sells light plastic ones)
2 super absorbent camping towels

One for salt and one for fresh water

1 washrag
Boat Equipment:
1 PFD (makes a good pillow)
1 VHF radio
1 Signaling mirror (old CD)
1 Bright LED flashlight
1 Duct tape (roll 10 feet around a drinking straw)
1 Paddle/boathook
1 Hypothermia kit

Click this link to find out how to make one
Click this link for an article on Surviving Where Gods Play
Click this link for the design for a space blanket poncho
Put hypothermia kit in a waterproof ditch bag with your wallet and cell phone. If you have to abandon the boat you take this bag with you. For small boats, you should attach this to your PFD.
Luxury stuff:
1 Solar shower
3 double doodie (or wagbags) with converted bucket toilet
1 chair for beach (stadium seat works well also)
1 40 degree synthetic sleeping bag (will probably never use)
1 nylon raincoat
1 baseball cap
Scott Widmier
---
Sea Bee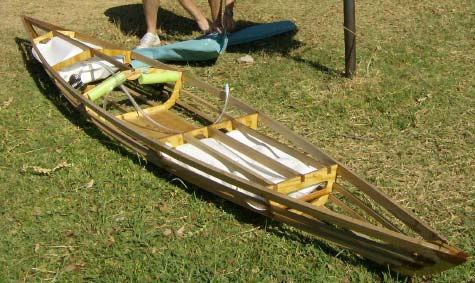 My Sea Bee 13 SOF kayak floats OK with float bags but no skin, of course it is mighty tender that way. Thanks to David Sanborn for these photos.
Steve
---
Kayak Train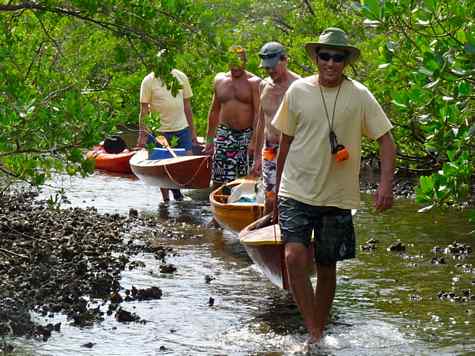 I've never seen a kayak train before. Jane was actually behind me at the end holding another one you can't see here with the orange plastic boat dragging behind that one.
Dave Lucas
---
Jacques Vaucher came by the office today with this huge, wooden block. Jacques normally deals in automotive art at: arteauto.com but got this thing in a box of stuff. He was particularly interested in the emblem on the sides. He has no idea how old it might be or what its intended use might be. So I thought that there ought to be someone in the Duckworks community who does know. If anyone has any information or just a suggestion, please contact me at chuck.leinweber@gmail.com
Here is an overview of the block. Below is a detail of the emblem.
Chuck
---
Wind Paddle
Wind paddle on Egret at Va.Beact. Dolphin just splashed me!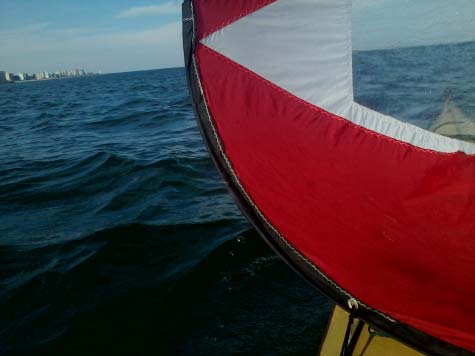 Stephen
---
Restoration of Boatyard on Lot's Ait Island in London
The historic boatyard on the island of Lot's Ait, situated on the river Thames between Brentford shore and Kew Gardens in London, is to be restored to active use by John's Boat Works Ltd, builders and restorers of traditional wooden boats.
On this overgrown island in the Thames, the rusting remains of boatyard docks, slipways and workshop buildings still exist as welcome reminders of a proud river front industrial heritage that once stretched along the Brentford shore from the River Brent down towards Kew Bridge.
The boatyard on Lot's Ait was one of a number of boatbuilding businesses established in Brentford during the nineteenth and twentieth centuries. The coming of motorways and containerisation changed the landscape of the tidal Thames from Rotherhithe to Richmond Lock, and, in the process, the commercial traffic that dominated the Thames from the early days of the industrial revolution into the post war era entered a rapid and terminal decline. As the river traffic dwindled, so the boatyards and support services lost business and, one by one, closed down.
One of the last yards to be closed in the late 1970s, Lot's Ait avoided the residential development that has taken place along much of the Thames, partly due to there being no means of access from the shore, and remains today virtually as it was left, with overgrown buildings and ancient machinery paying testament to its former glory.
Now, under new plans developed by the Thames and General Lighterage Co, owners of Lot's Ait, and John Watson, owner of John's Boat Works, the boatyard is to be revitalised and restored to active use.
Restoration work will include repairing the travelling crane to enable work to be performed on vessels in the tidal dock, while a restored trolley and lift engine will enable vessels to be taken up the slipway railway for survey, inspection and short term repair. The workshop will be equipped with a wood machine shop, stores and services to enable boat building, repair and restoration activities to be undertaken by professionals and DIY boat owners and boat builders. The hardstanding area will be available for winter storage as well as repair and restoration projects. Through the sympathetic regeneration planned for Lot's Ait, the yard will once more encourage traditional and heritage vessels to find a home for storage, maintenance and repair, alongside smaller commercial vessels. The other tidal docks will be redeveloped as leisure moorings.
Planning consent has been granted for a footbridge, this will provide pedestrian access to the island, and also assist the restoration. An area of the island fronting the Thames is to remain untouched to provide natural habitat for wildlife.
The boatyard project is being spearheaded by John Watson who owns and runs John's Boat Works Ltd. Specialising in boatbuilding, maintenance, restoration and refurbishment of wooden boats and yachts, they also offer skilled tuition to all levels from novices to those with years of sailing experience. His drive and passion for traditional boatbuilding has led to an exciting opportunity now being presented to the Thames community.
With Lot's Ait boatyard expected to open in the spring of 2012, likeminded enthusiasts and businesses are being offered the rare opportunity to become an integral part of its thriving future with a number of workshops and facilities available for lease.
John Watson commented, "The restored Lot's Ait Boatyard will bring back to Brentford an echo of its industrial heritage, and an opportunity for a new generation of craftsmen and women to acquire and apply traditional and modern boatbuilding and restoration skills."
For more information on Lot's Ait and John's Boat Works, visit www.lotsait.co.uk and www.johnsboatworks.co.uk.
---
Wooden Velomobile/Pedalcar
After years of planning to build a boat, I decided now to build a velomobile first. That's basically a bicycle or tricycle with a shell. For me it's more useful than a boat, due to the lack of water around my home. In my case, I have planned a four-wheeled side-by-side-tandem with a backseat for my child. I have been encouraged by a skilled hobby-aeroplane-builder to build it from plywood without any internal metal frame, or in other words, as a plywood-monocoque (like a boat). Recently I had to work on my garage, pouring the concrete for the floor, installing all the electrics, doors and so on. The garage is insulated, so a propane-heater will make it possible to build the velomobile over the winter. Until now I have only build a model of my vehicle in 1/10 scale and a 1/1 metal test frame to get the right measurements for seats, wheelbase, track etc.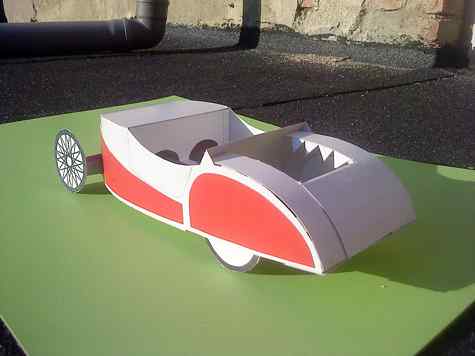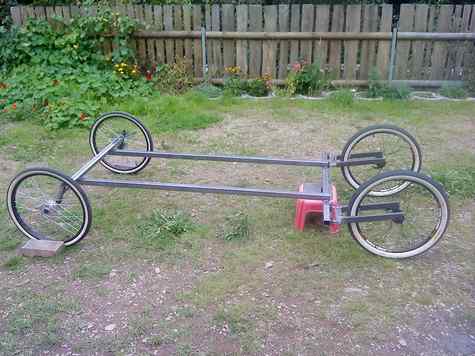 I hope, to present pics of the 100% version before next April, because I want to bring my velomobile to the SPEZI in Germersheim, the worlds largest exhibition of special bicycles (including rickshaws, cargo bikes, recumbent bicycles, tandems and velomobiles). The SPEZI takes place at the end of April every year.
Kai Lueddecke
---
Sea Tow Marks Veterans Day with Membership Freeze Program for Military
Southold, NY—November 1, 2011—This Veterans Day: Friday, November 11th, Sea Tow joins the rest of the nation in remembering the sacrifices of America's veterans and active members of the military. To express its appreciation for their service and dedication, Sea Tow Services International—the marine assistance provider of choice for recreational boaters—would like to remind members of the Armed Forces about its Sea Tow Membership Military Freeze Program. This special program allows Sea Tow members in the military who are deployed in the line of duty to suspend their membership without penalty during their deployment.
"To apply for this program, all you need to do is to send a copy of your deployment papers to Sea Tow, and we will freeze your membership until your return," said Capt. Joseph Frohnhoefer, Sea Tow Founder and CEO. "Upon your arrival back home, just let us know and your Sea Tow membership will be activated again for any remaining time, which means you will have access to the all of benefits we provide our members."
"With the support of our Captains, Sea Tow strives to give veterans and active members of the military Peace of Mind on the Water—and wherever their service may take them," Capt. Frohnhoefer said.
About Sea Tow
Sea Tow Services International, Inc. is the nation's leading marine assistance provider. Founded in 1983 by Chairman & CEO Capt. Joe Frohnhoefer, Sea Tow now serves over 160,000 members in approximately 106 locations throughout the United States, Europe, Australia, the U.S. Virgin Islands and Puerto Rico. For a full list of membership benefits, or to inquire about becoming a Sea Tow franchisee, please visit seatow.com.
---
Calendar Listing: 2011-2012 Boat & Sportshows
A few days ago I cruised polepunt downstream the Wisla river above Warsaw, in version prepared for the September Loire cruise I had to cancel. The only mod to the original Jim Michalak sailplan was to cut off a piece of mast to store is all inside the cockpit while not in use. Due to that the head has been re-worked by lowering the throat.
As you can see there was almost no water in the river, and no wind. The board was up all the time because of the shallow water. But few really weak blows we have had - directly from the stern - moved the boat really efficiently. A big help was the pushing device I've got from Norm Wolfe this summer. Works fantastic and moved us through sandbars! I of course should make the pole longer, at least as long as the hull is.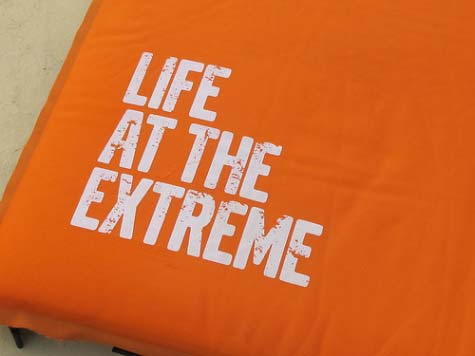 The orange volvo ocean race seat is a gift from my wife who drives Volvo and they the lots of such gadgets there at the service. I like the inscription.
Wojtek
---
Another Gill Tugboat, in Cardboard
Once a year Heber Springs, AR holds their cardboard boat race. This year was the 25th. When I saw the Gill Tugboat on your site, I had to build it. I scaled it down to from 12 to 8 feet, but since it is a tugboat, I had to add a fantail. The final length was about 9.5 feet and weighed 100 pounds (a lot of paint).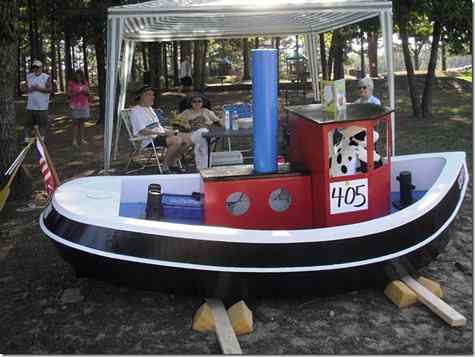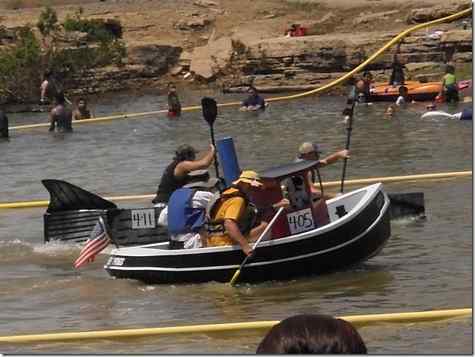 Cardboard boat building/racing is a lot of fun. It should be promoted more.
John
P. S. We actually won that race.
---
Northern Lake Superior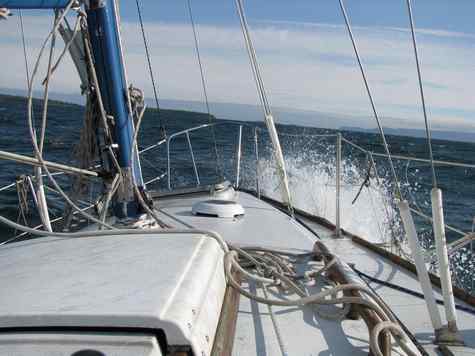 With a fetch of over 200 miles (depending on the wind direction) our waters on Northern Lake Superior can become very lumpy very fast & it's cold so we DO require a cabin. There are very few open boats up this way other than fishing boats used for day fishing.
Kim
---
Navigator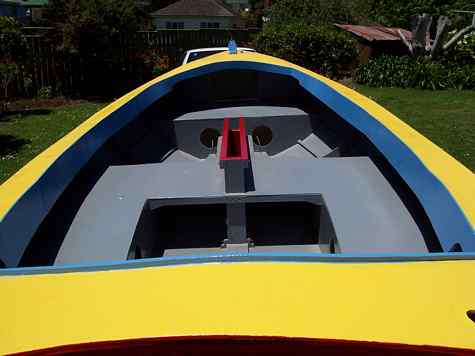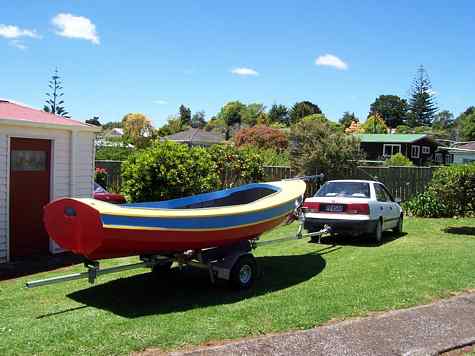 As usual for this time of year work slows down and we have a break for maintenance which gives me a chance to make progress on the boat building project. Guess what? ... I have finished the painting and only need to fit all the fixtures and fittings and it will be launch time. I have decided to launch her as a dinghy so I can use her for fishing this Summer and then finish off the centerboard, mast, rigging etc as time becomes available.
Robbie
---
Manson Introduces New Boss Anchor at METS 2011
20-25% more holding power than Manson Supreme anchor in most seabeds
See at Stand 02.222
AMSTERDAM, NETHERLANDS, NOVEMBER 15, 2011 – At the opening of METS (Marine Equipment Trade Show) 2011 at the Amsterdam RAI today, Manson Anchors introduced the Boss Anchor – the New Zealand-based company's most technically-advanced, safest anchor ever.
"An anchor is first and foremost a safety item. When a customer puts their family's life and their boats value in your hands, you treat that trust with the utmost responsibility. There are no shortcuts or cheaper alternatives when lives are at risk. Our new Boss anchor is the culmination of Manson's 39 years of manufacturing anchors with integrity, to the highest possible standards," said Manson CEO Steve Mair.
The new Manson Boss boasts an average of 20-25% more holding power than the Manson Supreme in most seabeds. As with all Manson anchors, the Boss is manufactured at Manson's purpose built facility in Henderson, New Zealand by Lloyd's Register approved welders and using approved mill steel.
The Boss is packed with features and patented technology.
The shank, made from high tensile, Lloyd's Register-approved (minimum 800mpa) steel, features the new, patented shackle Preventa™ and has been FEA optimized for strength. This puts weight in the right places with savings made in non-essential areas. The weight savings are transferred into the fluke to ensure even more holding power.
The unique FEA designed hole in shank for weight savings also doubles as a retrieval hole for attaching a second anchor to operate in tandem or buoyed retrieval line. Shank clearance has been streamlined for access into tight pulpits on motorboats.
Roller flaps have been specifically designed to make the anchor roll and adopt the correct setting attitude immediately upon connection with the sea floor.
A double-reinforced nose is twice the thickness and geometrically designed to give the strongest, tip welded for higher MPA. Like a wear edge on a digger bucket, this reinforced area lasts twice as long as other anchor edges and is weld hardened for long life.
For more information about the new Manson Boss and other Manson anchors, visit stand 02.222 at METS 2011,www.mansonanchors.com